Chinese bakkie brand GWM's SA division is chomping at the bit to get its latest product to our shores and has teased some details ahead of the launch.
The GWM P-Series bakkie will be landing in South Africa before the end of the year. Like many car launches, COVID-19 was the main factor in the delay. In the Chinese domestic market, the P-Series has taken off, with over 5 000 units sold in its first month. In September 2020, the Toyota Hilux tallied up 4 252 units sold, while its rival from Ford mustered 2 188 units. To say that our market is bakkie-crazed is an understatement and to make matters interesting, the next 18 months will see some dramatic movement.
Toyota's updated Hilux has just hit showrooms at the time of writing, while the Ford Ranger received a major update in 2019 with the special edition Thunder appearing in 2020. The Mazda BT-50 (now on an Isuzu D-Max platform) is earmarked for a middle of 2021 introduction, while the D-Max's debut has been pushed out to 2022 as the Isuzu's factory's upgrade was delayed. Waiting in the wings is an updated Nissan Navara as well as the introduction of the Peugeot Landtrek and Renault Alaskan.
Interestingly, in terms of the name, the international name is the POER (pronounced 'power'). In Chinese symbology, Pao translates to cannon, which gives you some idea of how GWM is marketing its new offering. For our market, GWM is not going to call it the Poer, but rather just 'P-Series' with the brand suggesting P stands for Power, Peak, and Perfect. South Africans have a warped sense of humour and we'd guess that Poer might be taken the wrong way...
While pricing and derivative breakdown have yet to be announced, the Chinese bakkie maker did share some interesting nuggets of info. In terms of engines, there will be an all-new 2.0-litre turbodiesel engine that features 'Variable Vortex Intake Manifold for more torque and power.' In terms of transmission, the top-spec models will feature an 8-speed ZF gearbox. For the 4x4 enthusiasts, there will be ESP intelligent 2-speed TOD (torque on demand) 4-wheel drive systems and diff locks as standard. The load bay features a hidden stepladder in the tailgate, which will make loading easier.
GWM also shared some key features of its new P-Series and at first glance, it looks like the brand is going for high levels of luxury and safety. There'll be a full leather interior, adaptive cruise control, lane-keeping assistance, traffic sign recognition, blind-spot monitoring, front/rear park distance control with a rear camera as well as up to 7 airbags.
GWM South Africa says the P-Series lineup for our market as well as the SADC region will comprise 16 derivatives. At the bottom of the range will be a single-cab base model 4x2 turbodiesel with a manual gearbox, while the top-spec model will be a double-cab 4x4 turbo diesel automatic. There will be both manual and automatic gearboxes, as well as 4x2 and 4x4 options.
When will it launch? GWM has confirmed the SA launch event is planned for around the end of November 2020, and the vehicles should be reaching showroom floors shortly afterwards. Given South Africa's monster appetite for bakkies and brand preference, it's going to take some aggressive pricing for it to steal some sales from the established offerings. GWM has not mentioned costs yet but has hinted it will be keenly priced.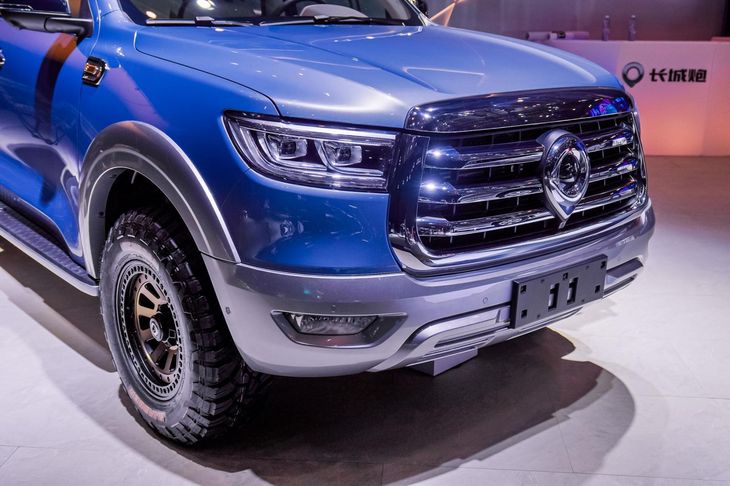 Expect to see this bakkie on the roads by the end of December 2020
Further Reading
GWM P Series Bakkie - SA Details
GWM Black Bullet Concept Revealed
Local Isuzu D-Max postponed until 2022