Over and above the introductions of an updated exterior appearance and a new 2.0-litre Bi-Turbo engine mated with a 10-speed automatic transmission, the Ford Ranger 2.0 bi-turbo double-cab 4x4 Wildtrak auto offers a host of new technologies that enhance the flagship bakkie's safety, convenience and comfort.
SPONSORED ARTICLE
In terms of its revised styling, the range-topping Wildtrak receives a range of aesthetic enhancements, including new HID headlamps and LED daytime running lights. The grille, with its split centre bar and additional venting holes for improved cooling, is more aggressive – and the lower bumper surface, with a wider lower grille and silver-accented skid plate – is more chiselled than before.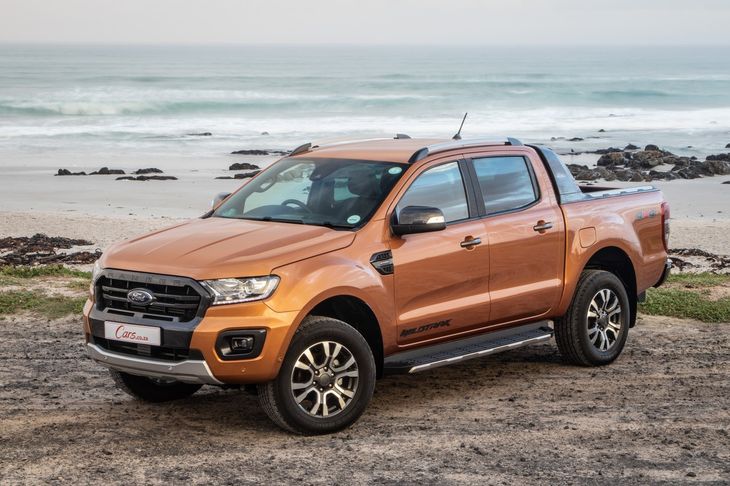 Subtle updates have given the Wildtrak derivative in the Ford Ranger line-up a more purposeful kerb presence.
New LED fog lamps with larger, more distinctive bezels are pushed further outboard to accentuate the bakkie's width, while a striking new Saber Orange exterior colour makes its debut on the Wildtrak, matched with a titanium-effect finish for the trapezoidal grille, outboard air intakes. The same titanium-effect accent colour extends to the side mirrors, door handles, side air vents and load-bed rails.
New engine, transmission
The latest Wildtrak sees the introduction of a 2.0-litre 4-cylinder bi-turbo diesel engine with superior performance, fuel efficiency and a significant improvement in overall refinement (with lower noise, vibration and harshness levels) compared with its 3.2-litre 5-cylinder predecessor.
The bi-turbo engine relies on a variable-geometry high-pressure turbocharger along with a fixed-geometry low-pressure unit to produce 157 kW and 500 Nm (from 1 750 to 2 000 rpm). The turbos work in series at lower engine speeds for enhanced torque and responsiveness. At higher engine speeds, the smaller turbo is bypassed and the larger turbo provides boost to deliver high power.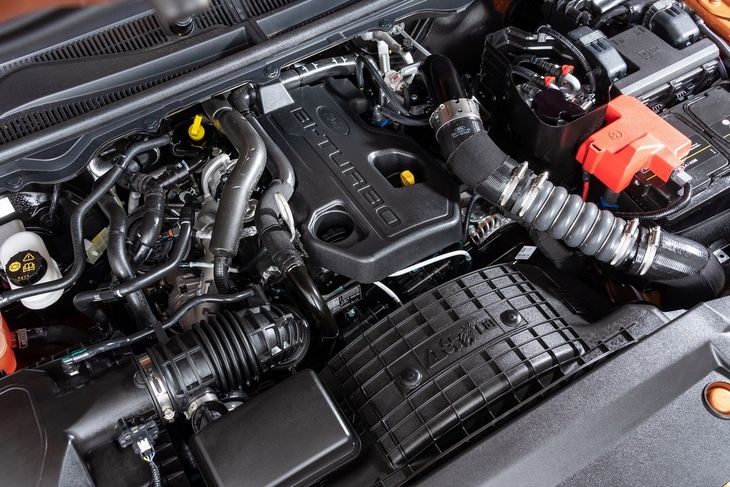 The new-generation 2.0-litre bi-turbo engine offers superior performance, fuel efficiency and a significant improvement in refinement.
The all-new 10-speed automatic transmission, meanwhile, offers a wider spread of ratios ­and real-time adaptive shift-scheduling that allows the 'box to adapt to changing conditions, enable the optimal gear to be selected for performance, fuel-efficiency or refinement in any driving scenario.
Ford engineering data, based on real-world driving cycles, indicates an improvement in fuel efficiency of up to 9% in the case of the 2.0 bi-turbo engine mated to the 10-speed automatic transmission, compared to the current 3.2-litre TDCi and 6-speed automatic transmission.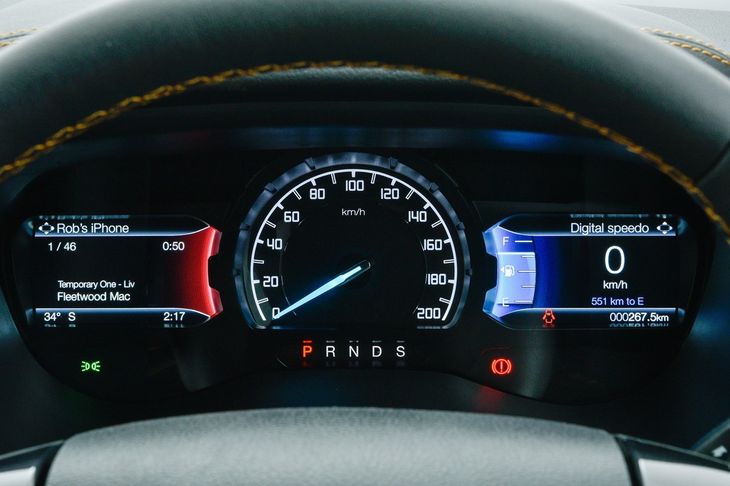 Adaptive shift-scheduling enables the optimal gear to be selected for performance, fuel-efficiency or refinement in any driving scenario.
Additional innovations include the Progressive Range Select (PRS) that has an SST (Select Shift Transmission) button. This function is able to lock out selected gears from the automatic shifting range, which can be beneficial when towing, driving in slippery conditions or climbing gradients. Sport mode makes the transmission more responsive for maximum performance, and there's the option of full manual mode from the 'S' position, controlled via +/- buttons on the new gearshift lever.
Improved on-road refinement
A key change suspension enhancement sees the relocation of the Ranger's front stabiliser (or anti-roll) bar, from in front of the fully independent suspension to a new position behind the axle. This set-up optimises the design and performance of the stabiliser bar, resulting in improved roll control - which, in turn, enables a decrease in front spring rates, thereby improving the bakkie's ride comfort.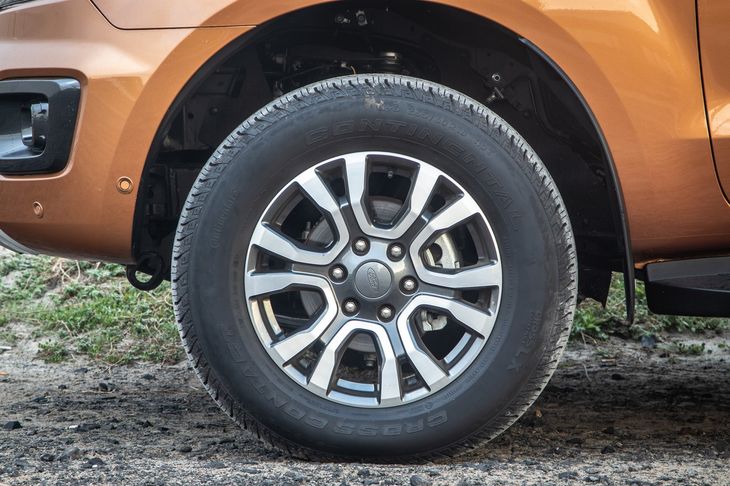 A retuned suspension and bespoke damper rates have allowed Ford to lower the Ranger's standard tyre pressure.
The updated Ranger line-up features 4 respective dampers rates according to the front kerb weights of the various derivatives (based on the body style, engine and drivetrain), while the standard tyre pressure has been reduced from 240 to 210 kPa. Combined, these refinements provide a plusher ride over rough surfaces, improve vehicle handling over corrugated surfaces, give better steering precision and control, and benefit the vehicle posture and ride performance when laden, Ford says.
The Wildtrak further features acoustic laminated front side glass and specially designed B-pillar margin seals to reduce noise levels inside the cabin. These measures, as well as Active Noise Control technology, have improved the articulation index inside the New Ranger cabin by up to 5%, which makes it easier to have a conversation between occupants inside the moving vehicle.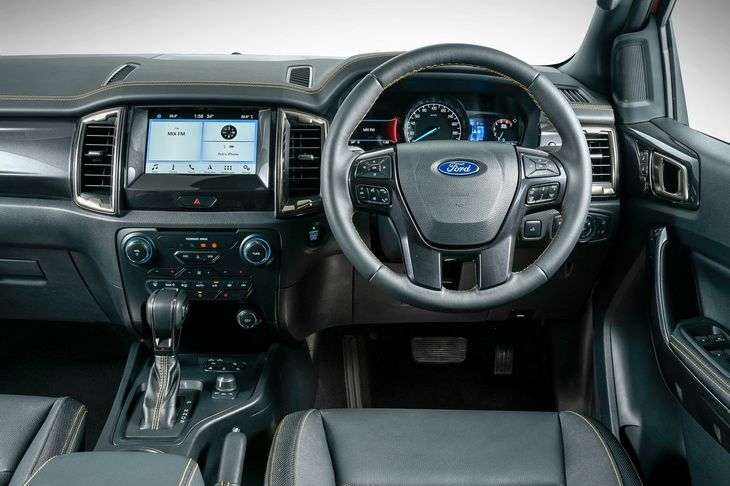 The updated Wildtrak's interior features, inter alia, dark-satin chrome elements and redesigned seats with Saber Orange stitching.
Upmarket interior
The Wildtrak's updated interior delivers a more upscale, sporting appeal featuring dark-satin chrome elements, a gloss-finish decorative spear and upscale partial-leather seats embossed with Wildtrak graphics. The seats have also been redesigned to be both sportier and more luxurious, incorporating additional leather content, Mettle carbon-like weave accents and Saber Orange stitching.
Adding further everyday convenience is the new Passive Entry and Passive Start system. The keyless entry setup uses an intelligent access system that allows the driver to unlock the vehicle and start the engine without removing the all-new Ford key fob from their pocket. When the key is in the vehicle, the driver simply presses the Start/Stop button while applying the brake pedal to start the car.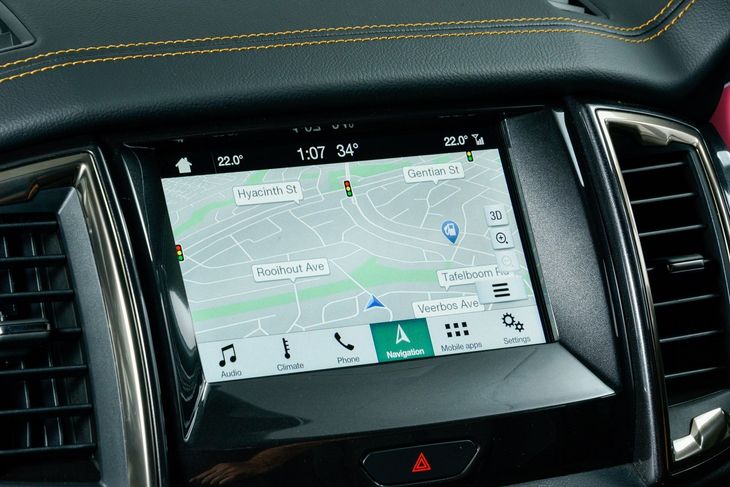 The 8-inch infotainment screen is powered by SYNC 3 technology, which includes navigation and convenient multi-touch gestures.
The high-end SYNC 3 in-car entertainment system, linked to the integrated 8-inch touchscreen colour display, boasts fully-featured embedded navigation, convenient multi-touch gestures (such as swipe, slide, scroll and pinch-to-zoom), plus voice recognition that uses simple, real-world voice commands. SYNC 3 also offers the benefits of smartphone integration provided through Apple CarPlay or Android Auto. Waze users can project the app's real-time traffic and navigation service onto the touchscreen via SYNC 3 AppLink and control it through voice command.
Safety and security
The Wildtrak continues to be offered with leading active safety features, including Adaptive Cruise Control with Forward Collision Alert, Lane-Keeping Alert and Lane-Keeping Aid, and Auto High Beam Control. The Semi-Automatic Parallel Park Assist system uses ultrasonic sensors on the bumpers that search for and identify parking spaces that are big enough to parallel park the vehicle. A combination of the Ranger's electric power-assisted steering and sensors are used to steer the vehicle perfectly into place, while the driver operates the gears, accelerator and brake.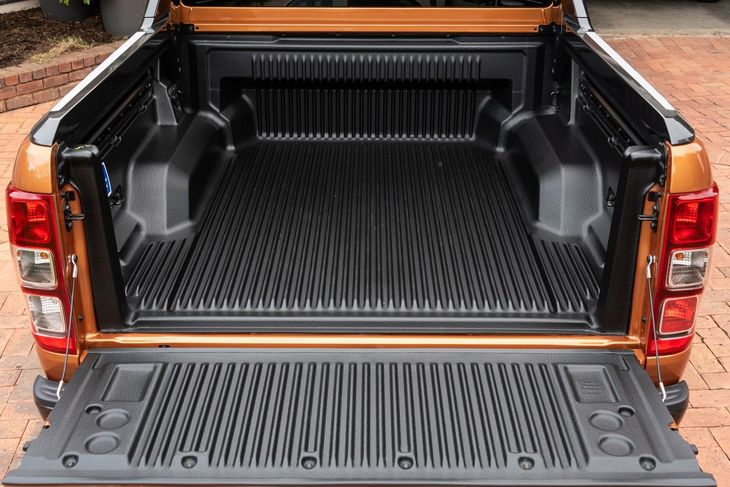 The EZ-lift tailgate, equipped with a torsion bar, provides a significant 70% reduction in the initial lift force required to close it...
Over and above ABS with EBD and a complement of 7 airbags, the Wildtrak comes with an electronic stability control (ESC) system with traction control (TC), trailer sway control (TSC), hill-start assist (HSA), hill descent control (HDC), adaptive load control (ALC) and roll-over mitigation (ROM).
What's more, a full Category 1 Thatcham-specification alarm is now standard on all Ranger XL, XLS, XLT and Wildtrak models, complemented by a spare wheel lock across the range.
Pricing and warranty
This Ford Ranger 2.0 bi-turbo double-cab 4x4 Wildtrak auto retails for R678 200 (June 2019). All Ford Rangers come standard with Ford Protect, comprising a 4-year/120 000 km warranty, 3-year/unlimited distance roadside assistance and 5-year/unlimited km corrosion warranty. A 6-year/90 000 km service plan is included, with 15 000 km service intervals.
Get a quote / Request a test drive
Related content:
Ford Ranger 2.0Bi-T DC 4x4 Wildtrak auto (2019) Review
Toyota Hilux vs Ford Ranger (2019) Comparative Test
Ford Ranger (2019) Launch Review