Toyota Hilux or Ford Ranger? This is a question that thousands of potential South African bakkie buyers grapple with. For some, it's an easy choice, but for many, it's a trickier decision to make. For this comparative review, we set the Hilux and Ranger loose on the Welgelegen 4x4 Farm​ in Stellenbosch to determine which one is the better buy...
At Cars.co.za, we like a good ol' bakkie battle and the rivalry between the Hilux and Ranger is as fierce as they come. With monthly sales figures running into the thousands, these 2 bakkies are considered to be the most popular Light Commercial Vehicles (LCV) on sale in South Africa.

The last time we put the Hilux and Ranger together for a comparative test was way back in 2016 and at the time they were both really closely matched in almost every way, including price. Now, however, things have changed and there's more to separate these classic rivals. The Hilux range received a significant update in 2018 and the facelifted Ranger was recently introduced with a pair of 2.0-litre turbodiesel engine options as well as a new 10-speed transmission. It is, therefore, the perfect time to bring these 2 bakkie giants together for another showdown.
For this comparative test, we managed to get our hands on the Ranger 2.0 4x4 XLT (automatic) and Hilux 2.8 GD-6 Raider 4x4 (manual).
Despite the differences in transmission, this comparative review provides useful buying advice if you are considering a Ranger or Hilux double-cab bakkie; we've paid particular attention to the contenders' kerb appeal, interior execution and standard features, engine performance, ride quality and handling, off-road ability and pricing and warranty details.
Is the mid-spec Ranger XLT strong enough to trounce the high-spec Hilux Raider? Let's find out...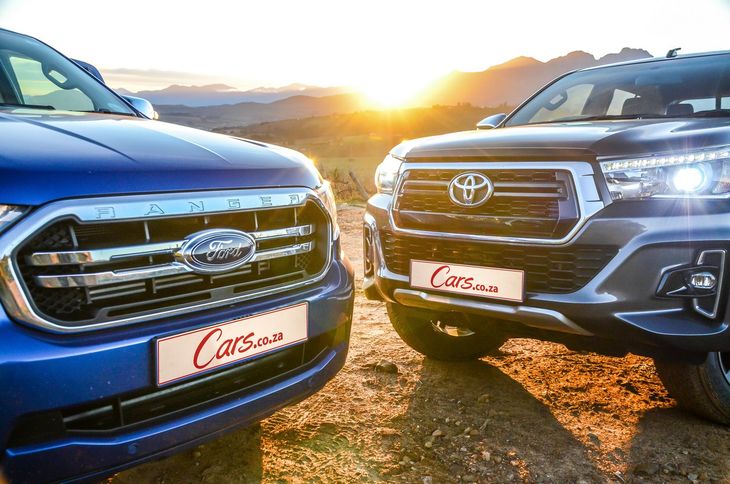 Both bakkies have recently received facelifts, noticeably changing the front end design.
How they compare in terms of…
Kerb Appeal?
Hilux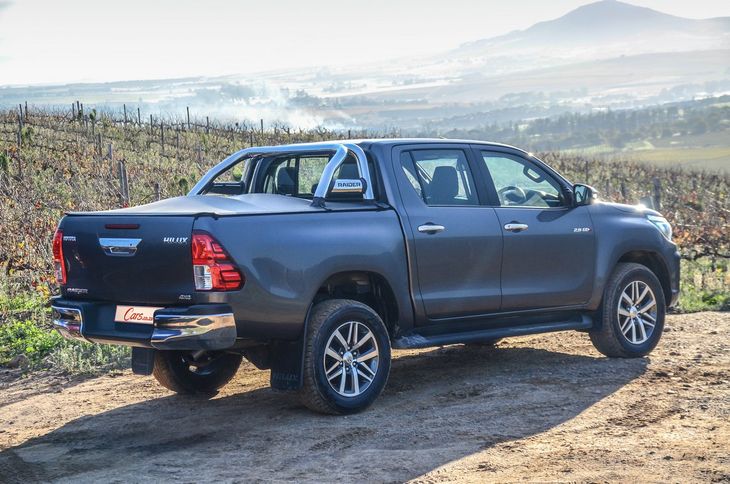 Raider spec Hilux really does look the part with the rear roll-over hoop.
Raider-spec adds notable road presence to the Hilux. The 2018 Dakar-inspired update includes welcome changes including a squared-off grille replete with a stylish chrome surround. The chrome look is carried over to the door mirrors and -handles, giving the Toyota a more sophisticated and polished look. The 2.8 GD-6 Raider 4x4 is also equipped with LED headlamps and daytime running lights as standard and rides on handsome 18-inch alloy wheels. Note that a rubberised load bay and sports bar is standard, but a tow bar is optional at an additional cost of R7 500.
Ranger

The Ranger XLT lacks a few styling finishes in comparison to the Hilux.
While the aesthetic changes to the latest Ranger are more subtle than those applied to the Hilux, they are nonetheless effective! The most obvious change is the central bar, which effectively splits the grille into 2 halves, while the lower bumper has been revised to strengthen the 2.0 4x4 XLT's overall front-end design. The chrome treatment gives the Ford some flash, but it does not detract from its macho appeal. The derivative rides on smaller 17-inch alloy wheels and looks a bit naked without a sports bar or a rubberised load bay (optional). A tow bar, however, is standard.
Verdict: Overall, we think the Hilux Raider looks more impressive than the Ranger XLT in the metal; it simply has more kerb appeal in stock form. Perhaps the smaller wheels and absence of a sports bar and naked load bay gives the impression that the Ranger XLT is a more basic offering (which it isn't, but more on that later). Nonetheless, styling is subjective and you will ultimately have to decide which look you like most.
Interior execution and features?
Hilux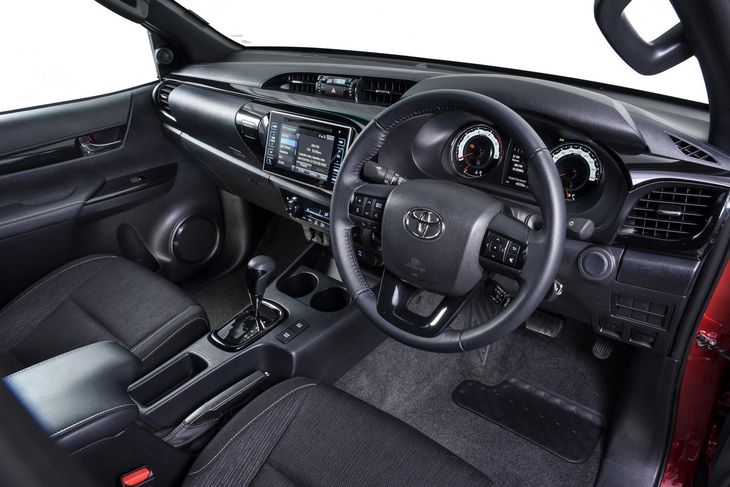 Cloth seats at this end of the are a bit of a letdown. *auto model pictured.
The Hilux's interior has an upmarket appearance and its build quality is very good. However, the touchscreen infotainment system is rudimentary and while it does offer navigation and Bluetooth, it isn't Android Auto or Apple CarPlay compatible (which is an ongoing gripe with the Toyota range).
The 2.8 GD-6 Raider 4x4 comes with cloth upholstery as standard (leather is optional; speccing it will cost an additional R12 500) and other interior features worth mentioning include a rake/reach adjustable steering wheel with mounted controls, height-adjustable driver's seat (manual), cruise control, single-zone climate control, a USB port, electric windows/side mirrors and a reverse-view camera.

View specification details for the Toyota Hilux 2.8 GD-6 Raider 4x4 manual
Ranger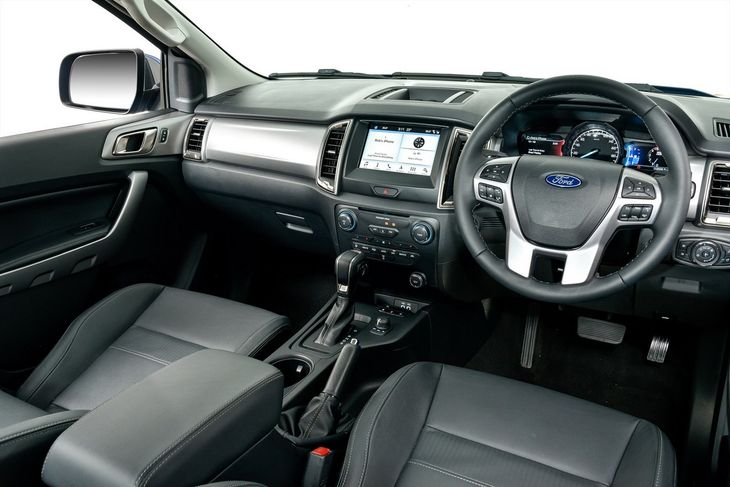 Ranger is impressively specced with modern infotainment and leather seats.
While Ford's interior material/trim does not quite match that of the Toyota (some of the plastics panels feel of marginal quality, for example), the perceived build quality (fit) is still good. The Ranger, however, strikes a significant blow in this match-up by offering an impressive, easy-to-use SYNC3 touchscreen infotainment system that includes Bluetooth, voice control, navigation, as well as Android Auto and Apple CarPlay compatibility.

Moreover, the 2.0 4x4 XLT is also well-stocked with standard features, the most notable being leather upholstery, a multifunction steering wheel (rake adjustable only, we must add), height-adjustable driver's seat (manual), rain-sensing windscreen wipers, keyless access, two USB ports, cruise control, dual-zone climate control, electric windows/side mirrors and front and rear park distance control with a reverse-view camera.
View specification details for the Ford Ranger 2.0 Turbo 4x4 XLT automatic
Verdict: The Ranger scores a win in terms of connectivity and its high level of standard specification adds significant value to the overall package. By contrast, the Hilux's infotainment system is no match and it can't beat the Ranger XLT in terms of standard features. It's a big win for the Ranger!
Engine performance?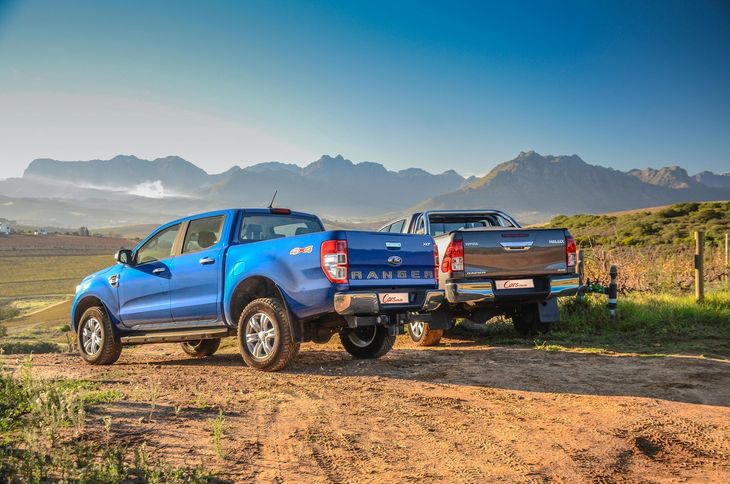 Ford has downsized its new Ranger bakkie to just 2.0 litres, while the Hilux remains 2.8 litres.
Hilux
The Hilux employs the familiar 2.8-litre turbodiesel engine with 130 kW and 420 Nm of torque. By all accounts, it's a dependable motor that offers solid general performance be it on- or off-road. The Hilux accelerates with purpose and even though it doesn't have the most refined engine in its segment, its performance is difficult to fault. Mechanical integrity is one of the main reasons why the Hilux has such a devout following in Mzansi.

While we didn't have an automatic on test on this particular occasion, we have tested the Hilux 2.8 GD-6 automatic extensively in the past and found the transmission to be well-matched to the engine, while also offering prompt and (relatively) smooth shifts. Toyota claims an average consumption figure of 8.5 L/100 km for the 2.8 GD-6 Raider automatic and our previous tests returned reasonable real-world figures of just over 10 L/100 km.
Ranger
Many people are sceptical about Ford's new 2.0-litre turbodiesel engine (just as they had misgivings about the Amarok's 2.0-litre mill), but despite its smaller capacity, the new motor just about matches the Hilux's outputs with 132 kW and 420 Nm. We can report with confidence that it outperforms the Hilux in the real world by offering superior mid-range acceleration, while also being quieter and more refined. The single-turbo engine is a peach!
Furthermore, the Ranger's new 10-speed transmission is very responsive to throttle inputs and always seems to be in the right gear to match on-road conditions. It's also wonderfully smooth in operation. Importantly, though, the Ford trumps the Toyota in terms of fuel efficiency too. Ford claims an average consumption figure of 7.5 L/100 km and we saw returns of around 9.5 L/100 km, which is commendable.
Verdict: The Ranger convincingly beats the Hilux in 3 key areas including performance, fuel efficiency and transmission performance.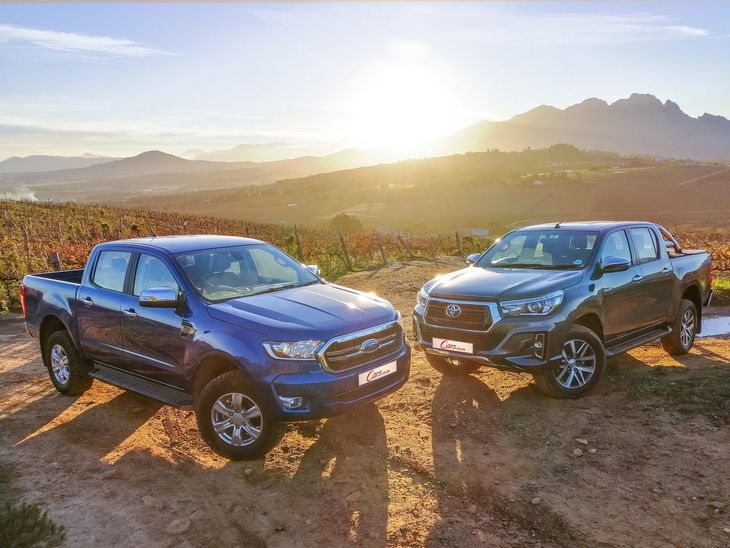 Ford's new single-turbo engine is smooth and its 10-speed 'box delivers excellent shifts.
Ride & Handling?
Hilux
The 2.8 GD-6 Raider 4x4's ride quality is good on asphalt as well as gravel road surfaces. However, the Hilux is more firmly sprung than the Ranger; its ride quality is not as pliant. What's more, we found the rear end to be somewhat jittery, something that most bakkies suffer from (but improves when the load bed is laden). We do, however, like the Hilux's well-weighted steering feel as it inspires confidence, especially when venturing offroad.
Ranger
One of the key upgrades the Ranger received during its recent model-year update was a revision of its suspension setup – and it has paid dividends. Whether crossing tar or off-road routes, the Ford's ride is more forgiving than (and offers superior driving comfort to) the Toyota. The former's steering is lighter in feel and, depending on your preference, this can be beneficial when navigating the bakkie in tight city confines.
Verdict: We found the latest Ranger to ride more comfortably on various surfaces and, therefore, it scoops another win against the Hilux.
Off-road ability?
Hilux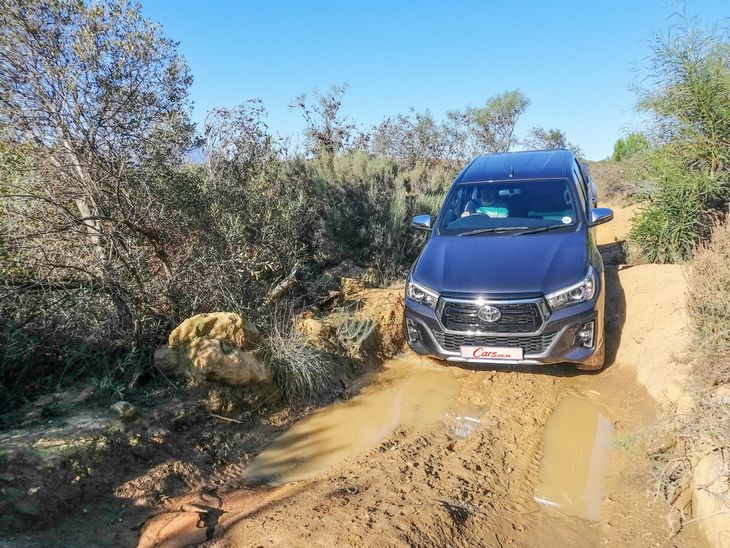 The Hilux has always had impeccable off-road skills.
The Hilux is mightily impressive off-road and while we'd have preferred to tackle the off-road course with an automatic, the manual version of the 2.8 GD-6 Raider 4x4 performed admirably. Adorned with a rotary knob to easily switch between 2H, 4H and 4L, along with a centre and rear differential lock, the Hilux is virtually unstoppable when the going gets tough. The ground clearance of 286 mm makes it easier to deal with trickier obstacles.
Ranger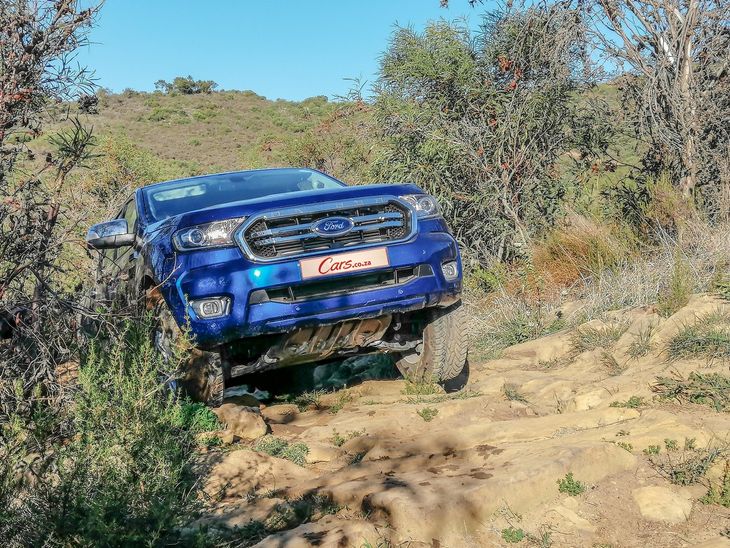 Both bakkies proved very capable on the off-road track at Welgelegen.
Much like the Hilux, the Ranger offers impressive off-road ability and the automatic transmission made off-roading even easier, because you only have to focus on steering and throttle control. The Ranger is also equipped with a shift-on-the-fly rotary knob for 2H, 4H and 4L as well as a rear differential lock to tackle tougher terrain. The Ranger's ground clearance, however, is notably lower than the Toyota's (237 mm vs 286 mm).
Verdict: We know from extensive testing that the Hilux and Ranger are hugely capable offroaders and while both impressed us with their off-road abilities during this comparative test, we feel that a draw is the fairest call we can make seeing that we had different transmissions on test here.
Pricing and Warranty?
Hilux
The Hilux 2.8 GD-6 4x4 Raider manual is priced from R616 600 and if you want the automatic version then you can expect to pay R637 500 – an extra R19 900. The Hilux is sold with a 3-year/100 000 km warranty and 9 services as standard.

Buy a new or used Toyota Hilux on Cars.co.za
Ranger
The Ranger 2.0 Turbo 4x4 XLT auto is priced from R570 200 and is sold with a 4-year/120 000 km warranty and 6-year/90 000 km service plan.
Buy a new or used Ford Ranger on Cars.co.za
Final verdict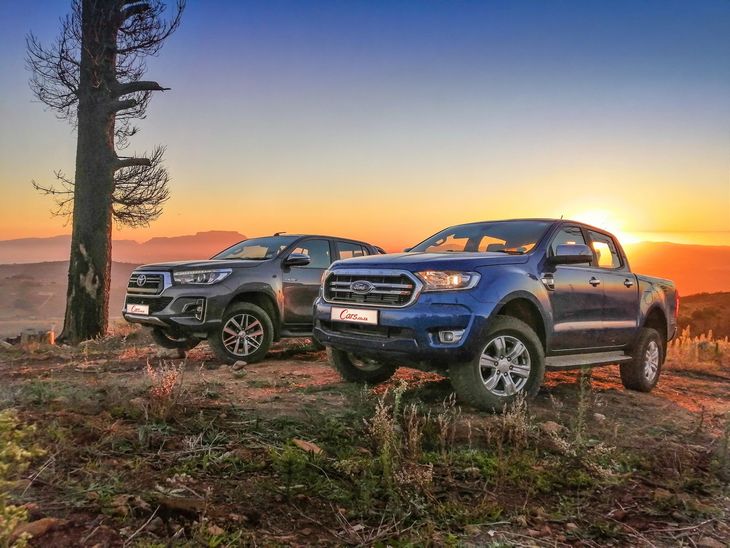 The two best-selling vehicles in the country .
While the Hilux Raider 2.8-GD-6 4x4 should ideally be compared with the Ranger 2.0 Bi-Turbo 4x4 Wildtrak – not the 2.0 4x4 XLT – the reality is that the former and latter's powerplants and abilities are well matched. However, the well-specced Ford offers better value for money than the Toyota.
To illustrate this: if you opt for the Hilux 2.8 GD-6 Raider 4x4 Automatic (R637 500) and specify leather seats and a tow bar, its total price will total R657 500, some R87 300 more than the Ranger XLT 4x4 Automatic. In this comparative review, the Ranger outshone the Hilux in terms of performance, refinement, fuel efficiency, ride and handling and standard specification. It's also worth noting that the Ford has a longer warranty.
Is the prestige of the Toyota badge enough of a reason to buy the Raider (at a premium) instead of the XLT, though? Remember that Toyota is not a top seller without reason. Since the inception of the Cars.co.za Consumer Awards – powered by WesBank (and its crowning Brand of the Year category), the Japanese marque has won the title twice in 4 years, while Ford is yet to make the podium on any occasion. Brand of the Year means the marque in question excels at its sales processes, ownership satisfaction with its products, after-sales service, and achieve good resale values.
Therefore, in terms of sheer value-for-money, the Ranger 2.0 4x4 XLT wins this comparative test, but, based on feedback we've received from thousands of South African vehicle owners, the Hilux 2.8 GD-6 Raider 4x4 remains the better long-term ownership proposition.
Don't agree with our verdict? Share your opinion with us!
Related content:
Ford Ranger (2019) Specs & Price
Ford Ranger (2019) Launch Review
Ford Ranger 2.0Bi-T DC 4x4 Wildtrak auto (2019) Review
Toyota Hilux Range Updated in SA
Toyota Hilux Dakar (2018) Video Review
Toyota Hilux 2.8GD-6 Double Cab 4x4 Raider Dakar (2018) Quick Review