Ford is developing a new bakkie that will slot in below the Ranger. It's expected to carry the Maverick name and we should see a production version in 2021. Is this what it will look like?
Image render: Duwyne Aspeling - Cars.co.za
Spy shot credit: S. Baldauf/SB-Medien. We have paid for these photos and at the photographer's request, have watermarked them.
Earlier this year, spy shots confirmed that Ford was developing a small bakkie that will serve as the brand's entry-level utility offering which will slot in below the larger Ranger.
Update: A new batch of spy images have emerged of Ford's forthcoming Maverick bakkie. The prototype is heavily camouflaged and it appears Ford is going to great lengths to disguise the development of the Maverick and it's likely that the Maverick will ride lower than the Ranger while offering similar cabin space (this is confirmed in spy photographs with the Maverick shown next to the current Ranger, not shown here). The camoflage does a good job hiding most of the details but the boxy, squared-off front-end can be seen.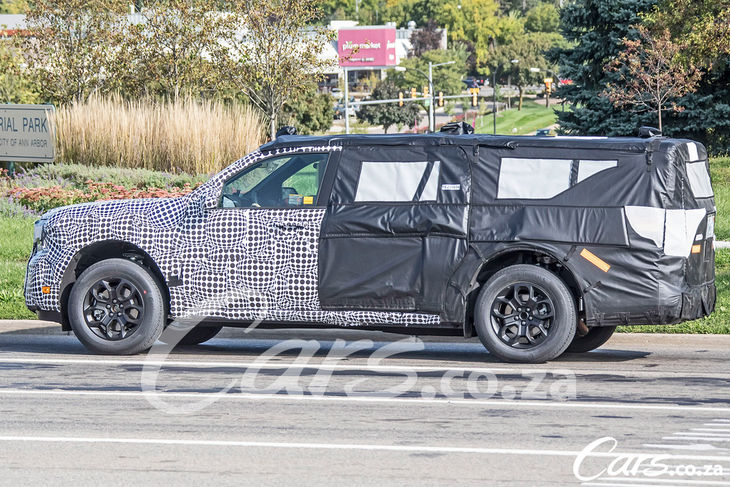 No, this is not a panel van, but rather a well-disguised Ford Maverick prototype.
Known internally as 758, it's believed this new small unibody bakkie will be produced on the current Focus C2 platform, the same which underpins the recently-revealed Bronco Sport SUV. A full reveal is expected in 2021 and there are strong suggestions that this new bakkie will share styling cues with the Bronco Sport, which should give it a bold and suitably rugged appearance. Our latest rendering shows what the forthcoming Maverick bakkie could look like with its front-end taking inspiration from the Bronco.
Reports suggest that the Maverick will be manufactured alongside the Bronco Sport in Sonoro, Mexico at Ford's Hermosillo Assembly Plant with an annual production target of 100 000 units.

In terms of engines, a 4-cylinder 2.0-litre and 1.5-litre petrol engine are on the cards paired with an 8-speed automatic transmission as well as a manual shifter. It was previously reported that the Maverick will feature a 4-door configuration and share parts with the Ford Transit and the 2.0-litre version could offer 121 kW while the 3-cylinder, 1.5-litre turbopetrol could offer 134 kW if it's introduced. Note that Ford has not released any official technical information for this new bakkie.
Online forums are abuzz, with information trickling in from various sources. The Maverick is expected to feature a rear sliding window, much like the Ford F-150 and the Ranger.
As for the name of this new Ford bakkie, it was initially believed that it might be called the 'Courier' or that Ford might revive its Ranchero nameplate. However, recent reports have instead pointed out that the small bakkie will, in fact, carry the Maverick name after images of the tailgate bearing this name has been doing the rounds online. Nonetheless, the Courier name will be familiar to South Africans as it was the predecessor to the Ranger double cab and sold here up until 1999.
For now, the 758 is destined for the South American market first before infiltrating the North American market. There is currently no indication that this new bakkie will be offered in South Africa but considering that it will be produced on the Bronco's platform, it will likely only be produced in left-hand-drive.
Lately, Ford South Africa has positioned itself as an exporter, choosing to cut its model lineup to focus on locally produced vehicles such as Ranger and Everest. Unless this 'small Ranger' makes economic sense or Ford sees a case for local production it's unlikely to be made available to SA.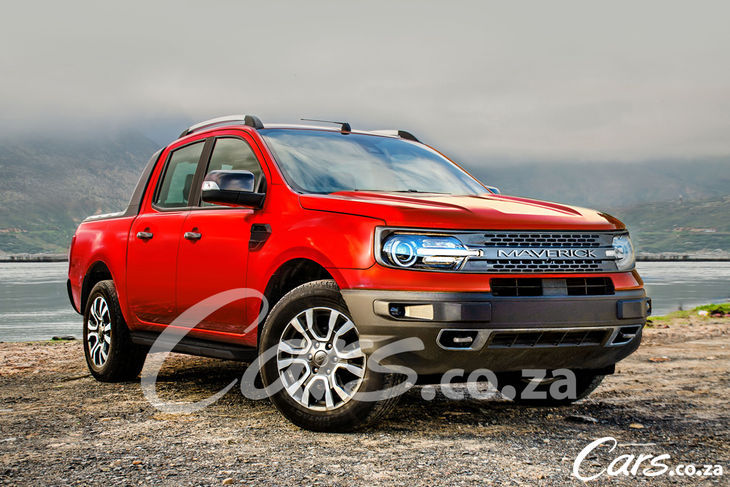 This is our rendering showing what the Ford Maverick could like with influence from the Bronco Sport.
Price
In order for it to make sense, both for Ford SA and the buying public it would obviously need to cost less than the double-cab Ranger. As of July 2020, the cheapest double cab Ranger is priced at R449 400. The upcoming Renault Duster Oroch (confirmed for SA) appears to be the only other player in this space, but with Ford's bakkie brand cache in SA, it could probably afford to come in a little more expensive than the Renault. Reports are suggesting that pricing for the Maverick in the U.S. will start from about $19 000 which equates to roughly R340 000 at current exchange rates. However, 2022 is a long way away and the Rand is very volatile so pricing is likely to be higher when the Maverick finally reaches showrooms.
As always, we will keep you up-to-date as this story develops futher.
Details emerge on the 2022 Ford Ranger
How the Amarok and Ford tie up changes everything
Buy a Ford Ranger on Cars.co.za
Related Content
Building the Ford Ranger Raptor's Engine