Ford South Africa offered Cars.co.za and other media representatives a once-in-a-lifetime opportunity to help its employees assemble 2.0-litre turbodiesel engines for the Ranger and Everest at the company's Struandale engine facility in Port Elizabeth. What could possibly go wrong?
A lot. An awful lot could go wrong, especially considering that, before we embarked on this outing, Ford Motor Company of Southern Africa (FMCSA) informed us that the engines we'd help assemble were – like all the other powerplants produced on Struandale's production line – destined for the Ford factory in Silverton, Pretoria and would duly find their way into the engine bays of South African-built Rangers and Everests (destined for both the local and export markets). There were no second chances; no dummy lines to practice on. Every mistake would cost FMCSA money, but fortunately, the factory had put in extra shifts to make provision for any hiccups. No pressure then...
Ford's Struandale plant in Port Elizabeth was built back in 1964 and since its inception, it has produced no fewer than 10 different engines, including some well-known units like the Essex V6, Kent and RoCam motors. It celebrated the 3-million-engines-produced mark back in 2014 and now it assembles the 3.2-, 2.2- and new 2.0-litre turbodiesel engines. We'd be working on the latest high-tech motors to be assembled, the 2.0-litre single turbo and the 2.0 bi-turbo diesel powerplants. The Struandale plant has an installed capacity to make 120 000 of these new-generation 2.0-litre engines a year.
These new-generation motors are built in a 3 900 square-metre hall on a 312-metre assembly line. There are 110 work stations and 96 operators per shift. Ford currently runs 2 shifts per day, 5 days a week and the plant puts out one completed engine every 134 seconds. Every day, around 576 engines (loaded on 6 trucks) hit the road and head to Gauteng, where they are built into the locally-produced Rangers, Ranger Raptors and Everests, while a further 7 containers with 72 engines and various components head to the harbour to be shipped to the export market. There is extensive use of robotics too, both on the main assembly line and sub-assembly line.
What's deeply impressive is the focus on quality and the number of cameras, transponders and quality management systems. If a defective engine goes out, the Ford team will be able to trace exactly what time that engine was assembled. We'd help to build the 2.0-litre biturbo with 157 kW and 500 Nm, which does duty in the Ranger Raptor and Ranger Wildtrak, as well as the 2.0-litre single turbo (132 kW/420 Nm) found in XLT derivatives.
Time to build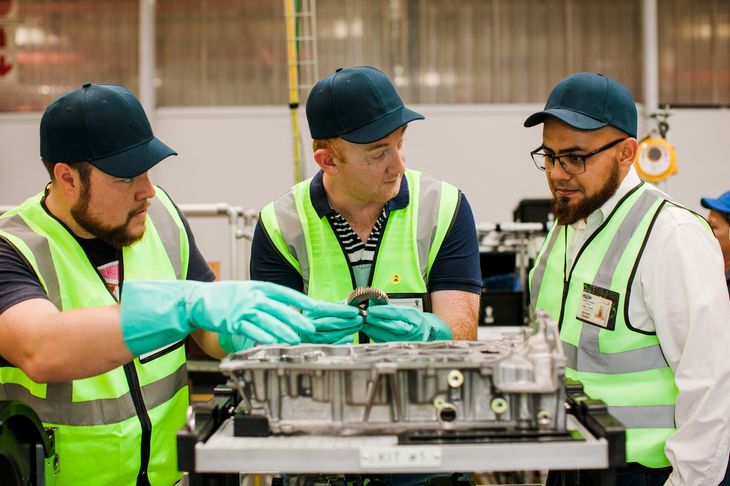 Auto Dealer and Cars.co.za under the careful watch and supervision of Ford SA's Ziyaad Isaacs
If you have not yet been fortunate enough to visit a car factory, you should try your utmost to join one of the many tours offered by South Africa's car factories; the finely-tuned processes and general cleanliness observed by those facilities are surely examples to us all. To use that cliche, the floors are so clean that you could (almost) eat off them. Safety is the top priority here; there are plenty of machines that could cause serious injury (or even death) if the utmost of care isn't taken. Having received a thorough health and safety briefing, it was time to kit up and we were issued with proper workboots and safety hats. If you're not prepared, the noise, and in some sections, the heat can be unsettling.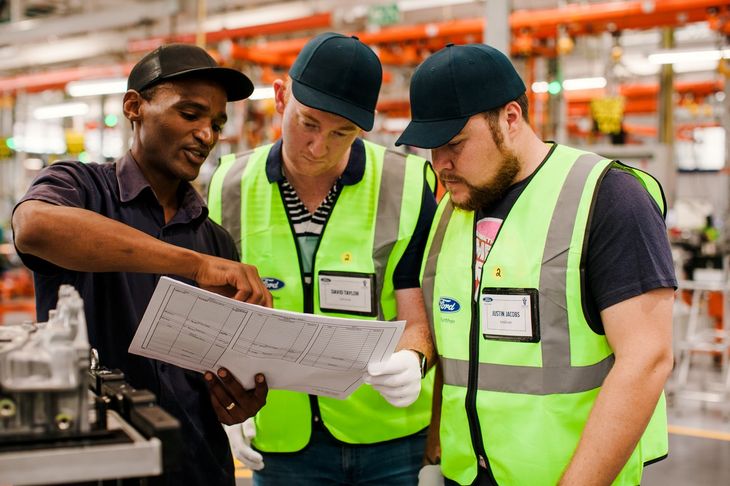 "Alright gents, this is exactly how things are assembled at this station. Do not deviate, do not try to improve, just follow the procedure."
After a tour of the line, my partner and I were dispatched to a station to work on engines' bottom ends. We had a quick tutorial on what exactly happens at that station; then it was our turn. Remember the line is continually moving and while it was at a snail's pace, there's a real risk of falling behind and if you hesitate or make a mistake, you have to catch up. "Can't they stop the line?" you may ask. Well, they can, but any stoppage costs money. A minor incident later that day (it wasn't us) resulted in a line stoppage of over 20 minutes and the smiles and jovial vibe were replaced by irritation and concern from the Ford SA management, as well as mutterings of "well, that delay certainly cost us..."

Yours truly trying to fit components onto the engine block which is moving along.
You must be thinking this tale is a little far-fetched. Did Ford SA really allow journalists to build their engines? Where's the control? Are those engines safe for customers? Yes, and yes, we were watched and supervised extensively. Those engines are probably on their way to the final assembly in Silverton, Pretoria. See, give the Ford team its due, they'd worked extra shifts prior to this day to build a surplus, just in case things went awry and production slowed. So even if the line lost plenty of units thanks to some careless writers, the plant was on course to reach its targets. Also, with that much supervision and microscopic attention to detail, surely nothing could go wrong? Yet, sadly it did, for me.
We were shifted around the plant and experienced all aspects of engine building. My partner and I were subsequently moved to a section that checks the bore of engines' cylinders. The task was straightforward; reposition the block, add this part, place sensor in position, run test, return sensor, reposition block and push the approval button. However, the sensor was incorrectly placed on its stand and when the next block came into play, the sensor was in the wrong position and the result was a failure. A few sirens went off and a manager was summoned to fix the errors. The block had failed its cylinder bore test and was tagged and bagged as a reject. Oops.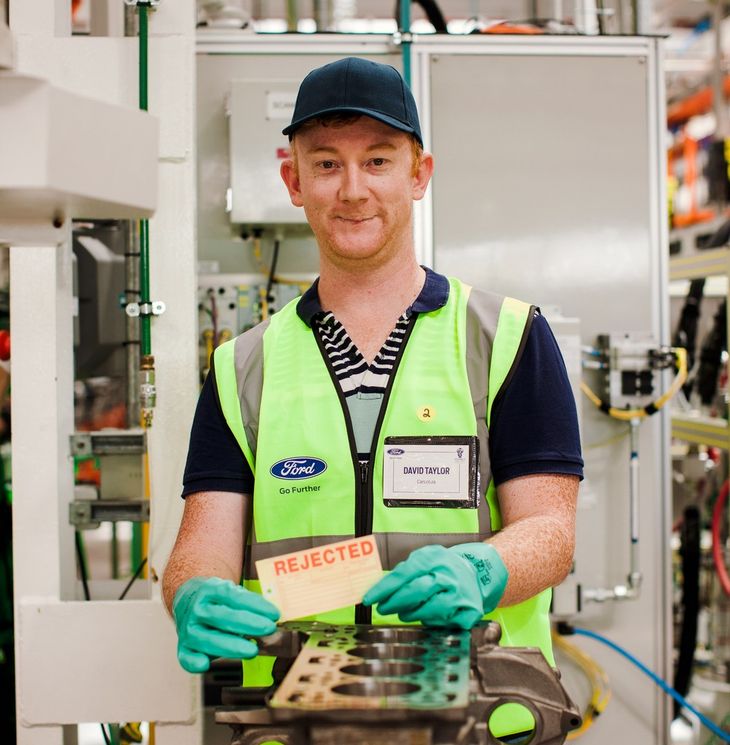 The shame! This block simply travelled down the line again, passed the tests the 2nd time around and is now on its way into a vehicle.
Being thrown onto the front line and working alongside the Ford Motor Company employees gave us incredible insights into production-line management, processes and quality control. It was an eye-opening experience to see not just how the engines are assembled and thoroughly tested, but also what goes into making a highly-efficient and controlled production line. We put our sweat and tears (fortunately no blood) into those engines and all but one passed the stringent quality control, so if you land up driving a Ranger or Everest with an engine made during the first shift on the 20th February 2020, it'll have some Cars.co.za soul in it. Would we do this again if you asked us? In a heartbeat.
Follow the engine building process [Video]
Further Reading
Mustang power for Ranger Raptor
Ford Ranger Takes International Pick-Up Award Victory
Building the Ford Ranger Raptor
Ford Ranger Raptor (2019) Video Review