Ford has expanded its locally-produced 7-seater Adventure SUV range through the addition of a pair of purposeful-looking Everest Sport derivatives. We drove the Everest Sport in and around Oudtshoorn to find out if the Sport badge is appropriate.
What is a Ford Everest Sport?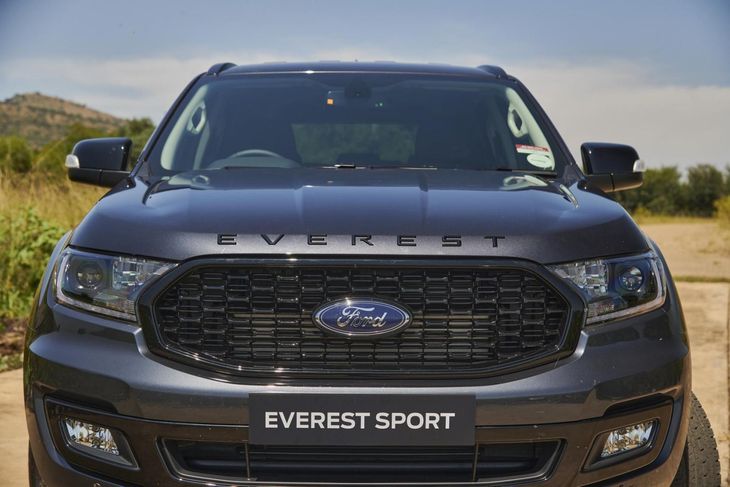 The big grille and Everest badging are the key visual differences
Ford has given its 7-seater Everest a visual makeover with the aim of brushing up its image; to make it look appreciably sportier. Based on the XLT trim line, the Everest Sport gains what's Ford claims to be a more athletic look. The jury is still out on whether you can make a large bakkie-based SUV resemble anything remotely sporty, but in Ford's defence, we think the enhanced look is great.
At first glance, you'll notice the big bold mesh grille and rather imposing Everest badge at the front. Upon closer inspection, you'll notice the black mirror caps and door handles, which replace the chrome-look adornments fitted to the standard Everest XLT. The wheels are particularly tasty-looking, with 20-inch gloss black alloys rolling in each corner. There's also a subtle Sport badge on the tailgate.
The Ford Everest Sport's cabin, meanwhile, has also been given a sporty makeover, with extensive blue contrast stitching on the steering wheel and seats. The leather seats feature embossed Sport logos on them and there's a fresh-looking blue carbon-fibre-style dashboard surround. We also like the bronzed surrounds on the ventilation outlets.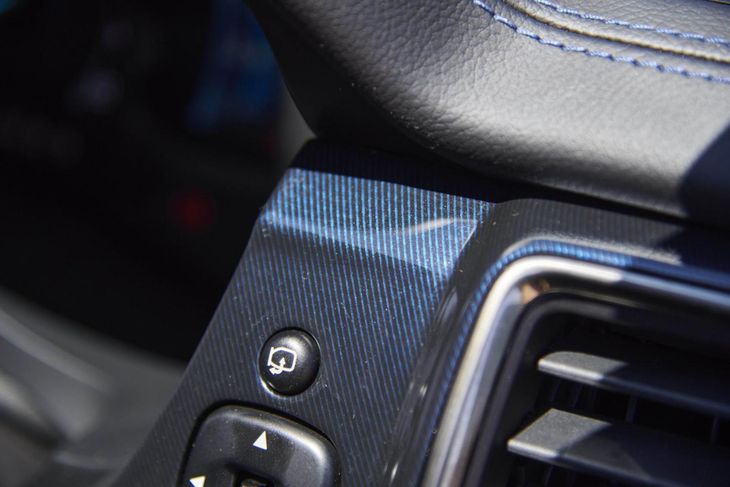 Blue stitching and blue inserts really look the part
There are two versions on offer, which share a common powertrain. Customers can choose between a 4x2 and a 4x4 derivative. The engine doing duty in the Ford Everest Sport application is the 2.0-litre 4-cylinder single-turbo diesel engine. It produces 132 kW and 420 Nm, and torque is distributed to the wheels via a 10-speed automatic transmission. Ford claims this motor can produce up to 340 Nm (of its peak torque) from as low as 1 250 rpm and with so many ratios at hand, the Everest Sport should be a responsive performer, on paper at least.
As as far as features go, Ford has always been rather generous with its specification and the Everest Sport is no exception... Striking LED headlamps and daytime running lights, cruise control and front and rear park sensors with a reverse-view camera are just some noteworthy features.
When it comes to safety, the Ford Everest has 7 airbags, Electronic Stability Programme with traction control, Trailer Sway Control, Hill Launch Assist and Roll Over Mitigation.
What's it like to drive?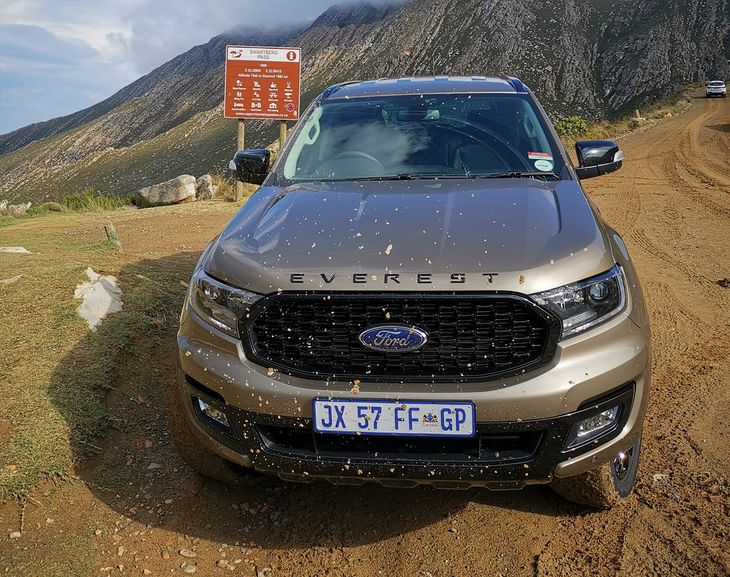 The Swartberg Pass is a spectacular stretch of road, made challenging on the day thanks to overnight rainfall
Our steed of choice was the Ford Everest Sport 4x4, finished in the striking Diffused Silver. It really looked the part, with the big bold grille and black gloss alloy wheels providing quite an image boost. Customers have a choice of some six exterior colours to choose from and we'd suggest going the more vibrant route to really make your Everest Sport stand out.
The launch route took place in the Karoo and the roads around Oudtshoorn were of varying quality, which afforded us plenty of opportunities to test the vehicle thoroughly. Despite being based on a platform that started life at least a decade ago, the Everest still feels amply engineered for comfort, with minimal road noise intrusions into the cabin. Those big wheels aren't just for show and we suspect the large tyres work hard to absorb some of the bumps and dips. Ride quality is good; sportiness takes a back seat in this regard, but then these are lifestyle vehicles designed to be driven on a variety of surfaces.
The engine is more than adequate. There's nothing new or ground-breaking, it's the same motor we've sampled in other Everest and Ranger derivatives. Diesel clatter is kept to a minimum, but performance is good with strong overtaking power. The gearbox is the real hero here, with its quick changes putting the engine at its most responsive. The best part of the powertrain has to be the fuel consumption. While Ford's claim of 7.1 L/100 km is a tad optimistic, we're happy to report that our spirited driving over the launch period returned just 9.2 L / 100 km according to the trip computer. Impressive, for such a large vehicle.
Ford also included the immense and epic Swartberg Pass that separates the towns of Oudtshoorn and Prince Albert. It's a technical piece of road that's driveable in any car, but on the day of our drive, overnight rains had turned the dirt into mud, making things tricky even for 4x4 vehicles. A quick turn of the Terrain Management dial to the mud setting brought the 4x4 system into action and we began the steep climb up. As pictures attest, it's not the easiest of routes with no barrier separating the road from a horrible long drop down the side of the mountain. The Everest is in permanent all-wheel drive mode, unlike its rivals which are 2-wheel drive as a default, requiring drivers to manually select the 4-wheel drive.
Ford's SYNC3 infotainment system is well worth a mention. Not only does it offer hands-free phone connectivity with Apple CarPlay and Android Auto, but the native interface is one of the most user-friendly around. Those who rely on their electronic devices will take comfort in the two USB ports offered at the front of the vehicle.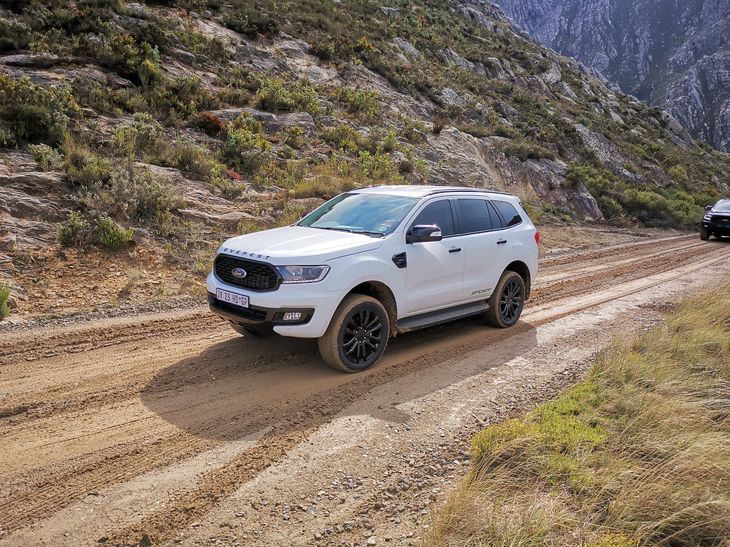 The black wheels are a very nice addition to the visual aesthetic
Ford Everest Sport Quick Verdict
By introducing these cosmetic enhancements, Ford has made the Everest a bit more desirable on an emotional level, which should generate more showroom traffic for the Blue Oval. Given how the market is pushing for personalisation, it's good to see OEMs reacting. We all know that when Ford owners were putting bigger bold aftermarket grilles onto their bakkies, Ford reacted by offering the Raptor grille as an option. We suspect more than a few Everest Sports will be sold based on its kerb presence alone. Those wheels and that grille paired with a vivid paint finish will make for an eye-catching combination.
We know the Everest is a more-than-capable offering, with a runner-up position in this year's Adventure SUV Category #CarsAwards – powered by WesBank to show for its efforts, but the additional go-faster bits may garner it even a few more fans. The Everest Sport has been cleverly positioned between the biturbo derivatives, which, unless you're regularly towing big trailers, are overkill. The single-turbo setup is the sweet spot, but whether you go 4x4 or 4x2 will depend on your personal preference. If you consider driving down a gravel road as off-roading, then there's nothing wrong with the 4x2 version.
How much does the Ford Everest Sport cost in South Africa?
All Everest derivatives come standard with Ford Protect, comprising a 4-year/120 000 km comprehensive warranty, 3-year/unlimited distance roadside assistance and 5-year/unlimited km corrosion warranty. A 6-year/90 000 km service plan is included, with service intervals of 15 000 km.
Ford Everest Sport 2.0 4x2 auto R676 600
Ford Everest Sport 2.0 4x4 auto R718 000
Further Reading:
Ford Everest Sport (2021) Specs and Price
Ford Ranger Accessories for 2021
Ford to invest a further R15.8 billion into SA