Fiat's budget-oriented compact hatchback, the Panda, has re-entered the South African market, now powered by a plucky 2-cylinder turbopetrol engine. Does the revitalised Italian still have what it takes to be a force in this price-sensitive segment of the market?
We like: Charming, fun to drive, excellent driving position
We don't like: Thirstier than expected, noisy
Alternatives
The #CarsAwards finalist: The Suzuki Ignis is a funky little city car which has impressed us with its fun factor and many features. It's ten grand cheaper than the Fiat and feels better finished. Thanks to some clever packaging, the cabin is more spacious than you might expect.
Go French: Renault Sandero Stepway offers a lot of space and features for the exact same amount of money as the Fiat. The engine is also small, but the extra cylinder makes it more refined.
Also worth a look: The Volkswagen Cross Up! brings that famous German build quality to the table and the refinement is right up there with the very best. The naturally-aspirated engine could do with a bit more shove though.
Compare the Fiat Panda to the Renault Sandero, Suzuki Ignis and Volkswagen Up here
Facts & Figures
Price: R199 900 (December 2017)
Engine: 0.9-litre turbo petrol two-cylinder
Power/Torque: 63 kW / 145 Nm
Transmission: 5-speed manual
Fuel consumption: 4.2 L/100 km (claimed)
0-100 kph: 11.2 secs
Top speed: 177 kph
Boot capacity: 225-870 litres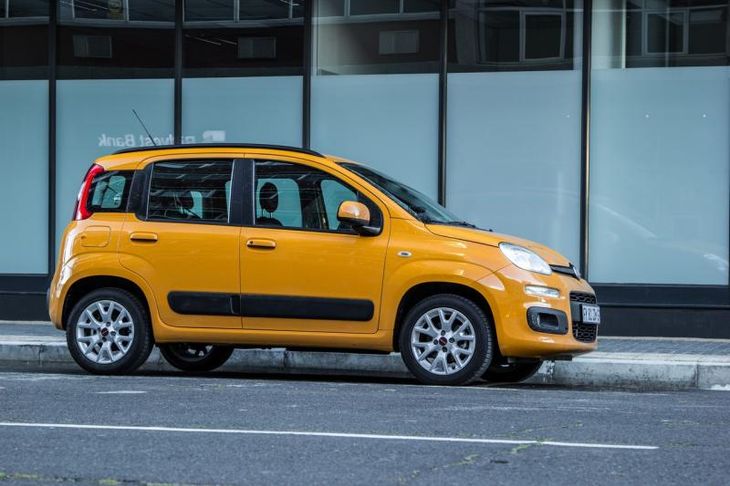 Not much has changed to the exterior execution of the revitalised Fiat Panda; we feel it needs a bright finish to look its best.
What is it?
Having undergone a facelift, the underrated Fiat Panda has returned to the South African new vehicle market. All derivatives in the range, which includes fun-to-drive 4x4 versions, are powered by the 0.9-litre Twin Air engine. The goalposts in this fiercely contested segment have moved on significantly during the Fiat's year-long hiatus, but the Panda's cute looks and fun-to-drive attitude are ever-endearing and, in terms of dimensions, the Fiat Panda hits a clever sweet spot. It's compact enough to be classified as a small car, yet big enough inside to comfortably seat 2 adults up front and 2 children at the rear. It was cleverly priced, but 2017's volatile ZAR exchange rate has meant that the Fiat's price has nudged up.
The Good
The perky engine
We scoffed at the idea that a 2-cylinder engine could offer enough to move the Panda around at a credible pace, and boy, were we wrong. In this application, the Panda produces 63 kW and 145 Nm, which may not sound like much, but when you consider the low kerb weight of around 975 kg, the Fiat has a respectable power-to-weight ratio for a vehicle in this class. A 0-100 kph time of 11 seconds sounds acceptable and the car feels spritely enough to achieve that. However, there is a downside to this engine, which you can read about a bit later.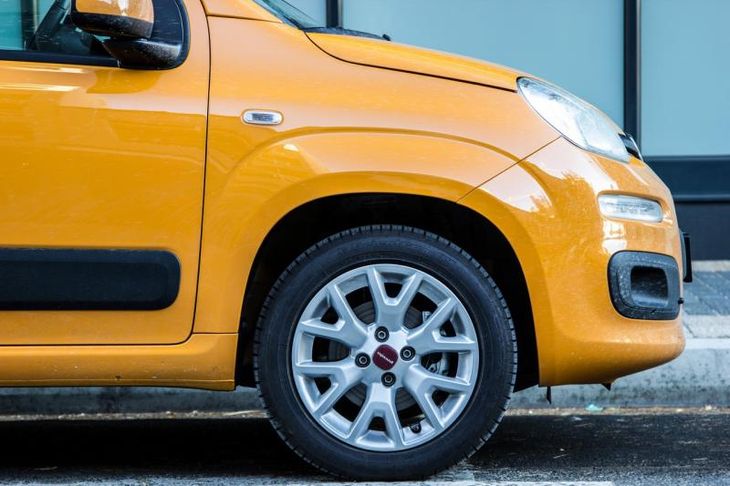 These stylish alloy wheels shod with reasonably chunky rubber deliver a fairly comfortable ride quality.
User-friendliness
The Panda's quick steering and agility in the confines of a city are greatly appreciated and the Panda feels like it can turn on a R5 coin. The City functionality lightens the steering up so much so that it feels as if you can turn using one finger, which means that tight parking maneuvres pose no problems. We are also fond of the driving position as you sit quite high up, as opposed to a conventional lower-down hatchback position. The transmission is a 5-speed manual unit and shifts are effortless; each ratio slots in with ease. We loved the cell phone cradle (replete with adjacent USB charging port) located on the dashboard. Who needs a built-in and costly in-car GPS when modern smartphone apps are just as effective?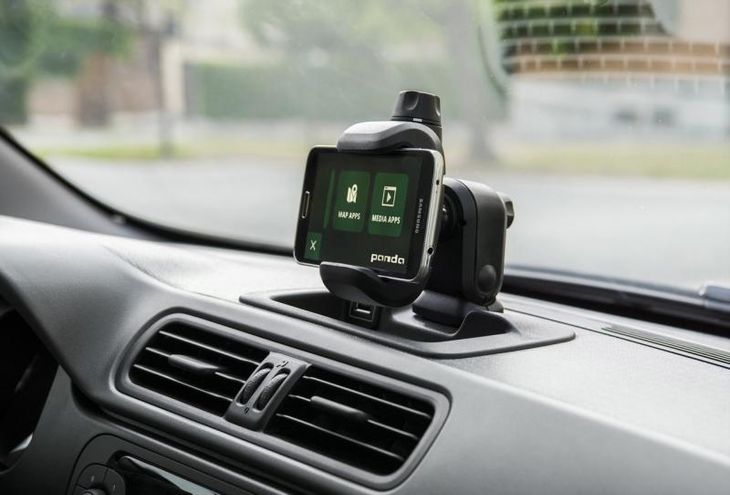 This little gadget is a godsend if you're travelling in an area that you're not familiar with; you can charge your device from here too.
Safety features
It's a rarity in this segment to find a car with stability control, but the Panda comes standard with it as well as ABS and EBD (with integrated hill hold function) and front- and side airbags. A tyre pressure monitor is also standard across the range and all (but the Easy) have front and rear parking sensors.
The Not-so-good
Not as frugal as expected
We love the rorty Twin Air motor, but Fiat's economy claim for this derivative is too ambitious. Despite some carefully measured and frugal driving, we couldn't get the consumption readout to dip below 6.0 L/100 km. It was frustrating, but, given the compelling 'hit-me-with-your-best-shot' character of the turbocharged 2-pot engine, not entirely surprising.
The motor also emits strange resonances that vary depending on which part of the rev-band it operates. At low revs, the powerplant hesitates and sounds like a diesel, until you breach the 3 000 rpm mark, where it gains a purposeful tone and builds a head of steam. Go past 4 500 rpm, however and the engine will suddenly feel strained.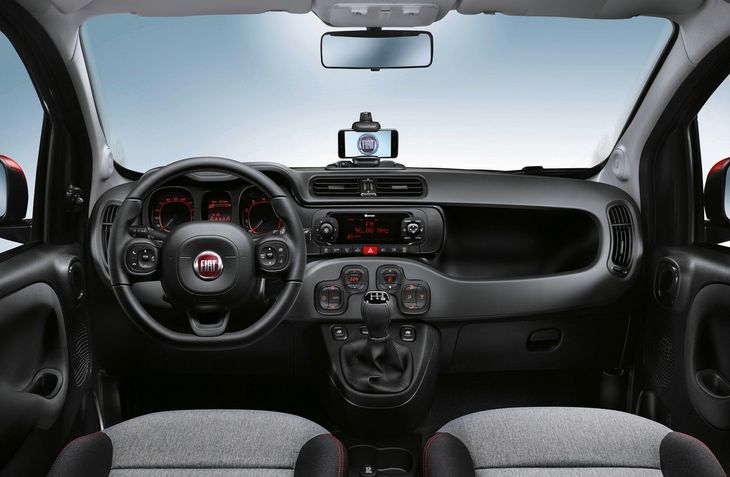 From the tinny sound the doors emit when they're closed, to the rough finish of the fascia trim, the Panda feels very basic.
Less-than-class-leading build quality
Be it as a consequence of the Panda being in the twilight of its product cycle (its overall design is, therefore, somewhat dated), or just extensive cost-saving measures, the quality of the Fiat's cabin materials and general fit and finish of the interior panels are marginal. In the Panda's defence, the leather-trimmed multifunction steering wheel, automatic air-conditioner, Bluetooth-equipped audio system (with auxiliary and USB inputs) all add to a luxurious specification, but the ultimate execution of the interior is a bit of a let-down. The black plastics feel a trifle cheap to the touch (the fascia trim has a rough finish to its edge, for example), the switchgear feels lightweight and the seat fabric screams to be clad in protective covers...
Price and warranty
The Fiat Panda range starts from R184 900, with this Lounge model featuring more standard features, coming in at R199 900. Fiat's new Panda range comes with a 3-year/100 000 km warranty and 3-year/100 000 service plan.
Verdict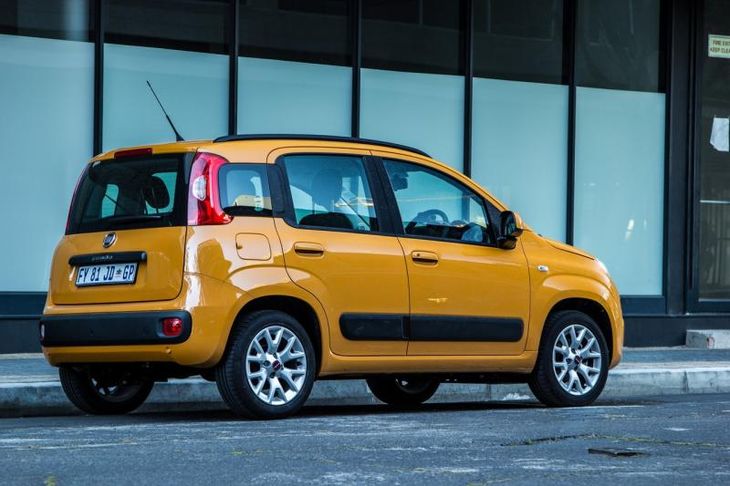 Not much has changed when it comes to the Fiat Panda. The Twin Air engine is an interesting proposition; it'll take some time to get used to
The Fiat Panda has always been a heart-over-head purchasing proposition and this latest incarnation of the Italian city-car proves no exception. It's brilliant in the confines of a city, where it scampers through traffic and is a joy to park. However, the engine's disappointing fuel economy and top-end coarseness and the cheap-and-cheerful interior are drawbacks. Overall it is a charming little car brimming with personality. There are some fun touches, like the door panels which are covered with tiny letters, all spelling out the word: "Panda".
However, it's difficult to recommend the (admittedly well-specced) Panda over the cheaper and cleverly packaged Suzuki Ignis, or the spacious Renault Sandero Stepway. Those who do take the plunge will be rewarded with an easy-to-use city slicker that's backed up by a strong warranty and service plan. Sadly, it might be too little, too late for Fiat's plucky hatchback.
Related content:
Fiat Panda In SA (2017) Specs & Price
Fiat launches cash-for-clunkers sales incentive
Fiat 500C 0.9 TwinAir Lounge Auto (2017) Review
Fiat Tipo Sedan 1.6 Easy auto (2017) Review
Fiat 500 Riva (2017) launched in SA
Fiat Fullback Double-Cab 2.5 Di-D 4x4 LX (2017) Review
Want to buy a Fiat Panda?