The Prancing Horse has launched the Roma – its new entry-level berlinetta – in South Africa. The futuristically styled compact grand tourer slots in just above the Portofino convertible (with which it shares its platform) in the Ferrari stable. The virtual launch of the Roma will be followed by exclusive private previews in Johannesburg, Cape Town and Durban, the firm says.
When Ferrari revealed the new mid-front-engined "2+" coupe late last year, the Maranello-based firm described it as a "reinterpretation of the carefree lifestyle of the 1950s and '60s in Rome", from which it takes its evocative name. Its a rival to cars such as, but not limited to, the Aston Martin Vantage, Mercedes-AMG GT and Bentley Continental.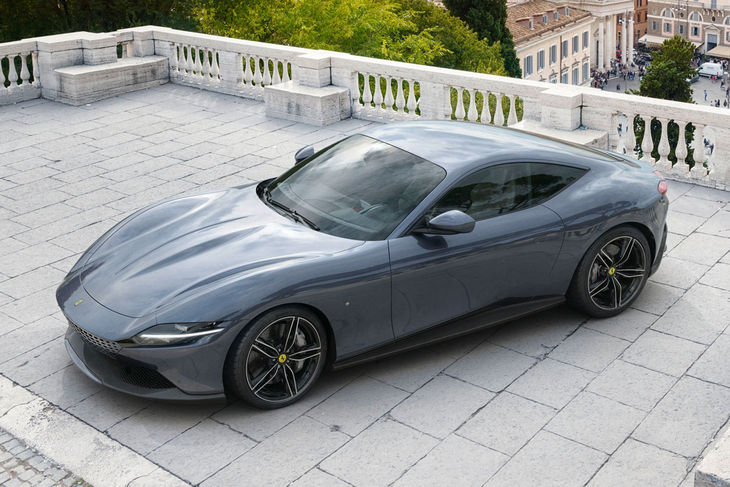 The Roma has classic grand-tourer proportions, but it looks more sharpely-styled and futuristic than its its Portofino sibling.
The newcomer is powered by a 3.9-litre V8 turbopetrol engine (mated with an 8-speed dual-clutch transmission), which produces 456 kW (from 5 750 to 7 500 rpm) and 760 Nm (3 000–5 750 rpm). The Roma will sprint from 0 to 100 kph in 3.4 sec (with 200 kph coming up 5.9 sec later) and go on to a top speed in excess of 320 kph.
When we first saw images of the Roma, it was tricky to figure out where it would fit into Ferrari's line-up – it's not a replacement for the GTC4 4-seater model. Although the Prancing Horse suggests the contrary ("it's a completely different car"), it effectively fulfils the role of a "hardtop Portofino" that will attract new customers to the brand, especially those who find the elegant simplicity of its clean, unfussy styling attractive and want a more comfort-oriented sporty driving experience to what the 488 (for example) offers.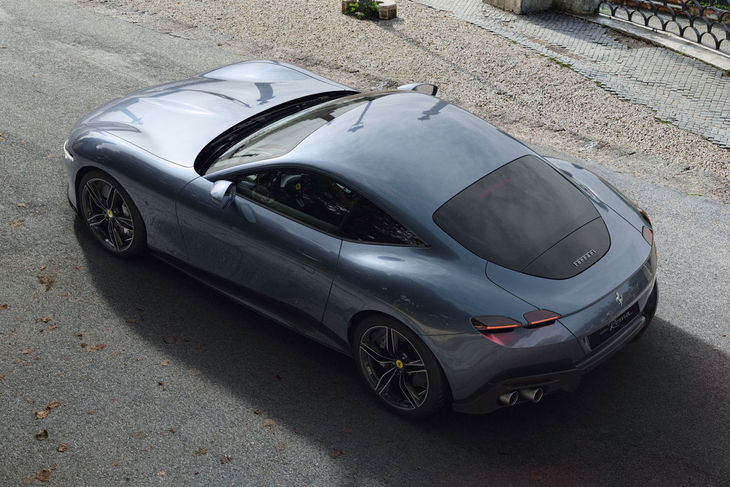 The minimalist tail-light clusters were designed to resemble precious stones that were "neatly embedded" in the rear fascia.
Although it utilises the Portofino's 2 670-mm wheelbase, the Roma is said to incorporate 70% new components. It is 70 mm longer (4 656 mm) and 36 mm wider (1974 mm) than its convertible sibling, as well as about 10% stiffer and 75 kg lighter, for a total kerb weight of 1 570 kg.
The newcomer's minimalist exterior design has polarised opinions, however. Its "long bonnet with low, stubby tail" proportions clearly takes inspiration from Ferrari's front-engined grand tourers from the 1960s.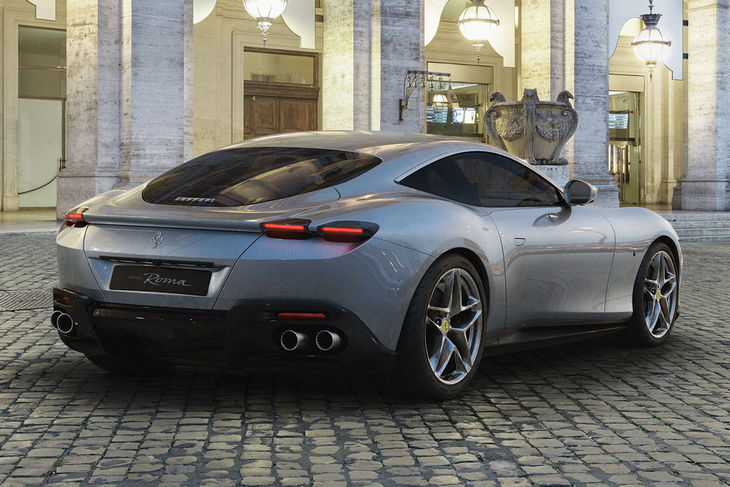 The Roma rides on 20-inch wheels shod with 245/35 (front) and 285/35 (rear) tyres.
The shape is sinuous and slippery – it almost resembles an aircraft fuselage or speed-boat bow. Not everyone likes the slim, adaptive matrix LED headlamps, which are recessed into the bumper and sit under strakes of daytime running lights, or the perforated grille, which is available in chrome, body colour or gloss dark grey. The minimalist tail-lights were reportedly made to look like "precious stones embedded in the rear fascia".
While styling is subjective, there is no doubt about the Roma's aerodynamic efficiency, which is aided by an underbody vortex generator and active rear spoiler, the latter of which is integrated into the rear screen and activated when the Roma reaches 100 kph. The spoiler can be deployed in 3 different positions – Low Drag, Medium Downforce and High Downforce and, at its highest setting, generate 95 kg of negative lift at 250 kph.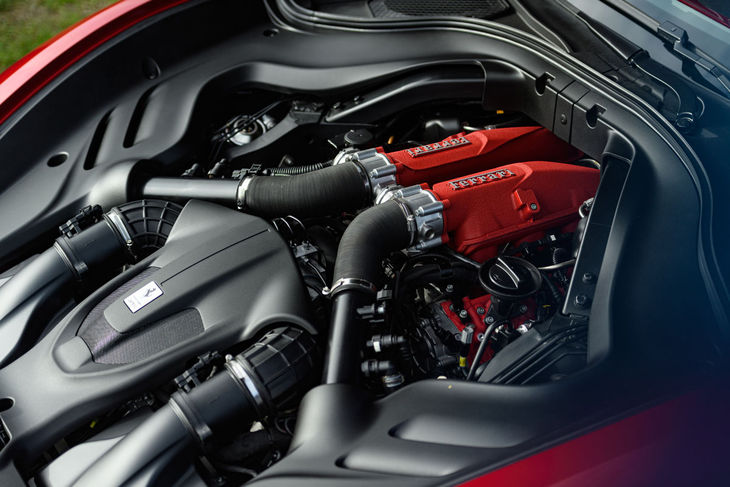 The Roma uses Ferrari's proven 3.9-litre V8 turbopetrol motor, but with a bespoke exhaust configuration.
Under its head-turning sheetmetal, the Roma's turbocharged 3.9-litre V8 gains new catalytic converters and petrol particulate filters to make the motor Euro-6 emissions-compliant. In fact, the exhaust system is completely different design compared to that of the Portofino; Ferrari has disposed of the silencers and introduced bypass valves.
The quicker-shifting 8-speed dual-clutch 'box is sourced from the SF90 Stradale and Ferrari has incorporated its latest Side-slip Control (SSC) 6.0 with Dynamic Enhancer (a torque-vectoring-by-brake system). On-board driver-assistance features include predictive braking, a surround-view camera and adaptive cruise control.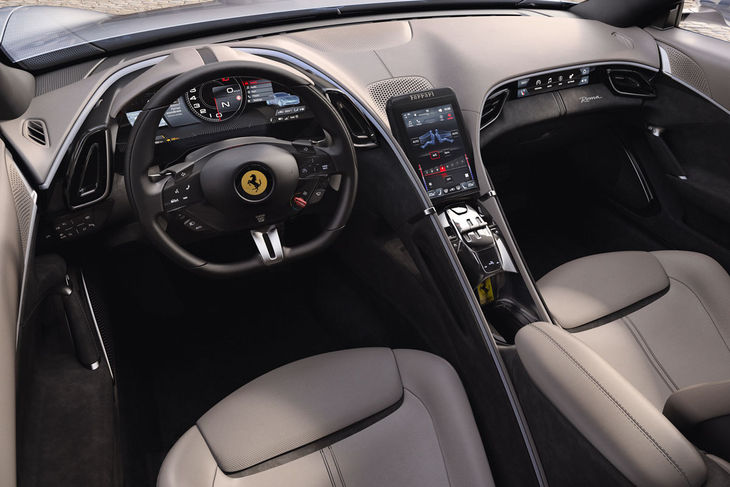 The twin-cockpit design adds a sense of theatre to the Roma's cabin; note the 3 separate digital screens.
Meanwhile, the new Ferrari key with "Comfort Access" function allows the driver to open the car by touching a button next to the flush-fitting door handle. The cabin adopts an intimate twin-cockpit interior concept, replete with a 16-inch virtual instrument cluster as well as an 8.4-inch portrait-style touchscreen on the central divider.
Apart from their choice of Poltrana Frau leather and Alcantara upholstery combinations (complemented by carbon-fibre and chrome-look finishes), buyers can also specify an 8.8-inch touchscreen for the passenger. As well as displaying driving data, the passenger screen can be used to control the Roma's infotainment system.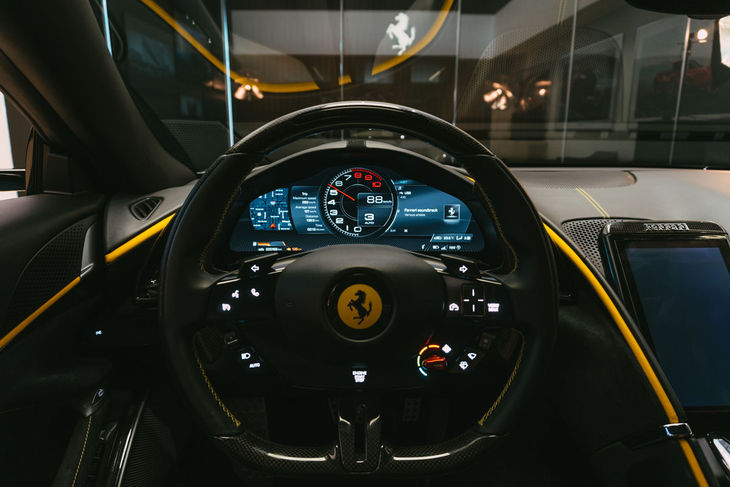 The newcomer's digital instrument cluster is user-configurable, but features a large central tachometer as standard.
The steering wheel, which is quite traditional (compared with the rest of the interior), features a Manettino switch to toggles drive modes through Wet, Comfort, Sport, Race and ESC off. The transmission panel, by contrast, has been designed to resemble a Ferrari shift-gate; its switches are housed inside an "H-pattern".
As for the Roma's so-called "2+" layout, the back seats are largely ornamental, even if they do feature ISOfix child-seat anchors. Ferrari claims a boot capacity of 272 litres, which is probably enough to accommodate a couple's luggage for a weekend jaunt, and can expand to 345 litres if optional fold-down seats are specified.
Ferrari Roma Price in South Africa (August 2020)
The Ferrari Roma is reported to have a starting price of R4 972 000 in Mzansi (depending on options specified and the going rate of exchange – best to check with your local dealer), which includes a 7-year maintenance plan, which covers yearly services, including labour, replacement parts, lubricants, engine oil and brake fluid.
Related content:
Maserati Sedans Gain Ferrari V8s
Novitec cranks up power, volume of F8 Tributo