The facelifted Volkswagen Up! launched in South Africa this week and we took it for a drive in Johannesburg. This is what we discovered...
The term "new" may be a tad overstated, but that shouldn't undermine the value the facelifted Volkswagen up! presents buyers. In an economy of buy-downs and start-ups, the relevance of cars such as the Up! is immense. So much so, that the entry-level A-segment accounts for more than 50% of the sales in the new car passenger market. It's a fact, small and affordable is in, big and expensive is out.
It's hard to think that it's already been almost 2 years since the introduction of the Up! in South Africa. It was probably the strangest looking car in its class. It arrived at the right time though, because its launch coincided with what I like to call "the rise of the hipsters". As a result, it's boxy construction and edgy lines were welcomed by many and approximately 4 600 units have been sold locally. The up! has now powdered its nose for the "party of its life" and has come out looking ready for yet another rendezvous with its picky target market.
What's changed?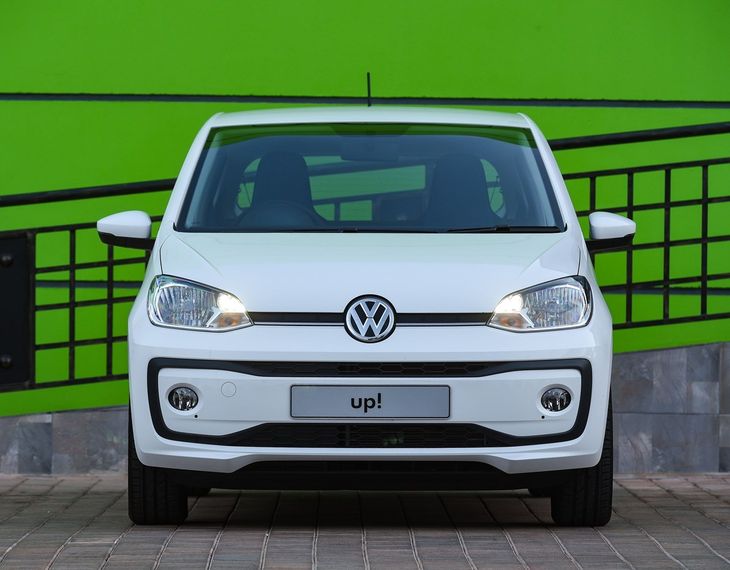 The changes to the facelifted Up! have improved an already accomplished product offering.
Exterior changes on the Up! are subtle, but they don't go unnoticed. The front-end features a new bumper and revamped headlights that now have LED daytime running lights. The nicest change, in my opinion, is the new rear lights, which are darker and more modern. They add a real space age look to an already modern-looking car. However, the interior is where you will notice the real change. In fact, if I happened to own a pre-facelift up! and stepped into the facelifted up!, I would experience what young people refer to as "FOMO" (Fear Of Missing Out).

The dashboard is also higher, making the car look more spacious and the new Composition range of radios look fantastic. In the Take up! you get the 3.1-inch display whereas the Move up! features the nicer 5-inch colour display. Both radios have Auxiliary and SD card readers but the 5-inch radio adds Bluetooth and USB functionality, which is a must have for most people. The up! is now also safer than before, as Volkswagen has made ABS, stability control and 4 airbags standard across the range.
More doors, more options, more fun
As slick as any 2-door car may look, you can't deny the fact that they are generally very impractical. The 5-door variant we drove had much more usable space and although the rear is still snug, it's much easier to exit the vehicle gracefully. All Up! derivatives are available with 5-doors only and new derivatives are joining the range too. The Take Up! and Move Up! are available as usual, but there's also the newly added Cross Up!, and for the music lovers out there, the Up! Beats, both of which will be introduced in the first quarter of 2017.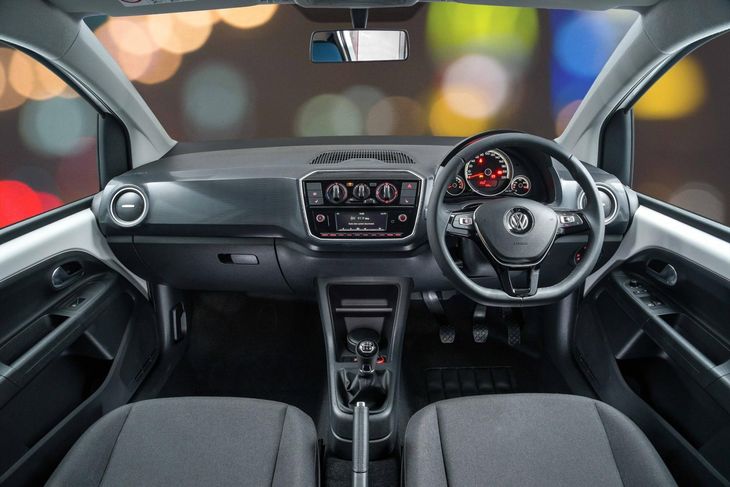 The interior has been improved with new Composition entertainment systems and USB functionality.

The latter is a collaboration with Beats Audio, which is known for its stellar sound systems. The up! Beats will have a six-speaker sound system, topped off with a subwoofer in the spare wheel well. The exterior of the Up! Beats will also feature unique styling elements such as red or black accents for the mirrors and wheel caps. If you're not into annoying your neighbors with a crazy sound system, you can opt for the Sound Plus Package in your standard Up!, which is much more sedate. There are other packages that may interest you, such as the Driver Package, which gives you cruise control, park distance control and a multi-function display. If you don't want to freeze in the winter months, you can also have heated seats offered by the Winter Package.
Float like a butterfly
With its 3-cylinder, 1.0-litre engine producing only 55 kW, we can't really say that the Up! stings like a bee. It does, however, float like a butterfly on the road with its nimble chassis and comfortable ride. The advantage of being "average height" (read short), meant that I could fit into the up! with ease. My driving partner didn't share the same dimensions as me (read fat), but he too felt comfortable enough during our 150 kilometre trip in the facelifted Up!

The engine feels eager to push on, but it does fall short on long, uphill stretches of road. That doesn't really matter though because the Up! is a city car. It's meant to zip around town and tip-toe in narrow side streets, something it does very well.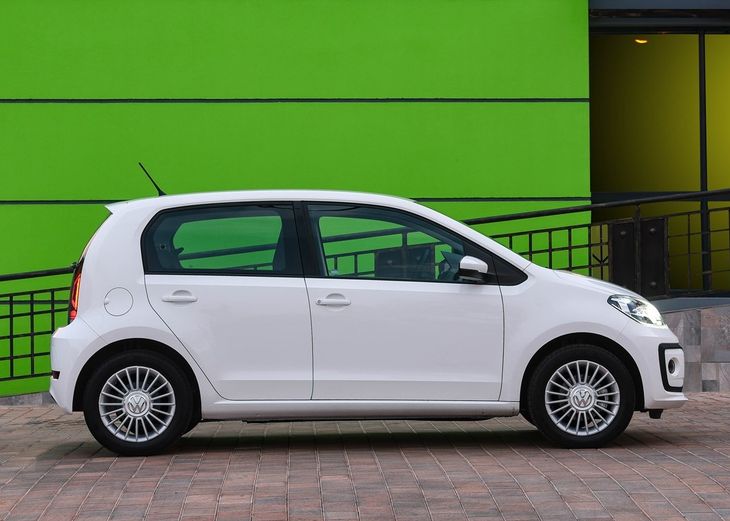 The Volkswagen up! performs best in the city and offers good ride quality and zippy performance.

The customer profile for an Up! is also very different to that of a Polo Vivo. When it was first introduced to the local market, Volkswagen was concerned that the up! could potentially steal sales from the Vivo. This wasn't the case at all, as the cars speak to different people, hence the introduction of the 5-door up! in South Africa. For that purpose then, it makes sense to improve the offering for that niche market through design changes and features that would appeal to an up! buyer.

Overall, the little "munchkin" is a cute little package that is affordable but can't be regarded as cheap because it's a quality product from a reputable brand. With an attractive starting price, one understands why this market is flourishing over others. It's great to know that even when budgets are tight, there are some great small cars, like the Up!, that are still within reach of many buyers looking for an attractive, quality offering.
Volkswagen Up! - Price in South Africa
1.0 MPI Take Up! (55kW) - R164 700
1.0 MPI Move Up! (55kW) - R178 300
1.0 MPI Up! beats (55kW) - R194 700
1.0 MPI Cross Up! (55kW) - R194 700
The Volkswagen Up! is sold with a 3-year/120 000 km warranty and a 12-year anti-corrosion warranty. Service plans are available as an option.
Related content:
Facelifted Volkswagen Up! – Specs and Pricing
Comparative Review: Volkswagen Cross Up! vs Smart ForFour
Budget Car Comparison: Volkswagen Move up! Vs Toyota Aygo X-Play
Volkswagen Up! vs Polo Vivo - Which Is Better? (Video)
Volkswagen Up! Video Review: What's it like?
Volkswagen Up! (2015) Review
Want to buy a Volkswagen Up!?
Find a new or used Volkswagen Up! on Cars.co.za