Lexus has revealed its updated ES sedan and the good news is its scheduled to arrive in South Africa before the end of 2021. Here's what you can expect.
Despite the rampant sales successes of the SUV, Lexus still sees big value in the sedan market. The Lexus ES made its debut back in 1989 and the Japanese brand has shifted around 2.65 million units to more than 80 countries.
The facelifted 7th generation Lexus ES receives similar styling cues to that of the flagship LS sedan. There are now geometric square bezels within the headlamp units, while new adaptive high-beam tech makes its debut, trim dependent. The trademark Lexus grille has been given a new mesh pattern and there are new-look 17- and 18-inch wheels.
There's been some work under the skin, with the rear suspension of the updated Lexus ES switching from a single-sheet structure to a stronger dual-sheet structure. This new setup, along with improved torsional and lateral rigidity has resulted in more neutral handling and balance. Lexus International Chief Engineer Tetsuya Aoki said: "Our goal was to deepen the high quality of the ES and to add new value. In addition to further improving quietness and ride comfort, we pursued linearity in vehicle movement, in response to steering wheel operation, that is faithful to the driver's intentions."
Inside, the facelifted Lexus ES features new cabin design features, ornamentation options and technology. A high-res 12.3 inch widescreen display has been repositioned closer to the driver and this new infotainment system adds touchscreen functionality. There are new materials in the doors and dashboard, giving customers more luxury.
The updated Lexus ES has a big focus on safety too, with the enhanced Lexus Safety System featuring a single-lens camera and millimetre-wave radar to help detect potential hazards. Other new features include Emergency Steering Assist, which assists steering within the vehicle's lane as cued by the driver, and Low Speed Acceleration Control, which supports the prevention of collisions caused by pedal misapplication at low speed.
Currently, the Lexus ES is available in petrol and hybrid derivatives. The line-up comprises the petrol ES 250 EX grade, an ES 300 hybrid EX grade (entry) ES 300 hybrid SE grade (top spec). The hybrid powertrain is a 2.5-litre naturally-aspirated petrol engine mated to an electric battery and motor. Total output is rated at 160 kW and the vehicle is said to consume 4.6 L/100 km.
Want to purchase a new or used Lexus? Browse stock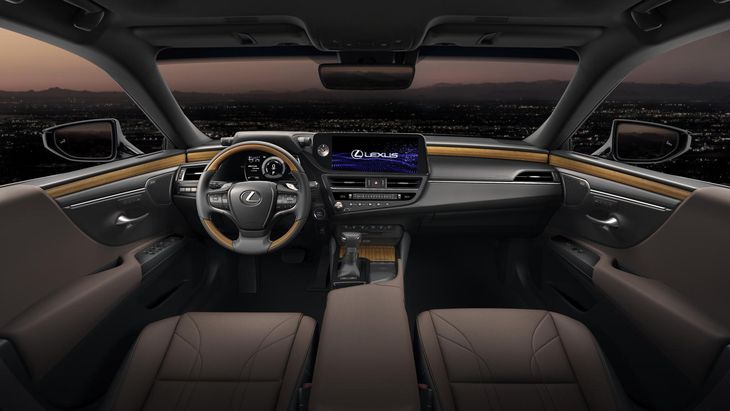 When is the updated Lexus ES coming to South Africa?
Lexus Sales and Marketing Vice President, Glenn Crompton says: "Lexus is fully committed to lowering fuel emissions and will continue to expand its hybrid offering across the product line up where possible. The ES 300h line-up was a natural extension for a luxury sedan that has had a good market share for hybrid sales over the last year. Lexus continued to command market leadership in Electrifed technology and achieved a 29% market share in 2020 within the luxury segment. The greater number of Lexus customers purchasing this luxury sedan will continue to enjoy the luxury of choice, supplemented by a new standard of range-wide connectivity," Crompton concludes.
Lexus South Africa has confirmed it will be introducing the updated Lexus ES range in the 4th quarter of 2021.
Further Reading
Lexus IS 300h (2021) Launch Review
Lexus Dominates 2021 JD Power Again
New Lexus IS 500 F Sport Unveiled