The 7th-generation Lexus ES (but only the 2nd version to be offered in South Africa) enters a shrinking executive sedan market armed with grand exterior styling, an extensive safety spec, a plush and feature-packed interior and, in 300h SE guise, a hybrid powertrain. On paper, it represents astonishingly good value for money, but is its "old-school luxobarge" demeanour somewhat out of step with other cars in its segment?
We like: Grand kerb appeal, plush interior, lavish spec, excellent warranty and maintenance plan
We don't like: Stodgy dynamics, hesitant braking performance
Fast facts
Price: R843 800
Engine: 2.5-litre 4-cylinder + electric motor
Transmission: e-CVT (automatic)
Fuel economy: 4.6 L/100 km
Power/Torque: 160 kW (combined)/221 (+electric) Nm
Own a Lexus? Tell us about your experience here.
SERIOUS ABOUT BUYING?
Check out full specification details and finance estimates here.
Some dealers regularly offer specials: Have a look here.

Clad in Opulent Blue dark metallic paintwork, the 300h SE looks expensive and futuristic, even if its very cruiser-like to drive.
What is it?
Whereas the ES used to represent a high-spec D-segment contender (in other words, a sedan that's slightly bigger than a business class model… if not quite as sophisticated), in Lexus' local sedan line-up, the new iteration effectively replaces the underappreciated GS executive sedan in South Africa. The new range's line-up is quite limited compared with those of its BMW 5 Series, Jaguar XF, Mercedes-Benz E-Class and Volvo S90 rivals, but both the ES 250 EX and range-topping 300h SE versions are positioned to compete with 2.0-litre offerings from competing manufacturers.
Whereas most of its rivals blend refinement and sophisticated tech with a modicum of sportiness, the Lexus ES is more akin to the Volvo S90 insofar as it seems to prioritise occupant comfort and a luxurious driving experience above everything else, which is perhaps a bit predictable, even staid. However, when you consider the eye-catching packaging and eminently plush interior of especially the 300h SE derivative, Lexus clearly purports to know exactly what its (more mature) clientele is looking for from an executive sedan. The difference is: the new ES makes its pretentions abundantly clear; it's much more distinctively styled and decidedly upmarket than its forebears and, critically, highly unlikely to fade into the scenery.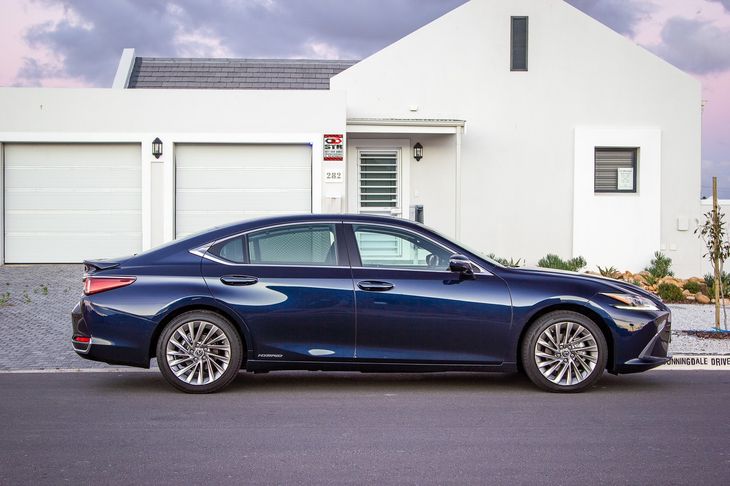 The ES arguably looks its best in profile, it's well-proportioned front-to-rear and its 18-inch alloys fill the wheel arches with aplomb.
How does it fare in terms of…
Head-turning looks?
Can you think of a more imposing front-end treatment in the (admittedly conservative) executive sedan segment? With each evolution of Lexus' characteristic spindle-grille, the Japanese frim adds greater sculptural detail to its products' frontal aspects (and associated brightwork), while the adaptive LED headlamps become slimmer, more ornate and seem etched into the bumpers, replete with zigs and zags in their outlines. To reiterate, such design cues are usually reserved for Lexus' IS business class range or its coupes, but this ES is evidently meant to draw admiring glances.
The test unit appeared thoroughly resplendent in its metallic "Opulent Blue" paintwork, which is tastefully contrasted with an assortment of chrome trim. The dark hue of the exterior successfully minimised the bulk and general slab-sidedness of the ES' sheet metal, but upon closer inspection you may notice low swage lines that kick up towards the rear wheel arches (on the sedan's flanks) and the smartly-profiled aft bumper that accentuates the characterful tail lamp clusters, which are separated from the prone spoiler lip by a thin stretch of wraparound satin chrome. Very neat.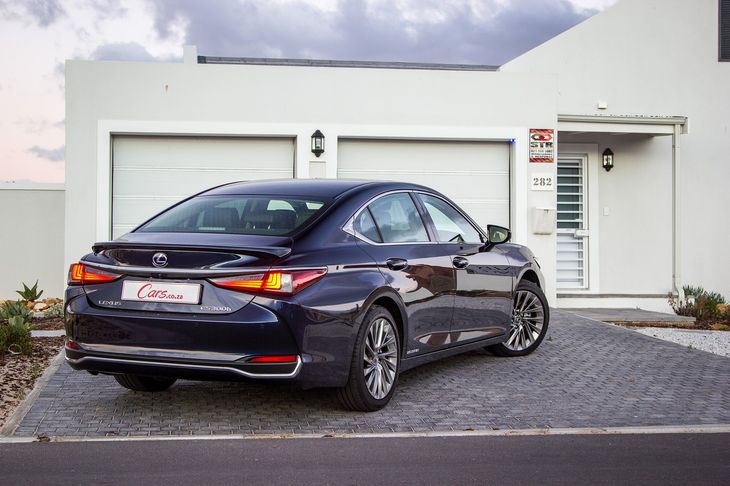 Note how the contour of the rear bumper's lower chrome garnish mimics the outlines of exhaust ends; those are just for show...
Of course, the relative "shoutiness" of the newcomer's exterior execution, at least by Lexus' traditional standards, is bound to divide opinion. It does not have an F-Sport styling pack per se, but we don't believe the 300h ES, which looks dapper with its elaborately-spoked (and titanium-coloured) 18-inch alloys, should have to stand back to any M Sport, Avantgarde, R-Sport or R-Design specced rival in terms of outright kerb appeal.
Surfeit interior comfort?
Irrespective of whether prospective buyers find the ES 300h's exterior design to their taste, or merely acceptable (for that matter), the Lexus' lavishly trimmed interior is elegant, old-school smart (in a good way) and hard to fault, at least from a fit and finish point of view. Swathes of semi-aniline leather with embossed stitching are complemented by wood trim with a pleasing natural finish (yes, natural veneer still looks attractive if executed well), as well as a plethora of soft-touch finishes and multiple modes of electric adjustment; the cabin exudes opulence in almost anyone's book!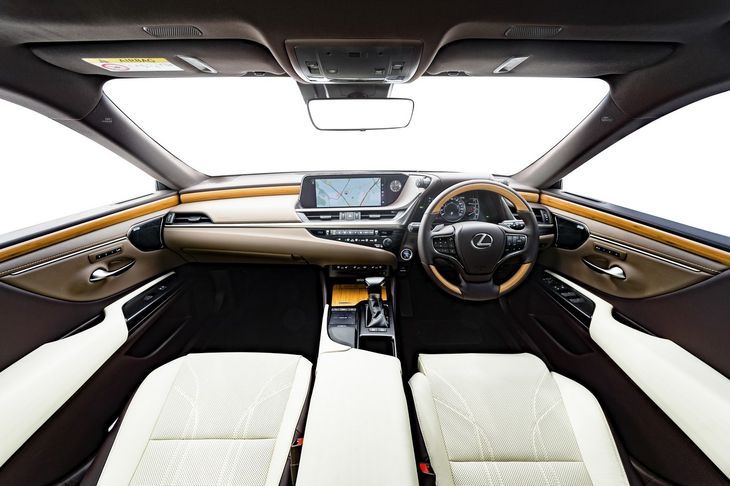 Tasteful natural wood inserts frame the sumptuous interior of the ES 300h. There is no lack of electronic gizmos or -adjustment.
The front seats are cossetting and offer electric adjustment (including lumbar support) as well as heating, with a memory function for the driver, which stores the position of the seat and (also power-adjustable!) steering column and the angle of the right side mirror. As for the rear passengers, they're availed generous leg- and good headroom, plus, when you fold the centre armrest out, you're greeted by a console that allows aft occupants to set the 3rd zone of the climate control system to a temperature of their choice, activate seat heating if and when required (there are 3 settings to choose from), recline the outer seatbacks to angles that they prefer, and even operate some of the infotainment system's functions.
What's more, the occupant seated behind the front passenger can electrically adjust the chair in front of them to free up even more legroom; the ES 300h SE is certainly not a first-class sedan (there is an LS model for exactly that purpose), but it certainly incorporates a few limousine-like features.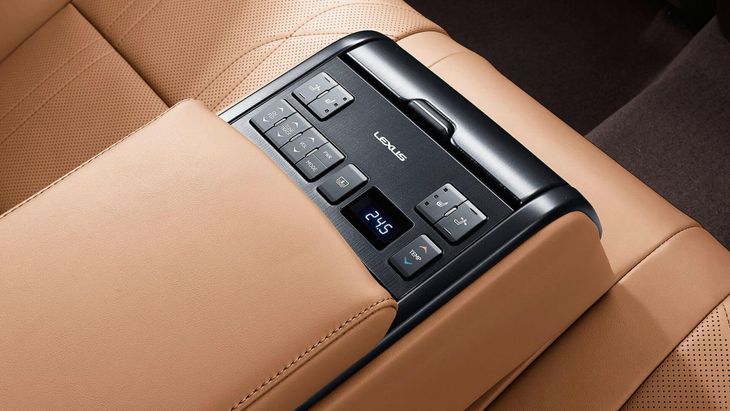 The kids are going to love this! There is a console built into the rear centre armrest that affords a number of comfort adjustments.
And criticism? Well, the cabin has a few minor ergonomic issues. As in other Lexus products, the infotainment system is operated by a square "Remote Touch" pad located next to the transmission lever. Unfortunately, those who are accustomed to using a clickable knob to sift through onboard menus are bound to find the interface imprecise, even fiddly, at first. We appreciated the crisp graphics of the 12.3-inch infotainment screen and how well it matched the look of the (mostly digital) instrument panel, but why do the lower fascia's temperature readouts have to look so plain?
Luxurious specification?
Most impressively, Lexus' policy to equip its models with a comprehensive list of standard features makes the 300h ES (in particular, because it's notably better equipped than the 250 EX) a tantalising proposition, compared with its continental rivals. Over and above the features we've already mentioned, the Lexus sports a wireless phone charger in its centre console, satnav, adaptive cruise control, a head-up display, a 17-speaker, 835-Watt Mark Levinson surround sound audio system, a surround-view monitor (including the reverse-view monitor) and expansive sunroof.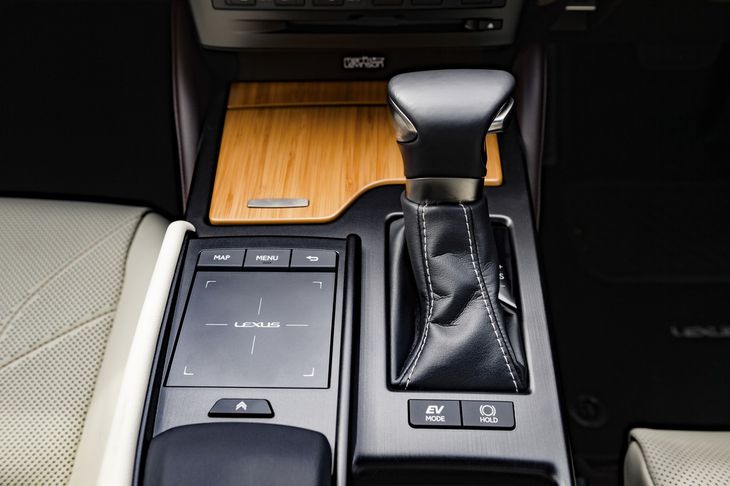 The Remote Touch controller has received quite a bit of criticism in the past. It requires familiarisation, but not as much as you'd think.
Of course, all of that excludes the safety specification, with incorporates a Pre-Crash System (underpinned by the radar and camera technology of the Dynamic Radar Cruise Control) with synchronised braking, lane-departure alert with lane-keeping assist, ABS with EBD, vehicle stability control, hill assist- and traction control, blind-spot monitor, PDC all round, and a total of 8 airbags, including a pair of knee 'bags up front.
Performance and refinement?
Let's start with the good news first. Whether mostly as a result of aerodynamic efficiency and superior acoustic insulation, or a superbly pliant, comfort-biased suspension configuration (more likely a near-perfect combination of the two), the ES 300h has utterly refined road manners.
The Lexus positively wafts down the road in a way that few executive sedans, most of which ride on somewhat sportily-sprung suspensions and are probably shod with large alloys wrapped in low-profile tyres, can. Few driving experiences are as relaxing, or indeed as mindlessly luxurious, as cruising on the highway with the Lexus' safety systems taking care of several of the driver's responsibilities (there is no active cornering assist system, which is, perhaps, a bit of an oversight). We traversed a few marginal roads in the Lexus and its progress was mostly unflustered.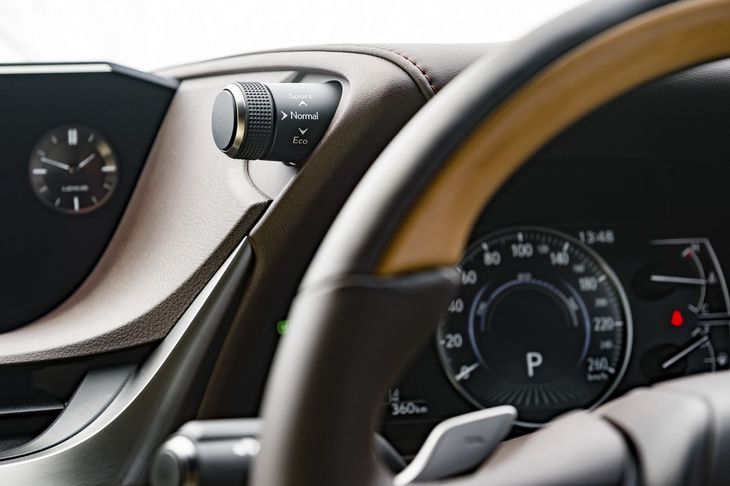 The placement of the drive mode selector (atop the instrument binnacle) is a bit strange. It's of little use in the ES 300h, anyway.
The downside to that easy-going on-road demeanour is that in terms of dynamism, the Lexus offers little in the way of driver involvement. The smooth, effortless steering feels largely inert, even remote, and, as efficient as the petrol-electric powertrain can be if driven with a measured approach (an ambitious consumption figure of 4.6 L/100 km is quoted for the 300h SE), it offers a merely moderate torque output, which means overtaking thrust is limited – or at least takes a while to make its presence felt. Most disappointing, however, is the lumpy braking performance… The Lexus has to use its brakes to harvest kinetic energy (which it uses to add charge to the battery) and, of course, haul around the added weight of the battery, motor and peripherals. As a result, the car feels heavy and the brake pedal requires firm pressure to scrub off speed in the twisties.
Price and Warranty
The 300h SE derivative of the ES range retails for R843 800 (February 2019), which includes a 7-Year/105 000 km warranty and an industry-leading 7-year/105 000 km maintenance plan.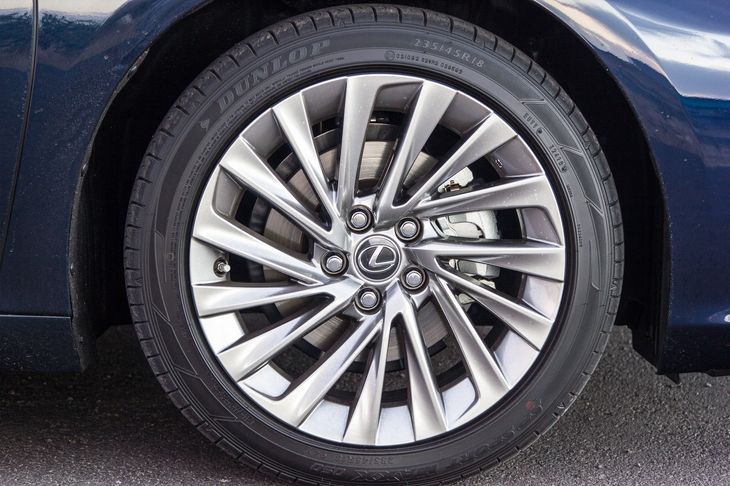 What would it take to park these in your driveway? Lexus offers an impressive warranty, maintenance plan and guaranteed future value deals...
Verdict
Suffice to say the flagship of the new Lexus ES range makes a very strong first impression – and grows more likeable the more you drive it. Its aesthetic packaging has a great sense of occasion, the interior looks and feels grand and, what's more, the feature-packed specification adds a sense of value for money, which seems odd at the 300h SE's price point, but makes sense if you consider the lengths of its rivals' options lists.
Alas, it's not an all-rounder – it's a handsome, spacious, luxurious and comfortable cruiser that reminds of plush land yachts of yesteryear, but then that might be exactly what most members of its target market are looking for. We sense that Lexus' 2.0-litre turbo motor or even the venerable naturally aspirated 3.5-litre V6 might add a bit more pizzazz to the ES' driving experience, but as things stand, the hybrid setup is probably best suited to well-heeled commuters who need to negotiate gridlock traffic on the way to (and back from) their offices as (fuel) efficiently as possible.
Also consider that thanks to the 7-year/105 000 km maintenance plan, the Lexus represents a better-than-most long-term ownership proposition, which is a big plus, seeing that rapid depreciation hurts executive sedans (across the board) harder than hatchbacks and SUVs… Let us put it this way: you don't want to sell on these cars after a couple of years of ownership unless you absolutely have to. To soften the blow, however, Lexus offers a number of guaranteed future value deals on the ES range from the outset – click here to learn more about Future Drive packages.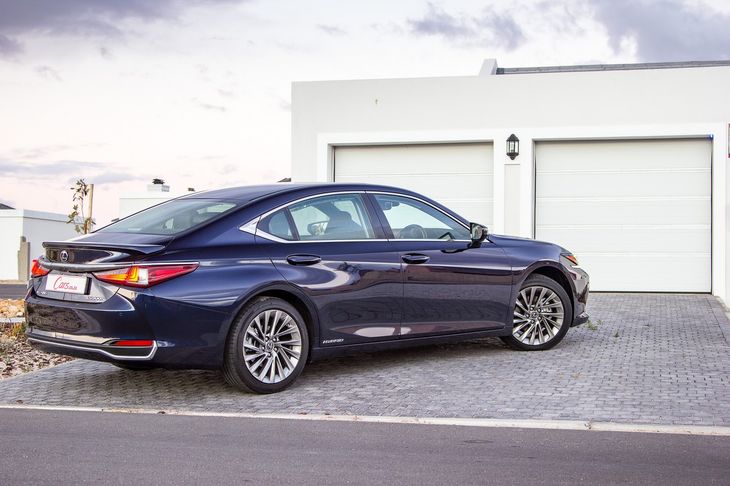 In a shrinking segment, Lexus has stuck with what it does best: comprehensive luxury. However, it looks much more enticing than before.
Alternatives (click on the names for specification details):
The Bavarian manufacturer's self-styled "business athlete" offers reasonable performance and verve in 520i M Sport guise, but, expect to pay handsomely to spec it up to near the ES 300h SE's level of appointment.
Although the current generation of XF doesn't quite excite the senses in the way its predecessor did, there's much to like about the spirited Jag, including its dynamic character. It's not quite as well made as the Lexus, however, and not particularly well equipped in Prestige spec either.
The Three-pointed Star's E-Class has won the executive sedan category of the Cars.co.za Consumer Awards, powered by WesBank, for 2 years in a row, although not in E250 guise. The E-Class has an impressive melange of talents, although the ES, in 300h SE form, feels more luxurious.
Widely regarded as the best-kept secret in the segment, the S90 exudes cool elegance and tasteful understatement. With the Inscription package, the T5 derivative lacks very little and Volvo offers enticing deals to get you behind the 'wheel. You can even rent one for 6, 12 or 24 months.
Related content:
Lexus ES (2018) Spec and Price
BMW 540i M Sport (2017) Review [with Video]
Jaguar XF Special Edition for SA