With devastatingly good looks and an intoxicating but "politically incorrect" non-turbo 3.7-litre V6 driving the rear wheels, Nissan's 370Z has always proved a delight. But nearly a decade since its inception, is it still a thrill?
Although it has been constantly shadowed by fancier nameplates, Nissan's 370Z has always been a compelling car in some ways, not least its keen pricing and non-conformist engineering. Persistently sexy, it now has the gung-ho attitude of a mini R35 Nissan GT-R going for it and is particularly eye-catching in a new shade of metallic red. Features added to the new car include smoked head and rear lights; metal chrome door handles; a black painted rear diffuser and new design 19-inch alloy wheels. The cabin gains a new infotainment system that functions through a seven-inch touch-screen as seen in the new Navara; reverse camera; satellite navigation; DVD player and an integrated 9.3GB hard drive plus it's a fine, comfortable and easy drive that promises to swallow a golf-bag or two.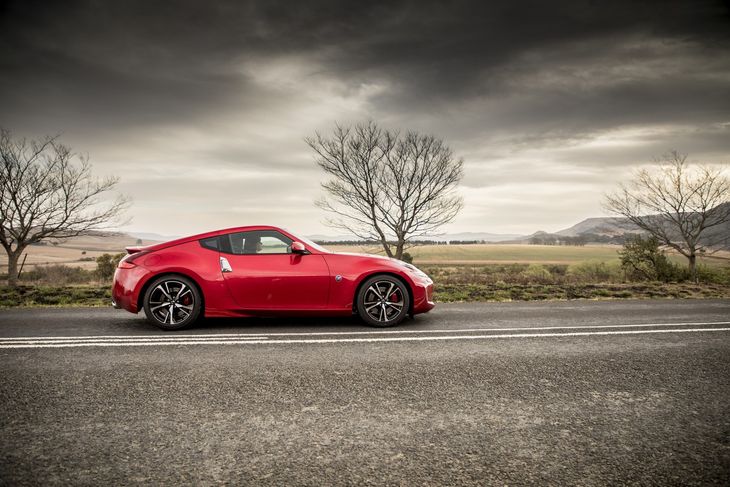 Nearly a decade down the line, the 370Z still looks like a modern sportscar.
The oily bits
Confidently pushing the start button provokes the 3.7-litre 6-cylinder engine into life. It's the same unit as it's always carried and though it has always lacked the sonorous musicality of the earlier 350Z it packs a heady 245 kW and 343 Nm. The nuts and bolts are largely untouched save for tweaks on its suspension to enhance its dynamic and comfort envelope and a new version of its clever high-performance clutch with a Syncro Rev Control throttle-blipping feature. Essentially it's an automated version of the heel-and-toe foot dance mastered by professional race drivers but the average human can flip the scripts and just enjoy throttle blips on down-shifts. The 370Z clutch performs this synchronizing function for you in all available gear-downs. It's good for 100 kph in 5.4 seconds and reaches a top end of 250 kph.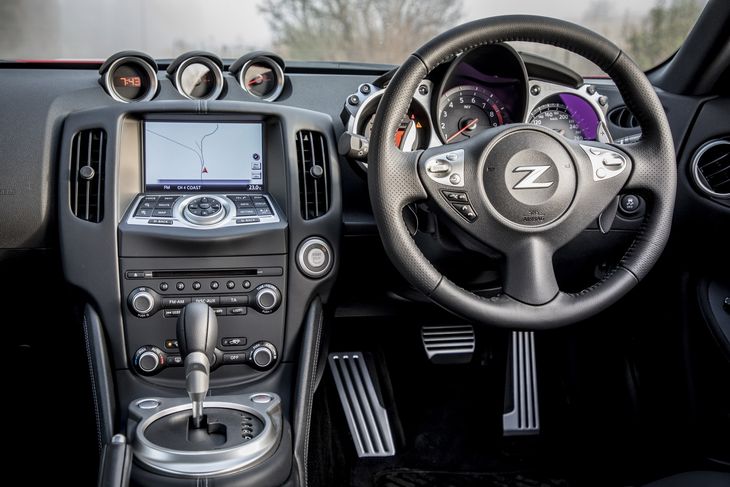 The revision comes with a newer infotainment system and reverse-view camera.
Segment Rivals
Heritage. This Nissan has this stuff in heaps. It's a part of an eight-car line of special, compact Nissan's Z-coupes which have always played a supporting role to the larger and truly mental brigade of R-badged Skylines over the ages. This latest 370Z is merely a face-lift rather than an all-new car; Z-car 8.5 if you will. It has the more expensive, scalpel-sharp Porsche 718 Cayman; the hoity-toity Mercedes-Benz SLC300 and the 70k dearer, but enormously faster Audi TTS in its gun-sights. Admittedly it's outclassed in some major aspects by this trio however, it's this anti-thesis on the subject matter of modern compact sports coupery that gives it a certain charm in the eyes of those who like things a little old school.
Old School's cool
It's classified under "old school" for a reason. The Nissan 370Z is among very few cars whose makers remain loyal to the addictive savagery of natural aspiration. To this end, it's only the Mazda MX-5, Audi R8 V10, Ford Mustang 5.0 GT, Porsche GT 3 RS and the entire Lamborghini range that steadfastly hold on to this good old way of thrilling. The 370Z is also amongst an even rarer bunch of high-end cars that can still be had with a manual transmission. Not even the ballistic GT-R offers you the luxury to inflame its pot of volcanic power by hand.

The 370Z is old school and cool. Naturally aspirated, manual gearbox and limited electronic driving aids and gizmos.
Old school is many things. Over the 14 years of being an automotive writer, I've grumbled at a number of vehicle brands over a variety of mistakes. BMW moved away from manual gearboxes, which gained momentum with the refusal to produce the 2005 E60 BMW M5 6-speed manual in right-hand-drive guise; Audi's correct stand on natural aspiration but fumbled by its insistence on AWD underpinnings for the R8, and Mercedes-AMG's initial reluctance to pile on the power in the historically disparaged C32 AMG. These are a few examples and I'm glad to report that they seem to have corrected the error of their ways. BMW now offers the current M4 in a 6-speed manual; Audi has released a limited series of RWD R8s and Mercedes-AMG has long lost its introverted approach to power delivery.
The Perfect Beast
Quite recently I got to drive a trio of rare old school performance cars; a 1978 BMW M1, a 1986 BMW 333i and the underrated Lexus IS F powered by a 5.0-litre V8. Thankfully I'd also driven a trio of new school performance cars; a BMW M4 DTM Championship Edition, Aston Martin DB11 and a Lamborghini Huracan LP 610-4. This variety in performance machinery has helped a lot in fine tuning the exact texture that I like from the ultimate sportscar, which would have expressive aerofoil aesthetics of both Lamborghini and BMW M1 and the DB11's aristocratic living quarters fused with the Gryphon fighter jet ergonomics of the Huracan's cabin.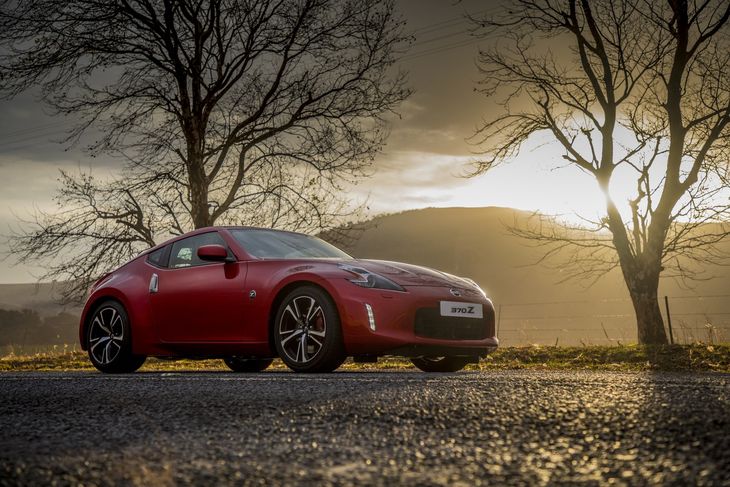 We're not sure those vertical LEDs do much for the look, but at least it's a reason to remind us the 370Z is still around.
Mechanically, the naturally aspirated V10 of the baby Lambo for its immediate delivery of thunder and it's chassis will form the skeleton but I'll demand deletion of its Audi-esque AWD system permanently. Then I'll deploy BMW gurus to add lightness and recreate the rear wheel drive magic found in the M4 DTM while transmission choices would be two versions; one fitted with the heroic dog-leg manual trannie found in both the BMW M1 and 333i while the automatic version to be used largely for leisurely drives and by the uninitiated will get the far-reaching and fast-changing 'box from the Lexus. The end result should be explosive and sensationally fast; drift like the BMW M4 DTM and shout murder like the Lamborghini.
This is the Nissan 370Z in a nutshell. It cruises well; it's specified to satisfy the basics demands of a digital world; it looks good; it arrives at 250km/h and it comes in manual or auto. Expert helms-men can merrily take it on track or drift it until their heart's content. It's an all-encompassing driving experience.
Related content
Nissan 370Z (2017) Specs & Price
Nissan 370Z Nismo Updated Again
Six Modern Day Classics To Buy Right Now
Toyota 86 High (2017) Quick Review
Porsche 718 Cayman S (2016) First Drive
Searching for a used 370Z?