Volkswagen is currently rolling out its Electric Vehicle (EV) strategy and while we can expect to see a range of new all-electric vehicles coming to market in the near future, the brand's R division is bound to be swept up in the electric tide too.
Volkswagen has big electric plans with as many 75 new electric vehicles expected within the next 9 years. The ID.3 hatchback has already been revealed and ID. Crozz electric crossover is due very soon with the ID. family of electric vehicles is expected to grow steadily in coming months and years.
But what of Volkswagen's R division? The shift to electric within the R brand is already well underway and this hit home with the recent reveal of the Touareg R, the first R model to feature a plug-in hybrid powertrain and it's the most powerful passenger car in Volkswagen's current line up with 340 kW and 700 Nm of torque.
More so, the fact that the multiple-record-breaking ID.R electric race car wears the 'R' rather proudly should give you a hint of what's to come for the beloved R brand.
Now, before you have go into a tailspin, don't fret, the forthcoming Golf 8 R will still employ an internal combustion engine with at least 245 kW and all-wheel drive capability which should be good for a zero to 100 kph sprint time of around 4.5 seconds. This, however, is also likely to change by the time the Golf 9 R rolls around.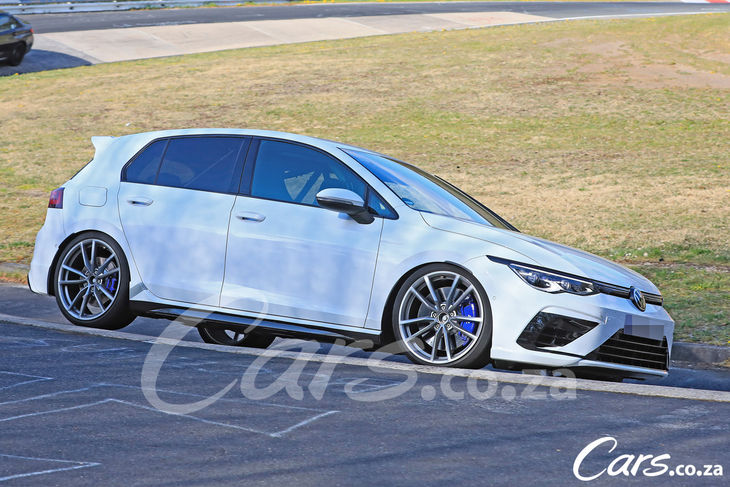 The forthcoming Golf 8 R is in development and will feature an internal combustion engine, but that will likely change with the next generation.
This electric sentiment for the R division was clearly confirmed in a recent interview with Top Gear, where Volkswagen Board Member, Jürgen Stackmann, said "The future of R needs to be, and will be, electric. We're still working on what we started two and half years ago – which was obviously not electric, though exciting – but the work going forward is and will be electrified."
The Golf 8 R will undoubtedly be a smash hit with fans of the brand and it will likely take some time for enthusiasts to get excited about its electric future which is literally now on our doorsteps.
The transition to electric will, however, take longer to establish itself in South Africa as vast distances, infrastructure challenges, range anxiety and high pricing of new electric vehicles are likely to remain prohibitive factors for the foreseeable future.
Nonetheless, brands such as Volkswagen, are testing the waters and in February 2020 the brand kicked off its e-Golf pilot project which is the first step in a process to have Volkswagen electric vehicles on sale in South Africa by 2022. As part of this pilot project, Cars.co.za is currently testing the e-Golf in Johannesburg.
We will keep you up-to-date as Volkswagen's electric strategy unfolds in South Africa.
Buy a Volkswagen Golf on Cars.co.za
Related Content
Volkswagen Golf GTI (2020) International First Ride
Spy Shots: 2021 VW Golf 8 GTI Clubsport