The Datsun Go has been updated and the revised version of the controversial budget car comes to market replete with substantial improvements, including a safety upgrade. We headed to Gauteng to drive the newcomer.
Back in 2013, the car world was surprised by news of the resurgence of the Datsun brand. Hopes were high that finally there would be a quality NEW vehicle that would suit budget-car buyers to a tee. Named Go, it offered pleasing levels of comfort, performance and specification on paper. However, there was a catch. The first iteration of Datsun Go was under-equipped in terms of safety, it featured no airbags or ABS. Later, a single airbag (for the driver) was added to the top-spec 1.2 Lux derivative, which was the sole offering on the market before the arrival of the facelift.
Worse still was that the vehicle's body didn't appear to offer enough structural integrity to provide notable occupant protection in the event of an accident – which meant that even tripling the airbag count would have had little effect. The condemnation in the media (mainstream and social) was brutal after NCAP scored the Go zero. Our review of the Go was ambivalent; we thought it was okay to drive, but the safety issue was critical.
Despite this, the Go has sold well in South Africa, which suggests that many customers are willing to sacrifice safety for the pleasure of owning a new vehicle (a phenomenon that ensured "continuation vehicles", such as the VW CitiGolf and Toyota Tazz, remained in local production long after they'd been replaced in their countries of origin; they sold well right up to the point they were discontinued).
Besides, it's easy to understand why... the alternatives to new-car ownership are running inefficient or unreliable old cars or using public transport which is not without its risks and limitations.
Enter this facelifted Datsun Go, with which the Japanese company hopes to surpass the average sales count of the preceding model (around 500 units a month). To date, almost 25 000 Datsun Go variants have found homes in South Africa.
What's new?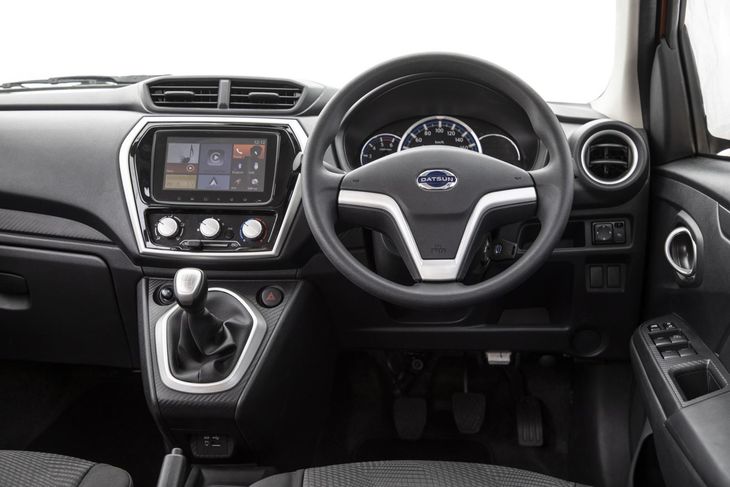 The Datsun Go's revised fascia features a far more modern infotainment system. The front bench also been replaced by 2 individual seats.
There has been a huge focus on the part of Datsun to improve the Go's cabin quality and ergonomics. The 1-piece bench seating arrangement at the front has made way for 2 individual seats and the resulting central space means a conventional handbrake has been fitted, doing away with the agricultural and ungainly "umbrella handle" handbrake, which used to protrude from the dashboard.
There's an all-new touchscreen infotainment system, which is more akin in layout and user experience to that of a smartphone than a "fancy car radio". We believe the Go's tech-savvy intended target market will lap that up. Also in the mix is Apple CarPlay and Android Auto, the latter we used extensively for its music streaming functionality on our test drive. Another nice feature added to the Go's spec is rear parking sensors.
Want to get Android Auto in SA? Here's how
The powertrain has been carried over and it's a 1.2-litre 3-cylinder motor that produces a tidy 50 kW and 104 Nm. Those outputs may not sound like much (at all), but the Datsun Go is a lightweight vehicle and it doesn't need much in the way of engine pulling power to motivate it. Power goes to the front wheels via a 5-speed manual gearbox. Datsun claims an average fuel economy figure of 5.2 L/100 km.
The massive change, however, is the addition of significant safety features. The driver's airbag has been joined by a 2nd airbag for the front passenger and crucially, an anti-lock braking system (ABS) has been fitted. The addition of ABS will result in fewer collisions (and help inexperienced drivers, in particular). As for improvements to the Go's structural rigidity (especially around the passenger cell), we expect that Datsun will have to have made (or will still make) running upgrades in anticipation of further crash testing being conducted on the upgraded Go by organisations such as NCAP. The firm said that it will be looking at introducing stability control in 2019, but that will undoubtedly impact the list price.
Read all about the detailed changes here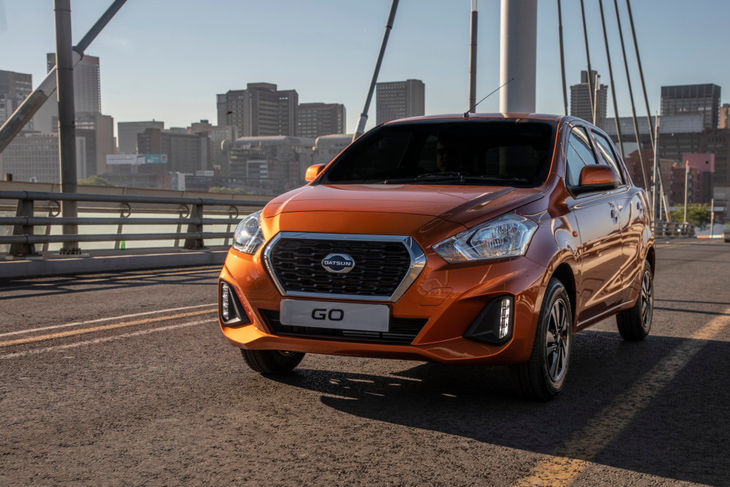 Top-spec models get alloy wheels and daytime running lights
How does it drive?
Our launch route was a combination of highway and urban driving, and we put the newcomer through its paces. However, when we recalled our impressions of the pre-facelift version, we realised that there's now a big jump between the two. The previous version of the Datsun Go suffered from severe body-roll during cornering and a combination of harsh road and engine noise was tough to bear. At 120 kph, we felt a bit vulnerable in the Go and the car didn't inspire confidence on congested highways. This newer version feels a bit more stable and offers a relaxed drive.
The great news is that the new Go feels more solidly assembled and -finished, in general. The gear action is light and smooth, and the 'box's shift quality slick (a good thing, as you'll be working the gears often!). At the altitude of Gauteng, you will need to work that little engine quite hard and almost every highway overtaking manoeuvre required a gear-change down into 4th. We feel that noise, vibration and harshness (NVH) suppression has been improved too. There are still a handful of rough edges, but at this price point, we can't criticise them that harshly.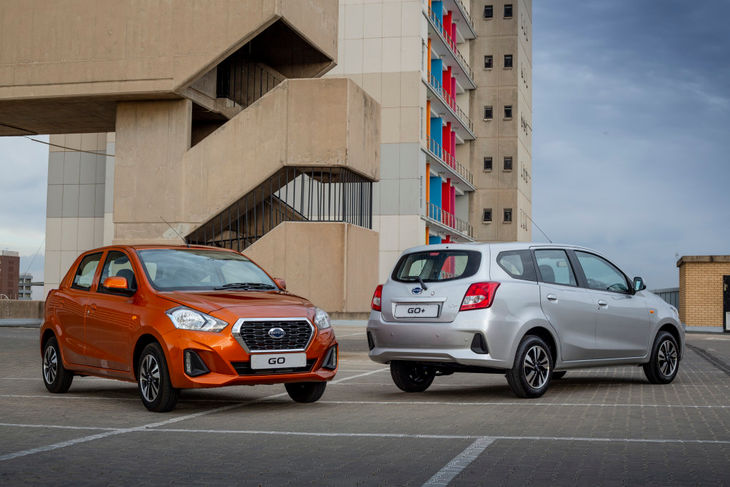 The Datsun Go is also available in a 7-seater and panel van configuration.
Verdict
Now that safety, the proverbial elephant in the room has addressed (at least to an extent), one can justifiably regard the Datsun Go as a strong all-round contender in the (exceedingly) price-sensitive budget car segment. The addition of ABS has huge (but, thankfully, positive) implications and this should further bolster sales. In terms of interior quality, the difference between the outgoing model and the newcomer is night and day; so much so that one could easily be fooled into thinking they were 2 almost unrelated vehicles. More convenience features such as the smart and modern infotainment system will also help draw customers in. So the new Datsun Go is starting to look like quite the budget bargain and, as those dreadful infomercials go, "but wait, there's more". Datsun Go customers will receive 1 year's insurance with their new car, sweetening the deal even further.
Datsun Go - Price in SA
Datsun GO Mid R144 500
Datsun GO Lux R165 500
Datsun GO+ 7-seater Mid R154 200
Datsun GO+ 7-seater Lux R175 900
Datsun GO+ Panel Van R155 200
The Datsun Go is sold with a 3-year/100 000 km warranty and an optional service plan.
Further reading:
5 Cheapest New Cars in South Africa (2018)
Datsun shows off new Crossover
Datsun Go-Cross Concept Revealed
Global NCAP and AA Crash Test Popular Cars in SA
Interested in buying a Datsun?