In an effort to make its popular budget-car offering better suited for commuting in congested traffic, Datsun has equipped its Go hatchback (as well as the Go+ MPV) with a continuously variable (automatic) transmission. We spent a week with the 1.2 Lux CVT to find out if it's worthy of your attention. Might it be better to "stick" with the manual? Let's find out...
We Like: Surprisingly good CVT performance, connectivity features, improved safety spec
We Don't Like: Thirstier than expected, some build quality issues, pricey
Fast Facts
Price: R188 300 (January 2019)
Engine: 1.2-litre petrol
Power/Torque: 57 Nm/104 Nm
Transmission: Continuously variable transmission (CVT)
Fuel consumption (claimed): 5.0 L/100 km
Load capacity: 265 litres
What is it?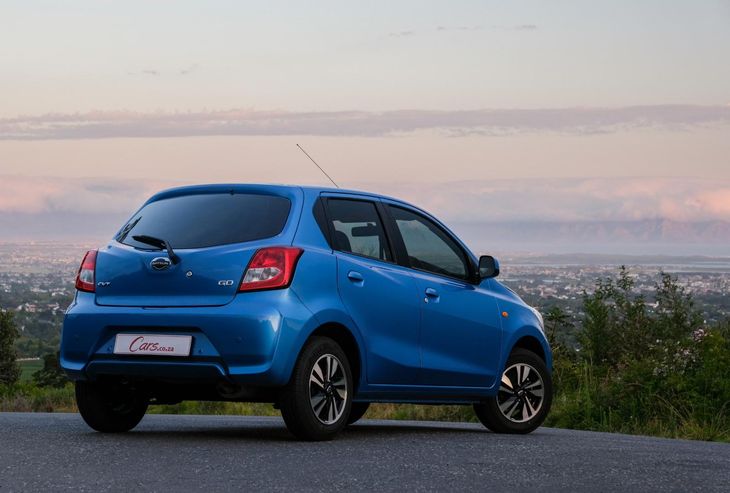 Now that the Go range includes a CVT option, Datsun may garner more sales (and an older clientele?) in the budget car segment.
The Datsun Go budget hatchback needs little introduction. It's been on sale in South Africa since 2014 and while it has previously been lambasted for its meagre safety specification and poor crash ratings, Datsun has gone to great lengths to remedy the situation – the Go is now far safer than it ever was (in terms of body integrity and features fitted) and the brand must be commended for taking action in this regard (we detail that upgrade later in this review).
As important as a car's safety specification is, buyers in the budget-car segment seem more concerned with purchasing a brand new car that offers good value for money... The Go has proven hugely popular despite the fact that it initially did not have ABS or airbags. A driver's airbag was later added and the late-2018 facelift introduced ABS and another 'bag. But that's pushed up the Datsun's price – it no longer features on our Cheapest Cars in South Africa list.
Brands such as Suzuki, Kia, Hyundai and Renault have offered automatic derivatives of their budget-car models for some time already and Datsun has now joined the clan of cut-price self-shifters. Datsun, however, has gone the CVT route, which contrasts with the segment trend of fitting automated-manual (AMT) instead of conventional torque-converter automatic transmissions.
How it performs in terms of…
Performance and economy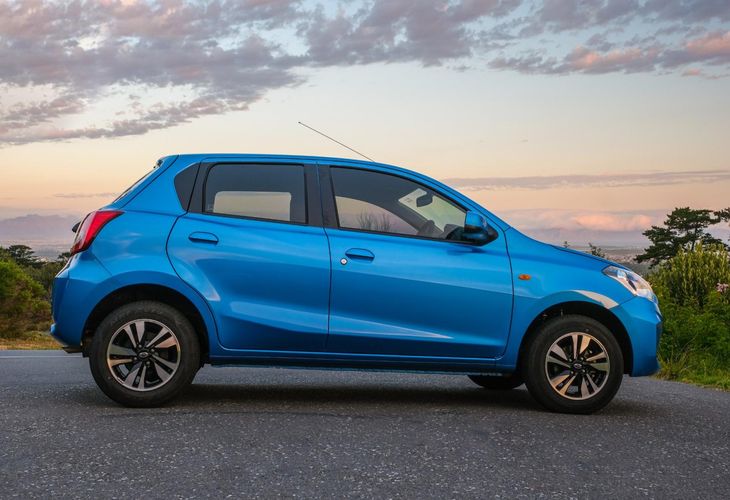 The Go CVT makes driving in heavy traffic far more comfortable.
Historically, we have found small cars equipped with CVTs disappointing, but there have been a few exceptions. A budget-car engine isn't particularly torquey anyway and, when you combine it with a CVT, it produces lethargic, uninspired acceleration and tends to be annoyingly noisy under applications of full throttle. However, we think the CVT in the Datsun Go is far superior to the cumbersome AMT of its Renault Kwid cousin (which we tested in 2018), for example.
In fact, the CVT in the 1.2 Lux was much better than we anticipated. When tasking the Datsun's motor to accelerate firmly by applying constant and measured inputs to the accelerator pedal, the Go gains momentum at a fair pace and the transmission noise is kept to a tolerable level. As a matter of fact, the 1.2 Lux CVT delivers zippy performance between traffic lights, but at highway speeds, extra time and planning are required to execute overtaking manoeuvres safely.
The steering lacks feel (which is to be expected), but the tiller is still relatively responsive to inputs and body-roll is evident when you hustle the Go through a corner, but not alarmingly so. The ride quality is perfectly average; it's only when the Datsun traverses harsher bumps that suspension thumps reverberate through the cabin. For the most part, the Go is well-suited for city driving – it can even negotiate the odd gravel route from time to time. if needs must.
The 1.2-litre, 3-cylinder petrol engine offers 57 kW and 104 Nm of torque, which is actually 7 kW more than what's available from the manual derivative. Datsun claims an average fuel consumption figure of 5.0 L/100 km, which is a trifle ambitious... During our test, the Japanese hatch yielded indicated figures of around 7.3 L/100 km.
Interior quality and features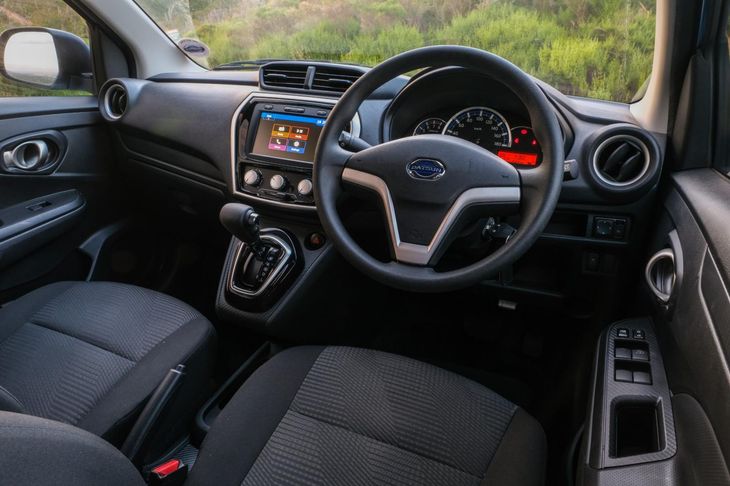 The interior is basic, but functional. Note that there are no mounted controls on the steering wheel.
While the Datsun Go's asking prices have gone up, the model's interior build quality has not moved upmarket – it cannot hide its budget roots. Hard plastics abound in the Go's cabin and the temperature, ventilation and AC dials look like they were plucked from a cheap children's toy. Needless to say, overall perceived build quality is average-to-marginal.
There's no multifunction steering wheel, which is a pity; it should be included at this price point. There is, however, a touchscreen infotainment system that offers Apple CarPlay and Android Auto compatibility. The system is easy enough to use, however, if a tad slow to respond to inputs. There is a USB port in the lower console, but you have to battle to find it, which is a pain. What if you'd like to plug your smartphone in at night? Better use the 'phone's flashlight feature...
Aft legroom is acceptable (by the standards of the segment), but the Datsun's rear-bench cushioning isn't very comfortable. Moreover, the bench doesn't fold down in a split configuration... as a result, the entire seatback flops forward when you release it, which, in turn, leaves a pronounced lip and an uneven loading surface; that may prove a nuisance when you need to transport bulkier items. Load bay space is pegged at 265 litres, which is useful enough.
Safety upgrades

With improved safety specification, the Datsun Go is now safer than ever before.
Datsun has made efforts to improve the Go's safety specification in light of a slew of bad press. To reiterate, much-needed improvements were made late in 2018 when the facelifted Go came to market equipped with dual airbags and ABS. The 1.2 Lux and 1.2 Lux CVT derivatives are further equipped with electronic stability control and traction control, which should give buyers/inexperienced drivers added peace of mind.
But Datsun had to address concerns about the car's structural integrity in the event of an accident following the Go's poor performance in crash testing. To that end, the facelifted Datsun's front-end has been reinforced with high-tensile steel to better absorb the impact of a crash while also improving pedestrian safety. Furthermore, the Go's body shell is now made of high-tensile steel and Datsun has strengthened the car's doors, roof and seats.
Other useful safety features include larger 14-inch wheels, speed-sensing door locks, seatbelt reminders and park distance control sensors at the rear.
Price and after-sales support
The Datsun GO 1.2 Lux CVT is priced from R188 300 and is sold with a commendable 6-year/150 000 km warranty. A service/maintenance plan is optional.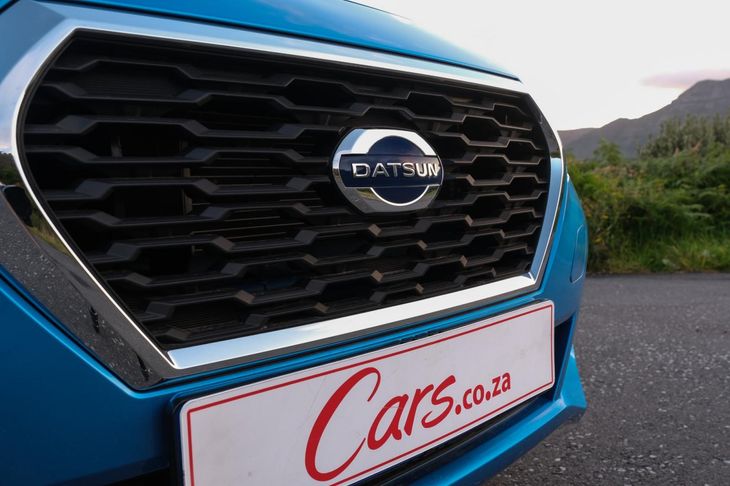 The Go 1.2 Lux CVT derivative is pricey. We think there are better ways to spend your money...
Verdict
There you have it: the Datsun Go 1.2 Lux CVT surprised us! Its performance in the city was quite satisfactory and, for the most part, the CVT-equipped powertrain delivered a generally pleasant driving experience. The fact that the Go's safety specification has been upgraded is a big bonus and, as a result, it's far easier to recommend than ever before.
We do, however, feel that Datsun should look to improve the material quality of its hatchback's interior in order to bring the overall offering in line with its asking price. And that brings us to the crux of this verdict. The Datsun Go (this CVT derivative, in particular) is a relatively pricey proposition and we don't believe there's quite enough value on offer to justify that "steep" asking price. The Go simply doesn't feel like it's worth its asking price. For roughly the same capital outlay, the Suzuki Swift 1.2 GL automatic, in our opinion, is a more substantial car with markedly-superior perceived quality to the Datsun. It has mounted steering-wheel controls, a better-visible USB port and rides with greater pliancy.
As prices of budget-car prices increase – but quality stays the same – a strong case can be made for shopping in the used market where better quality (and value) is available from nearly-new derivatives. A benefit of going that route is that you wouldn't bear the brunt of the "first knock" of depreciation, as first owners do. If you can accept not driving a brand new car off the showroom floor, then buying a used car at under R200k can be a very smart buying decision.
Start your search for a used car here!
Related content:
Datsun Go CVT (2019) Launch Review
Datsun Go 1.2 Lux (2019) Quick Review
Budget Car Comparison (2019) Datsun Go vs Renault Kwid vs Kia Picanto vs Mahindra KUV vs Suzuki Celerio