If you like the look of a big and brawny SUV, but don't intend going off-road, there are a number of options on the market. We try Chevrolet's revised Trailblazer offering, in high-specification 2.8D LTZ form.
We like: Updated interior, good on-/off-road ride/handling balance, standard features
We don't like: Less spacious than key rivals, engine not as responsive/economical as rivals
Alternatives:
The segment favourite: The Toyota Fortuner 2.8 GD-6 actually costs a bit less than this Trailblazer but it does lack some of the Chevrolet's features, including navigation, front park-distance control and auto-wipers. The Toyota hits back with a better engine which uses less fuel and feels more powerful, even though it isn't.
Comfier than the rest: The Ford Everest 3.2 XLT is also similarly priced and also can't match the Chevrolet's standard features list. It is a significantly more spacious vehicle, however. On the downside, its 3.2-litre engine is thirsty, and the Ford can feel lethargic when driven back-to-back with its rivals.
Cheap and loaded with features: For a saving of around R150 000, you can get the Mahindra XUV500 W8, which recently became available with an automatic transmission. It is powered by a 2.2-litre turbodiesel engine that lacks the power and refinement of these pricier foes, but it is a spacious, comfortable all-rounder that is backed by an impressive 5-yearr/150 000 km warranty.
Compare the Chevrolet Trailblazer with the Toyota Fortuner and Ford Everest here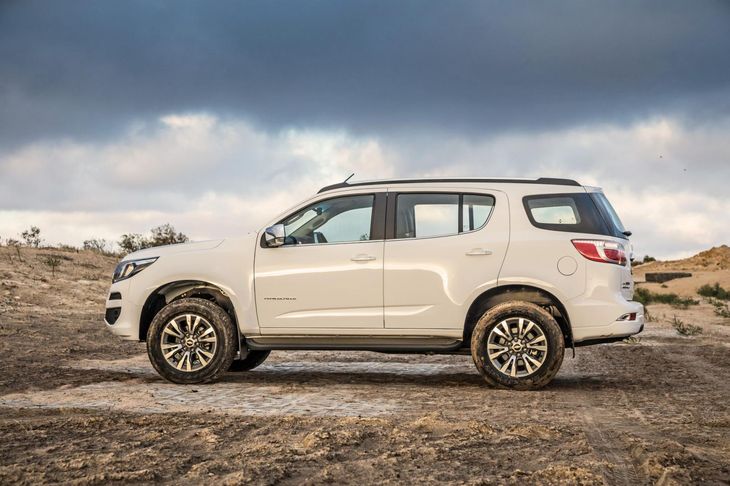 Although this model lacks 4-wheel drive, generous ground clearance and rugged underpinnings make it suitable for regular use on poor roads.
As we explained in our recent SUV Buyer's Guide, the Chevrolet Trailblazer remains one of the market's most underappreciated products given its all-round blend of talents and lack of serious flaws. A recent facelift improved it even further, adding a dramatically improved facia design and more tech-oriented features. While it can't, in 4x4 guise at least, match the best in its segment, we wonder whether the absence of an off-roading requirement could improve the big Chevrolet's chances? After all... it is one of the more road-oriented bakkie-based SUVs out there in the first place!
The Good
Improved facia design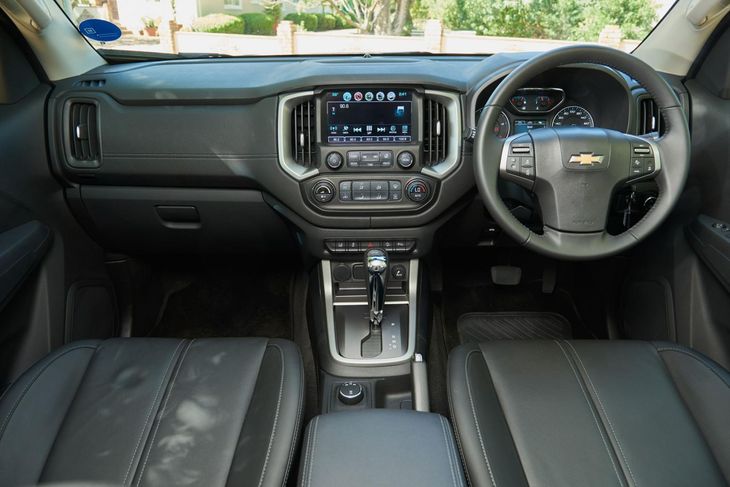 Better finishes, an improved layout and more modern tech make the revised Trailblazer cabin a good place to be in.
Simply put, the revised facia is the single most important and successful part of the recent redesign. While the pre-facelift Trailblazer's dashboard was solidly made and neat, it was very similar to what you'd find in an Isuzu KB, which is not ideal in a supposedly upmarket, passenger-oriented vehicle. It shares almost nothing (pity it still has the old steering wheel) with its predecessor and the quality of the materials used has certainly moved in the right direction. Leather upholstery is standard and the use of soft-touch plastics and metallic surfaces further lift the ambience.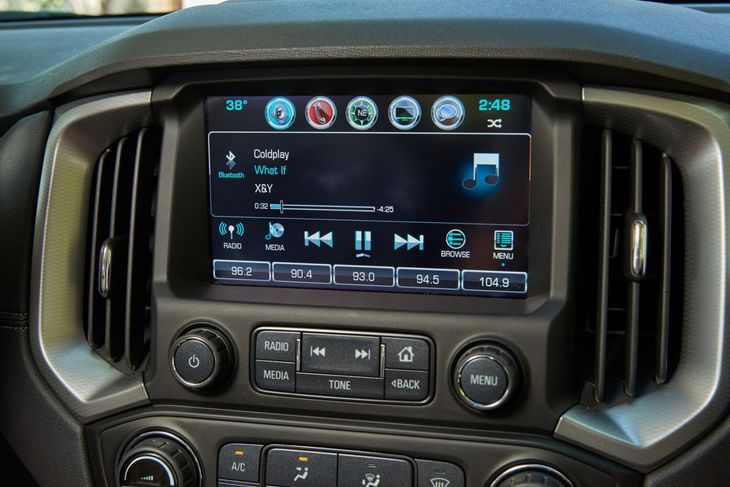 Latest MyLink infotainment system is arguably class-leading.
While the fitment of a touch-screen infotainment system in this segment is no longer news, the latest MyLink unit fitted to the Trailblazer is arguably superior to what you'd find in the Chevrolet's direct rivals. It is comprehensive, includes Apple Carplay and Android Auto compatability as well as navigation, and features a well-positioned 7-inch screen with crisp, clear graphics. USB and Bluetooth support, of course, are included.
Modern Safety Features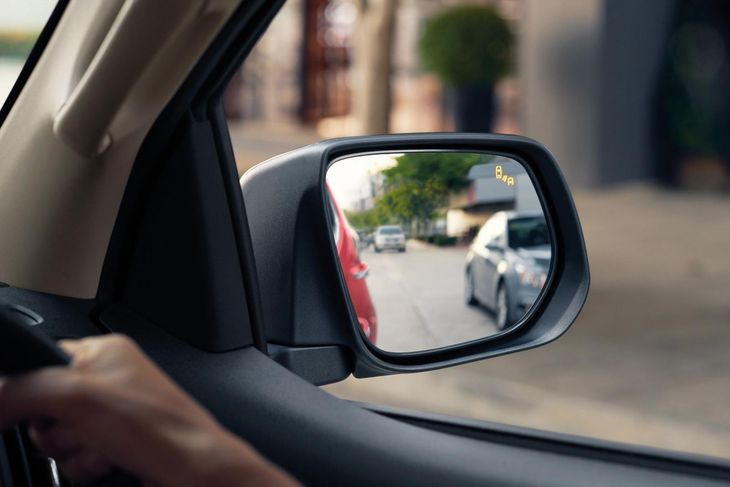 Side blind zone alert is one of the many safety features fitted as standard on the Trailblazer LTZ.
The recent upgrade introduced a number of modern features to the Trailblazer package. This LTZ specification vehicle gets fashionable LED elements in its headlights, which together with the revised front-end styling make for a far more attractive vehicle. Inside, besides the state-of-the-art infotainment system, you also get some cool safety technology, including forward-collision alert, rear cross-traffic and lane-departure warning. This is in addition to an already comprehensive safety package that includes 7 airbags, ABS with EBD, hill-start assist, tyre pressure monitoring, rear Isofix child-seat mounts, trailer-sway assist and ESP (stability control).
Practical, refined cruiser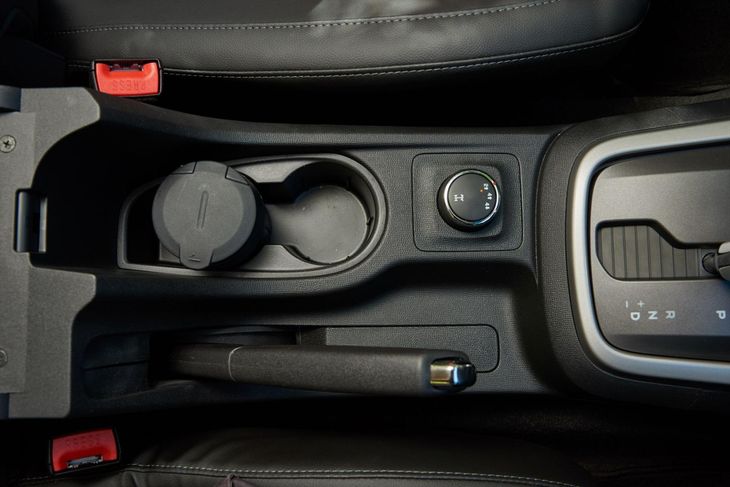 A minor criticism is the size of the drinks holders available to the occupants of the front seats.
The Chevrolet Trailblazer is most comfortable when out on the open road, cruising towards some distant holiday location. The recent upgrade brought several NVH (noise, vibration, harshness) improvements, and consequently the Trailblazer's cabin is quiet and relaxing on those long stretches of road – when cruising at the national speed limit, the engine is inaudible.
Passengers will have few reasons for complains, no matter in which of the three rows they happen to be seated. Starting up front, the driver's seat is electrically adjustable (including height). It's a pity that the steering wheel is only adjustable for rake, but none of our testers found this a major obstacle to achieving a comfortable driving position. The front passenger seat also offers a wide range of (manual) adjustment, including height. A minor complaint is that the drinks holders in the front are all somewhat small.
Moving to the second row, passengers are treated to a decent amount of legroom (though short of what's on offer in an Everest), but get reclining backrests and their own (overhead) ventilation outlets and fan speed control. The third row is, as per usual in this segment, largely suitable for children and smaller adults but within that context quite spacious. These passengers also get overhead ventilation outlets and drink holders.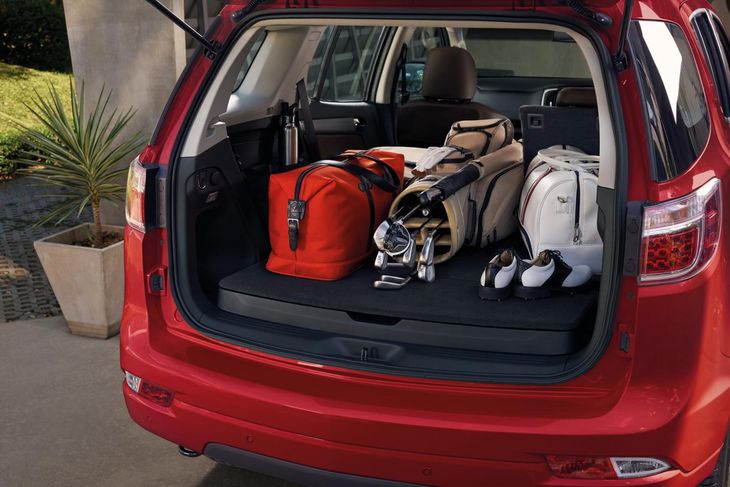 Trailblazer's boot is large and practically shaped (in 5-seat mode), but the floor is high.
In 5-seater mode the boot is large and box-shaped, and therefore very practical from a holidaying or load-carrying perspective. But because the third row of seats fold flat, the boot floor is, however, quite high, which makes lugging heavy, awkwardly shaped items into the vehicle a potentially back-hurting exercise.
The Trailblazer should also make for a good towing vehicle - it offers a 2 965 kg tow rating (braked trailers), has trailer sway assist as standard and the automatic transmission includes an effective downhill grade braking function.
Good warranty and service plan
The Chevrolet Trailblazer is backed with an impressive 5-years/120 000 km warranty and 5-years/90 000 km service plan which whould ensure peace of mind. Service intervals are pegged at 15 000 km intervals.
The (not so) Good
Engine efficiency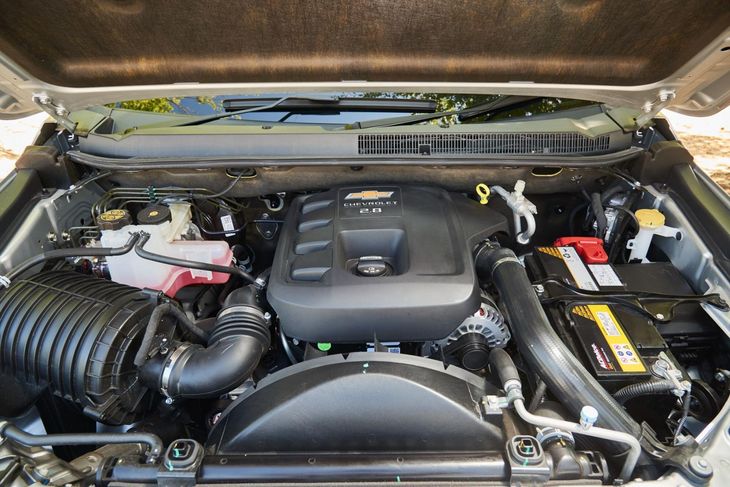 The 2.8-litre engine is powerful on paper, but the vehicle can feel lethargic in town use. Better on the open road.
The Trailblazer is powered by the brand's powerful 2.8-litre turbodiesel engine that pumps out 144 kW and a class-leading 500 Nm of torque – interestingly, that maximum torque figure is even more than what is offered by the 3.2-litre Ford. The engine is mated with a reasonably smooth and refined 6-speed automatic transmission that generally responds well to driver inputs (via the throttle).
But despite Chevrolet claiming best-in-class acceleration, the Trailblazer can feel somewhat lazy around town in typical stop/start traffic, and certainly not as brisk as, say, the new Fortuner. In our experience neither the Chevrolet nor the Ford can match the new Toyota engine for responsiveness and refinement. In fact, you can also add fuel economy to that list – with a claimed consumption 9.5 L/100 km the Trailblazer is one of the thirstier vehicles in its segment, though in our testing the big Chev achieved exactly what was claimed – a rare feat these days.
Pricing and after-sales
The Chevrolet Trailblazer 2.8D LTZ sells for R562 800 (March 2017) and the price includes an impressive 5-years/120 000 km warranty and 5-years/90 000 km service plan.
Verdict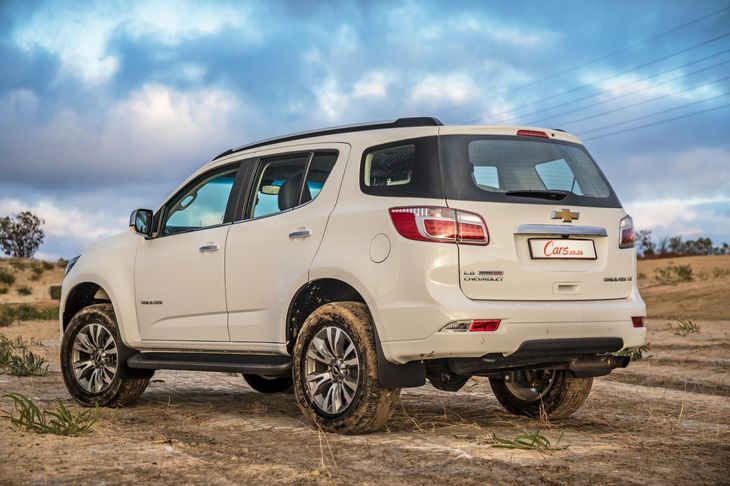 Attractive, comprehensively specified and a great cruiser - there's a lot to like about the revised Trailblazer.
As we've stated before, there really is precious little that the Trailblazer does wrong. This particular model offers a very comprehensive standard specification level, a cabin that is much better finished than before and while it is not as spacious as some of its rivals, it is a refined and comfortable cruiser that will be more than practical enough for most families.
We wonder, however, whether a vehicle such as Kia's Sorento should not also be considered. In 4x2 LX guise it is similarly priced and specced, yet offers a more refined, economical engine and road manners which are superior where you will be spending most of your time (on the road).
That said, if your usage patterns dictate regular travel on poor, unsealed surfaces and the occasional requirement for ground clearance (221 mm on the Trailblazer), then this Chevrolet should be on your shortlist.
You may also be interested in;
Chevrolet Trailblazer 2.8D LTZ 4x4 Auto Z71 (2016) Review
Chevrolet Trailblazer 2.5D LT (2017) Review
Buyer's Guide: Rugged 7-seat SUVs
Interested in buying a Chevrolet Trailblazer?