If you're looking to get into a big body-on-frame SUV for as little cash layout as possible, Chevrolet's entry-level Trailblazer could be just the ticket. But does it tick enough boxes, or is it a bit too sparsely equipped?
We like: Good engine, loads of space, updated interior
We don't like: Long-throw manual gearbox, lacks stability control, a touch more expensive than rivals
Alternatives:
The segment leader: The Toyota Fortuner 2.4 GD-6 actually costs a bit less than this Trailblazer and the new 2.4-litre engine is mighty impressive, offering superb refinement, performance and efficiency. It sells for R456 300.
Comfier than the rest: The Ford Everest 2.2 XLS is produced locally and provides the comfiest ride in this bakkie-based SUV segment. It sells for R458 900.
Cheap and loaded with features: For a saving of around R100 000, you can get the Mahindra XUV500 W8. It is powered by a 2.2-litre turbodiesel engine that lacks the power and refinement of these pricier foes, but it is a spacious, comfortable all-rounder that is backed by an impressive 5-yearr/150 000 km warranty.
Read our full review of the Chevrolet Trailblazer 2.8D Z71 4x4 Auto here
Chevrolet revamped its Trailblazer range at the end of 2016 in an attempt to remain competitive against the likes of a new (and market favorite) Toyota Fortuner and Ford Everest. The comprehensively restyled Trailblazer's update extended to a significantly improved cabin with a standard touch infotainment system and lower levels of noise, vibration and harshness (NVH). The model reviewed here is the entry-level Trailblazer, complete with manual gearbox, 2.5-litre turbodiesel engine and rear-wheel-drive only.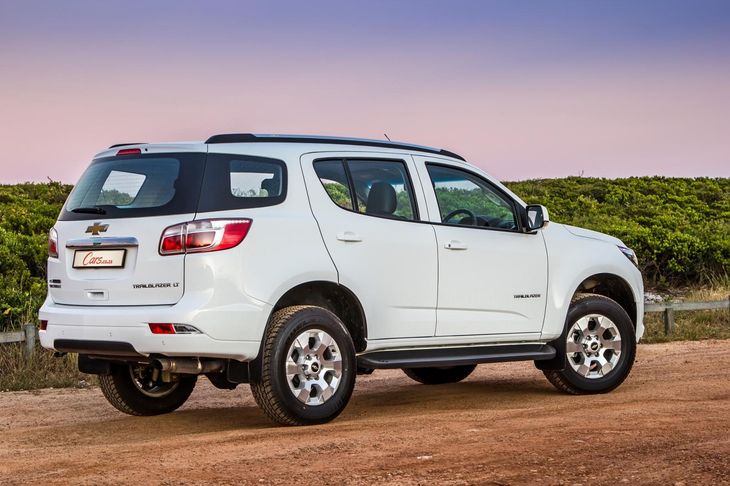 Bigger wheels and improved infotainment system are noticeable upgrades for the 2.5 LT Trailblazer.
The good
Practicality. The Trailblazer's seat configuration is simple to operate and all the rear seats tumble forwards and lie flat – unlike the Fortuner's layout. This configuration opens up a vast area for loading. With 7 seats up, there's still over 200 litres of boot space available. Passenger space is very impressive in the middle row and the final row isn't too cramped either. In terms of overall size, the Trailblazer sits somewhere in the middle between the smaller Fortuner and the larger Everest.
Engine. The 2.5-litre engine feels powerful enough, and in this instance, it's also not burdened by a 4x4 system that saps power. The engine is carried over from the previous Trailblazer but still has competitive power and torque figures of 120 kW and 380 Nm. It revs smoothly, more so than we've seen these big turbodiesels do in the past. It doesn't sound like it's going to crunch a hole in itself when you go over 3 500 rpm and even at idle it's relatively quiet. Fuel economy is claimed at 7.6 L/100km but if you can keep things under 10 L/100 km then you can feel satisfied.
Cabin refinement. The Trailblazer's perceived build quality has improved with this facelifted model. The road noise, which you tend to get from big SUVs, is kept down by the improved insulation around the cabin. It's probably the quietest of the bakkie-based SUV brigade. Cabin materials have been improved too, with more soft-touch materials being used across the dashboard and door linings. Leather seats are also a standard feature in the Trailblazer 2.5.
Connectivity. No matter which Trailblazer you choose, you get a modern touchscreen infotainment system as standard. This LT model doesn't get all the bells and whistles that the more expensive Trailblazers do but it still has great connectivity options. The Chevrolet MyLink system is an easy way to connect your phone to the car and it integrates Bluetooth and media streaming immediately. Apple CarPlay and Android Auto (when it becomes available in SA) are also standard, meaning you get a much better phone/car connectivity setup than in its rivals.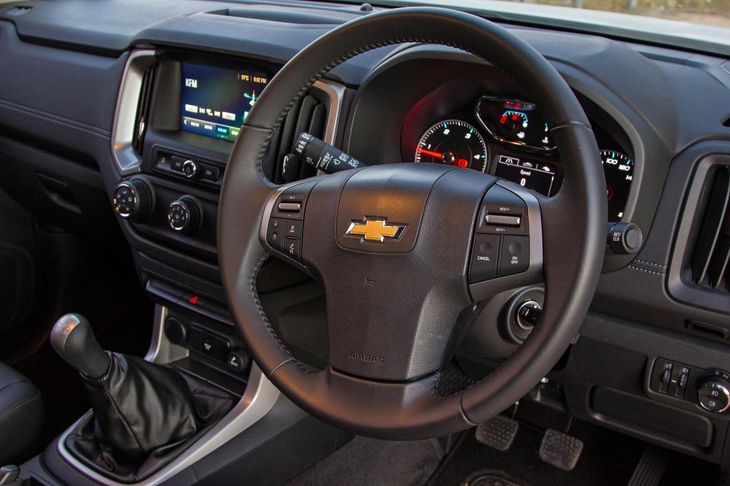 MyLink infotainment system is standard but the cabin lacks the premium feel found in some rivals.
The bad
Wishy-washy manual gearbox. The manual shifter in the Trailblazer feels old-school in action. It has a long-throw action and demands fair effort to get the appropriate gear engaged. The automatic costs only R18 000 more than this manual and also comes with a more powerful engine. It seems an option well worth investigating.
Upmarket feel. The newer competitors have elevated the levels of "premiumness" shoppers now expect in this segment. The Trailblazer's upgrades have indeed led to noticeable improvements in the tactile quality of the fittings, but arguably not to the same extent as, for example, in the new Fortuner.
Lack of stability control. Both the Everest and Fortuner employ electronic stability control, which in a vehicle this tall is a must-have safety feature. The Trailblazer does have ABS, EBD and 7 airbags, which begs the question why stability control didn't make the cut too.
Pricing. It's tough to compete in this market, made even tougher by the fact that the other 2 competitors are built locally. The Trailblazer 2.5 manual commands a R15k premium over its rivals when, apart from the infotainment system, it has no distinct advantage.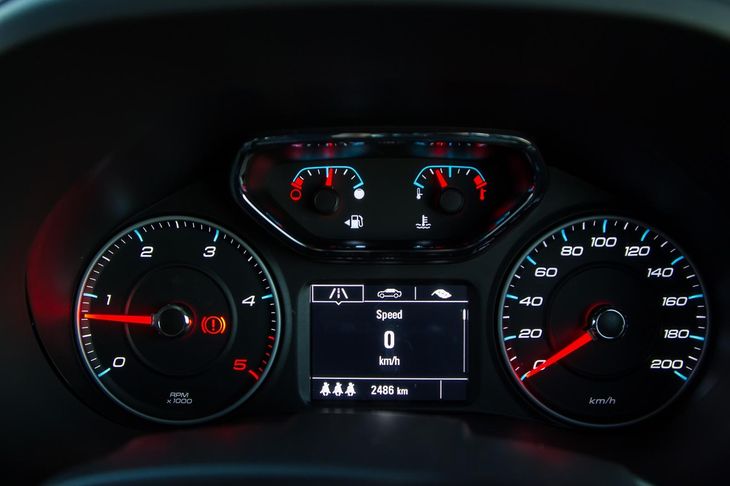 Digital trip computer is very thorough and the blue dials are easy to read at night
Verdict
These bakkie-based SUVs offer good value for money. No matter which product you choose, you get a full 7-seater with a large load bay and excellent ground clearance. Without a 4x4 drivetrain, as in this Trailblazer 2.5-litre variant, the price is kept down as well. The Trailblazer offers a quiet and well-insulated ride with a comfortable suspension setup. The top-notch infotainment system is its trump card, with the MyLink system standard across the range. The cabin doesn't feel quite as upmarket as its competitors but appears sturdy and durable. Its safety arsenal includes 7 airbags but doesn't include stability control, which is important in a vehicle like this. Finally, the Trailblazer 2.5 commands a R15 000 premium over the rivals and unless you value the infotainment system as a high priority item then the Ford and Toyota offer better value at this point in the segment.
Pricing and after sales
The Trailblazer 2.5D manual sells for R471 000 (at time of compiling this report, February 2017). It is sold with a 5-year/150 000 km warranty and a 5-year/90 000 km service plan.
Also read:
Chevrolet Trailblazer 2.8D Z71 4x4 Auto (2016) Review
2016 Chevrolet Trailblazer (2016) Specs and Pricing
Toyota Fortuner vs Ford Everest (2016) Comparative Review [Video]
Extended Test: Toyota Fortuner 2.8 GD-6 4x4 Automatic (2017)