Chevrolet's highly-rated Trailblazer SUV has for too long been ignored by South African car buyers. In a market obsessed with the prestige of driving Toyota's superb new Fortuner, or the macho appeal of the Ford Everest, the Trailblazer has seemingly lacked a knock-out punch to complement its wide spread of talents. Simply put, it needed a wow factor. Meet the newly refreshed model, topped by this bold Z71-labelled flagship. Suddenly, there's a whole lot of wow...
We like: Dramatically improved cabin, full-house features, versatility, long warranty
We don't like: Lack of steering wheel reach adjustment, not as spacious as main rivals
Alternatives:
For 4x4 fans: While the Trailblazer is not without ability when the going gets rough, the Toyota Fortuner remains unbeaten in this regard. The Toyota's off-road talent no longer comes at as much of a cost to its on-road refinement as before. This makes the Fortuner the ideal vehicle for those who intend going off the beaten track often. The flagship 2.8 GD-6 4x4 Automatic sells for R614 800.
For more space: The Ford Everest range is expanding, but the 3.2 LTD 4x4 Automatic model (R698 900), the flagship, has been the mainstay of the line-up from the start. If offers an enviable blend of strong design, interior space, modern features and ride comfort. It is claimed to be the most economical of the three main rivals, but in our experience the Toyota is more frugal in the real world.
For something more refined: If you're keen on a 7-seater, but want something that is not based on a bakkie, and therefore closer in drive characteristics to a normal car, then Land Rover's Discovery Sport should be considered. It is not our current Cars.co.za Consumer Awards Leisure Vehicle of the Year without reason. It is pricey, however, and at this price level you can only get the Pure TD4 version, which is down on features compared with the others listed here. It costs R672 566.

Nip & Tuck
Much has been said of South Africans' apparent love affair with bakkie-based SUVs... but when one scrutinises the sales figures, it is clear that said love affair really is more of a passionate obsession with the Toyota Fortuner. Ford's Everest has, however, made some inroads, and the Blue Oval is further expanding the Everest offering to cater to a wider audience. And then there is the Chevrolet Trailblazer, a vehicle highly regarded by most in the industry, but seemingly not the public... Its sales performance has been disappointing – for reasons why it has struggled, read this article – but in our experience there is precious little that is wrong with it as a product.
To hopefully stimulate interest, Chevrolet has given the Trailblazer a thorough facelift that introduces a higher quality, more modern interior, enhanced features, greater refinement and, importantly for this segment, much bolder styling. Are these changes enough to bring the Trailblazer back in the running?
How does it fare in terms of...
Visual Appeal?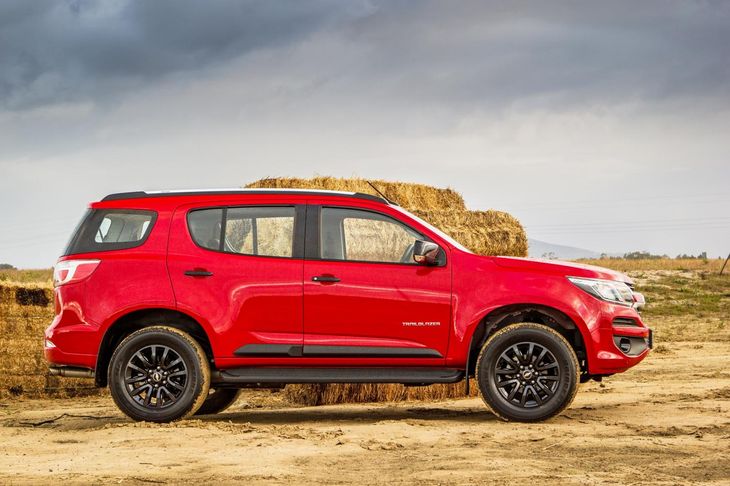 The Z71 styling package includes striking gloss-black 18-inch alloy wheels.
What is also clear from the sales figures is that South Africans like their SUVs with all the toys and as much visual appeal as possible. To this end Chevrolet has introduced a bold new flagship, tested here. Called the Z71 – a name inspired by those iconic Chevy "Zee" performance cars of the past – this Trailblazer is based on the LTZ 4x4 automatic model, but features a number of important stylistic revisions.
Of course, it shares its revised front-end (headlamps, grille, bumper, bonnet) with the rest of the newly updated Trailblazer line-up, but the Z71 also gets striking gloss black 18-inch alloy wheels, black side cladding and some seriously eye-catching bonnet decals. These tweaks and additions certainly worked well on our bright red test unit, which turned heads wherever it went. So, if one of the reasons you previously had for not considering the Trailblazer was a lack of neck-swivelling looks, then consider that criticism now answered.
Interior Enhancements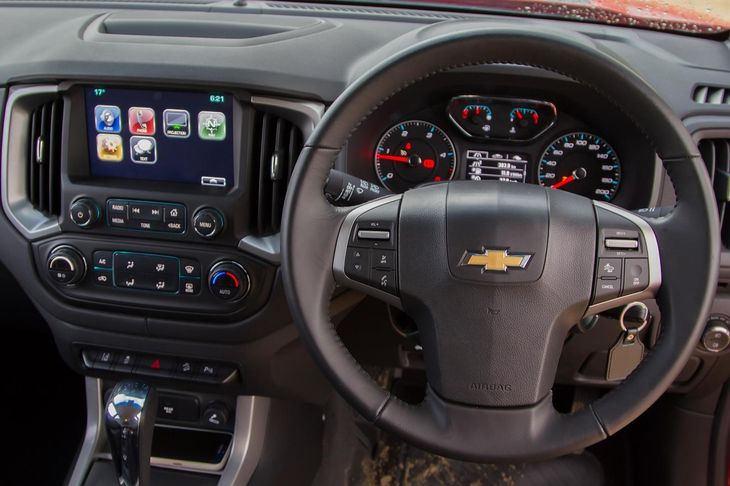 The facia is essentially all-new, so it's a pity that the steering wheel hasn't changed.
The pre-facelift Trailblazer boasted a solid, no-nonsense dashboard design, but one that perhaps was too similar to the facia found in the vehicle the Chev is based upon... the Isuzu KB. So while build quality was solid, the plastics were hard-wearing and the design honest, but arguably not "smart" enough for a vehicle of this calibre and cost.
Step inside the new Trailblazer and you'll immediately recognise and appreciate the change. Almost everything (except for the disappointingly old-fashioned steering wheel) is new, and the material quality appears to have jumped several notches. Soft-touch plastics are used far more frequently, and neat contrast stitching lend the cabin a more upmarket ambience. This model comes standard with leather upholstery.
The entire control interface has been upgraded, with Chevrolet's easy-to-use second-generation MyLink infotainment system taking pride of place. It uses a 7-inch touchscreen with crisp graphics and is now Apple Carplay and Android Auto compatible. This model also has a fully integrated satellite navigation system, which its Ford and Toyota rivals don't currently offer. Of course, USB and Bluetooth support remains part of the package.
Courtesy of its fresh new look inside, higher quality materials and advanced features, the revised Trailblazer's cabin is now far more in line with what is expected from a vehicle costing upwards of R600 000. Consider it another important box in the facelift check-sheet ticked.
Refinement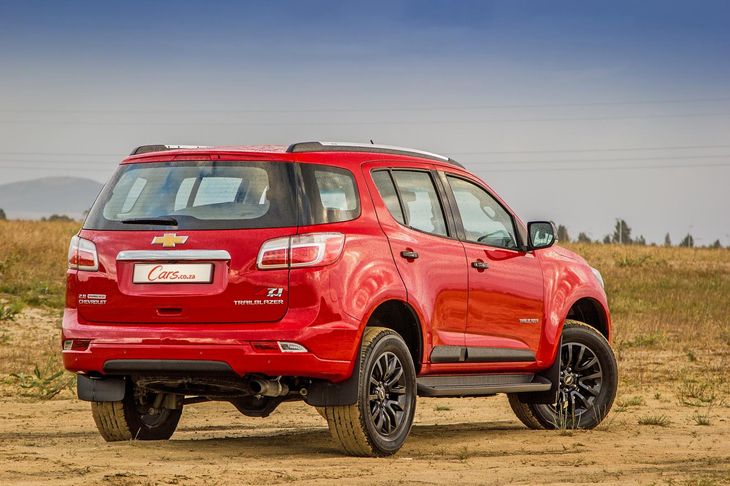 There aren't many visual changes from the rear, but extra sound deadening hides under the body.
We were already impressed with the quietness of the pre-facelift model, which spent an extended test period with us over the course of the previous festive season. It proved a relaxed and comfortable tourer, on various road surfaces.
Unlike many facelifts, which extend only to a few visual changes and extra features, Chevrolet says it has further improved on the NVH (noise, vibration, harshness) qualities of the updated Trailblazer. Through a revised sound insulation package cabin noise has been reduced by a claimed 4 decibels (more than half, Chevrolet says). It is hard to pick up such improvements in isolation, but as before, the Trailblazer impressed with its hushed cabin atmosphere.
The sense of refinement is further boosted by several new features. A new electronic power steering system that features Active Pull and Smooth Road Shake compensation is fitted. As the name indicates, Active Pull Compensation reduces the need for constant steering corrections from the driver and is claimed to ultimately reduce driver fatigue. Smooth Road Shake Compensation, on the other hand, is said to reduce the vibration caused by an imbalance from the front wheels.
It's also worth noting that the latest Trailblazer boasts a vast array of modern crash-avoidance features, such as lane-departure warning, forward collision alert, rear cross traffic alert, side obstacle warning etc. It has 7 airbags, too, and offers Isofix child seat mounts at the rear.
The Drive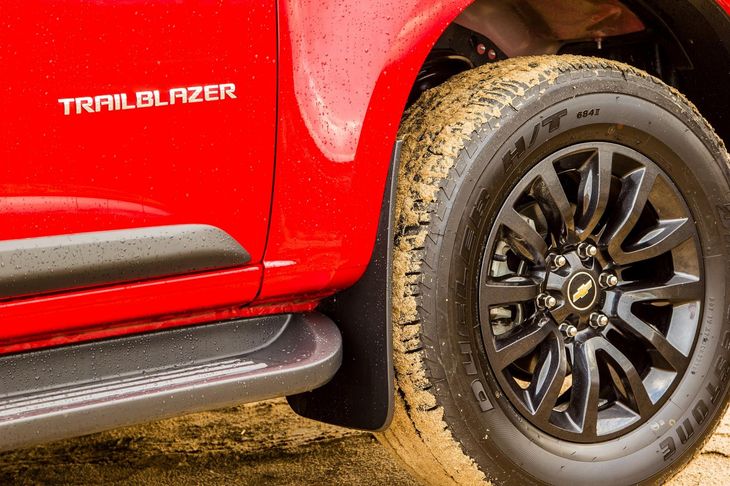 Trailblazer remains a comfortable long-distance touring vehicle, and does well on gravel, too.
This model continues to be powered by the brand's powerful 2.8-litre turbodiesel engine that pumps out 144 kW and a class-leading 500 Nm of torque (even more than the 3.2-litre Ford). The engine is mated with a reasonably smooth and refined 6-speed automatic transmission that generally responds well to driver inputs (via the throttle). That having been said, we didn't find the Trailblazer particularly energetic off the line. Nevertheless, Chevrolet claims a class-best 0-100 kph time of 10.4 seconds. In our experience neither the Chevrolet nor the Ford can match the new Toyota engine for responsiveness and refinement. In fact, you can also add fuel economy to that list – with a claimed consumption 9.5 L/100 km the Trailblazer is the thirstiest of the three vehicles listed here, though, in the real world, we suspect that title might actually belong to the Everest.
As before, we found the Trailblazer a comfortable way to cover vast distances. It is significantly more at home on the open road, where the gearing and power delivery endow it with smooth, strong overtaking power. It is also in these circumstances, and when loaded with passengers and people, that the ride settles into a very comfortable "mode".
Of course, four-wheel drive is offered at the turn of a knob, and there's low-range too, but the Trailblazer doesn't quite have the ride height and other off-road toys to make it a class leader in that regard. No... what it does best is to offer a blend of on-road refinement and comfort, and the ability to traverse low-traction/rough and inconsistent surfaces when needed. A pretty well-balanced holiday car, in other words... Oh, and it can tow 2 965 kg (braked).
Pricing & Warranty
The flagsip Chevrolet Trailblazer 2.8D Z71 4x4 automatic, as tested here, sells for R623 200 and comes backed with a 5-years/120 000 km warranty and 5-years/90 000 km service plan. Service intervals are scheduled for every 15 000 km.
Verdict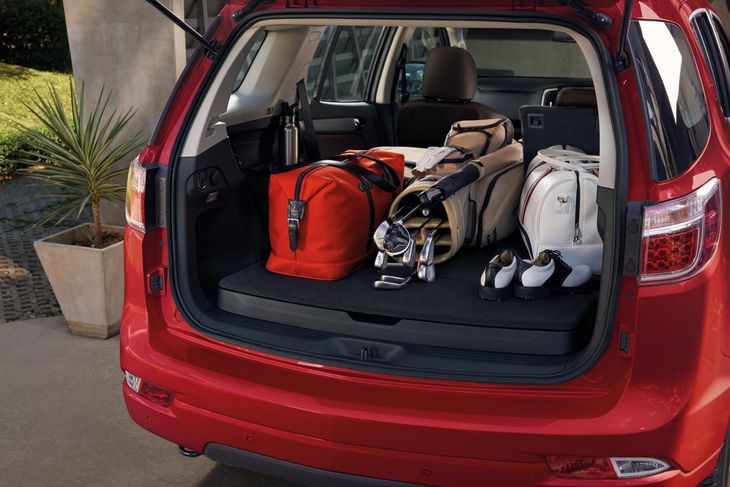 Third row folds flat into the floor, but boot floor is quite high.
Much of what was good (or not) about the Trailblazer remains so with this facelifted model. It is a very practical vehicle with numerous clever touches, including ventilation controls for all three rows of seating, a neat hidden storage compartment in the boot etc. But this facelift can't do anything about the fact that it isn't quite as spacious (in terms of legroom, mostly), as its rivals and that the engine can't match the Toyota's for refinement, responsiveness or fuel economy. However, the revised Trailblazer hits back hard with a truly classy cabin packed with modern features that make the Fortuner look a bit shy on specification, and the Ford a trifle rough around the edges. It is also seemingly well-priced given the long list of advanced safety and comfort features, not to mention the comprehensive infotainment system. Until recently, the battle in this segment was a straight fight between the Toyota Fortuner and Ford Everest. With the upgraded Trailblazer, Chevrolet has raised its hand again asking for consideration. We think it certainly deserves that.
Further Reading
Chevrolet Trailblazer 2.8D LTZ 4x4 auto (pre-facelift) Review
Chevrolet Trailblazer (2016) specs & pricing
Comparative Review: Ford Everest 3.2 LTD vs Toyota Fortuner 2.8GD-6 4x4 Auto
Interested in buying a Chevrolet Trailblazer?