Thanks to the introduction of the X7 first-class off-roader, the X5 no longer sits at the summit of the Bavarian brand's SUV fleet. But, make no mistake, the latest iteration of the model that started BMW's Sports Activity Vehicle onslaught is raring to muscle its way through a crowd of rivals. We headed to Garden Route to sample the newcomer...
What's new?
As new technologies arrive (and existing ones improve), car manufacturers are hell-bent on squeezing the latest features into every new product they offer. Consumers have concurrently become ever more demanding, so irrespective of whether they're interested in a 1 Series or the new X5, they want the latest, greatest safety features or connectivity options. Being an all-new model, BMW has stacked the X5 with everything it has to offer. There are so many safety, autonomous and connectivity features, it would take too long to explain them all in a short, sharp launch review.
New BMW X5 (2018) Specs & Price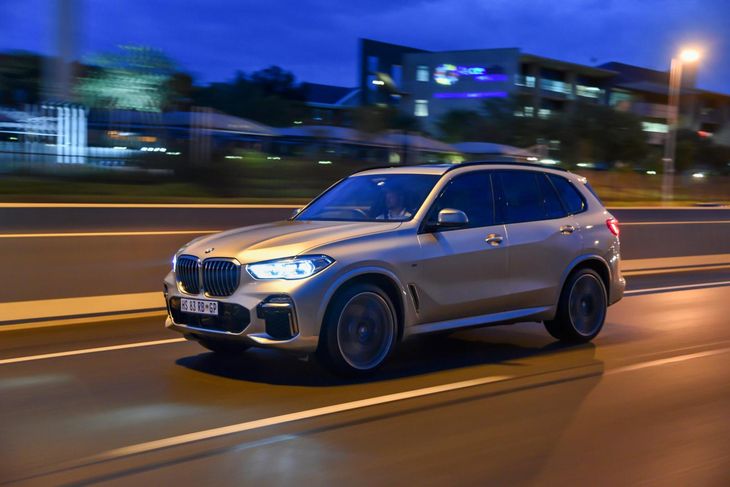 The new X5 features that huge kidney grille up front - not quite as large as the X7, but still large.
So let's focus on the important stuff. The new X5 is a little bit bigger in every direction, which sees increases in occupant and (a little more) loading space. It comes standard as a 5-seater and is optionally available as a 7-seater. At launch, there will only be a choice of 2 turbodiesel derivatives: the 30d and 50d. A petrol model may be considered for 2019, but the diesels tend to be the better sellers locally. If you want to add more intricate bumpers and design flair to your new X5, there will be M Performance parts available in 2019. Much of the takeaway from BMW's marketing and press materials is that the G05-generation car is imbued with the newest tech innovation, still excellent on road, but now able to compete off-road.
Genuinely better off-road?
BMW SA threw a neat little trick into the launch of the new X5 by speccing some of its 30d demonstration units with optional off-road tyres. We used them (the cars and their tyres!) to traverse the Prince Albert pass that links Uniondale and Knysna. This gave us a chance to admire some of the legendary road-builder Thomas Bain's best work as we made BMW's latest premium SUV climb and shuffle over the Outeniqua mountains.
Those optional all-terrain tyres don't offer run-flat technology, therefore they have distinctly softer sidewalls that improve the X5's ride quality on rough surfaces. It also happened to be pouring with rain, so the extra grip from the tyres was even more noticeable. Still, if you plan on doing a fair amount of gravel driving, they are a must-have (and they don't appear to produce extra noise when travelling at freeway speeds on tarred roads).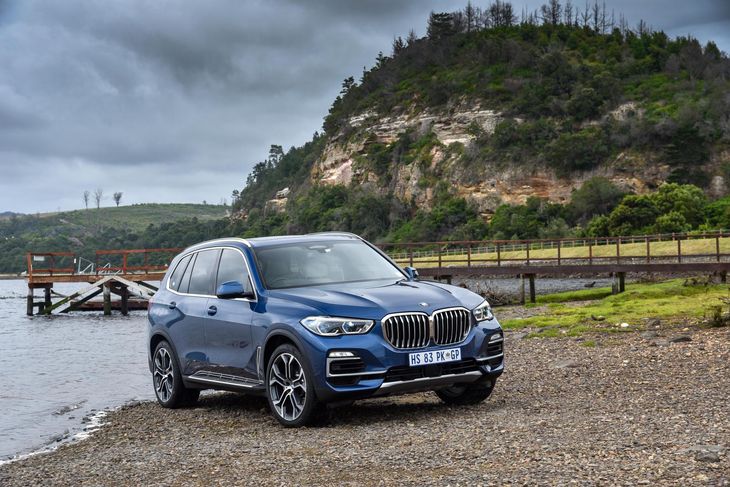 The G05 is better off-road than any X5 that has come before it.
The ride quality over the 60 km dirt-road route was a standout as even on 19-inch rubber the optional air suspension reacts quickly to craters in the road. If you want to further improve the off-road credentials (and look) of the X5, there is an Off-Road Package that adds different styling cues to make it look more rugged, and includes an extra button that toggles through Sand/Rock/Gravel/Snow settings, but that's only available on the 30d.
Still the on-road benchmark?
Don't be fooled by its off-road improvements, the new X5 is right up there in terms of its tarmac prowess, which is what we expected. The newcomer tips the scales at just over 2 tonnes, but changes direction with the body control of a much lighter car. Much of the impressive dynamism can be attributed to the individual suspension management, which checks body roll and helps the X5 corner as flatly as possible when changing direction.
It leads to a composed ride quality over bumps and instils a sense of confidence in the chassis when the newcomer scales a mountain pass (at least in an air suspension-equipped derivative, we didn't have a chance to sample an X5 equipped with the standard configuration during the event).
Engines up to scratch?
Both the 30d and 50d are powered by 3.0-litre 6-cylinder turbodiesel engines and the former offers up a competitive 195 kW and 620 Nm of torque. For most consumers, those outputs are as much as they'll ever need, plus the 8-speed automatic transmission kept the motor within its max torque band (2 000 to 2 500 rpm) with ease. That auto 'box is metronomic in delivering timeous shifts and works almost imperceptibly in the background.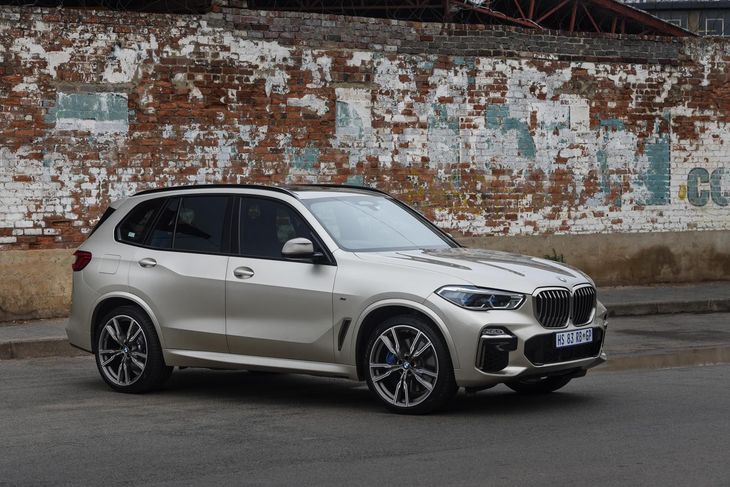 Only 2 turbodiesel engines are available at launch, a petrol derivative may be introduced in 2019.
The 50d produces the performance edge in the X5 range (for now) and whereas the 30d has 1 turbocharger, the 50d has 4. That's right, it's a quad-turbo engine, where 2 turbochargers deal with low-rpm boost and the other 2 with higher-rpm boost. The result is 294 kW and 760 Nm of torque that will kick the 50d from 0 to 100 kph in 5.2 seconds. That grunt comes with very little guilt as the 50d is claimed to use between 6.8 and 7.2 L/100 km.
During our test drive (a 140-km stint in mixed conditions) we saw closer to 10 L/100 km, but we were "exploring" the 50d's capabilities with zeal...
The new tech?
There is a number of new tech features, but most of them focus on improving the passive safety systems and incorporating more communications functions. Most of them are optional, but BMW does allow you to pretty much spec the X5 to your liking, so you can pick and choose as you see fit.
For example, you can spec the driver assistance package that selects features such as lane keeping aid, blind-spot detection, cross traffic alert and evasion aid, all of which helps the X5 to avoid collisions with vehicles or pedestrians that suddenly venture into the path of the Bimmer. Semi-autonomous driving modes are available too, as is a follow mode, which allows the G05 to automatically follow cars in front of it in start/stop traffic.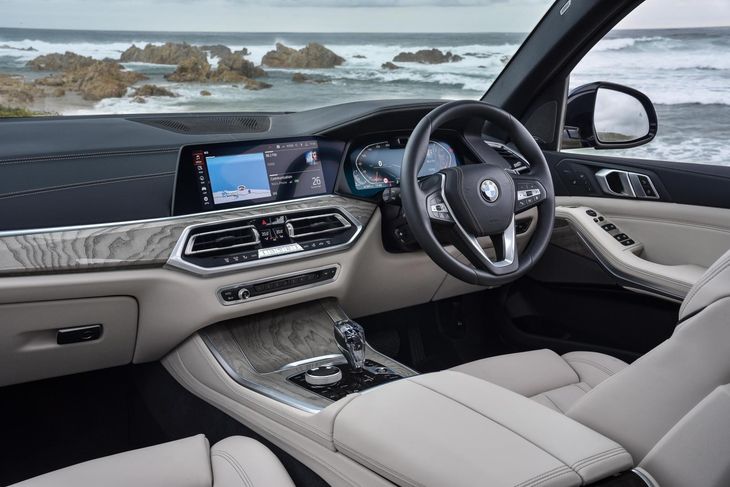 The interior of the X5 is more modern and vibrant than much of BMW's current range.
Communications-wise, you now get a wireless charging pad (certainly the must-have gizmo in new luxury vehicles), 2 USB C ports, as well as Apple Carplay compatibility (if you spec that option). For the first time, BMW SA is offering over-the-air firmware updates, which means if there's new software installations or infotainment updates, they can be downloaded through a wifi network rather than manually installed at a dealership.
Luxurious inside, right?
There is clear evidence within the new X5's cabin that BMW is beginning to catch up with (if not pass) its rivals in terms of interior ambience and wow factor. The fully digitised instrument cluster is crisp and clear, which lifts the mood within the cabin. The new infotainment system combines both the iDrive rotary knob with a touchscreen and is very familiar to BMW owners who will have no problem dancing through the menus quickly.
Our test units were also equipped with the optional glass-look transmission levers. These have a 3D effect, with the X logo embedded in them. It's down to personal choice whether you like this particular adornment or not, but it does add some serious bling to the cabin.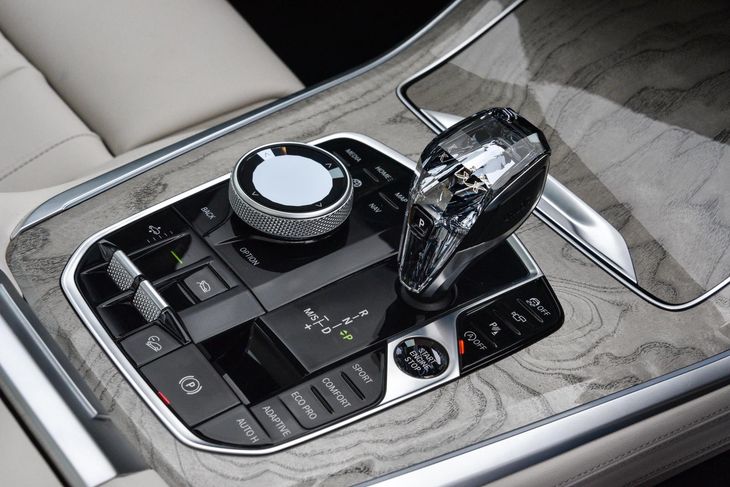 The optional glass gear lever. Below and to the left are the off-road mode toggle switches.
Passenger space is plentiful, but I can't yet speak for 3rd-row occupants as our test cars were 5-seater derivatives. Luggage space is claimed at 645 litres, which can expand to 1 860 litres with the rear seats folded flat. BMW has also stuck with the split-folding tailgate system, which I've always regarded as an excellent addition that doubles as a comfy place to sit during a picnic at, say, a Stellenbosch wine estate?
Summary
The new X5 appears to be a more capable and accomplished product than the model it replaces, which was job number 1. But where BMW has always focused on on-road ability, the new model offers notable off-road credentials too. It's no Land Rover Discovery, but it handled 60 km of undulating, rocky and slippery dirt road with absolute ease. In those conditions, its predecessor would have shaken you until your vision went blurry.
In other areas, such as ride refinement, occupant/load space, infotainment tech and safety, the developments feel evolutionary. We've come to expect new models to be better overall than their forebears and the X5 does just that, but now with an added string (dirt-road prowess) in its bow.
BMW X5 (2018) prices in SA
xDrive30d R1 194 296
M50d R1 502 582
* Prices include a 5-year/100 000 km maintenance plan.
Related content:
New BMW X5 (2018) International Launch Review
7 Rivals New BMW X5 Needs to Beat
2019 Mercedes-Benz GLE and 2019 BMW X5: What can we expect from these SUVs?
New Mercedes-Benz GLE Revealed