The all-new Audi Q3 – the latest generation of the Ingolstadt-based brand's premium family car – has finally been launched in South Africa. The evaluation route of the media launch event comprised a melange of tarmac and gravel road surfaces, including open roads and mountain passes – so we gave the newcomer a thorough perusal...
What's new?
The Audi Q3 has won a considerable number of fans over the years. Before the somewhat awkward Q2 came along, the Q3 was the entry-point to the Ingolstadt firm's SUV range and more than 1.1 million units were sold globally, of which just under 10 000 units found owners in South Africa. Compared with its predecessor, which was based on the PQ35 platform, the new Audi Q3 is based on the Volkswagen Group's MQB matrix. MQB is ubiquitous, but widely lauded for its impressive driving traits, practicality and refinement (areas in which the newcomer is expected to perform well).
As for the looks, it's unmistakably an Audi SUV. Its exterior treatment represents a fresh interpretation of Audi's contemporary design language and incorporates minor cues that have trickled down from the Q8 flagship. As a result, the Q3 looks refreshingly modern and distinctive, it's unlikely to be confused with another manufacturer's product! Nice touches such as the daytime running lights and sweeping indicators add to the car's prestige. Inside, the Audi Q3 adopts the brand's all-new infotainment system, which we first experienced in the A1 and Q8. It's a smart, modern and intuitive setup, with crisp graphics across all screens. Speaking of screens, the Q3 features Audi's Virtual Cockpit digital instrument cluster as standard.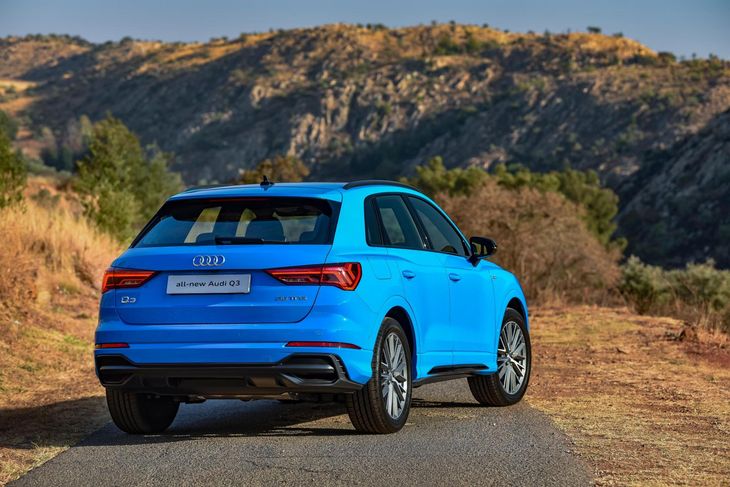 The Q3's combination-LED tail-lamp clusters are not only aesthetically pleasing – they incorporate dynamic turn signals.
What's on offer?
At launch, only a single engine and transmission combo is available. The engine on duty is a 1.4-litre 4-cylinder turbopetrol unit and, by virtue of its peak outputs of 110 kW and 250 Nm, it offers adequate performance. Badged as a 35 TFSI, this Audi Q3 also features an S-tronic dual-clutch transmission with 6 forward speeds. In terms of acceleration, Audi claims a 0-100 kph sprint time of 8.9 seconds and it'll run to a top speed of 204 kph. When it comes to economy, Audi claims 5.0 L/100 km and the derivative lacks quattro all-wheel drive; it has a front-wheel-drive setup instead.
There are 3 levels of trim to choose from: Standard, Advanced, S Line. Each spec level gets its own visual identity, with trim-specific body kits and detailing. Standard exterior features include 17-inch alloy wheels, LED headlamps and rear combination lamps with dynamic turn signals, separate daytime running lights, black roof rails, body-coloured exterior mirror housings and a roof spoiler with a centre high-mounted stop lamp.
Inside, all Q3s are equipped with a 3-spoke leather-trimmed steering wheel, cruise control, Virtual Cockpit, automatically activated lights and wipers, auto-dimming rear-view mirror, electrically adjustable side mirrors, rear PDC, a touchscreen infotainment system, Audi smartphone interface with Bluetooth and voice recognition, plus dual-zone climate control. The interior trim is a leather/leatherette combination and features a centre armrest, black gloss-look dashboard accents, micro metallic silver inserts and illuminated scuff plates with aluminium inserts, as well as LED interior lighting. The rear bench seat has a centre armrest and beverage holder, plus the load bay features a stainless steel loading-edge protector.
In terms of safety equipment, Q3 derivatives are fitted with, inter alia, ABS with EBD and brake assist, electronic stability control with hill descent control and hold assist, dual front-, side- and curtain airbags, as well as a tyre pressure monitoring system.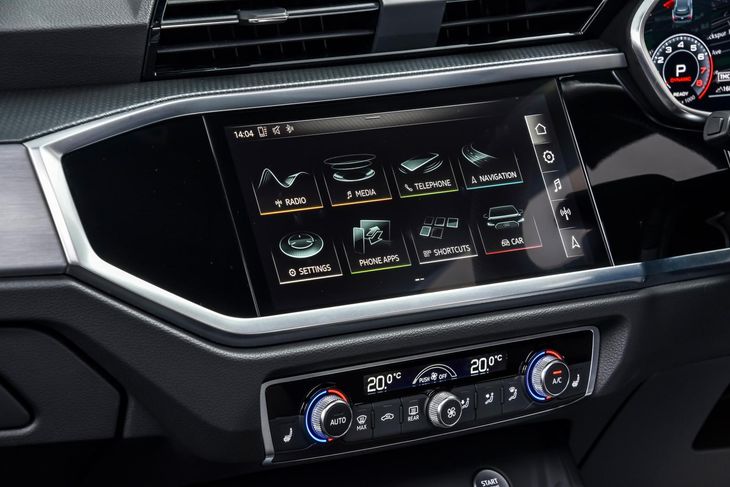 The newcomer's fascia exudes quality, with a slick touchscreen infotainment interface and dual-zone climate control console.
Audi is trying to remove the complexity of offering too many options and instead offers bundled feature packages (Comfort, Technology, Sport, Parking, S line interior) to simplify things for prospective buyers. You can, of course, specify a few extra things, if you think the standard specification is too basic... We especially liked the Audi phone box, which features wireless charging, 2 USB ports and supports Apple Car Play/Android Auto.
MQB-based products are practically packaged and the Q3's no exception. The rear bench can move fore and aft by up to 15 cm to increase legroom or increase cargo-carrying capacity, plus the rearmost seats can be folded down to avail 530/675/1 525 litres of space (depending on configuration). Interestingly, the Q3 has the same wheelbase length as the Volkswagen Tiguan, which should give you some idea of the newcomer's dimensions.
What's it like to drive?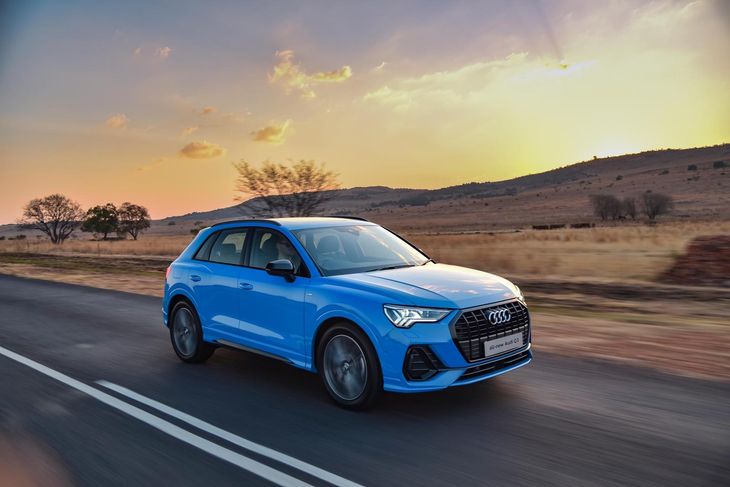 On-road refinement is one of the new Q3's strongest traits; it suppresses noise, vibration and harshness very well.
The route that Audi South Africa laid out to demonstrate its new Q3's prowess emulated a typical weekend away and incorporated a variety of road surfaces. We did an extended drive on the highway, negotiated some snaking mountain passes and traversed gravel roads of varying quality.
On the open road, we were impressed by the Audi's refinement... it was virtually only when we drove on the coarsest of tarmac that some road noise permeated the cabin, but what little there was, was effortlessly drowned out by the (superb, but optional) Bang & Olufsen sound system. With sweet Fleetwood Mac melodies encouraging a stretch of restrained driving, we took our time to explore the cabin's admirable levels of fit and finish.
The redesigned fascia is a superbly-assembled piece of kit and it really shouldn't take you long to work out how the touchscreen infotainment interface works. One of the new navigation features, for example, allows you to physically write on the screen with your finger and while we are often sceptical of such gimmicky pieces of new technology, this one was surprisingly accurate and picked up 'Bloemfontein' when we scribbled it in.
The steering proved a pleasant surprise. We could hustle the Q3 through some of the tightest mountain passes with ease; the tiller offers a fair amount of feedback and the MQB-underpinned SUV responded well (and quickly) to steering inputs. Somehow the Audi minimises that typical "prone to body roll" SUV feeling, and when you're pressing on, it handles like a hatchback. Ride quality is also worthy of a compliment, especially as some of the roads we encountered were far from ideal. It's firm, which is to be expected with cars fitted with sportier trim and larger optional wheels, but at no point did the Q3 crash over bumps. It's happiest on the highway and smooth roads, which is probably where it'll spend most of its life.
One of the driving modes was marked Offroad, which we activated when we turned onto some spectacular dirt roads in the Karoo. This mode adjusts the car's behaviour in an effort to keep it stable (hill descent control is standard, remember). We summoned our inner rally-driver spirits and tackled the roads faster than we usually would, but came away duly impressed! The levels of grip for a front-wheel-drive SUV were commendable. We induced some instability through absent-minded (or hamfisted) cornering, but even then, the electronic stability control stepped in quickly to bring things back in line. Despite some punishing, quick driving over some harsh dirt roads, the Q3 rejoined the tarmac with no rattles or squeaks.
Criticisms? Well, the big one for us is the range's lack of powertrain options. Audi South Africa says the 1.4-litre turbopetrol automatic is the only derivative the firm can source from Audi global right now (August 2019), which makes us hopeful that the range will be expanded with both turbopetrol and -diesel options, as well as the inevitable RS Q3 with its stonking 5-cylinder motor. The Q3's powertrain is quite adequate for city driving, but don't expect too many fireworks in terms of overtaking grunt, despite the very best efforts of the slick-shifting S-tronic transmission.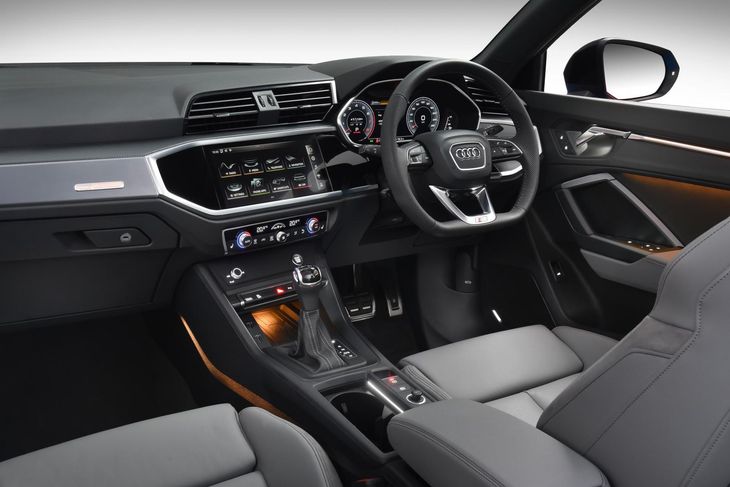 The build quality of the Q3's cabin is really a cut above; will Audi's (fellow German) rivals be able to top this excellent effort?
Should you buy one?
If you're an owner of an outgoing Q3 with high mileage and keen on buying a new one, we'd understand if you made a beeline for the nearest Audi dealership in due course. At the very least, you should go see what the new one offers. However, we'd suggest waiting a bit and see out the initial rush. Hang back and wait for the lineup to expand with stronger (perhaps a 2.0-litre turbopetrol) or -diesel derivatives. Yes, the 1.4-litre is a prudent choice... it's just that we've become accustomed to punchier and potent powertrains from the brand. This car would be sublime with the performance (and reasonable economy) of a 2.0-litre turbodiesel, especially in combination with the brand's new-generation 7-speed dual-clutch transmission.
That being said, despite its average engine, there's a lot to like about the Ingolstadt-based brand's latest offering. It's sleek and modern, excellently finished and boasts improved levels of space and practicality. After a bizarrely quiet period during 2018, Audi SA is back with a vengeance and will launch a whole host of new products over the coming 18 months. Watch this space. This segment is already tightly packed with strong entries from Volvo, Jaguar, Land Rover, BMW and Mercedes-Benz, and to say that we're itching to do a group assessment would be an understatement!
Audi Q3 Price in South Africa (August 2019)
The Audi Q3 range includes a standard Audi Freeway plan (5-year/100 000 km)
35 TFSI S tronic R565 000
35 TFSI S tronic Advanced R585 000
35 TFSI S tronic S line R599 000
Further Reading:
Audi Q3 (2019) Specs & Price
New Audi Q3 Sportback For SA
Spy Shots: Audi RS Q3 Sportback