Following on from the launch of the BMW M3 and M4 in the rear-wheel-drive application, the Munich-based outfit has rolled out its xDrive models and the good news is they'll be arriving in South Africa before the end of 2021.
For the first time in the history of the BMW M3 and M4, all-wheel drive has made an appearance. While purists may not be happy with the setup, the logical benefits are numerous. Firstly, it's faster, with a claimed 0-100 kph dash in just 3.5 seconds. In comparison, the rear-wheel-drive cars can only muster 3.9 seconds for the same sprint. Thanks to xDrive, there'll be virtually no wheelspin and the car will take off without hesitation.
The engine is exactly the same, with the twin-turbocharged 3.0-litre straight-six setup pumping out 375 kW and 650 Nm. The vehicle comes with an 8-speed torque converter gearbox and it has a limited top speed of 250 kph. Tick the box marked M Performance Package and you're good for 290 kph.
The BMW M xDrive system is rear-biased, to try retain some of that sideways driving fun, but thanks to clever electronics, it features a drift mode like the bigger BMW M5. There are different xDrive modes and settings, with the default being rear-wheel drive only until there's a loss of grip and then the front axle comes into play. 4WD Sport will send a bit more bias to the rear axle for some tail out fun, while 2WD is a pure rear-wheel drive tyre-shredding drift bonanza. The systems automatically balances torque between the two axles, while an Active M differential distributes the torque between the rear wheels.
The addition of all-wheel drive makes the segment very interesting, with fewer and fewer options remaining as rear-wheel drive. The outgoing Mercedes-AMG C63 is rear-wheel drive, but we understand the all-new version will have an electrified front axle. The Alfa Romeo Giulia Quadrifoglio is likely to be the only rear-wheel drive performance offering in the coming months as we suspect that most BMW M customers would go for the xDrive model because its faster and will be more stable in wet and wintery conditions.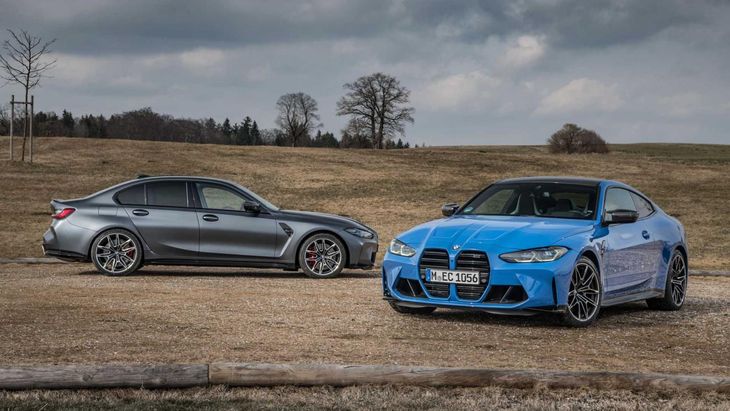 When is the all-wheel-drive BMW M3 and M4 coming to SA?
BMW South Africa confirmed the xDrive BMW M3 and M4 will be coming in the 4th quarter of 2021, but the family won't stop there as there's also an M4 Convertible and M3 Touring stationwagon due for reveal sometime in 2021. Recent spy shots have also suggested that work has begun on an even more potent BMW M4 CSL. We'll update this article as soon as pricing and specification details are available.
Further Reading
BMW M3 and M4 Competition (2021) Launch Review