Mercedes-AMG has shared some insights of its new plug-in hybrid powertrain that's expected to make its way into the next-generation Mercedes-AMG C63.
We're going to miss that lovely and powerful 4.0-litre V8 biturbo engine. Not only does it tug at the heartstrings from a sound point of view, but its power delivery was guaranteed to put a smile on everyone's face. However, thanks to increasingly tougher emissions, the future is electrified and Mercedes-AMG has announced some details of its next-gen engines.
Going the modular route, AMG engines will either be 4-cylinder or 8-cylinder turbocharged petrol engines with 9-speed automatic transmissions on the front axle, with electric power units on the rear axle. This power unit will comprise a lithium-ion battery, cooling system, powerful electric motor, electrically controlled differential as well as a 2-speed gearbox.
For the V8 derivative, outputs of 600 kW and 1000 Nm are being touted, with the first model to get this engine being the updated Mercedes-AMG GT 4-door. Rumours of the GT73e badged are still to be confirmed. However, our focus is on the all-new Mercedes-AMG C63. At this stage, we don't even know if it will retain the name.
But the rumours of swopping a V8 for 4-cylinder power are finally confirmed. The 4-cylinder is the same M139 engine found in the new A45, but will be positioned in a longitudinal fashion, as opposed to the transverse setup. There will be an electric turbocharger and even before electrification is factored in, AMG is claiming 330 kW. With the expertise from the Mercedes-AMG Petronas F1 team based in England, the new AMG-tuned C-Class with electric power should produce 480 kW. A torque figure was not given.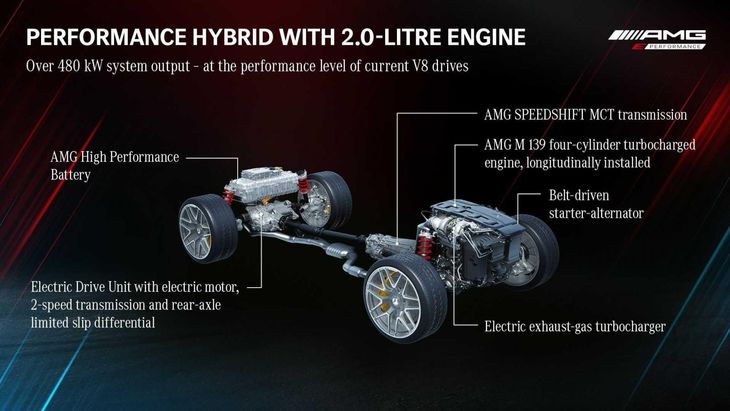 Further Reading
Next Mercedes-AMG C63 to pack 410 kW
Spy Shots: New Mercedes-AMG C63
All-new Mercedes-Benz C-Class Debuts