Porsche is renowned for making great sportscars, but when it installed a 2.0-litre turbo engine in its 718 Boxster and Cayman (in response to tightening emission standards), the models lost some lustre. The GT4, however, is pure brilliance – an intoxicating throwback to the days of big motors, stratospheric redlines and true driver involvement.
We like: Revs for days, rewarding driving experience, manual gearbox.
We don't like: Infotainment system and buttons could be modernised.
Fast Facts:
Price: R1 834 000 before options (November 2020)
Engine: 4.0-litre naturally-aspirated 6-cylinder
Power/Torque: 309 kW/420 Nm
Transmission: 6-speed manual
Fuel consumption: 10.9 L/100 km (claimed)
Top speed: 300 kph
​Performance: 0-100 kph in 4.4 sec.
What is it?
It's fair to say there was a lot of commotion when Porsche delivered this generation of Cayman (718) with a 2.0-litre 4-cylinder turbocharged engine. Was it still going to feel like a Porsche? Would it make all the right sounds? Would Porsche do the same to the beloved 911? These were just some of the concerns around it, which Porsche tried to allay by reminding us of the 718 and its flat-4 engines of the late '50s and early '60s. Most people gave the brand the benefit of the doubt... The new 718's 4-pot was efficient, if a bit characterless, which is, one could argue, the price of progress.
Now, armed with a bunch of particulate filters to reduce emissions and consumption, Porsche has unleashed this 4.0-litre flat-6 sizzler of a Cayman GT4, with zero turbos. That's right, it's not a forced-induction engine (as most premium cars' petrol engines now are) – it's powered purely by natural air (and tears of joy and yelps of jubilation) as you steam towards the 8 000 rpm redline and slot home another inch-perfect gearchange.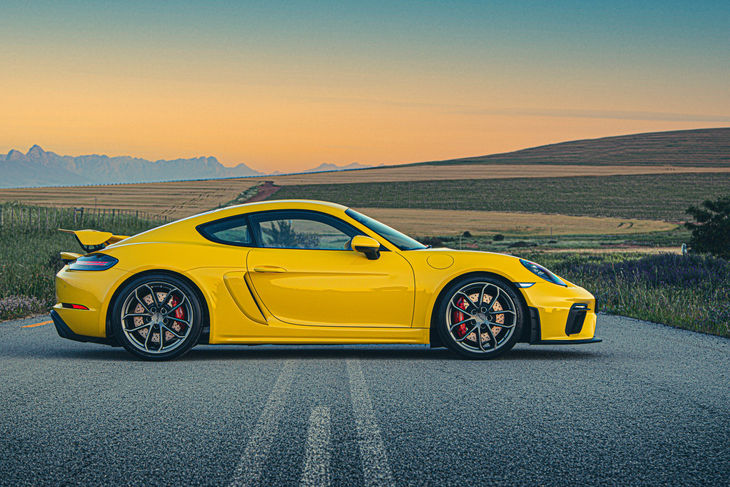 The Cayman GT4 uses a fair amount of trick performance parts from the GT3.
Here's a little info about what makes a Cayman GT4 different from the rest of the range: It has the engine from the current 911, but Porsche upped the capacity to 4.0 litres, upgraded the internals and tossed the turbos into the rubbish bin. The front axle is lifted from the GT3 as are the control arms and subframe for the rear end. It's shod with semi-slick, Michelin Pilot Sport Cup 2 tyres and the newcomer generates 50% more downforce than the previous GT4 thanks to the new rear wing, optimised underbody and rear diffuser. It also sits 30 mm lower than a standard Cayman. If you're up for improving on the Porsche engineers' efforts, you can tweak the setup by adjusting the anti-roll bars, toe, camber and the ride height.
What's natural aspiration, grandpa?
It does feel like turbos have taken over the automotive world and we've forgotten about the purity of well-sorted naturally aspirated engines. Mass producers still eschew turbos in entry-level and budget cars to keep production costs at a minimum and a few Italian supercar makers still let their V10s and V12s breathe freely, but unless you've spent most of your motoring life driving non-turbo cars, it's easy to forget the joy of throttle feel.
No, the Porsche 4.0 won't give you a fat smack when the power kicks in, in fact, you have to work the engine all the way to 5 000 rpm before you're afforded anything resembling a "kick". That's down to the linear precision with which this motor races through its rev range to the rpm limit (8 000 rpm), which you will want to hit repeatedly. An engine like this requires a very different driving style to a turbo motor; you can constantly test the throttle at the edge of grip, ready for that exit, at which point you can flatten the accelerator pedal and let the engine howl its way back to the limiter.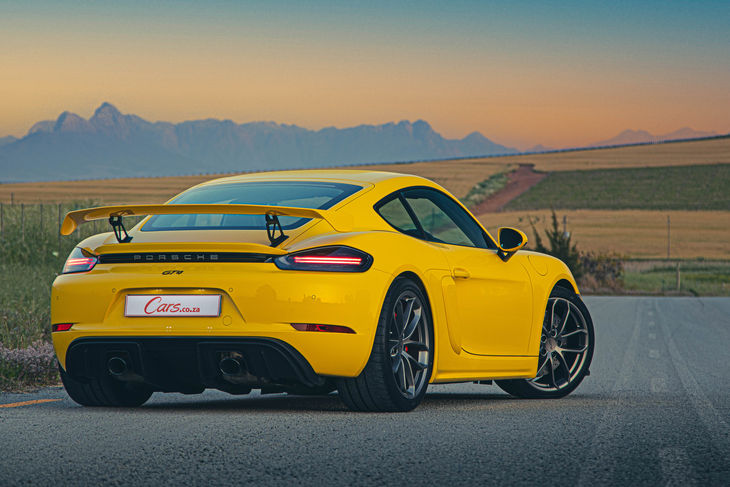 The new rear wing and functional diffuser help in generating 50% more downforce than before.
Granted, it doesn't sound particularly sonorous at full chat, even with the exhaust button engaged. It's more metallic and natural – unfettered by sound-enhancing software and "symposers". You hear the engine right behind you, with the exhaust note further back. The 4.0 has a mechanical tick-over too, similar those old air-cooled engines that reminded me of my dad's replica 718 RSK – which had a Beetle engine at the start of its life.
The Cayman's 6-speed manual, meanwhile, has no rivals. Performance aficionados often praise the Japanese brands for their snip-snap manual gearboxes, but when it comes to fast-shifting and engaging the driver with every input, this Porsche's "stick shift" has them floored. Even with the rev-matching software, which effectively takes care of heel-and-toe downshifts for you, it still makes you feel like a hero. If anything, at slow speeds, 2nd gear feels too high while first is a bit busy, so you have to work between the 2 often. Out on the twisties, however, 2nd is the perfect cog with which to catapult out of just about any corner, plus the Cayman GT4 will accelerate beyond the national speed limit in that gear too.
The right recipe for a driver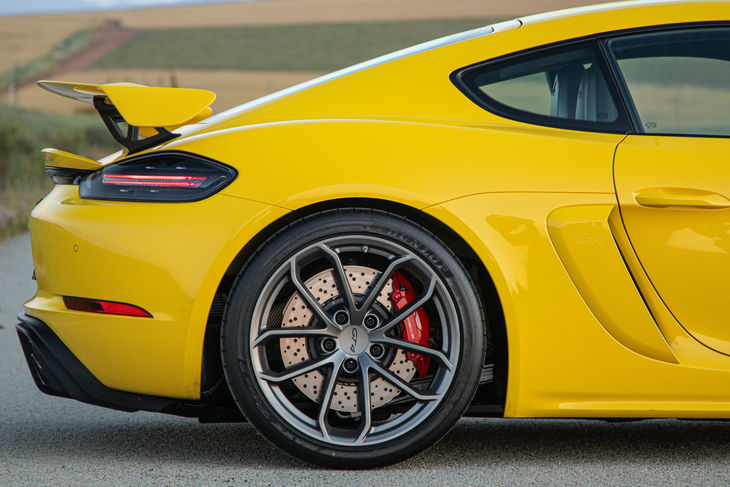 According to Porsche, the brakes on the GT4 may be a little bit too big, but nobody has ever complained about better stopping power.
Mid-engined, lightweight, rear-wheel drive and with a high-revving, beefy naturally aspirated engine... For the purists and dyed-in-the-wool driving enthusiasts, the Cayman GT4 is proof that the ideal small sportscar is alive and well, albeit at a rather unattainable price point for the vast majority of car buyers. The Cayman GT4 has it all and while its asking price may be high, most cars that meet that criteria command double the premium.
To drive the Cayman GT4 at speed on a good road is nothing short of automotive bliss; it's probably a must-do for every petrolhead who'd like to experience genuine driving pleasure before they get too old to drive/shuffle off this mortal coil. From the chassis, the steering, the beefed-up brakes and the profound handling balance, the GT4 will reel in your focus and connect your every sense to it. It's unbelievably engaging in a way that will make you drive up and down the best piece of road you can find until you run the tank dry. You won't even hear the low-fuel-level ping.
I set my alarm earlier than I had this entire year just so I could get out on clear roads and drive this GT4. I drove it to Stellenbosch (Hellshoogte pass) and then when I got there I thought I may as well push on to Franschhoek and lapped the town's alpine-style pass multiple times before being late for an online meeting. Then I did it all over again, in reverse. I realised I was addicted to the car... I had binge-driven an entire day away.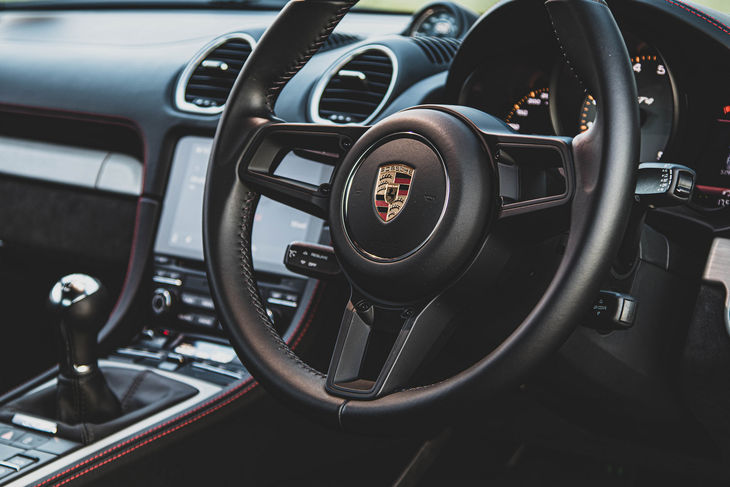 Spot the best manual shifter in the business.
From the moment you command it to turn in its front end, the GT4 responds quickly, but not aggressively; you can coax it – or force it – into bends and you'll get the same balance and secure feeling of being in complete control. The whole experience is like being plugged into the car; once you turn the key fob to fire up the GT4, it's linked to your nervous system and it reacts like it's part of you. It's raw and uninterrupted by electronics and fancy systems to help you drift or corner more tightly. There's a purity in the GT4's dynamics that can't be matched and what's more, it never feels too fast (like most modern sportscars can). The GT4 offers attainable performance, where something like a GT3 or Turbo S will scare you to death.
Is there a downside?
No, when you're driving it, everything about the car is perfect. The infotainment system and the buttons that surround it could do with an update, though. The system is very functional and has plenty of connectivity options, but it feels decidedly old school compared to the setups from Audi, BMW and Jaguar etc. Porsche has always preferred buttons to touchscreens, but everything in front of the gear lever could be condensed into a better touchscreen interface.
Verdict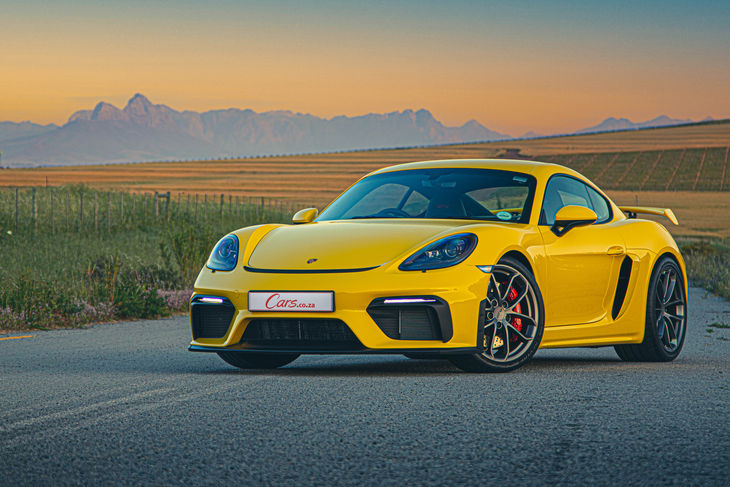 Truly a car to remember, landing right up there with the all-time greats.
If you're okay with not having a 911 because people say "that's the only real Porsche" then the Cayman GT4 won't leave you hankering for a 911. It's just about the best, most complete sportscar this side of a GT3. Heck, you even get GT3 bits and pieces in the GT4 at half the cost of one. The Cayman GT4 is nothing short of a visceral road machine and one that will compel you to drive it as often as you can. It's built to be driven on great roads, so its ride can be a little firm when negotiating the local Woolies parking lot or potholed road, but that's to be expected from a sportscar.
The Cayman GT4 might be impractical for everyday use, but it puts you well and truly at the centre of the experience. The simple formula of sticking a turbo-free engine amidships, sending power to the rear axle only and installing a spine-tinglingly good manual 'box has produced an extraordinary result. In short, if you're a keen driver and want to know what a pure, emotional driving experience is all about, this is the car to get.