At the summit of the BMW 1 Series range sits a hidden performance gem. It's called the M140i and despite this unit's vivid orange paint job, it too lives in the shadow of its much-vaunted M2 sibling. We get to grips with the understated newcomer and make an interesting discovery...
2016 was a notable year for BMW when it came to product launches. A new 7 Series was launched locally and made enough impact to land a nomination for the First Class category for the Cars.co.za Cars Awards. It's that good. For the performance fans, the BMW M4 GTS and BMW M2 were launched; both were highly anticipated and both fearsomely fast. However (almost under the radar), came a mild facelift to the BMW 1 Series range including this performance variant you see here. How does it stack up against other performance hatchbacks?
We like: Value for money thrills, raucous 6-cylinder soundtrack, smooth power delivery
We don't like: Ride could be firm without optional adaptive M suspension, not as pretty as its M240i coupe sibling
Alternatives:
Want a real M car? While the BMW M2 is a coupe and this M140i a hatchback, the inter-related engines and similar performance mean comparisons are inevitable. Consider that the price of the BMW M2 is knocking on the door of a million Rand, as opposed to the under-R700k M140i. The M2 is an exclusive machine, however, and in another class dynamically. Perhaps the svelte M240i coupe (which was approximately R20k more expensive than the 5-door at the time of this review) is a better rival...
All-wheel drive option A: The Mercedes-AMG A45 has been a hit for the brand. It may be down 2 cylinders and 1 litre in displacement, but it packs a considerable punch. It has more power, but less torque, than the M140i and will outsprint it, but the BMW is arguably more comfortable to live with and more involving to drive.
All-wheel drive option B: On paper, the Ford Focus RS promises much and its outputs suggest it's a performance match for the BMW. However, the RS is a hardcore driving enthusiast's car and its cabin certainly doesn't feel better assembled than the BMW's. It's also a bit more expensive than the M140i, and it feels a bit more exclusive.
See how the M140i compares with the Mercedes-AMG A45 and Ford Focus RS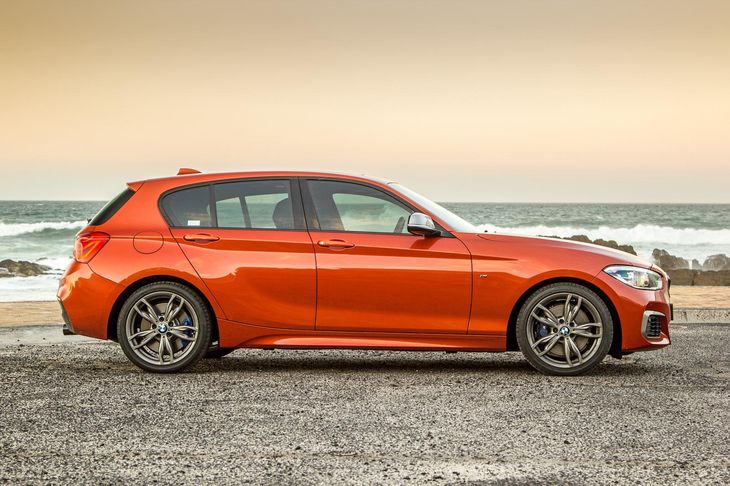 There's little to distinguish the M140i from its 1 Series siblings, but for those eye-catching M wheels and blue brake callipers.
How does it fare in terms of…
Performance?
While the rest of the performance hatchback segment has downsized to turbocharged 4-cylinder motors, BMW proudly bucks the trend by offering the M140i a wholesome 6-cylinder unit. The new B58 engine is the successor to the N55, which was BMW's second-generation forced-induction 6-cylinder engine and was utilised in many of the Bavarian marque's products. This new unit has fractionally larger displacement (2 998 cm3 as opposed to 2979 cm3), a bigger turbocharger and other small changes. The outputs? A nice, round and substantial 250 kW and 500 Nm of torque. These numbers are staggering. The BMW E46 M3 from 2001 had 252 kW and 365 Nm, yet this M140i (not even a fully-fledged M car) trounces it.
BMW claims the M140i will hit 100 kph from standstill in 4.6 seconds, but traction will be an issue because at full throttle the rear tyres can scrabble for grip (unless the stability control can prevent it, which it does in other circumstances). Be circumspect with the throttle to get the M140i off the line, and then open the taps for maximum effect. The constant stream of 500 Nm is fully available from 1 520 to 4 500 r/min, which is, as a matter of fact, an elbow to the ribs of the BMW M2, which can only muster 465 Nm (500 Nm is available for short bursts on overboost). That leads us to believe that the M140i will run an M2 close in a mid-range acceleration test, not that we're likely to get a chance to test the theory...
How does this all translate to the on-the-road experience? At start-up, you're greeted with that BMW trademark 6-pot rumble, which provides a welcome hint of what this vehicle is capable of. There are various driving modes (Comfort, Sport, Sport Plus, Eco), which alter the power delivery and responsiveness. Pottering 'round town during the school run or in between meetings? Comfort or Eco neuters the performance aspect to the car, and makes it feel like a responsible premium hatchback. If there a pesky Golf GTI spoiling for a dice, Sport mode will help make him disappear in your 'mirror. Note that Sport Plus loosens the safety shackles for some tail out sideways action, but will catch you before slides become terminal.

The cosmetic updates to the 1 Series interior are subtle, but the shift paddle-adorned sports steering wheel is a delight.
The star of this show is the sheer tractability of the engine. Yes, you have the benefit of an 8-speed 'box to keep the engine in boost, but there's no need to frantically bang down the cogs as the turbo starts pulling from the early teens (rpm). Overtaking? Effortless. It's addictive, the overtaking potential of this motor will even please fans of old-school burly V8s.
Of course, the fun really begins when you point the Bimmer at a sequence of tight, winding bends. Whereas many members of the all-wheel-driven performance car brigade have a tendency to convert high speed into understeer when powering through corners, the BMW M140i does the opposite. Those who are talented enough will be able to coax some sideways action from the M140i, but even those who just enjoy the under-appreciated art of driving will relish what this car is capable of. It feels purer to drive than many of its competitors and less complicated by fancy electronics and differentials. Let us put it this way: it's more like you're making the car go fast rather than leaning on all its systems to usher you around the bends.
Features?
Sure, while this BMW M140i is a delight to drive, it's reassuring to know that it benefits from the latest advancements in technology and communication. Standard specification is fair, and there are some interesting options to choose from. The centrally-located infotainment screen now features visuals that look similar to the first-class-segment display in the 7 Series, but the intuitive menu system of the pre-facelift 1 Series has been retained. BMW calls this new system iDrive 5.0, which shows just how far the firm's proprietary user interface has come.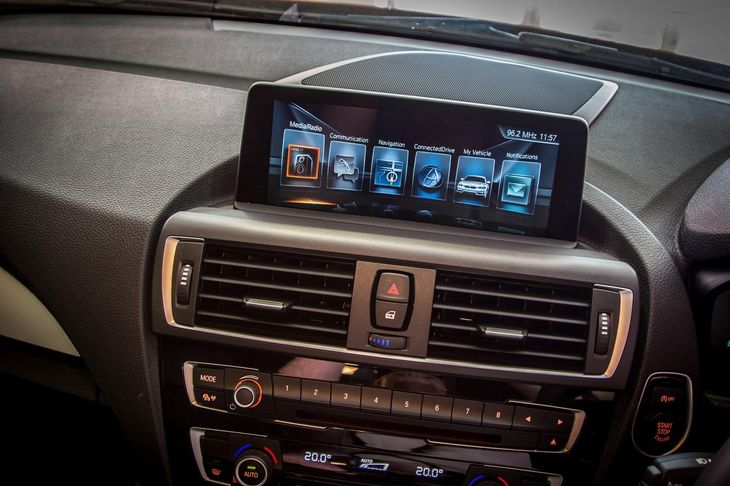 The sumptuous infotainment graphics of the 7 Series seems to have filtered down to the "humble" 1 Series!
Our test unit came with the 8-speed automatic with paddle shifters located behind the steering wheel. A manual gearbox is available, but we'd bet that out of every 10 units sold, 9 would be autos. We'd recommend you tick the boxes marked Navigation System Professional, Harman/Kardon audio, Park Distance Control, and most importantly, Adaptive M Suspension, because, by virtue of the M140i's low-profile tyres and sporty damping, the ride can become a trifle choppy on uneven surfaces and the latter feature compensates for that to a degree.
Practicality and Comfort?
The BMW M140i is competent in the practicality and comfort departments. It's a five-door hatchback with a generous boot (one of the biggest in class, as a matter of fact). The rear seats fold in a 60:40 split, which increases the loading capacity from 360- to 1 200 litres, which is useful for those carting larger than usual items. The front two seats are comfortable and trimmed in leather. There is enough seating for five, but it'll be a squeeze to accommodate 3 occupants in the back. Rear legroom is okay, but taller folk won't be comfortable.
BMW M140i Price in South Africa
You can get behind the wheel of a BMW M140i from R652 802. The price includes a 2-year/unlimited kilometre warranty and a 5-year/100 000 kilometre maintenance plan. Services are determined by the onboard computer.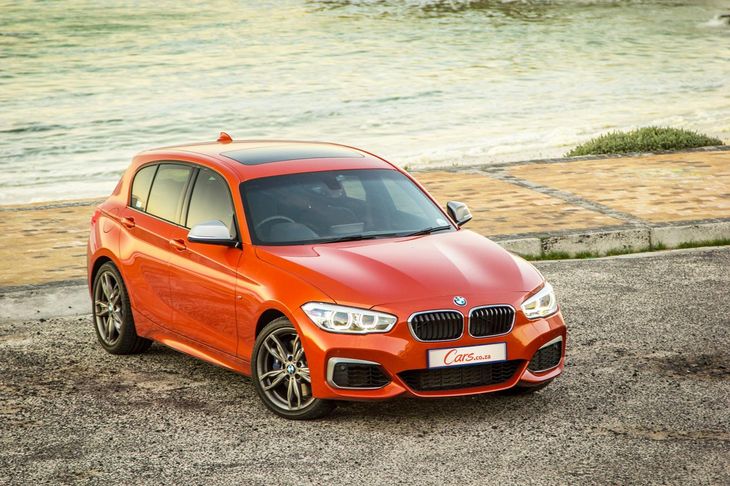 The M140i seems expensive for a premium compact hatchback, but not compared with top-end performance rivals.
Verdict
There are numerous choices available in the performance hatchback segment, which is reserved for cars that are in a different league (performance- and price-wise) to hot hatchbacks. While the M140i is not as race track-ready as a Honda Civic Type R (at least it does not feel that way) or as adept at executing point-to-point sprints in variable conditions as the Golf R, for example, the BMW M140i makes an interesting case for itself. Bear in mind that if you do want that ultimate driving tool, the M2 is where you should be headed – if you can afford it.
Overall, the BMW M140i is a great all-round offering as it brings readily accessible performance to the table, entertaining dynamics, yet offers comfort and "premiumness" associated with the BMW brand. Not everyone wants to thrash their cars on racetracks and to be blunt, cars such as these are mostly driven to work and back, where their talents are largely wasted. The BMW M140i will do the daily drive effortlessly. It's brisk, it's comfortable and knowing that you could enjoy "one of the best drives of your life" on a mountain road is reassuring.
Compared with the flashier offerings on the market, the M140i feels like a grown-up, mature and sensible choice. It'd be hard to justify the purchase of a winged-warrior Civic Type R or electric blue Focus RS to your (probably non-petrolheaded) partner or spouse, but this? Well, it should be a bit easier, because the BMW largely flies under the radar and delivers thrills when it counts most. The M240i coupe might hold the edge in terms of looks, but the M140i offers more practicality... and would constitute a R120k saving over a Mercedes-AMG A45.
Related Content
BMW M2 Coupe 6-Speed Manual (2016) First Drive
BMW M2 Coupe Auto (2016) Review
Track Race: Audi RS3 vs Merc-AMG A45 vs Honda Civic Type R vs BMW M2 [Video]
Ford Focus RS (2016) Video Review
Ford Focus RS (2016) Review
Mercedes-AMG A45 4MATIC (2016) Review
New Honda Civic Sedan (2016) First Drive
Interested in buying a BMW 1 Series?