After numerous teasers and speculation, BMW has finally revealed the new i8 Roadster. Take a look at pricing and details for the new i8 Roadster and updated i8 Coupe below.
The BMW i8 Roadster is the third official vehicle in the i-lineup and this topless version forms part of a facelifted i8 range which will arrive in South Africa in the middle of 2018. Some of the changes include redesigned LED headlights, along with new bumpers front and rear and a refreshed range of alloy wheel designs. The electrically-operated fabric roof opens and closes 15 seconds at speeds up to 50 kph and the striking butterfly doors, synonymous with the i8, have been retained. The i8 Roadster is a strict 2-seater and with the omission of the rear seats, additional storage space of up to 100 litres is offered behind the seats.
Outputs and efficiency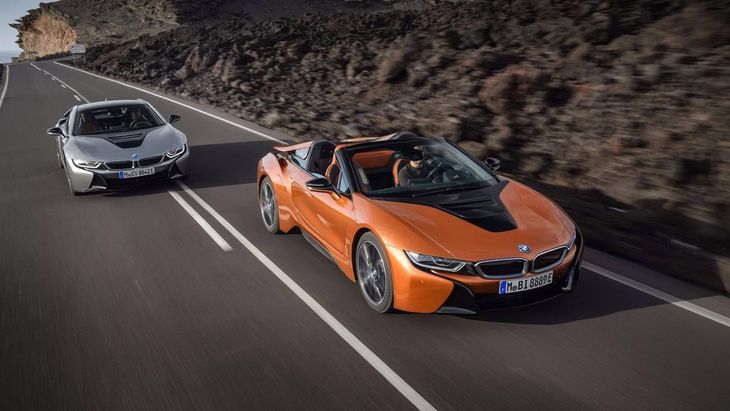 The updated i8 Coupe and new i8 Roadster now offer more power and improved electric range.
Both the i8 Roadster and i8 Coupe feature a revised version of the i8's plug-in hybrid setup, which comprises a turbocharged 1.5-litre 3-cylinder petrol engine driving the rear wheels with 170 kW/320 Nm and combined with an uprated electric motor which now offers 105 kW/250 Nm mounted on the front axle. Total system output for both the i8 Roadster and Coupe is 275 kW (266 kW previously). A more powerful 11.6 kWh battery is fitted (previously 7.1 kWh) and electric range for the i8 Roadster is claimed at 53 km while the i8 Coupe can travel 55 km in pure electric mode.
Electric driving is now possible at speeds up to 105 kph (previously 70 kph) and when in eDrive, the electric driving threshold increases to 120 kph. In terms of fuel consumption, BMW claims a figure of 2.1 L/100km for the i8 Roadster and 1.9 L/100km for the i8 Coupe.
The i8 Roadster weighs in at 1 593 kg, some 60 kg heavier than its coupe sibling, and will sprint from zero to 100 kph in 4.4 seconds while the i8 Coupe is marginally faster, completing the sprint to 100 kph in 4.2 seconds. Top speed is rated at 250 kph. A 6-speed automatic transmission is standard as is Dynamic Damper Control. A full charge will take 4.5 hours using a 10 A/230 V domestic power socket.
Styling and equipment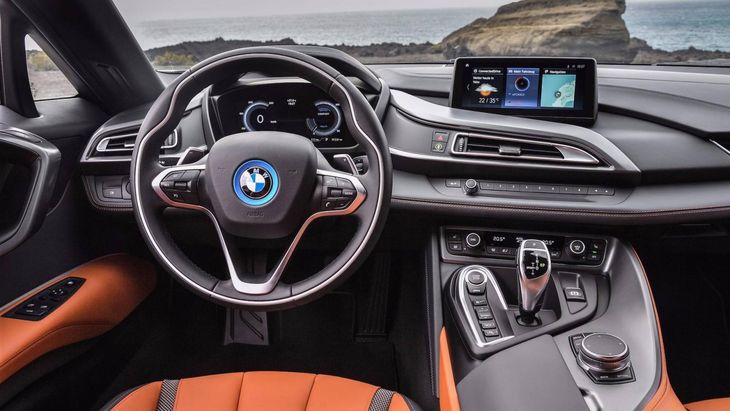 The i8 Roadster can deploy its fabric roof in 15 seconds and is offered with a new Accaro interior trim as an option.
The i8 Roadster rides on new 20-inch light alloy wheels in double-spoke design as standard (optional for i8 Coupe). Model-specific lettering as in 'Roadster' and 'Coupe' is seen on the C-pillars.
Both variants will be offered with new E-Copper metallic and Donnington Grey metallic paintwork. On the inside, a Carpo interior design is standard for both models and in the i8 Roadster will feature an Ivory White and Black combination while in the i8 Coupe features Ivory White. A new Accaro interior trim in Amido and E-Copper will be offered as an option.
Standard equipment includes Navigation System Professional with ConnectedDrive Services, BMW Display Key, Driving Assistant with Surround View and a mode 2 charging cable. The Control Display features a tile-based menu design with live mode. Options include a BMW Head‑Up Display with model-specific content, non-dazzling BMW Laserlight with BMW Selective Beam and acoustic pedestrian warning.
Facelifted BMW i8 and i8 Roadster Price in South Africa
eDrive Coupe R2 095 200
eDrive Roadster R2 329 300
Further reading:
BMW i8 vs Audi R8 Spyder - The Strangest Sportscar Rivalry?
Spy Shots - BMW i8 Convertible
BMW i8 wins Engine of the Year

Facelifted BMW i3 Revealed

BMW i3 Video Review

Read all about BMW's i Performance brand
Want to buy a BMW i8?