The BMW i8 Coupe, which was introduced in South Africa in 2015, is the only mid-engined hybrid sportscar in the local market. It appeals to brand loyalists, eco-warriors, trendsetters and especially early adopters, but is it a wise purchase when there are more powerful and faster performance cars available?
We like: Design, efficiency, performance, relatively good everyday usability
We don't like: Better suited to bursts of cut-and-thrust driving than long-distances at high speeds.
Alternatives:
The BMW i8 doesn't have any direct rivals, but here are 2 similarly priced alternatives to consider...
The first-class hybrid: Consider the Mercedes-Benz S500e L priced at R1 931 800. It's a lavish alternative to the i8 and offers a total of 325 kW and 650 Nm of torque from its hybrid powertrain.
For traditional kicks: Consider the Porsche 911 Carrera 4 GTS PDK priced at R1 892 000. Its turbocharged 6-cylinder, 3.0-litre boxer engine offers peak outputs of 331 kW and 550 Nm of torque.
Compare the BMW i8 Coupe with the Mercedes-Benz S500e L and Porsche 911 Carrera 4 GTS PDK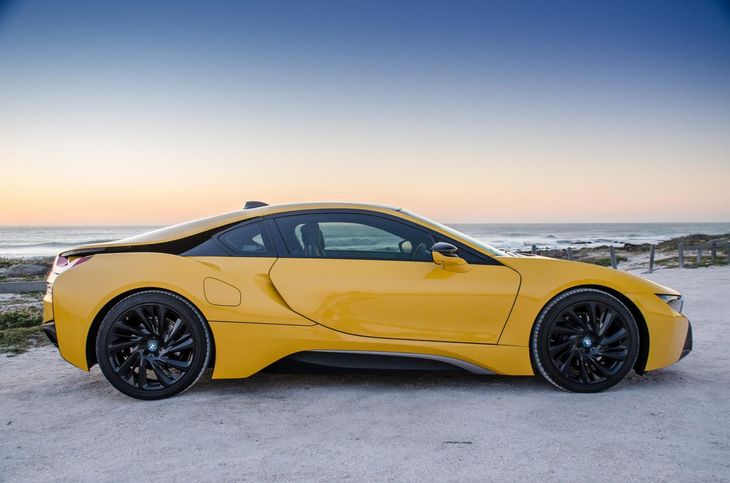 The i8 offers an intriguing mix of efficiency and performance thanks to its advanced hybrid powertrain.
Why is it important?
The i8 is the halo car for BMW's i Division and at the time of going to market and, to a large extent, to this day, the carbon-fibre-laced wing-doored coupe represents a glimpse at the future of motoring, well, at least the way the Bavarian firm envisions it. The i8 and its award-winning i3 sibling demonstrate how electrification and hybrid technology has (and will continue to) shape our motoring experience into the future.
In the case of the i8, its exterior design is nothing short of outlandish. Suffice to say there are few cars with asking prices this side of R2 million that offers as much sheer kerb appeal as the low-slung, aerodynamically-sculpted BMW. It's near-identical in design to the 2011 BMW i8 Concept upon which it is based and the fact that it looks like a concept car makes it even more radical and, for some, appealing.
Since its local launch, approximately 227 i8s have been sold, with about 124 units sold in 2015 alone. If you consider that the i8 is not a high-volume model and that it is expensive to produce, those numbers are quite impressive, especially in our market. Now, more than 3 years since its launch, we finally had the chance to sample the i8 for ourselves. This is what we thought of it…
How does it fare in terms of…
Kerb appeal?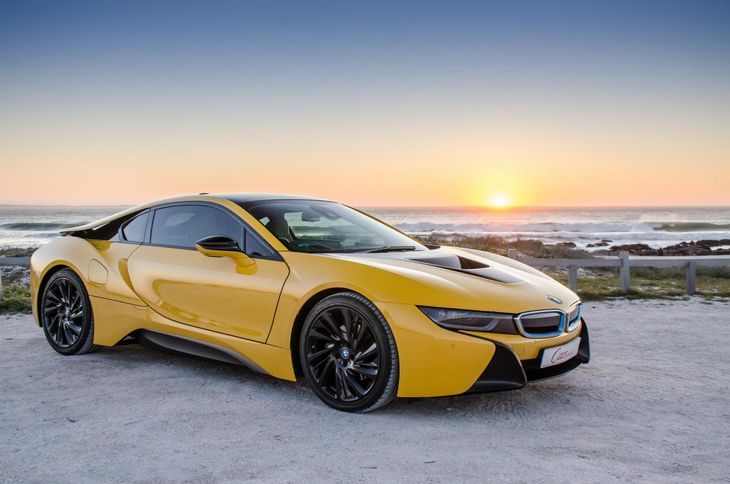 Sleek and curvaceous, the i8's efficient aerodynamic design contributes to its efficiency credentials as well as its performance capability.

The design of the dual-tone i8 is timeless and it continues to enjoy considerable head-turning ability. This i8's bright yellow paint finish is hard to miss and everywhere we drove, people gawked at the sportscar with admiration and in amazement. The amount of attention this i8 garnered was incredible to witness.
Much has been written (and said) about the i8's aerodynamic wizardry, but for brevity, we'll just say that by virtue of a low and wide stance, flowing lines and aerodynamic floating roof pillars towards the rear, the BMW has a stunning dynamic look. Just about every angle of the i8 is achingly pretty. The upward-folding scissor doors add to the sense of theatre and they emphasise the i8's sporting character.

The i8's efficient lightweight design consists of an aluminium chassis and a passenger cell made from carbon-fibre-reinforced plastic (CFRP). Exposed carbon fibre is seen when you open the doors and carbon fibre interior details further allude to its lightweight construction.
In terms of kerb appeal, there aren't many cars with as much star-power as the i8, certainly not in its price bracket. Just be prepared: wherever you drive the BMW, everyone will look at you and the car...
Powertrain technology?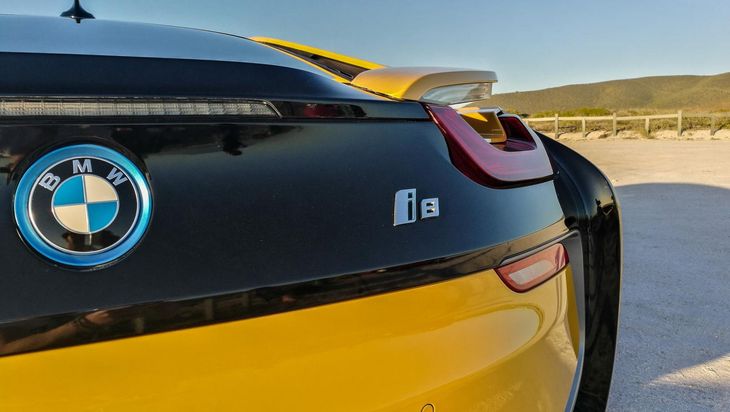 When fully charged, the i8 delivers entertaining performance, but it also offers up to 37 km of emission-free driving in full-electric mode.
A plug-in hybrid powertrain is at the heart of the i8 and combines a combustion engine with an electric motor and high-voltage lithium-ion battery to produce total outputs of 266 kW and 570 Nm of torque, all of which is transferred to the terra firma via a 6-speed automatic transmission. The engine alone produces 170 kW and 320 Nm of torque while the electric motor produces 96 kW and 250 Nm of torque. In normal operation, all 4 wheels are driven, with the electric motor driving the front axle and the combustion engine driving the rear axle.
However, in full electric mode or eDrive, the combustion engine shuts off completely and all the driving power is generated via the front axle with the i8 wafting along in eerie silence. When fully charged, the i8 has an electric range of 37 km and can reach speeds up to 120 kph in full electric mode.
We charged the i8 overnight using the standard charge cable, but i8 owners can also charge the car using a dedicated wallbox for faster charging times. Furthermore, specific charging points are located in all major city centres allowing you to charge your i8 when you are out and about. If you really want to maximise charging, BMW can also arrange the installation of a premium solar carport at your home to generate electricity to charge your i8. Alrighty, then...
Performance?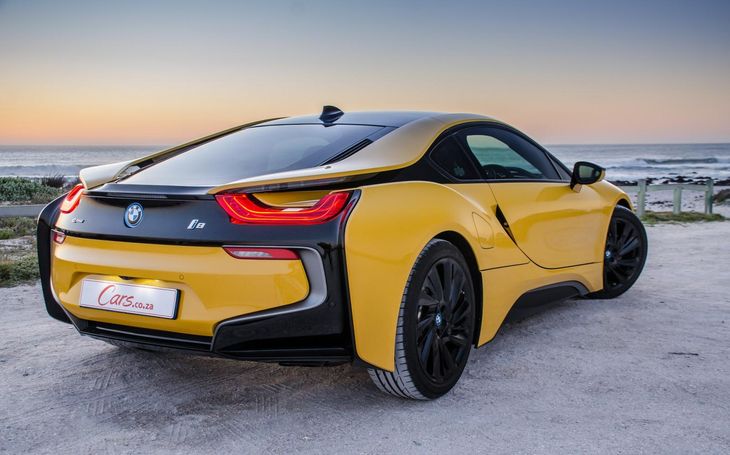 The i8 is light, fast and efficient and returns admirable fuel consumption figures on a daily basis.
The i8's jaw-dropping supercar-like styling aside, some might scoff at the thought of buying a sportscar fitted with a 3-cylinder 1.5-litre turbocharged engine and an electric motor, but don't be fooled. With most sportscars (not to mention supercars), fuel economy is less of a consideration than in conventional passenger cars, but not with the i8. The i8 is the poster child for efficient motoring and we averaged 8.6 L/100 km, which, by sportscar standards, is excellent but compared with BMW's claim (2.1 L/100 km) is disappointing. Nevertheless, it suggests with a more considered driving style, much better efficiency is possible.

The advantages of driving in full electric mode in Cape Town became clear when the i8 shuttled to the Cars.co.za office in peak hour traffic. Just about every car was chugging gas as the i8 rolled by silently with no emissions. With the engine sleeping behind you, there's no engine noise in the cabin, just an intriguing electric swooshing sound as you floor the pedal. It's marvellous!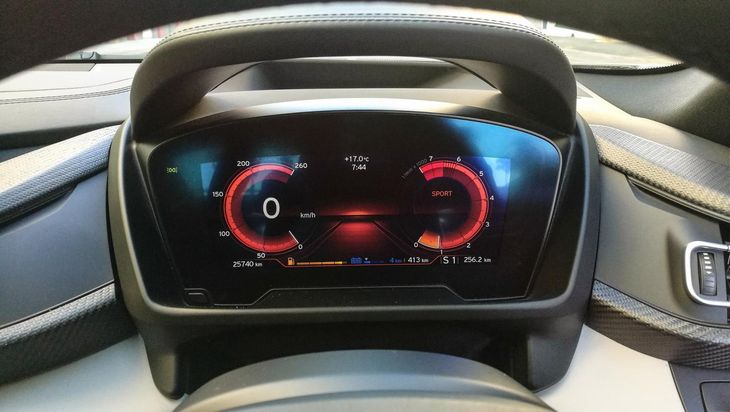 The digital instrument cluster gives the i8 a futuristic look and Sport mode allows for maximum energy recuperation.

But then, you switch into Sport mode, the engine awakens and the character of the car suddenly changes.The i8 responds positively to throttle inputs and when you unleash maximum, combined power, the i8 surges forward fast in a refreshingly light way. With electricity charged up at the front wheels and petrol firing behind you, the i8 will punch from zero to 100 kph in 4.4 seconds and go on to a top speed of 250 kph. It's fast, but not quite supercar fast. You will have to forgive the augmented engine sound, but it's still a great sound to hear. You can't have everything, you know…
The transmission is generally unobtrusive and shifts smoothly in normal operation, but it's far better to engage manual shifts using the shift paddles to get the most out of the i8 during spirited runs. The i8 also recoups the most energy when in Sport mode and electric power regenerates relatively quickly when driving in this mode. In addition to Sport mode, the driver can also choose to drive in Comfort, Eco Pro mode, and of course, full electric eDrive mode.

Perhaps the most intriguing and likeable characteristic of the i8 is that it's wonderfully easy to drive and the technology is far from being daunting. The i8 is approachable, accessible and easy to grasp and that fact makes it even more appealing.
Ride and handling?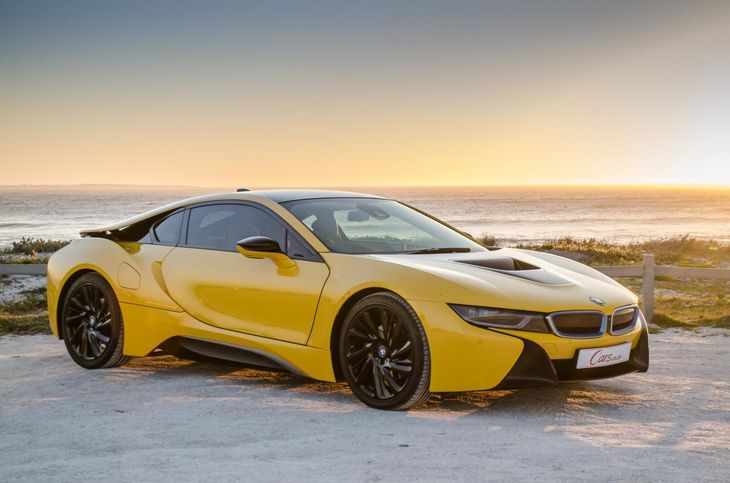 The i8 is dynamically gifted and it delivers precise and sure-footed handling.
With it's lightweight and aerodynamically efficient design, the i8 offers splendid handling ability. A major highlight is the light steering feel and it responds well to even the slightest adjustments. The suspension setup is on the firm side, but still pliant enough to make the i8 suitable for daily driving.
Through corners, the i8 displays composure and precision and because of it's wide stance and low centre of gravity it corners with very little body roll. Grip levels are high and even at speed, the i8 hugs the asphalt with reassurance and it never feels intimidating. It's a hugely fun car to wield on a winding mountain pass and your fondness will grow every time you get behind the wheel.
Interior comfort and practicality?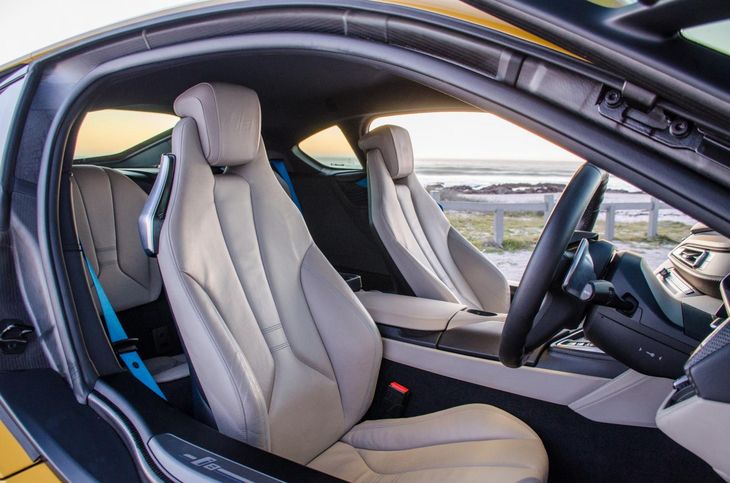 The lightweight sports seats are comfortable and supportive but getting into the i8 will take some practice.
Look. getting into and out of the i8 takes some practice (especially if you are tall) and although your first few attempts won't be very graceful, you soon learn how to slide into the seats with relative ease. Getting out requires a bit more abdominal strength and a lean against the B-pillar, but once you get the hang of it, it's a minor gripe.
Once inside, you are met with a stylishly sculpted interior. You sit low in the i8 and we found the lightweight leather seats to offer adequate comfort and support. The cabin is essentially split in half and you will find a storage bin in the centre console with a USB port and BMW's familiar iDrive dial which allows the driver to explore the full functionality of the infotainment system, which with all due respect, could do with an update. It is, however, easy enough to use and navigation is standard. You can also download the BMW i Remote App which will show you information such as vehicle status and battery charge level, among other functions. The digital instrument cluster is also a great feature and adds to the futuristic interior design.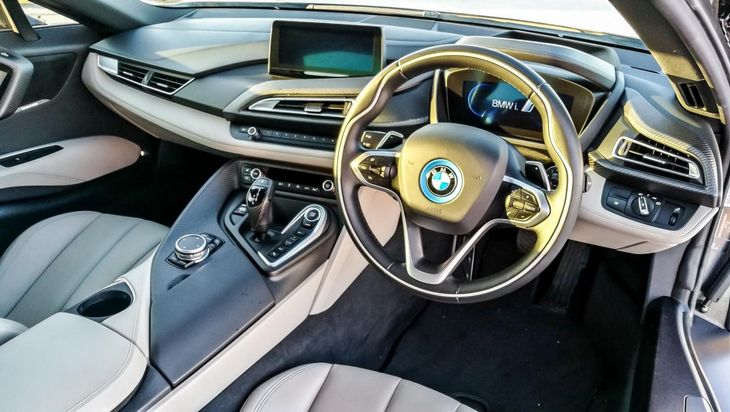 The interior design is pleasingly modern and uncluttered with familiar switchgear found on other BMW models.
The infotainment screen also displays the rear view camera and surround view of the car which ensures that you avoid unwanted bumps in close-quarter driving situations. Front and rear park distance control is also fitted.
As a 2+2 coupe, the rear seats of the i8 are not comfortable for adults and that space is far better used as storage space. The i8 does have a small 154-litre load bay accessed beneath the rear glass, but it can't cater for much luggage. If you have a family to transport, the i8 won't cut it...
Safety Features
The i8 is equipped with 6 airbags as well as ABS with EBD, brake assist, electronic stability control and traction control. A head-up display is offered as an option and will keep the driver's attention on the road while showing information such as speed limits, navigation instructions, speed, infotainment and telephone information. A camera-based collision warning system is fitted along with pedestrian warning with a city braking function.
Pricing and warranty
The BMW i8 Coupe is priced at R2 015 300 and is sold with a 2-year/unlimited km warranty and a 5-year/100 000km maintenance plan. The i8's battery is covered for 8-years/100 000 km.
Verdict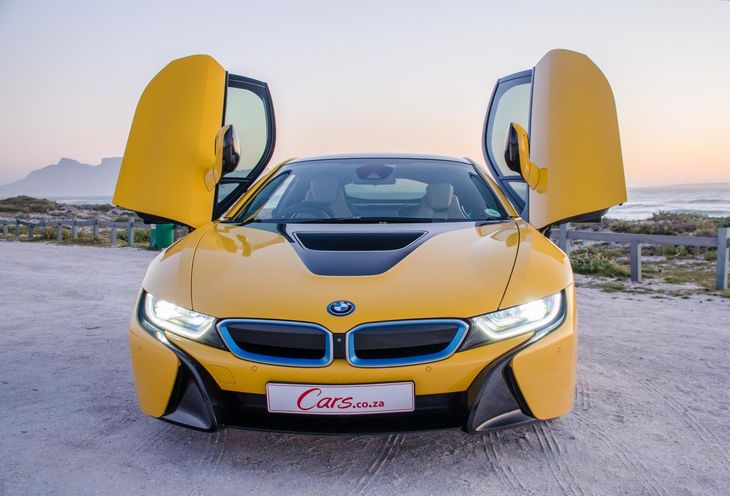 The BMW i8 is the most exciting hybrid on offer in SA and has loads of aesthetic appeal to make it worthy of consideration.
The i8 is a refreshing take on what the future of the sportscar holds and it's certainly one of the most exciting plug-in hybrid products on offer in our market. It's a striking package and it offers appealing alternative performance to your traditional combustion engine sportscar. Sure, it might lack a degree of au naturel aural excitement, but there is a sense of occasion when you drive the i8 and that's a huge positive.

We also like dual nature of the i8. It can be a frugal, emission-free (if less than practical) daily runner while also offering notable performance and handling dynamics when you want it to. It's entertaining to drive and is comfortable enough to drive every day (even though few people will). Perhaps where the i8 falls short, is over longer distances. When driven hard for protracted periods, the petrol engine cannot recharge the battery fast enough for the motor to contribute to performance significantly... You would be forgiven for feeling frustrated at seeing a long empty road ahead of you with no real performance to exploit.

Having said all that, the majority of i8 buyers will probably be more than willing to deal with the BMW's idiosyncrasies. It remains an utter head-turner of a vehicle, is one of very few petrol-electric hybrid cars that can be considered a heart-over-head purchase proposition and, most of all, it elevates performance driving from a selfish, indulgent on-road pursuit to something that can be enjoyed on a cerebral level too...
Related Content
BMW i8 Roadster Shown in Final Testing [with Video]
Spy Shots - BMW i8 Convertible
Luxury BMW Models Get New Logo
EV Charge Stations in SA: How Many & Where?
Top 10 Most Fuel Efficient Cars in SA (2017)