BMW doesn't offer a 3 Series Estate in South Africa anymore, but for those who miss the business class sedan's 'wagon version, will an extended hatchback do just as good a job? We test the facelifted 320d GT to find out.
We like: It has a big boot, drives like a 3 Series, frugal diesel
We don't like: Still looks odd, R50k extra for the added practicality
Alternatives
Another lifestyle-oriented sedan: The all-new Audi A5 Sportback (due for launch in South Africa in April 2017) is a natural 3 Series GT rival.
If you prefer a conventional estate: The slightly shorter Mercedes-Benz C250d is a solid option but offers a less luggage/utility space.
Good value, if older, design: the flagship Volvo V60 D5 R-Design is a seasoned campaigner, but is much cheaper than its German rivals.
Compare the 320d GT to the Mercedes-Benz C-Class Estate and Volvo V60 here
Where does it fit in?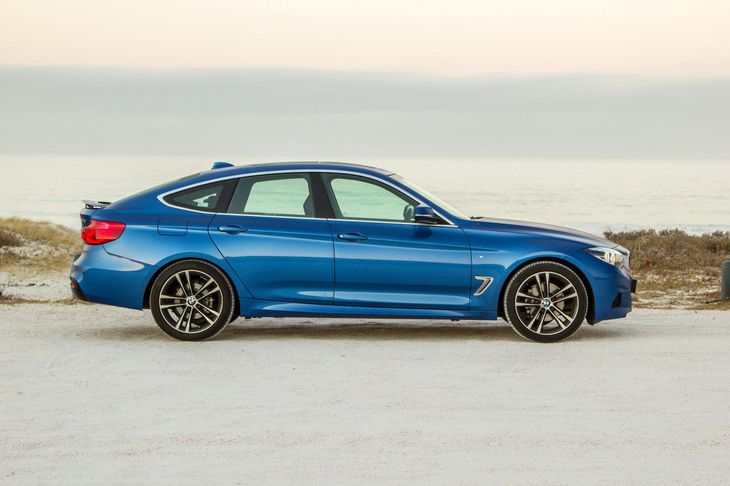 A hunchbacked 3 Series with a rear spoiler. The Gran Turismo still looks like an oddball despite the design tweaks for this facelift.
The 3 Series Gran Turismo fits the buying needs of a very small niche of the market. On paper, it looks like a decent proposition: you get a 3 Series with a bigger, more practical luggage bay and more space for rear passengers. You pay more for the extra convenience and there are fewer engines to choose from (just 320i, 320d and 340i), but it appears a reasonable choice for those wanting a dynamic sedan with the practicality of an SUV.
How does it far in terms of…
Kerb appeal?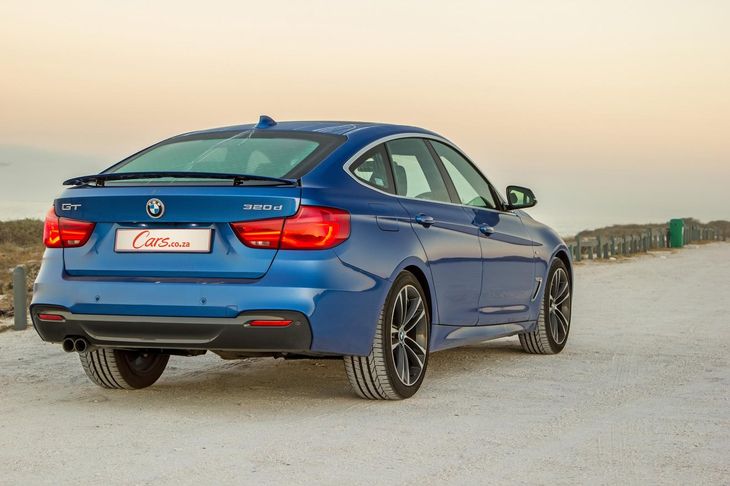 The rear spoiler is retractable and the turbodiesel engine is very frugal.
Many think of the 3 Series GT as a (purposefully) strangely shaped oddity and that's exactly what it is. For the facelift, BMW tried to smooth out some of the edges and give the GT more of a coupe silhouette. The firm also resculpted the car's front and rear ends to make it appear broader and more muscular. It's a tough ask, as we've become so used to the sleek lines of the sedan that it's a bit of a shock to see a long sloping roof at the rear.
It still looks more like a bolt-on-hatchback 3 Series variant rather than a unique design. Our model did have an extendable rear spoiler, which can be raised/lowered via a button on the driver's door. It gives the GT more road presence, yes, but it may be a bit too showy/ornamental for some tastes.
Feeling like a 3 Series?
For the 3 Series GT, BMW increased the sedan's wheelbase by 110 mm (and overall length by 200 mm). These may sound like incremental changes, but they can affect the car's ride and handling, areas in which the 3 Series prides itself on being better than its rivals.
However, you'll be hard-pressed to notice any definitive difference in the handling of the GT. If anything, the slight weight penalty means the GT has a touch more body roll in the bends. The ride comfort remains excellent and the platform retains its supple feel that soaks up bumps and corners with confidence. Our model was specced with optional 19-inch wheels with 225/45 profile tyres and that combination felt like a reasonable combination of external appeal and a cushioned ride. If you want a slightly softer ride, there are 17 and 18-inch wheels with 55 and 50 profile respectively.
Offering extra practicality?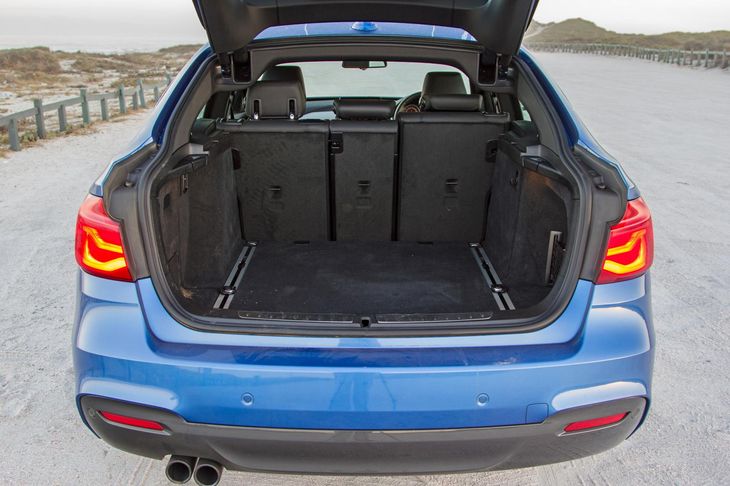 The (admittedly more practical) luggage area is long but quite narrow...
Having the hatchback instead of a standard boot doesn't result in a massive increase in the 3 GT's outright luggage capacity. It increases from 480 to 520 litres, but the utility space (availed once the seats are folded down) is much larger. The loading area is quite long but its width is relatively narrow, which means it's not quite as practical as a family car like a Volkswagen Tiguan, Kia Sportage, Hyundai Tucson, to name a few examples.
Courtesy of the lengthened wheelbase (to reiterate, by 110 mm) rear passengers have ample legroom no matter how far back the front seats are positioned. Long journeys with a packed car like this should be an absolute breeze.
Turbodiesel performance and efficiency?
As one of only 3 engine options in the model line-up, the 2.0-litre motor is the only turbodiesel version available, but it's an impressive engine that combines a near-perfect combination of performance and fuel consumption. We took a long drive out to Lamberts bay, some 250 km from Cape Town. The initial 100 km were spent overtaking slower cars, before the final 150 km was spent at the speed limit with cruise control activated.
The overtaking ability from the 140 kW/400 Nm engine is superb with the peak torque being delivered from near the 2 000 rpm mark. It starts to taper slightly after about 3 000 rpm, but there are enough gears in the 8-speed auto to keep the engine in the sweet spot.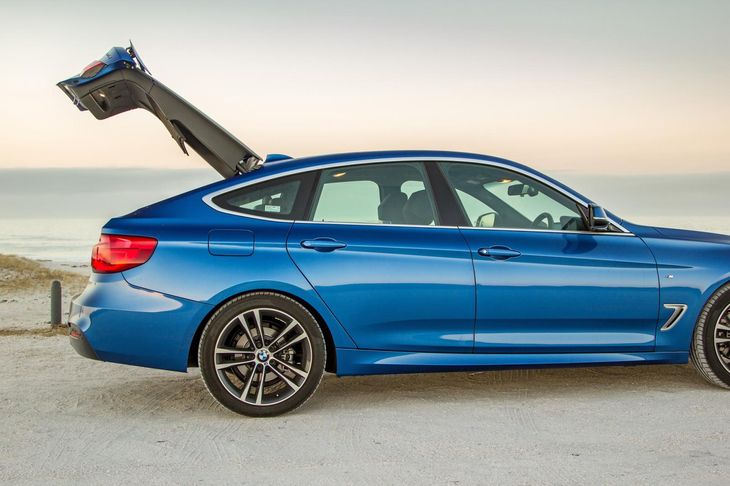 The electrically operated tailgate is the 3 Series GT's most SUV-flavoured design cue.
When we enlisted the cruise control to take over the throttle input duties, the indicated fuel consumption figure began to drop. It was averaging 6.4 L/100 km at the beginning of the trip, but had dropped to 6.1 L/100 km by the time the 3 GT arrived at Lamberts Bay.
Comfort-oriented interior?
BMW's interior design language hasn't changed much in a while, so the 3 GT's cabin will be instantly familiar to fans of the Bavarian brand. The build quality remains excellent with soft-touch materials dotted around the cabin and the front seats (in particular) are eminently comfortable. The pleasingly tactile M Sport steering wheel fitted to the test unit gives the driver a sense of occasion when climbing in.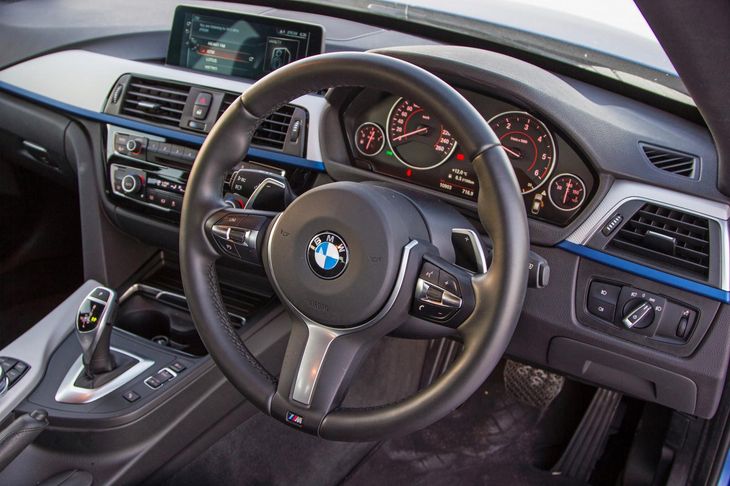 The familiar interior of the 3 Series. The M Sport steering wheel brings a sense of occasion to every drive
Having said that, the fascia design could do with an update to make it look a little more modern as BMW's traditional rivals (Audi and Mercedes-Benz) have arguably drawn ahead in this department. This is a facelift model, so expect something bolder for the new model in 3 or so years.
The infotainment system doesn't lack anything in terms of connectivity options and you can add many options to it to get nifty features such as real-time traffic monitoring function and a Harmon Kardon audio system.
Pricing and warranty
There's around R50 000 difference between the equivalent 3 Series sedan and the GT. This model, with its M Sports package starts at R671 500 before options. It is sold with a 2-year/unlimited km warranty and a 5-year/100 000 km maintenance plan.
Verdict
As a piece of automotive machinery, the 320d GT lacks for little: its turbodiesel engine strikes an excellent balance between performance and efficiency, plus, compared with its sedan sibling, it offers more space for occupants in the rear and things in the luggage bay. It is a particularly practical sports saloon/hatch. It also drives indiscernibly similar to a regular 3 Series, retaining the dynamic handling characteristics and agility.
So why don't we see more examples of the 3 Series GT on our roads? We feel, subjectively, that despite the flashy wing and M Sport kit, the car still looks like an oddball. In a segment that lives and dies on image perception, the GT's practical advantages don't overcome its love-it-or-hate-it styling.
Related content
Spy Shots: Next BMW 3 Series Spotted Testing
2016 Audi A4 vs BMW 3 Series – In-Depth Review & Comparison (Video)
Extended Test: Volvo V60 Cross Country D4 AWD (with video)
Mercedes-Benz C200 Estate (2015) Review
BMW 330d (2016) Review
Looking for a used 3 Series GT?