Which brands and cars sell the best around the world? We take a look at how current buying trends are developing and which vehicles are milking sales globally.
China is now the biggest car market in the world, and by some margin. For the first 4 months of 2018, it racked up 8.3 million vehicle sales. The USA is the second biggest, recording 5.5 million vehicle sales in the same period. Overall, January to April sales for 2018 are up 3.4% over the previous year, which is mostly down to continued global growth. Total sales for the first 4 months of the year reached 28.81 million units.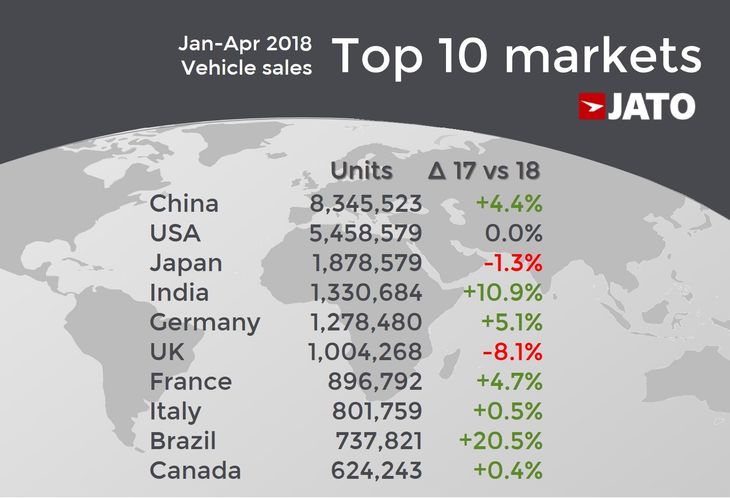 The rise of the SUV continues unabated as the segment notched up 34% of the global market share. That makes it the segment with the most combined sales. The Nissan X-Trail tops SUV sales but it's followed closely by the Toyota Rav4 and Volkswagen Tiguan. The segment seems to be seeing intense growth in the compact SUV segment where vehicles like the Renault Captur, Volkswagen T-Roc, Nissan Kicks and Honda HR-V are big sellers. The rise in SUV sales has seen MPVs take the biggest hit losing 13.6% market share in the first 4 months of 2018.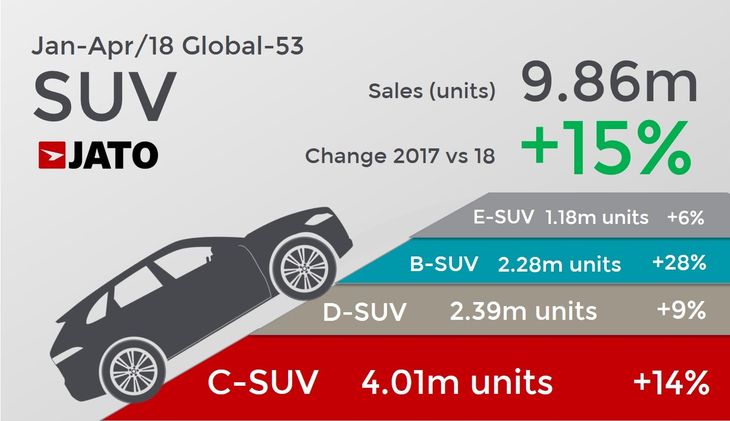 The world's top-selling vehicle continues to be the Ford F-Series pickup, which dominates the American market, where it sells 85% of its volume. The big pickup has sold 337 000 vehicles so far this year. The top 10 is littered with Japanese cars and notably 3 different variations of Honda. This certainly brings to light the demise of Honda locally that has seen sales slowly dwindle away over the last few years. At number 8 is the Volkswagen Passat, which sells in large numbers as the Magotan in China, a market that seems to single-handedly keep the sedan market alive.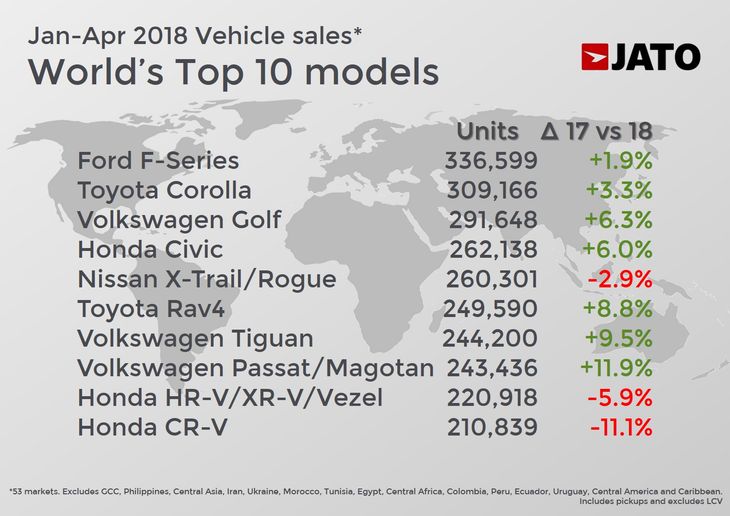 As for the big global rivalries, Mercedes-Benz appears to have the upper hand over BMW, outselling it in C-Class, E-Class and S-Class segments. Toyota and Volkswagen trade top spots in the compact and midsize segments, Corolla outselling Golf but Passat beating out Camry.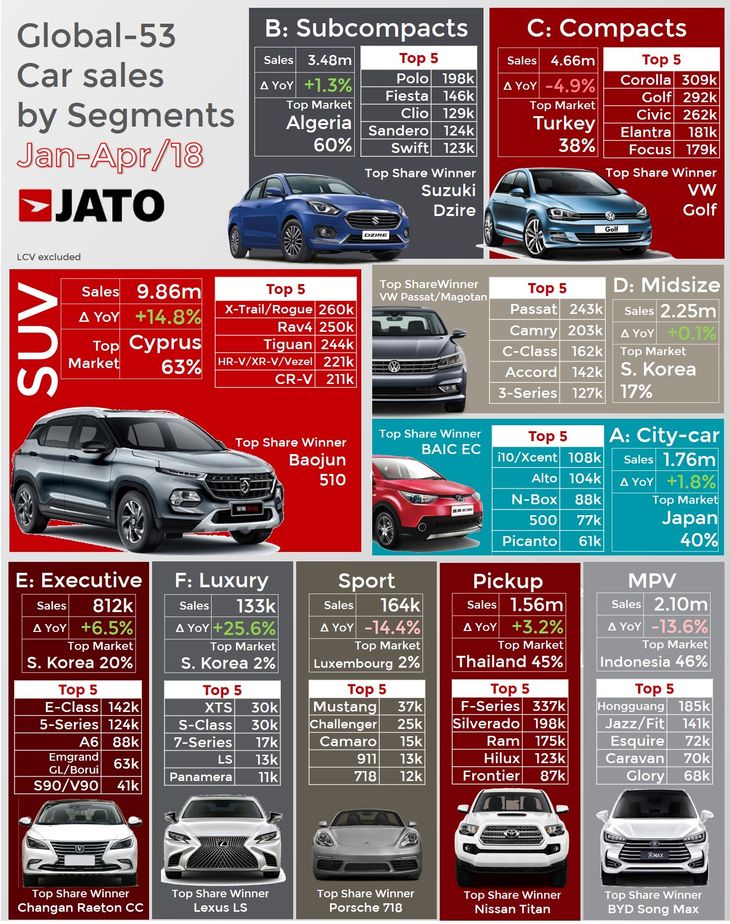 The Korean brands do a good job of locking down the small city cars with vehicles like the Hyundai i10 and Kia Picanto in the top 5 in the segment. Somehow the decade-old Fiat 500 continues to turnover useful numbers in the same segment.
Americans dominate the sportscar segment, showing the country's purchasing power for more expensive vehicles. The Ford Mustang tops the leaderboard followed by the Dodge Challenger and then the Chevrolet Camaro. Porsche's 911 and 718 follow closely behind.
Related content
New Car Sales Summary for May 2018
Effects of 1% VAT Increase on Vehicle Sales