The long-awaited Audi SQ8 has finally been revealed and it comes to market packing a massive diesel punch. Here's what you need to know about Ingolstadt's luxury performance SUV.
Right now, there's just a turbocharged V6 petrol engine available for the Audi Q8 in South Africa. It produces 250 kW and 500 Nm, giving it credible performance figures. There'll be a diesel V6 joining the lineup later in 2019 too and with 183 kW and 600 Nm. It'll be the more frugal of the 2 derivatives, but what if you wanted more?
Introducing the new Audi SQ8 which should be coming to SA in 2020. Powered by the same 4.0-litre turbocharged diesel V8 engine as the SQ7 and Bentley Bentayga, the SQ8 pushes out a cracking 320 kW and 900 Nm. What's impressive is Audi claims all that torque is available from 1 000 rpm. The secret here is the e-turbochargers and sequential charging which is claimed to eliminate lag.
This is the SQ8, now check out the Audi RSQ8
Performance? Audi claims the SQ8 can hit 100 kph in a claimed 4.8 seconds and it'll hit an electronic limiter at 250 kph. The Audi SQ8 also features a mild hybrid system, where the 48-volt lithium-ion battery pack helps with the turbochargers at low revs.
While final specification for South Africa is not yet confirmed, the international Audi SQ8 comes with 21-inch alloy wheels, sportier exterior, new rear diffuser, oval exhaust tips and naturally, there will plenty of options to choose from. We suspect carbon ceramic brakes might be worth looking at, given the proportions of the SQ8 and what's required to bring it to a stop.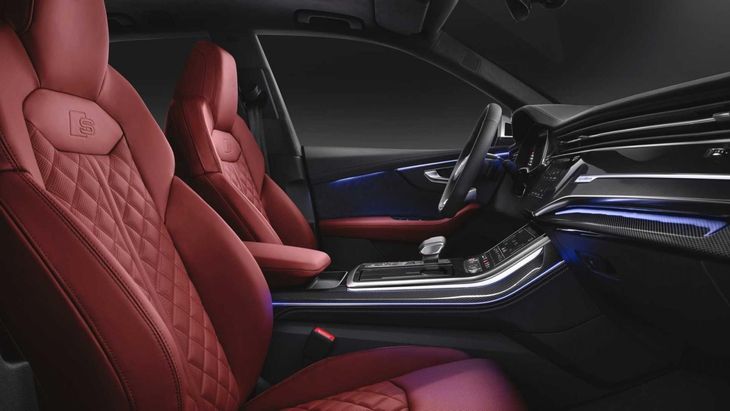 Being the performance version, the Audi SQ8 cabin needed to be quite special and it certainly looks it.
Want to buy an Audi Q8? The first units have been listed, check them out
Further Reading
Audi Q8 55TFSI quattro (2019) Review [w/Video]
All-New Audi Q8 Review - Big, Bold, Worth it?