The Q8 Premium SUV Coupe is the 1st of an array of new Audi models that will reach our shores in 2019. We put it through its paces to find out whether this (very) stylish newcomer is more than just a smartly repackaged Q7...
We like: Bold and futuristic styling, potent engine, impressive spec, spaciousness.
We don't like: Just 1 derivative (for now), thirsty engine, firm ride on the 22-inch wheels.
Fast Facts
Price: R1 388 00 (Price as tested: R1 613 227)
Engine: 3.0-litre turbocharged V6
Gearbox: 8-speed automatic
Fuel economy: 9.2 L/100 km (claimed)
Power/Torque: 250 kW/500 Nm
Own an Audi? Tell us about your experience here.
SERIOUS ABOUT BUYING?
Where does it fit in?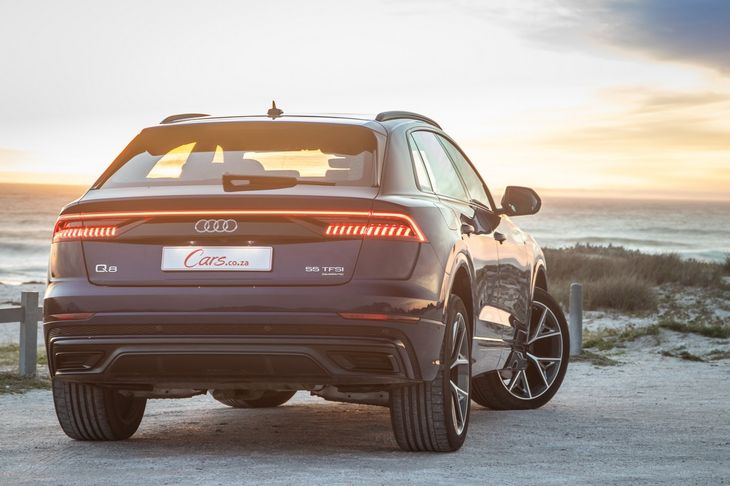 It's one of the most striking designs to come out of Ingolstadt. The Q8's rear lights perform an intricate starting sequence at night.
Audi is taking full advantage of car buyers' unquenchable thirst for all things SUV and when you look at the Ingolstadt-based firm's current product portfolio, you may notice that the products that start with the letter Q outnumber the rest. Sitting atop the SUV line-up is the all-new Audi Q8. With radical and dramatic styling that's unlike anything else in the Q family, the Q8 is all about creating (or sustaining) an image and exuding luxury.
Right now (June 2019), there's just 1 powertrain available in the Q8 range, with a turbodiesel-powered derivative set to join the line-up later this year. By virtue of sharing the VW Group's MLBevo platform with its Q7 sibling, as well as the Bentley Bentaya, Lamborghini Urus, Porsche Cayenne and Volkswagen Touareg, the Q8 is purported to offer good space utilisation, excellent build quality and superb refinement (both in terms of NVH suppression and ride quality). After a 2-week test period, we can now share our findings. Should you consider buying a Q8 or not? Read on...
How it fares in terms of...
Design & Packaging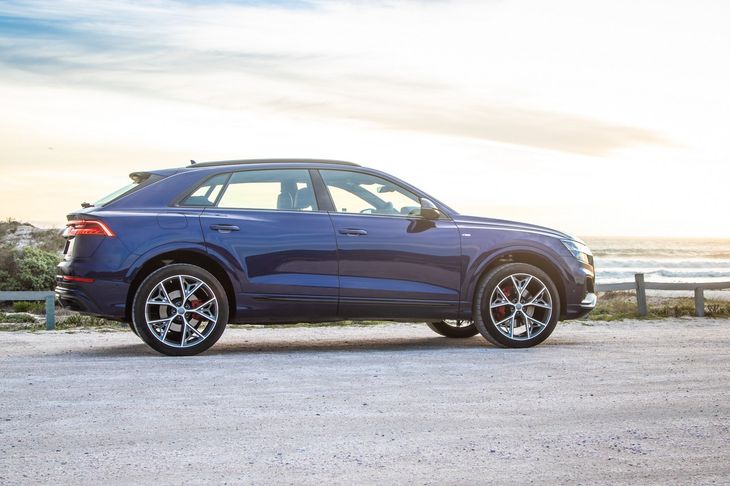 Despite the Q8's coupe-SUV exterior styling, rear headroom is not impacted and there's plenty of space for 4 adults.
Any critique of exterior styling is subjective, but few would disagree that the Q8 is distinctively styled. Its handsome, head-turning design gives us a tantalising preview of what Audi's next-generation SUVs may look like. Not only does the newcomer's frontal aspect look fresh and ultra-modern, but its sculpted nose is likely to clearly communicate: "let me past" when it looms large in motorists' rear-view mirrors. The rear is pert and interesting: the tail lamps light up in a beautiful and intricate fashion when you unlock the vehicle at night. It's little details like those that we appreciate most.
Officially, the Audi Q8 is classed as a coupe-SUV or Premium SUV Coupe (in #CarsAwars parlance). Whichever way a vehicle such as this ends up being described is a contradiction because it's essentially a luxury, road-biased passenger car (as opposed to an off-roader) and it has 4 doors (2 more than it needs to be considered a coupe). Here's the kicker: no-one actually cares if there's a contradiction in genres; vehicles such as the BMW X6, Mercedes-Benz GLE Coupe, Range Rover Sport and, more recently, the Porsche Cayenne Coupe, have achieved sales success.
What we've disliked about vehicles with coupe-SUV packaging is that their rooflines, which taper towards the rear, usually restrict the headroom available to adult passengers seated at the back (and, ultimately, they limit overall utility space as well). Surprisingly, this is not the case with the Q8. Overall, it's not quite as spacious as the car (Q7) it's based upon, but unless you absolutely need a capacious load bay or the ability to seat up to 7 occupants, then this shouldn't be an issue. What's more, the driving position is pleasingly commanding, which is exactly what buyers demand.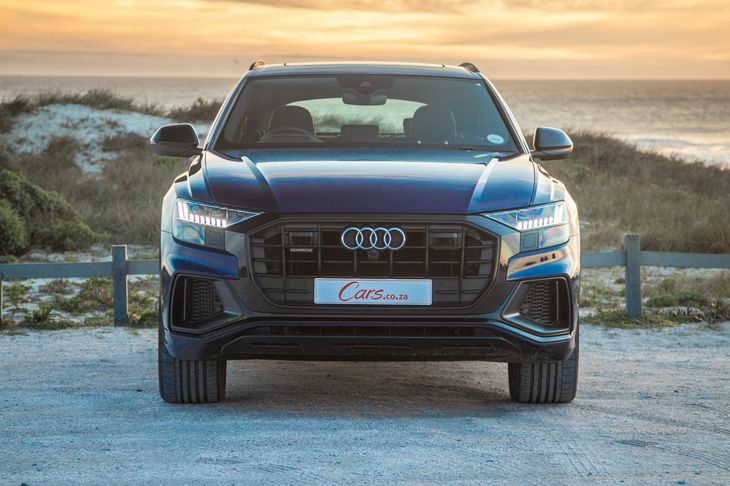 Audi has previously been accused of its models looking very similar, but the Q8 certainly doesn't resemble an "upsized Q5".
Comfort & Features
It's not just all about the "wow" exterior; the new Q8 heralds a new era for Audi interiors too. When you step inside, you're greeted with an all-new and unfamiliar fascia. Not only does it look futuristic, but it has a simple, pleasant interface that gets progressively easier to use with familiarisation. The new MMI setup features 2 touchscreens with feedback, which means there's a reassuring click every time you press the screen functions. The bottom screen doubles as the climate control console and acts as a writing pad if you wish to input a destination into the navigation system, for example. What's more, the all-digital instrument binnacle (Virtual Cockpit), which we've come to adore, is standard and completely customisable.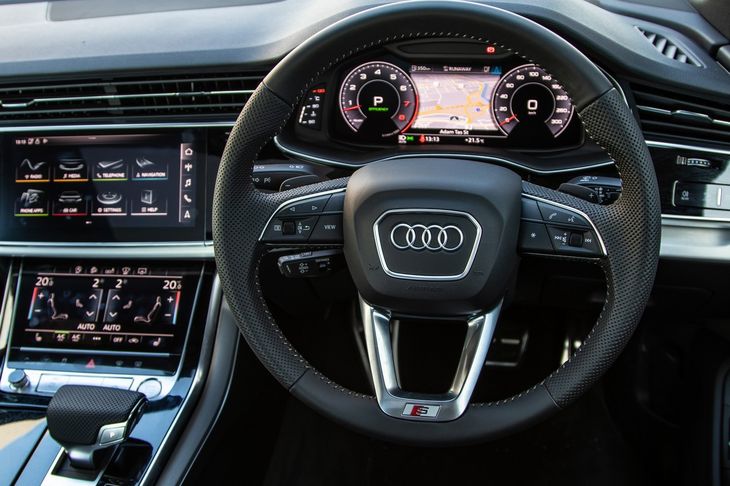 The new Audi Q8's cabin (replete with its intuitive user interface) is beautifully crafted.
Previously, German cars have been criticised for offering a multitude of options, many of which overlap, but Audi has simplified things by offering them in packages. The standard fare for the flagship offering is impressive: the Matrix LED headlights are fitted as stock, as are features such as cruise control, navigation, a panoramic sunroof, parking assist, a Bang&Olufsen audio system and tyre pressure monitoring, to name but a few. Our test vehicle came with a few nice-to-haves, including a towbar, adaptive cruise control, a wireless charging pad and head-up display, among others.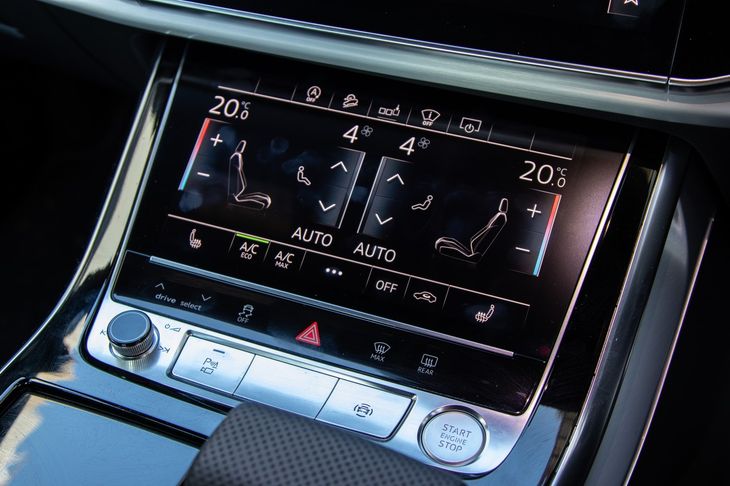 The 2nd touchscreen controls the climate and heated seats, but, as you can see, the icky fingerprints are an issue...
Performance & Efficiency
As we mentioned earlier, there's only 1 engine in the Audi Q8 line-up for the moment (June 2019). It's a 3.0-litre turbocharged V6 petrol engine and performance enthusiasts will be all too aware that this is the same powerplant that powers the S4 sedan. Its peak outputs are 250 kW and 500 Nm, which are channelled to all 4 wheels via an 8-speed automatic (Tiptronic) transmission. Audi's quattro system dynamically allocates propulsion to the respective fore and aft axles to ensure maximum traction and the power delivery is quiet and smooth. While this engine is used in performance-oriented Audis, the firm has cleverly dialled out its aggressive tone (in the quest for refinement) in the Q8. This also opens the door for a potential performance version (SQ8 or RSQ8, anyone?), which is likely to share the twin-turbocharged petrol V8 motor utilised by the Lamborghini Urus...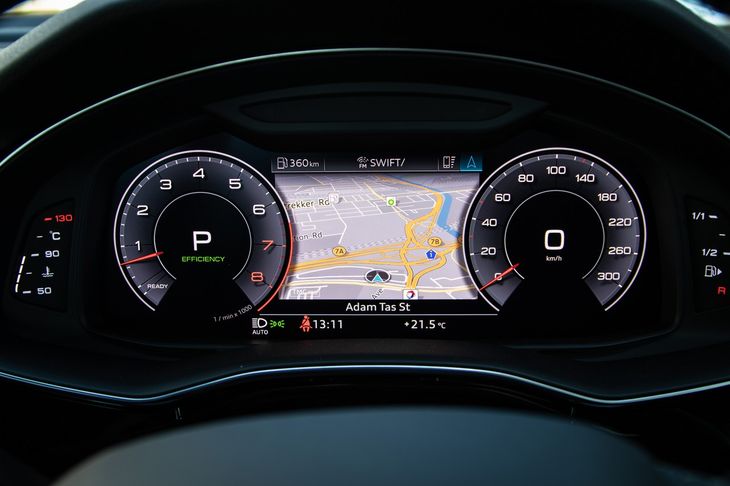 The digital dashboard of the Audi Q8. Revised and given a slight redesign, it's still the benchmark.
Acceleration is decent for a vehicle of this size, particularly when the 55TFSI quattro is in its sportiest setting. Audi SA claims a 5.9-second 0-to-100 kph sprint time, which feels about right. But there's a downside: mediocre fuel consumption. Unless you drive thriftily in an efficient setting, you're unlikely to get under 12 L/100 km. Fortunately, the Audi Q8 has an 85-litre fuel tank, which means you won't need to visit fuel stations that often.
Granted, if you can afford to buy the beast, you should be able to feed it too, but this is where a more frugal engine would come in quite handy. Audi South Africa is seemingly well aware of this issue and has confirmed that a 3.0-litre V6 turbodiesel derivative of the Q8 will be arriving in our market in due course. With 183 kW and 600 Nm on tap, it'll definitely be the more efficient of the 2 engines; we think it would be better suited to the Q8.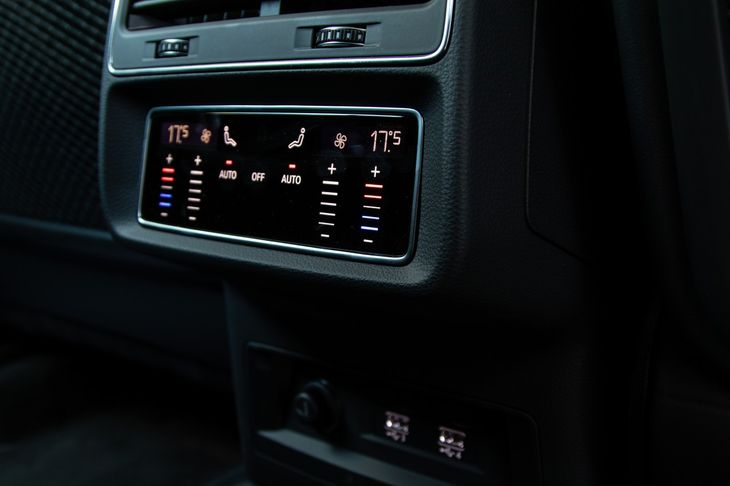 Rear passengers enjoyed their own ventilation controls as well as 2x USB ports for charging devices
We also noted that the auto start/stop is really intrusive, with the engine shutting down entirely when you're coasting towards an intersection. It's a little unnerving when the engine shuts off at approximately 20 kph, even if the re-startup process is near-instantaneous. Audi says the system forms part of its new 48V electric system and, to a degree, it works. In the vehicle's most efficiency-oriented modes, the engine powers down in coasting situations, but having sampled Mercedes' EQ tech in the AMG53 models, we wondering why Audi's electric system doesn't offer some kind of boost.
Ride & Handling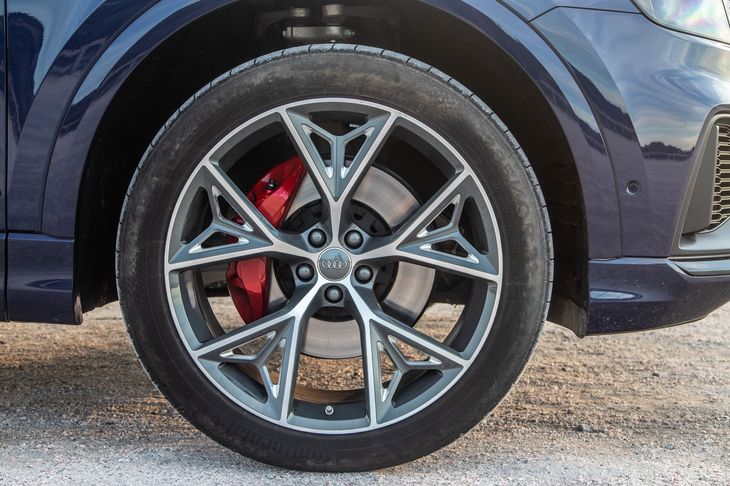 The massive 22-inch alloys fitted to our test unit.
Seeing that the Q8 is the flagship SUV (and lone coupe-SUV) in Audi's line-up, much is expected of the newcomer in terms of its ride and handling. Should you decide to make this sizeable vehicle thread its way along a winding road, the 55TFSI quattro's all-wheel-drive system avails plenty of grip. Encouragingly, the vehicle's body doesn't roll about when you're powering through those tight corners, which we suspect is mostly due to the optional air suspension (mentioned in detail below). The quattro configuration incorporates torque vectoring, which is said to be capable of sending up to 85% of propulsion to the rear wheels. The reassuring handling is just as well, because the Q8's steering wheel offers little in the way of driver involvement. It's not entirely numb and totally devoid of feedback, but we get the impression it was tuned for minimal effort – not texture or liveliness.
But forget sporty driving for a second. The Q8's target areas are comfort and refinement, and it delivers. It can cruise briskly and quietly, which is impressive considering the doors are frameless, which would usually make wind noise an issue at highway speeds. A pliant ride and great on-road refinement are what we've to appreciate from Audi. In this segment, buyers want surfeit quietness and comfort, and the Audi doesn't disappoint.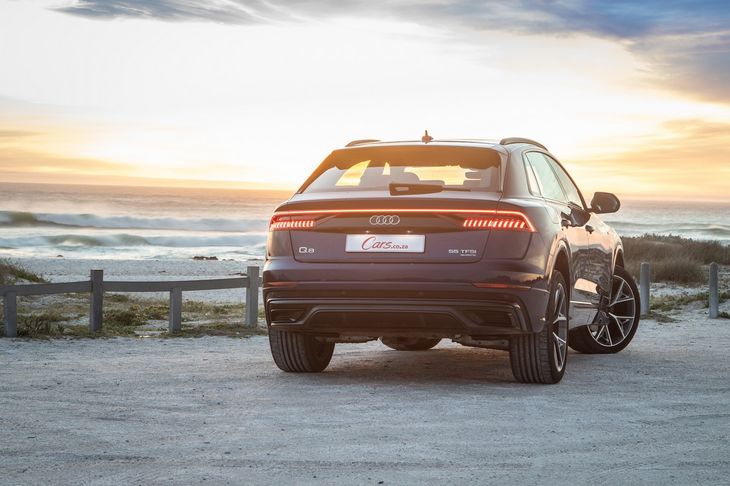 Spec your vehicles carefully. Sure, the 22-inch alloys look incredible, but SA roads are not the best
Our vehicle was specified with a few notable options: 22-inch alloy wheels and adaptive air suspension. Firstly, it's not the wisest choice to tick the box for 22-inch alloy wheels given the patchy standards of many South African roads – we'd suggest going for a smaller rim size with a thicker-walled tyre to help the Q8 absorb imperfections in the asphalt with greater regularity. But (sigh), you really like the look of the 22s, don't you?
Secondly, we wholeheartedly recommend the air suspension option. We noticed that when some of the Q8's off-road modes were engaged, the Audi increased its ground clearance. We did extensive gravel-road driving with this particular test unit and while we will admit we're not the biggest fans of fitting massive wheels, the 22-inch alloys coped okay. As we've said before, when it comes to big luxury SUVs, it's nice to know that a vehicle can deal with mild off-roading, not that we're convinced that many owners would be brave enough to do it unless they had no other choice.
Price and warranty
The Audi Q5 55TFSI starts at R1 388 000 (June 2019), with our test unit coming in at R1 613 227 as specified. All Audi Q8 derivatives come with a 5 -year/100 000 km Audi Freeway (maintenance) plan.
Verdict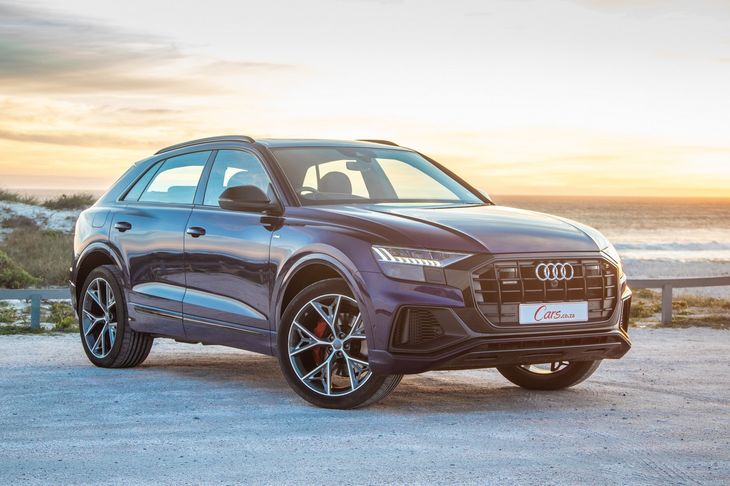 The Audi Q8 is all about image, but thankfully it's as good to drive is it looks.
Did we think the market needed the Q8? No, at first we believed the newcomer was an over-the-top novelty, which, to be fair, it kind of is. But this Audi is a heart-over-head proposition. Image-conscious high-rolling buyers are all too ready to fling their cash at the latest and greatest, and the Q8 is destined to find favour. The looks are ridiculously on-point, while the advanced and immaculate cabin comfortably outguns everything else this side of a Mercedes-AMG G-Class. Granted, there are cheaper offerings in this segment, but for sheer bragging rights, it's hard to ignore the Q8.
Should you buy one? If you want a stylish, distinctive and technologically advanced 5-seater SUV, which has a reasonable load bay and rear-seat comfort, then yes, you ought to consider it, but perhaps wait for the more sensible diesel-powered derivative. If you need more space, then look to the Q7, which is due for a refresh soon. And, if you want more performance, it's rumoured that an SQ8 will soon be unveiled. The Range Rover Sport was recently updated, but the X6 and GLE Coupe are on their last legs, in terms of sheer freshness and daring, Audi has stolen a march!
Looking to buy a new/used Audi Q8?
Find one on Cars.co.za by clicking here