The Audi SQ7 TDI has enough torque to tow all your boats - at once. And it's coming to SA in 2020.
Audi has revealed its latest Q7 torque train, following in an esteemed traditional of massively powerful turbodiesel SUVs from Ingolstadt.
The new SQ7 TDI features Audi's latest single-frame grille, with twin vertical slats, first seen on the current-generation Q7 facelift, shown earlier this month. Around the rear, there are four exhaust ends, grouped into a pairing at each corner of the bumper – symbolising his Audi Q7's performance potential.
Powering the SQ7 TDI is Audi's 4-litre turbodiesel V8, which boosts 320 kW and 900 Nm. To ensure minimal turbine lag, a 48-volt electrical subsystem feeds the V8's two turbochargers a constant charge pressure of air, thanks to an electrically driven compressor.
Despite its gratuitous size, Audi claims the SQ7 TDI will run 0-100 kph in 4.8 seconds, thanks in part to the brand's vaunted quattro all-wheel-drive technology and a quick-shifting eight-speed automatic transmission. If you're easier on the throttle fuel consumption in ideal driving conditions should average out to about 7.6l/100 km.
With a top speed potential of 250 kph, brakes are crucial, and Audi has equipped the SQ7 TDI with 400 mm discs up front and 370 mm brakes at the rear. Customers have the option to upgrade the standard brake set to an even more impressive carbon-ceramic configuration, which sizes-up disc diameter to 420 mm at the front wheels.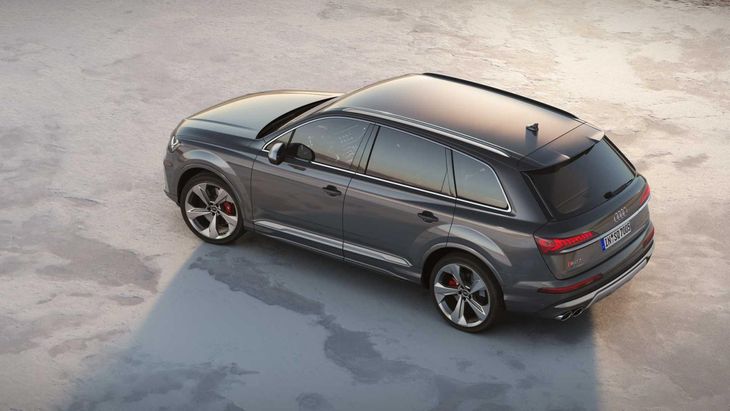 The understated design will no doubt win it the 'sleeper' tagline.
Rolling 20-inch five-spoke alloy wheels, shod with 285/45 profile tyres, the SQ7 TDI strikes a fair compromise between mild gravel travel and high-speed cornering grip.
Borrowing the electromechanical roll stabilization system first seen on Bentley's Bentayga, SQ7 TDI should exhibit impressive body control – even when rounding tight radius corners at speed.
Audi's latest performance SUV also features four-wheel steering, with a 5-degree angle of counter- or symmetrical steering adjustment at the rear axle. That should equate to easier parking at low speeds and superior high-speed stability at highway velocities.
This SQ7 will team up with the SQ8, which was revealed just a month ago (June 2019) as part of Audi's performance SUV assault. There will also be an SQ8 to top off the lineup. Both SQ7 and SQ8 are likely to be introduced to SA in late 2020.