Audi has taken the wraps off its new all-electric e-tron GT which represents the pinnacle of the Ingolstadt-based brand's electric vehicle portfolio. See what it's packing below…
The pinnacle of Audi's electric car range has been revealed! This is the new e-tron GT and the newcomer will rival Porsche's Taycan and Tesla's Model S.
Most will agree that the e-tron GT's styling is up to scratch and we think it looks attractive overall, but let's dive into the numbers which are arguably of more interest.
The e-tron GT is built on Volkswagen Group's J1 Performance Platform, the same that underpins theTaycan and the newcomer will be offered in 2 flavours, the base e-Tron GT and the higher power e-tron RS GT. Both feature dual electric motors, one over each axle, along with 800V electrical architecture and a 93.4 kWh lithium-ion battery pack. A 2-speed automatic transmission is standard.
European outputs for the base e-tron GT are pegged at 350 kW and 630 Nm of torque while the e-tron RS GT ups the ante to 440 kW and 830 Nm. An 2.5-second overboost function further increases power outputs to 389 kW and 475 kW respectively.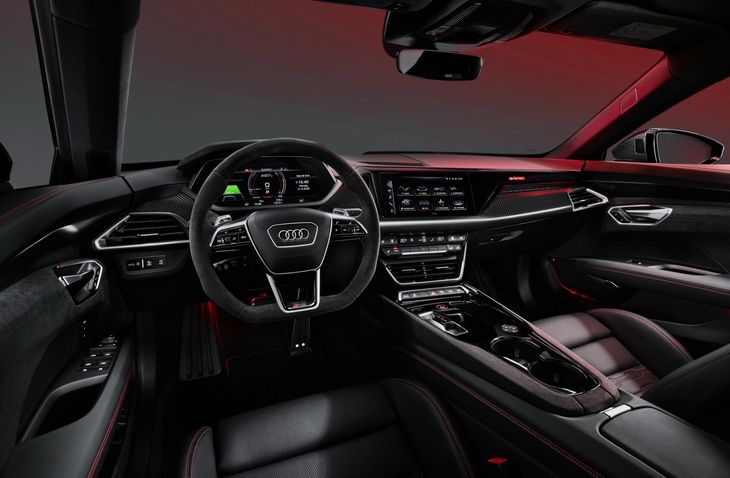 The e-tron GT's interior is familiar and lavishly equipped with the latest technology on offer from Audi.
As for acceleration, the zero to 100 kph run is completed in 3.3 secs for the e-Tron RS GT while the base model claims 3.9 seconds. While those numbers are impressive, the Porsche Taycan is still faster by this measure with the Taycan Turbo S capable of 2.6 seconds from zero to 100 kph. It's w.orth noting that the e-tron RS GT is offered with 4-wheel steering as standard which enhances high-speed stability while also improving agility (optional on the base e-tron GT). The RS model is also fitted with adaptive air suspension as well as an electronic rear differential lock.
As part of the reveal of the new e-Tron GT, Audi was keen to demonstrate the performance of its newcomer by putting it up against Audi's Formula E e-tron FE07 driven by Lucas di Grassi while F1 world champion, Nico Rosberg, piloted the new e-tron RS GT. It's amazing to see how closely matched the 2 cars are down the drag strip! Watch the segment here!
In terms of charging, the e-tron GT offers 270 kW charging using a DC fast-charger and can achieve 5% to 80% charge in just 22.5 minutes, which is roughly 100 km charge in just over 5 minutes. Home charging uses an 11 kW AC charger while an optional 22 kW charger will also be offered. Range is claimed at 433 km and 472 km according to WLTP.
As for the interior, it's equipped the latest technology in Audi's arsenal as well as offering a fine selection of sustainable interior finishes. A 12.3-inch touchscreen infotainment is fitted and is accompanied by a smaller screen beneath. Audi's configurable Virtual Cockpit is also fitted. The e-tron RS GT gains sports seats, carbon fibre inlays and an Alcantara-wrapped steering wheel.
Do you like the look of the new Audi e-tron GT?
Related Content
Drifting Audi e-tron S Coming Soon [w/video]