The all-new Audi A6 executive-class sedan has finally arrived in South Africa and, while we were mostly impressed with the range's rapid S6 derivative, we were keen to sample the A6 40TDI, which represents the entry-point to the local A6 line-up – and, arguably, a better value-for-money proposition than its sibling. Does the A6 40TDI, in S Line guise, make a strong enough case for itself to warrant consideration?
We Like: Classy styling, premium interior, tech features, space, fuel efficiency, ride quality
We Don't Like: Pricey when loaded with options
Fast Facts
Price: R919 500 (August 2020)
Engine: 2.0-litre turbodiesel
Power/Torque: 140 kW / 400 Nm
Transmission: 7-speed dual-clutch
Fuel economy: 5.2 L/100km
Boot capacity: 530 litres
SERIOUS ABOUT BUYING?
Audi dealers regularly have new car specials on offer!
What is it?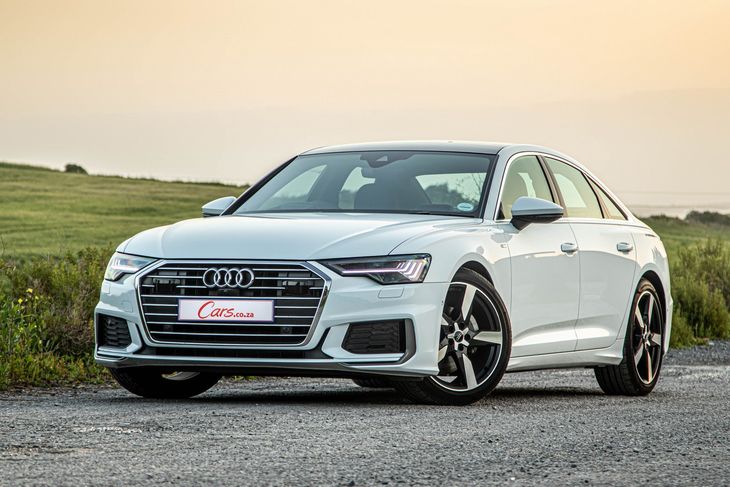 The A6, in S Line guise, is elegant and stylish, especially with the larger Audi Sport alloy wheels that fill the wheel arches.
The all-new 8th-generation Audi A6, which was revealed in 2018, is now finally available in South Africa. It's the Ingolstadt-based firm's answer to the BMW 5 Series, Mercedes-Benz E-Class and Volvo S90 and, apart from its lavishly-styled interior (which draws inspiration from the A7), it also boasts striking kerb appeal, especially in S Line guise... as seen here, finished in Glacier White. The look is further accentuated with attractive 20-inch Audi Sport alloy wheels (R34 500) and HD Matrix LED headlights (R37 800).
In fact, this A6 is a fine example of what can be achieved if you are willing to splurge on Audi's extensive optional equipment. Is it all worth it though? Let's take a closer look.
How it performs in terms of…
Interior execution and features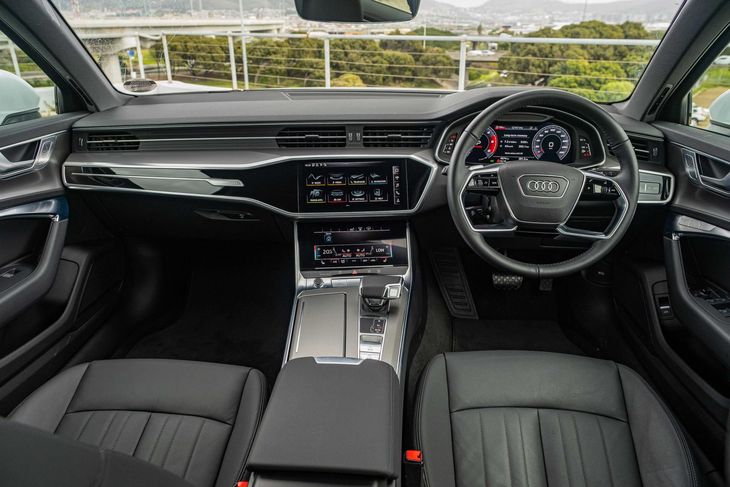 The interior design of the A6 is elegant and modern with dual touchscreens reducing the number of physical buttons in the cabin.
Audi's approach to interior design is distinctively minimalist; electronic screens dominate the A6's cabin, yet the newcomer arguably blends luxury and tech better than its rivals. The sweeping dashboard, which incorporates gloss-black and aluminum inserts, exudes understated elegance – it is clean, uncluttered and brimming with premium appeal.
The new dual-screen setup (equipped with MMI Navigation Plus) is a major highlight. The upper 10.1-inch screen houses all the main media functions such as infotainment, telephony, navigation, apps etc. while the lower one mostly pertains to the climate control settings (it's also where you can adjust the head-up display). The infotainment system has haptic feedback and its layout is intuitive, but the screens have a tendency to attract finger prints, so it's advisable to keep a soft cloth handy to wipe marks away.
The test unit was specified with Audi's Comfort Package (R30 000), which includes 4-zone climate control (rear passengers are availed a dedicated digital control panel) and heated seats, which we found particularly cosy. Other notable optional extras include a panoramic sunroof (R22 050), a Bang & Olufsen premium 3D sound system (R15 660), 360-degree cameras (R12 210; they're useful in tight parking spaces), adaptive cruise control with swerve assist and turn assist (R23 070) and a head-up display (R25 130).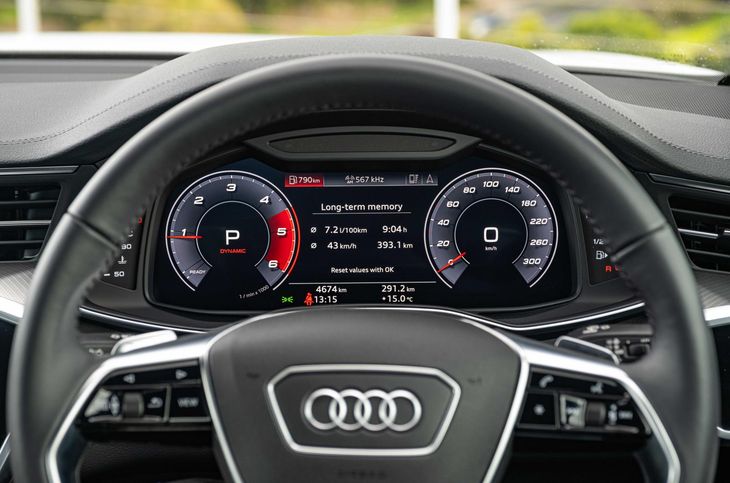 Audi's Virtual Cockpit is easily configured using the mounted buttons on the steering wheel.
Audi's digital instrument cluster (Virtual Cockpit) further adds to the premium appeal of the cabin and the layout of the display can be easily reconfigured using the mounted controls on the leather-wrapped multifunction steering wheel. The perceived build quality is excellent; in fact, the A6's interior is difficult to fault in terms of fit and finish.
In terms of safety features, the A6 is equipped with no fewer than 6 airbags, ABS with EBD, brake assist and electronic stability control with traction control.

Practicality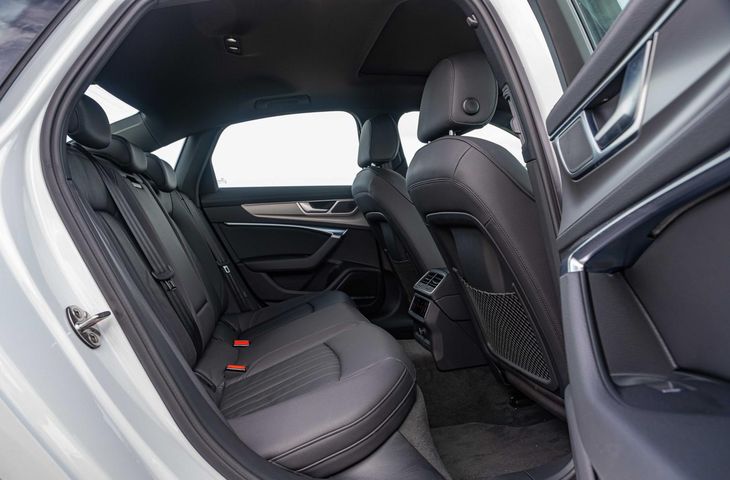 There's more than sufficient space for rear passengers to get comfortable on those longer out-of-town journeys.
From a practicality perspective, rear passengers will enjoy ample space in terms of leg-, head- and shoulder room and the aforementioned rear climate control system allows passengers to individually adjust temperature and ventilation settings to their preference. A central armrest, which is equipped with 2 cupholders, adds further convenience.
You can also opt for the optional electrically-operated tailgate (R8 930), which provides access to a rather spacious boot that offers a claimed load capacity of 530 litres. Should you want to load longer items into the A6, the rear seats can split and fold in a 60:40 configuration, which is useful in this regard.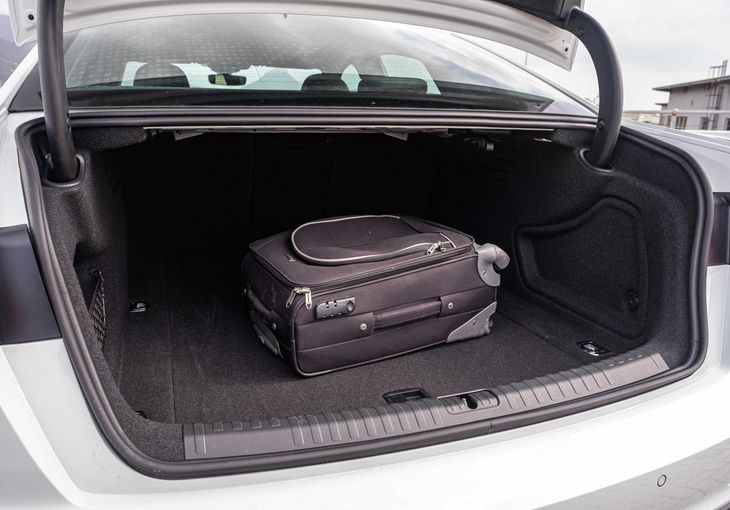 The A6's boot is wide and long, which provides useful space for loading luggage and other items.

The driver and front passenger have access to 2 cupholders, which are neatly located in the centre console and a (somewhat disappointingly shallow) central bin, which can be used to store valuables out of sight or to charge/connect your smartphone via a pair of USB ports. Audi has also availed slots for a SIM card and an SD card.
Overall, the A6 offers a suitably practical interior that is well-equipped to deliver pleasing levels of luxury and comfort for both the driver and passengers.
Performance and efficiency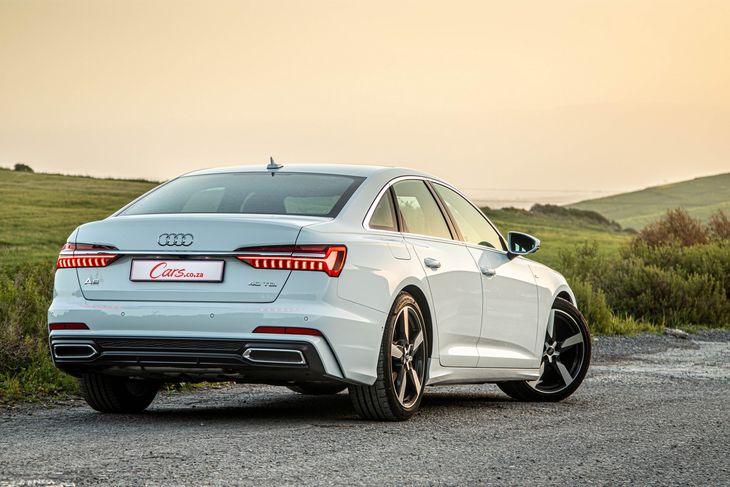 Fuel efficiency is a major strength of this A6 40TDI, with a theoretical full-tank range of about 1 000 km!

Whereas a 2.9-litre twin-turbo V6 petrol engine does duty in the range-topping S6, the 2.0-litre turbodiesel engine under the bonnet of the 40TDI S Line (mated with a 7-speed speed dual-clutch transmission) is the entry-level engine in the A6 range. However, buyers can also opt for the more powerful 3.0-litre turbodiesel in the 45TDI quattro.
With peak outputs of 140 kW and 400 Nm, the 4-cylinder motor provides more than enough grunt to move the A6 along at a fair pace, but its performance is workmanlike – as opposed to spirited. Compared with its rivals from BMW and Mercedes-Benz, this A6 posts the slowest 0-to-100 kph sprint time of 8.4 seconds, but its strengths lie elsewhere...
The manner in which this engine performs is another highlight. The engine and transmission are a near-perfect match, resulting in a well-balanced driving experience. Engine noise is well-subdued and this A6 gathers its pace in a smooth and refined fashion; the transmission shifts almost imperceptibly. There's enough shove to overtake comfortably on the highway too – you never really need to thrash the engine to get the most out of it; the 40TDI simply gets on with it.
If you want punchier performance, you can, of course, engage manual shifts using the mounted paddles on the steering wheel. Using the drive select button, you can switch between the Comfort, Auto and Sport modes, or, if you so choose, personalise the drivetrain and steering settings to your preference in Individual mode.
Moreover, this engine is particularly efficient. While Audi claims an average consumption of 5.2 L/100 km, we saw an indicated figure of 7.2 L/100 km and believe lower returns could be achieved if you drive with a measured approach. It also means that you could cross vast tracts of the earth on a single tank (the theoretical range is about 1 000 km).
Ride & handling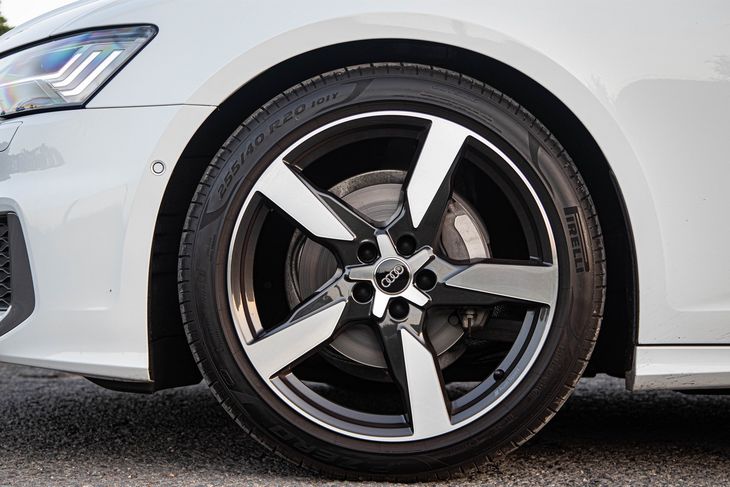 Despite featuring a sport suspension, ride quality in the A6 is admirable.
Over and above its refined powertrain, the 40TDI impressed with its supreme ride comfort. In S Line guise, the 40TDI is equipped with a "sports suspension", but despite its nomenclature, the damping was not as firm as we expected. If anything, the A6's suspension proved rather forgiving of poorer road surfaces. Overall, we were impressed with the high levels of ride comfort the 40TDI delivered, even when operated in its Sport drive mode. Poor surfaces fail to unsettle the ride and the A6 glides along effortlessly.
The steering is relatively sharp and well-weighted, which engenders confidence in the Audi's cornering ability. If you regularly cover long distances, the A6 would be a perfect companion. The ride quality may even be best-in-class, but we will have to reserve final judgement until we are able to test the A6 against its rivals in a back-to-back test.
Price and warranty
The Audi A6 40TDI S Line is priced from R919 500 and is sold with a 1-year/unlimited km warranty and a 5-year/100 000 km maintenance plan.
View specification details for the Audi A6 40 TDI S Line
Verdict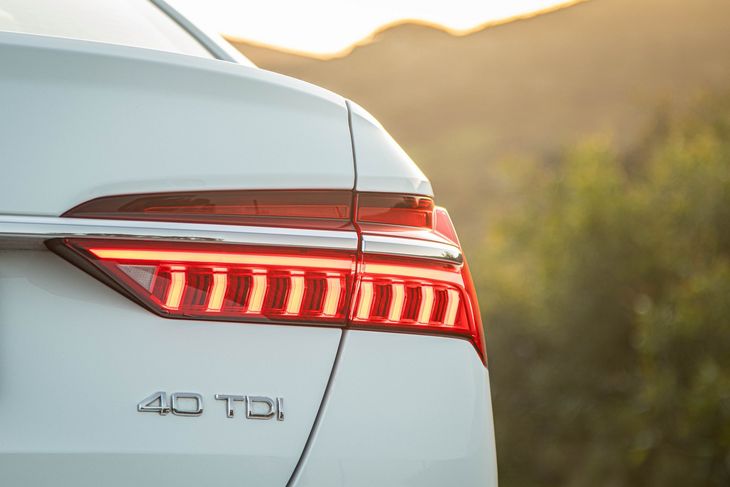 The A6 gets so much right and depending on your tastes, it's well worth considering.
There is so much to like about this A6 40TDI and, in S Line trim, it certainly looks the part. Equipped with the best in-car technology that Audi has to offer, the A6 is transformed into a classy tar-munching machine with all the comfort and entertainment features you could want from a car in this class, provided that you are prepared to pay for them…
Prospective buyers who want a heartier diesel engine may want to consider the A6 45 TDI quattro (it offers 183 kW and 600 Nm), but this 40 TDI derivative hardly lacks in terms of performance; it's very much on par with its equivalent rivals. In fact, we think this A6 strikes a convincing balance between performance and fuel economy.
With a starting price of R919 500, the A6 40 TDI S Line undercuts rivalling products from BMW and Mercedes-Benz and is competitive in terms of its standard specification as well. You will, in all likelihood, be ticking off a few options and we advise that you do this with the utmost of care. Our test unit was heavily loaded with optional features that amounted to nearly R260 000 over and above the initial asking price, bringing the total price to almost R1 180 000.
Current trends indicate that buyers are increasingly favouring SUVs over sedans in the premium segment and the executive-class sedan market is, therefore, contracting in accordance with this shift in demand. Nonetheless, if you are in the market for an executive-class sedan, of which the well-balanced and eminently tasteful (if very understated) A6 is a shining example, then the 40TDI S Line is right up there with the best of them. You would be doing yourself a disservice by not having it on your shopping shortlist.
Buy a new or used Audi A6 on Cars.co.za
Watch our video review of the Audi S6 below!
Related Content
Audi S6 TFSI quattro (2020) Review
Audi A6 (2020) Specs & Price in South Africa