Audi's new A6 has finally arrived in South Africa and the range's line-up comprises 3 derivatives – a brace of sensible turbodiesels and this, the fire-breathing S6 flagship. It's certainly an impressive package, but in the "Age of the SUV", is there still room for an executive sedan?
We like: Refinement and comfort, faultless built quality, top-notch performance and handling, modern and advanced cabin.
We don't like: Adaptive air suspension and dynamic all-wheel steer ought to be standard
Fast Facts:
Price: R1 401 500 (R1 582 400 price as tested)
Engine: 2.9-litre twin-turbo V6 petrol
Power/Torque: 331 kW/600 Nm
Transmission: 8-speed Tiptronic
Fuel consumption: 8.3 L/100km
Boot capacity: 520 litres
​Performance: 0-100 kph in 4.5 sec
What's new?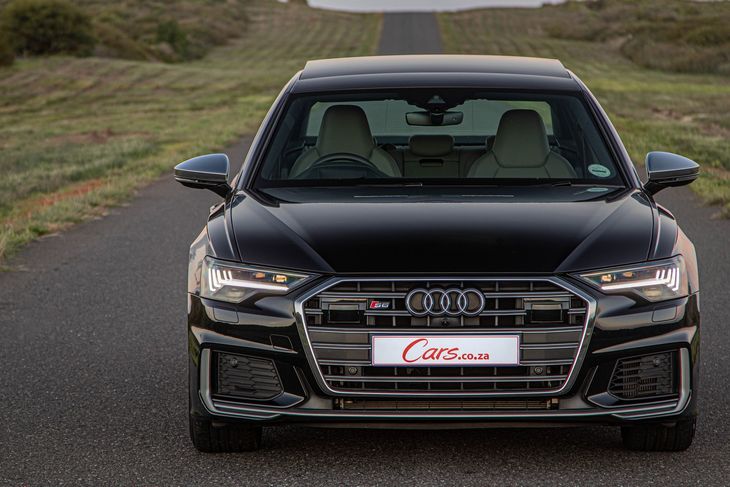 Quite a menacing sight to see in your rearview mirror, isn't it? New-look daytime LEDs really look the part.
This new-generation Audi S6 is a quite different animal to the previous model's S6 derivative, which we reviewed in 2015. The delicious-sounding 4.0-litre twin-turbo V8 is gone; it's been replaced by the RS5's 2.9-litre twin-turbo V6. But, as you'll read below, the loss of 2 cylinders is outweighed by significant advancements in the sedan's other facets. In terms of rivals, the Audi S6 faces competition from the Mercedes-AMG E53 and, to a lesser extent, the BMW M550i, which is due to arrive in Mzansi towards the end of 2020.
The A6 is now in its 8th-generation and the range's arrival is belated... The international unveiling of the A6 happened more than 2 years ago (February 2018), but despite the long delay, we're happy the Audi's here. The question we find ourselves asking is this: Are large luxury sedans are still viable in a market that's totally dominated by SUVs?
Whether you like it or not, SUVs of all shapes and sizes are selling in their droves, and more are scheduled to arrive in the next few years. Audi has updated versions of the Q5 and Q7 in the pipeline, and Sportback versions of the Q3 and Q5 are on their way as well. Let's not forget the S and RS performance derivatives of those models either. The business case for sedans looks dire when you glance at the A4 sedan's sales figures; it was one of the brand's top-sellers for many years, but that's no longer the case.
So, for sedans to survive the SUV onslaught, they will have to be brilliant products with stand-out appeal. Without further ado, let's see if the Audi S6 is worth a closer look.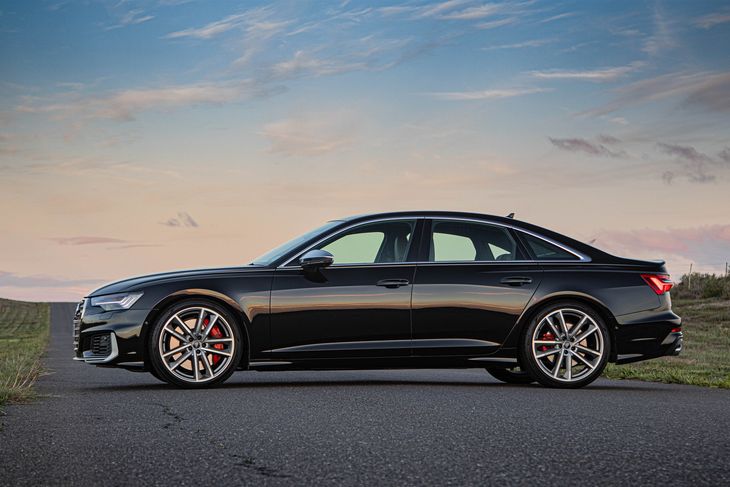 The styling is generic, but the large wheels, sporty bumpers and flared side skirts indicate that this is no ordinary Audi A6.
How it fares in terms of…
Performance
As we mentioned earlier, this generation of Audi S6 is powered by a 2.9-litre twin-turbocharged V6 motor, which we've previously experienced in the RS4 Avant and RS5 coupe. However, in S6 application, it features mild-hybrid technology, as well as an electric compressor. Without getting too technical, this compressor helps to minimise turbo lag, which means the engine feels ever-responsive. If you listen carefully, you can hear the electric motor whizzing away when you stab the Audi's accelerator pedal at idle. There's 331 kW and 600 Nm on tap (for the record, 50 Nm more than the V8) and Audi claims the S6 can hit 100 kph from standstill in 4.5 seconds, which is quite quick for a big sedan.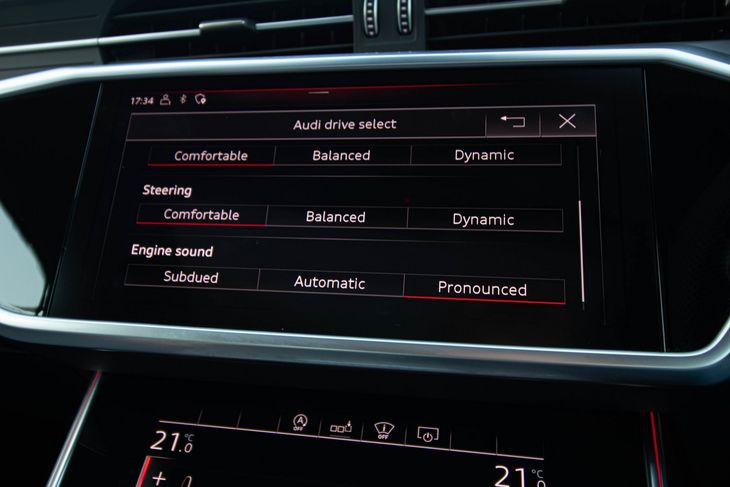 You can configure the S6's settings to your heart's content. Exhaust in Pronounced mode, all day and every day. Sorry neighbours.
With Dynamic mode engaged and the launch control primed, the Audi S6 seems like an athlete awaiting a starter's pistol. When you release the brake pedal, the V6's copious grunt is dutifully directed to all 4 wheels via the 8-speed automatic transmission. There's minimal wheelspin – the Audi S6 hurtles off the line in a bizarrely calm, yet satisfying, manner. When we usually engage launch control in a performance vehicle, we're accustomed to hearing loud pops from the exhaust – let alone the chirrup of scrabbling tyres, yet in the case of the S6, there's little drama. It just takes off like a fighter jet. Granted, we don't think the S6's clientele includes drag-racers, but it's impressive nonetheless.
The Audi really excels in terms of in-gear acceleration. With 600 Nm available and a well-calibrated 'box on duty, it doesn't take much pressure on the accelerator pedal to breach 3-figure speeds. The S6 proved wonderfully competent in the time-honoured 80-120-kph test, in which we simulate the scenario of quickly accelerating to overtake a slow-moving vehicle on a freeway. The sedan leaps forward without a hint of hesitation and lunges towards the horizon (no matter which drive mode you've selected). The transmission is just sublime. It's not a dual-clutch unit, but feels as just as responsive when you want crisp 'shifts, yet it quietly and smoothly goes about its business in traffic.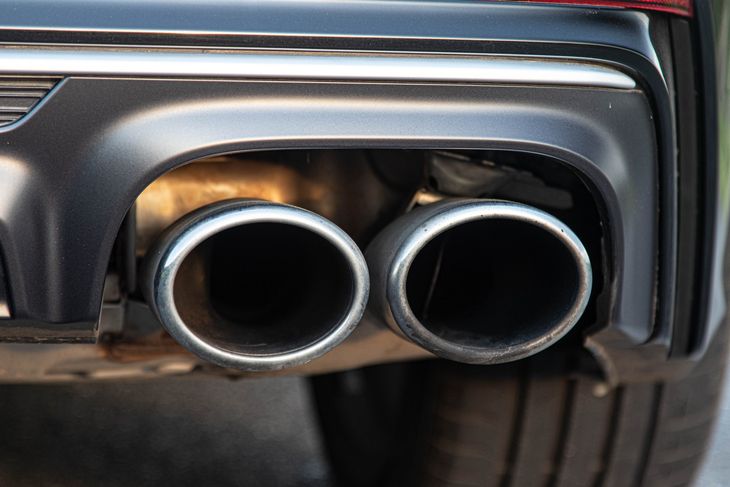 The Audi S6 exhausts are real and you can see the active noise flap in the right pipe. One of the few times it was closed...
Yes, the newcomer produces a lovely engine note, but you'll have to have the car in its sportiest settings to hear that creamy V6 howl, because the exhaust valves are closed in most drive modes. If you happen to be in the confines of a city and have the windows down, you'll hear that typical Audi/Volkswagen bruhp! that accompanies each gear shift (also known as vrr-pha, but let's stay on topic). The Audi does not employ a sound symposer here... those 4 exhaust tips are real and that soundtrack is utterly magical.
We liked this engine in the RS5, but we didn't fall in love with it, because it failed to match the aural drama generated by the V8-engined Mercedes-AMG C63 S and the straight-6 roar of the BMW M4 – the V6 just sounded tame by comparison. However, this motor is far more fit for purpose in the S6; it suits the car's mature executive image better.
Ride & Handling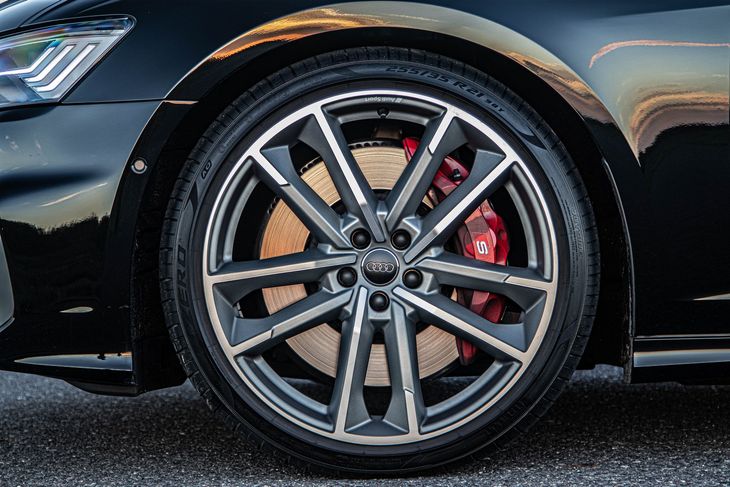 Stylish 21-inch alloy wheels conceal the Audi Sport brakes which are effective.
While the Audi S6 is marketed as a performance sedan, we suspect most of its customers would appreciate comfort far more outright performance. So, is it comfortable? This particular test unit came fitted with the optional adaptive air suspension (R16 490), which certainly adds extra pliancy to the sedan's ride quality. We must mention the optional large wheels fitted to the test unit: at 21-inches, they aren't subtle. Despite the low-profile tyres and sporty suspension, though, Audi has made its S6 ride, no, glide beautifully.
We say that because the Audi delivers admirable on-road refinement – and then some. It's unreal just how smooth it is to drive, but with the adaptive air-damping in the mix, you're can revel in the soft comfort setting of the suspension the one moment and then, at the touch of a button, firm things up when you want to exploit the S6's performance.
Our test unit also came fitted with Audi's Dynamic all-wheel steering (R28 770), which means both the front and back wheels turn. How does it work? Well, at speeds of up to 60 kph, the rear wheels can turn up to 5 degrees in the opposite direction to the front wheels, which means the car has a tighter turning circle and, therefore, parking maneuovres are simpler to execute in confined spaces. Above 60 kph, however, the aft wheels turn as much as 2 degrees in the same direction as the fronts, which improves stability. Can you feel the system working? While you're parallel parking, yes... definitely. Plus, when you change lanes at high speed, you'll feel the car change direction with minimal fuss.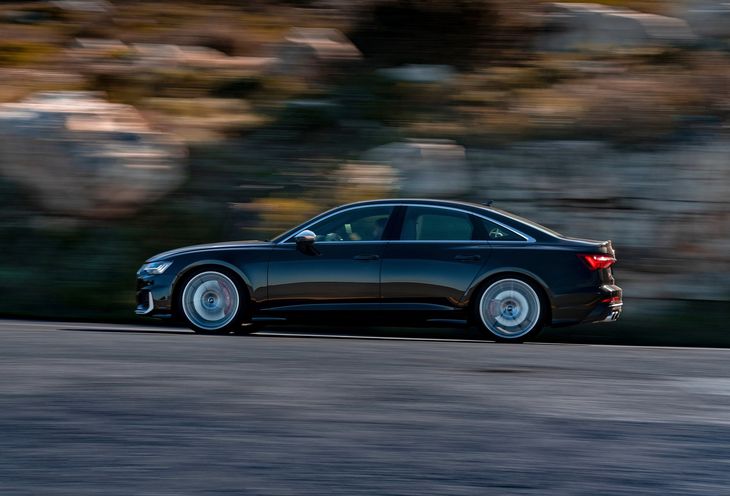 In Dynamic mode, the car's air suspension lowers it fractionally and gives it a hunkered-down stance.
The Audi S6's steering setup is also worth a mention, because it is 3-way adjustable in terms of firmness. We found the newcomer's 'wheel pleasantly light for the purposes of city driving; it becomes progressively weightier as speeds increase, but not too drastically – the tiller remains effortless to twirl. Like most high-end performance Audis, the S6 boasts a quattro all-wheel-drive setup. This quattro system has been enhanced for 2020 and is rear-biased, which means most of the propulsion comes from the aft axle.
Audi claims up to 80% of torque can be sent to the rear wheels, but for us, quattro is all about predictability and stability; the S6 grips prodigiously – it's going to take some real ham-fisted or careless driving for this sedan to come unstuck. If things to go awry, don't worry, the brakes are excellent; they invariably bring the large vehicle to a prompt stop.
The key takeaway here is that the all-wheel steering, quattro and air suspension all work together to deliver some deeply impressive levels of handling prowess. The S6 a large luxury car (a luxobarge, to be blunt)... it should not feel this agile and yet, we could happily pitch the 1 800-kg sedan into tight bends. It's a joy to drive. The S6 does its utmost to deliver driving thrills and while it's not the most dynamic Audi model, its performance is more than adequate for an S-badged product. Want more go? Buy an RS6.
Comfort & Practicality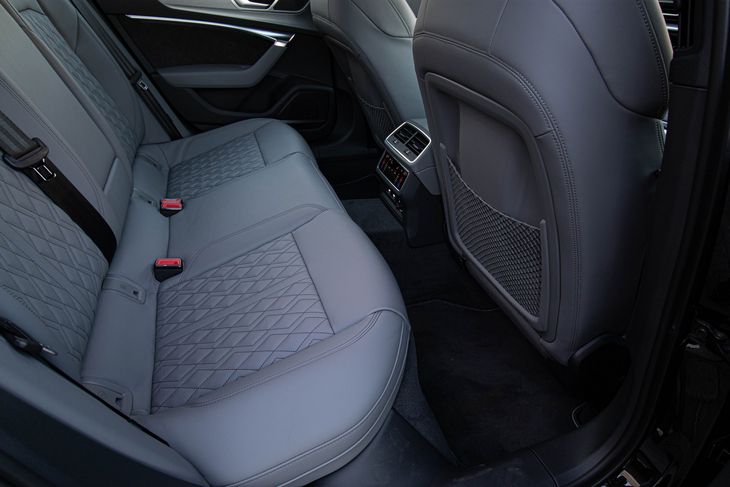 Rear legroom and space is generally good. Rear passengers are afforded device-charging functionality.
The use of the MLBevo platform bodes well for the A6's interior space and practicality. This is, after all, the platform that underpins the Audi Q7 and A8, which are physically larger than the Audi S6. Suffice to say that front occupants are ensconced in comfort, while there is enough rear legroom, as well as headroom, to accommodate tall adults. Our test unit came equipped with the sports front seats (R18 270) and we found them to offer a fine balance of support (during spirited cornering) and long-haul comfort. Boot space is rated at 520 litres, which is fractionally less than its rivals. The Mercedes-Benz E-Class is the segment leader at 540 litres, with the BMW 5 Series coming in at 530 litres.
Connectivity & entertainment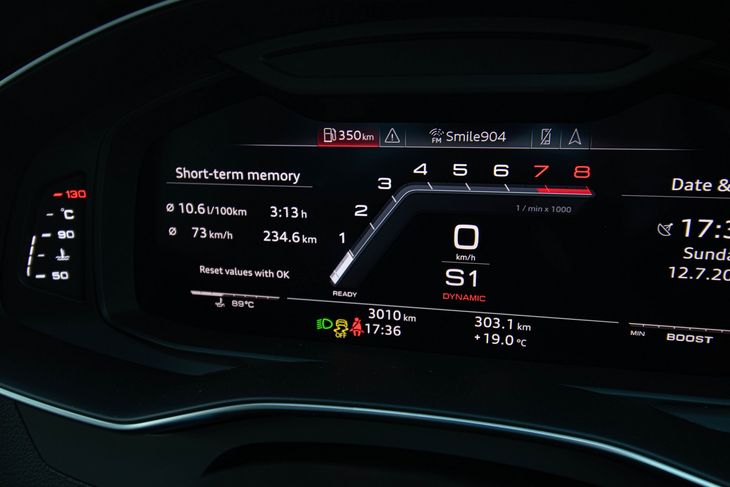 Audi Virtual Cockpit features this unique S6-specific rev counter
The Audi S6's electronic user interface benefits greatly from the fitment of the latest Audi infotainment system. Dubbed MIB3, this system first made its debut in the Audi Q8. Comprising a tiered 2-screen setup, the infotainment system has futuristic graphics and a slick interface. What's more, Audi has integrated a haptic feedback system, so it feels like you're clicking a button when you select a function. The only downside to this nifty system is that it tends to collect fingerprints, so store some wipes in the door pocket.
By virtue of sitting near the top of the A6 line-up, the S6 is generously specced; it lacks very little in the way of onboard gadgetry. Standard kit is substantial and we're big fans of the Audi Virtual Cockpit digital dashboard (with specific S6 graphics), Audi Matrix LED headlights, the Bang & Olufsen audio system and the Audi phonebox, with its wireless charging capability and Apple CarPlay/Android Auto compatibility. Our vehicle also featured heated seats as standard, which are oh-so-useful on crisp winter mornings.
Does the Audi S6 offer the finest interior in the executive sedan segment? Possibly. It blends modernism and luxury terrifically, plus the tactile surfaces feel suitably premium. It all feels expensive and well finished, which is exactly what customers want in this segment. Road and wind noise? Pah, the cabin is well insulated from "such trivial things".
The driving tech's also worth a mention. We discovered the Predictive Efficiency system, for example. We're guessing it's dialling into the navigation to do this, but as you approach an intersection or circle, the car vibrates its accelerator pedal to tell you to ease off the power and coast to a stop (to save fuel). Such attention to detail!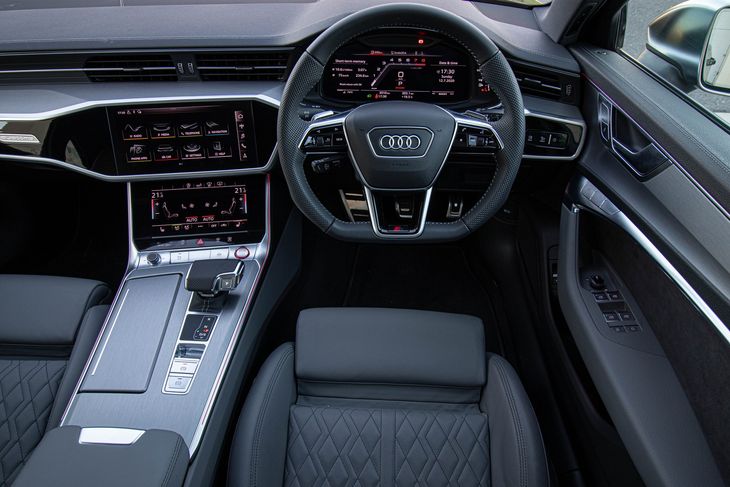 The Audi S6's arguably combines high luxury and extensive technology better than most executive sedans.
Pricing and after-sales service
The Audi S6 TFSI quattro costs R1 401 500 (as of July 2020, before options) and comes standard with a 5-year/100 000-km Audi Freeway (maintenance) plan.
Verdict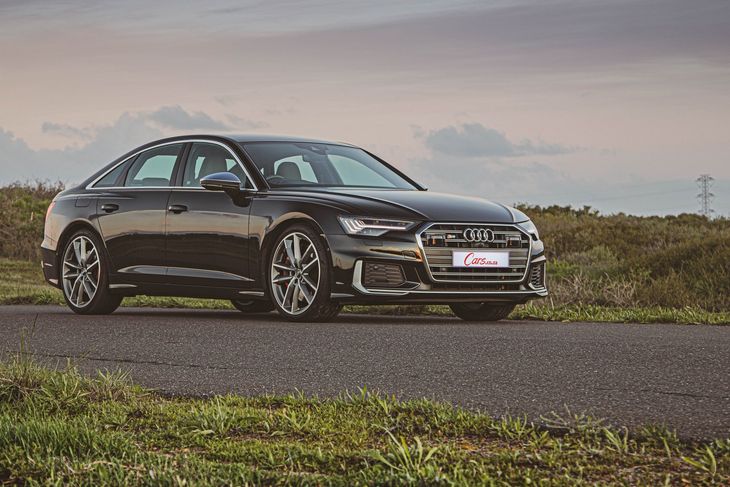 An all-rounder is a cliche, but the Audi S6 nonetheless epitomises the term. Are you sure you still want that SUV?
All Audi's models are accomplished, even if the brand's sedan offerings tend to err on the side of understatement. It's going to take quite the offering to separate the good from the great in this segment, but this S6 is exceptional, inside and out. The keyword here is balance. If you want a luxurious, refined, and sophisticated sedan to commute in (often gridlocked) traffic, the big Audi will do that with ease. If you're looking for a vehicle with which to undertake long-distance journeys in absolute comfort, the S6 fits the bill.
But, if you like to occasionally break free from the rigours of everyday life and carve up a twisty set of corners with your chariot – which emits a captivating V6 soundtrack no less – the S6 delivers. Not only does the Audi cocoon its occupants in a beautifully finished interior, it effortlessly balances luxury and comfort with performance and handling.
And do you know what's the best part? The majority of SUVs can't blend those attributes nearly as well as the S6. Even though Audi's S and RS engineers are trying their utmost to engineer corner-carving ability into the Q range, a sedan will always be one step ahead dynamically. The executive sedan segment will soon heat up – an updated Mercedes-Benz E-Class is on the way and the facelifted BMW 5 Series is due to make landfall before the year is out, but the new Audi A6 presents a strong alternative.
If you want even more presence and performance than the S6 offers, you'll have to wait until early 2021, when the Audi RS6, which churns out 441 kW and 800 Nm (courtesy of its 4.0-litre twin-turbo V8) is set to make its arrival in the local market. It'll have its drawbacks, however. The RS6 will be offered in Avant (station-wagon) guise only, which limits its appeal, plus its performance will probably be overkill, given the limitations of South Africa's road network. The S6 is the next best thing, but far from a piecemeal derivative.
Related content:
All-New Audi S6 Review: The Limo with an RS4 Engine
Audi A6 (2020) Specs & Price in South Africa
Audi A6 and A7 (2015) First Drive