Aston Martin, in partnership with Zagato, has teased its forthcoming duo with a set of renderings showing the DBS GT Zagato and the classic DB4 GT Zagato Continuation which will go on sale as a pair in 2020.
The Aston-Zagato partnership has produced some stunning cars over the years and like a good red wine, it seems to just get better with each project.

The latest project will spawn 2 models, the DBS GT Zagato and the DB4 GT Zagato Continuation as part of the DBZ Centenary Collection. Both cars will be sold together as a pair and only 19 will be available worldwide.
How much will the pair sell for you ask? £6-million! That translates into just over R106-million!
The DBS GT Zagato uses the DBS Superleggera as its foundation and features a 'dynamic grille' which incorporates 108 diamond-shaped carbon fibre pieces which are flush when the car is parked but at start-up, the elements 'flutter to life', each opening to allow the big twin-turbocharged 5.2-litre V12 engine to breathe. As for outputs, if it's the same engine as found in the DBS Superleggera, then 553 kW and 900 Nm is to be expected. Note that the roof is full-length carbon fibre which means a camera-operated rearview mirror is fitted to provide rearward visibility. Note the gold-look 20-spoke wheels too...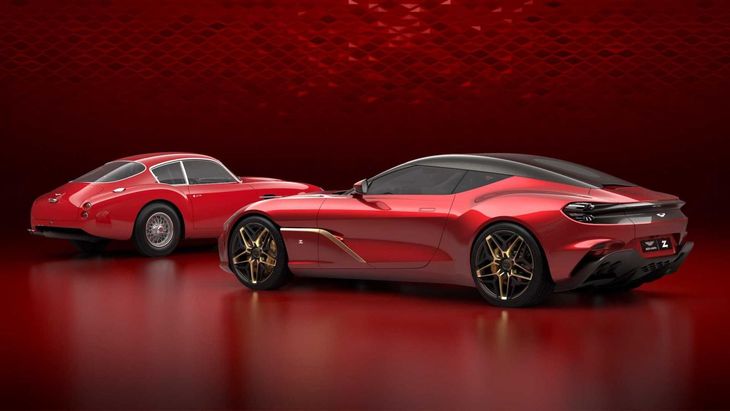 Note the full-length carbon fibre roof which calls for camera technology to provide rearward visibility.
Marek Reichman, Chief Creative Officer, Aston Martin Lagonda said, "This is a car that is not only focused around beauty, but drama too. Our dynamic grille gives us an opportunity to provide the car with two very different identities. When parked, DBS GT Zagato will almost look like it's resting, but with the rear of the car still appearing muscular and primed for action. Only on start-up will the car truly become alert and ready to perform, delivering both an aural and visual treat for onlookers".
As for the classic DB4 GT Zagato, a straight-six engine is expected under bonnet with at least 283 kW and mated with a 4-speed manual transmission sending power to the rear wheels via a limited slip differential.
The DB4 GT Zagato will be produced this year while production of the DBS GT Zagato will start in 2020, after which 19 pairs will go on sale.
Buy a new or used Aston Martin on Cars.co.za
Related Content
Aston Reveals Gorgeous DBS GT Zagato
James Bond-inspired Aston Martin DBS Superleggera [w/video]
Aston Martin DBS Superleggera - First Drive