The Aston Martin DB5 from Goldfinger has come back to life, with gadgets and all…
James Bond fans eat your heart out, Aston Martin has brought the DB5 back to life! The DB5 featured in the 1964 film, Goldfinger, with James Bond played by none other than Sean Connery.
This is the first DB5 Goldfinger Continuation car, the first car to roll off the assembly line, some 55 years since production ended in 1965. Only 25 will be built in association with EON Productions (makers of the James Bond films) and they will be equipped with gadgets that feature in Goldfinger.
Creating the same vehicle that features in the movie is no easy feat and it takes approximately 4 500 hours to produce just one example.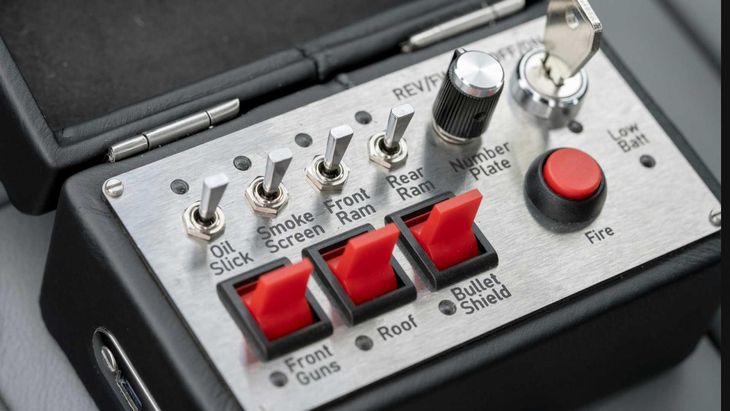 A true James Bond car has all the gadgets...
The DB5 is finished in Birch Silver and as a tribute to the car that featured in Goldfinger, comes fitted with nifty features such as 2 faux machine guns, a smokescreen, a revolving license plate and battering rams, just in case…There's even a faux tyre slasher, oil spilling device and a bullet shield to protect you from gunfire. This DB5 is the real deal… A removable roof panel for the passenger seat is optional.
The trickery doesn't end there though. The interior has also been overhauled to reflect the show car and as such, it comes fitted with a remote control panel for all the gadgets as well as an actuator button on the gear lever and additional switchgear inside the central armrest. Fans will also love the faux radar screen tracker map and there's even a telephone mounted in the door. Need to store your weapons out of sight? There are under-seat storage trays for that purpose.
As for engine performance, the DB5 is fitted with a 216 kW, naturally-aspirated 4.0-litre, six-cylinder engine that's mated with a 5-speed ZF manual transmission and a limited-slip differential
Paul Spires, President of Aston Martin Works said: "To see the first customer car finished and realise that this is the first new DB5 we have built in more than half a century, really is quite a moment. "It is a rare and genuine privilege to be involved in this latest Aston Martin continuation project, and to be helping to support the creation of new versions of what is perhaps the world's most famous motor car. I'm absolutely certain that the 25 lucky owners who will take delivery of these cars will be thrilled with them."
You might be wondering what the Aston Martin DB5 Goldfinger Continuation costs? Well, if you are one of the 25 buyers of this car, you will have to part with approximately R60-million to acquire ultimate bragging rights. Best you visit your bank manager for a chat...
Buy an Aston Martin on Cars.co.za