The mark the 100th anniversary of Italian coachbuilder Zagato, which has produced exclusive Aston Martin models for the past 60 years, 19 pairs of V12 Vantages are being produced by bespoke manufacturer R-Reforged. You can't you buy just one of them, you must procure the coupe and speedster as pair…
Okay, so there are at least 3 types of limited-edition models that jump to mind: The first, most commonly known kind, is a zhooshed-up version of a production model as it enters the runout phase of its lifecycle (it's usually produced so that manufacturers and their dealers and clear out inventory before a new model arrives).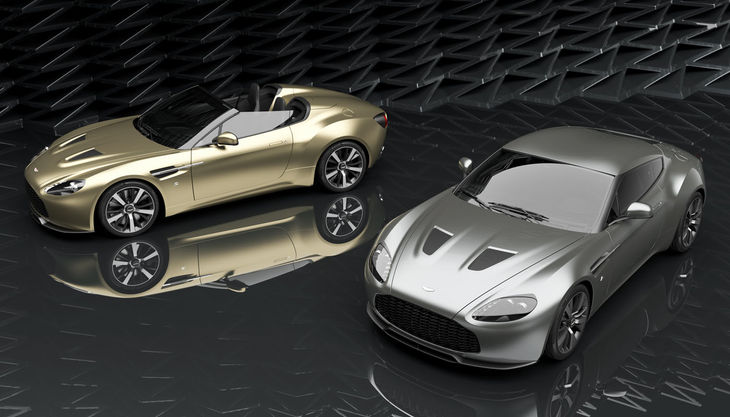 As opposed to previous Vantages, carbon-fibre body panels hide underneath the 'Heritage Twins' shimmering paint finishes.
The second is for homologation purposes (when a carmaker needs to produce a preset number of road-going derivatives to be allowed to campaign a racing version of a car in series) and the last kind of limited-edition model is created (usually by supercar manufacturers and coachbuilders) to ensure exclusivity; when demand outstrips supply, it increases the car's market value and collectability.
By just looking at these images of the exquisitely finished Astons, they would seem to fit into the final category, being the products of Aston Martin and Zagato. However, they are also based on models that are no longer in production (variants of the previous-generation Vantage, in range-topping 5.9-litre V12 guise), which is rather unusual.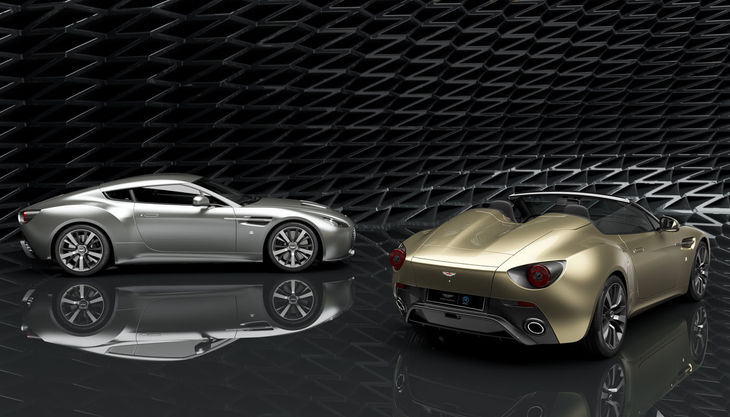 The speedster version of the 'Heritage Twins is arguably the most eye-catching, thanks to its flying buttresses.
Based on the model introduced in 2005 and discontinued in 2018, the coupe and speedster are skinned in carbon-fibre and bear gold Z badging. The former features Zagato's "double bubble roof" (reminiscent of the V12 Zagato – introduced in 2011 to mark the 50th anniversary of the DB4 GT Zagato) and the latter, which is not a roadster (it has no roof!), has a pair of flying buttresses.
Aerodynamic adornments in the way of a deeper front splitter, large rear diffuser and a pop-up -spoiler all hint at the cars' performance potential. Their naturally-aspirated 48-valve 12-cylinder motors (ostensibly mated with 7-speed Sportshift III automated manual transmissions) are each equipped with a new engine management module, inlet manifold and titanium exhaust, which boosts peak power by 64 kW to 447 kW.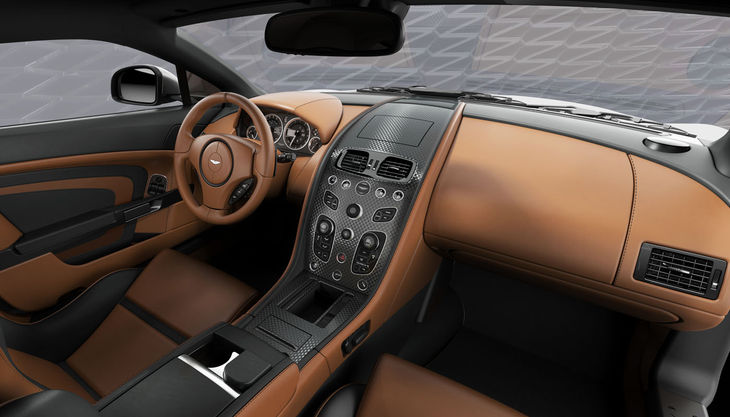 The 5.9-litre V12-engined Vantage was one of the finest sounding sportscars ever made; it lives again, thanks to Zagato.
Aston Martin claims the V12 Zagato Heritage Twins by R-Reforged (that's the cars' official name) will accelerate from 0 to 100 kph in under 4.0 seconds and achieve a top speed of 320 kph.
Marella Rivolta Zagato, who manages the Italian design house in conjunction with her husband, Andrea, specified the first 2 cars shown here.
"When I was selecting the body colours, I looked for something that would represent our 100-year heritage and our future. The most symbolic colours are gold and platinum, which are precious metals. Gold, an emblem of purity and distinction, is a tribute to our first century. Platinum is resistant to corrosion and has great catalytic capabilities, which is what I wish for our next 100 years," she said.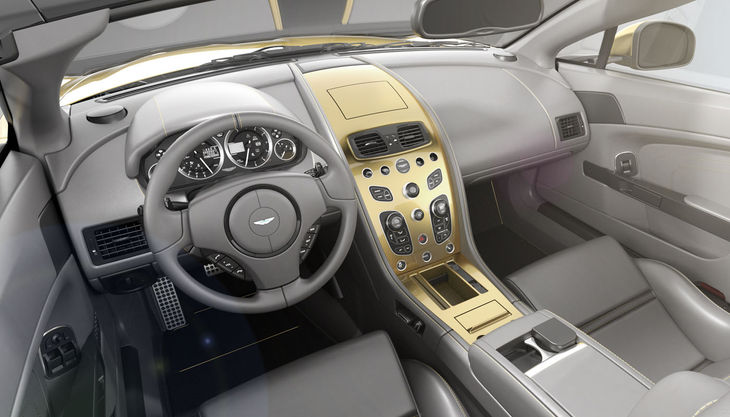 The previous generation Vantage's fascia may look dated, but it's gold-plated (it looks as if it is), who cares?
"Plants, sources of life that have continually renewed themselves since ancient times, are also woven into this idea," adds Zagato. "Take, for instance, the colour of the speedster, which I have named Oro Angelica. Angelica is an edible plant thought to guarantee long life. It also symbolises inspiration, the driving force of the first 100 years of Zagato's history. For the coupé, I chose Platino Acanto. The leaves of the acanthus inspired the ancient Greeks to create the Corinthian capital. This plant represents purity and immortality, embodying Zagato's vision for the future."
Should you be interested in buying 2 of these Zagatos (more than half of them are already spoken for, at an asking price of about R41 million a pair), you can, of course, spec them exactly the way you want. Bespoke manufacturer R-Reforged, which is notably helping Aston Martin to produce its upcoming Valkyrie hypercar, will build the vehicles at its new facility in Warwick in the United Kingdom.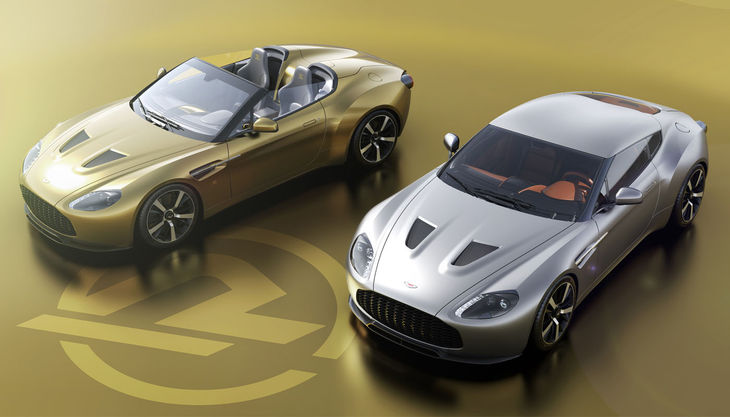 Provided when the Covid-19 lockdown will be lifted, the 'Heritage Twins will make their public debut mid-year.
R-Reforged claims it can provide an "infinite" colour palette for the exterior and interior specifications of the 'Heritage Twins. Customers can finely customise their cars by discussing their preferences with Aston Martin designers; they're also invited to travel to the production facility in Warwick to watch their cars being made and will receive a special gift box upon delivery of their vehicles.
Customer deliveries are scheduled to begin in the final quarter of 2020. Will we see this pair at the Concorso d'Eleganza Villa d'Este in October? Time will tell.
Related content:
Aston Martin Valkyrie hits the road
Koenigsegg Jesko Absolut is Crazy Fast
Bugatti Chiron Pur Sport Focuses On Driving
Aston Martin V12 Speedster Goes Official
Hot Pininfarina Battista Anniversario Revealed [w/video]
Boulogne is an 820 kW Spanish Supercar