Vehicle armour specialists, SVI Engineering, is now offering armoured protection for the Volkswagen Amarok V6 double-cab bakkie! See specification and pricing details below!
There is an increasing demand for armoured vehicles in South Africa and SVI Engineering specializes in this domain, supplying solutions to private, corporate, security, mining and government sectors. The Volkswagen Amarok V6 is the latest product to receive SVI's armoured treatment, making it the most powerful armoured bakkie in South Africa.
SVI Engineering has extensive experience in providing various levels of armoured protection and earlier this year, the engineering firm announced an agreement with Ford SA to produce factory-approved bulletproof Rangers. Our very own Ciro De Siena also had the opportunity to drive the hardcore SVI Max 9 military vehicle through a wall.
The firm has even created the Max3, which is a heavily armoured Toyota Land Cruiser.
What armoured protection is offered for the VW Amarok V6?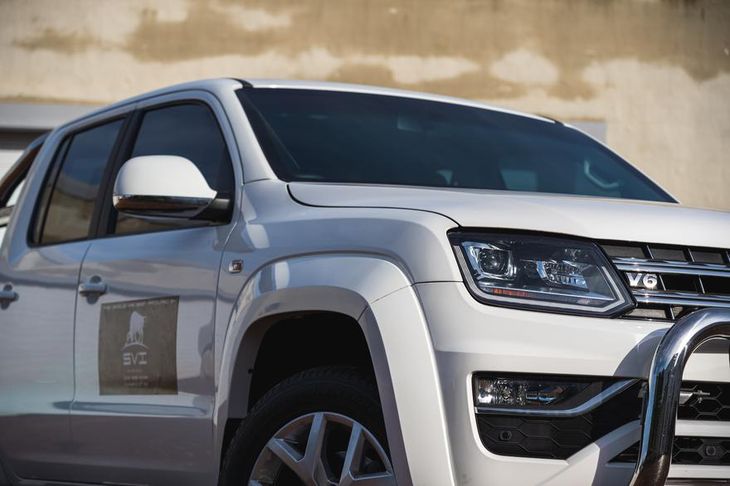 SVI Engineering has solutions for a variety of applications, but B6 protection is proving to be a popular choice in armoured protection.
For the Volkswagen Amarok V6, SVI Engineering offers basic B4 armouring which offers handgun protection and is the perfect anti-hijack solution. However, a higher level of civilian armoured protection, known as B6, can also be specified. B6 armour can withstand an attack from assault rifles including an AK47.
To achieve this B6 conversion, the interior of the Amarok is stripped down to its bare metal and it's then built up using special steel armoured plates and composite materials are used for the body. The standard windows are replaced with 38 mm armoured glass.
As the weight of the vehicle increases by up to 650 kg for the B6 conversion, the suspension is also upgraded to cope with the additional mass. In comparison, the B4 level of protection only adds 280 kg of additional weight.
The powerful 190 kW / 580 Nm 3.0-litre V6 turbodiesel engine offers more than enough shove in this application and no further engine enhancements are therefore required.
What does the armour conversion for the VW Amarok V6 cost?
Customers can expect to pay R433 000 for B4 protection while the B6 level of protection is priced from R655 000 before options and comes with a 1-year/50 000km armour warranty for road use. Pricing excludes VAT and the cost of the vehicle.
If you are interested in finding out more about what SVI Engineering has to offer, you can visit www.svi.co.za.
Buy a used Volkswagen Amarok on Cars.co.za
Watch Ciro De Siena drive the SVI Max 9 through a wall in the video below!
Related Content
Volkswagen Amarok V6 TDI (2021) Review