It's that time of the year when we start gearing up for the Cars.co.za Consumer Awards (#CarsAwards), now entering its 4th year. We are well advanced in our preparations to present an even bigger, more influential, further-reaching and more prestigious awards programme than before, once again backed by the country's leading supplier of vehicle finance, WesBank.
The #CarsAwards programme is about much more than just handing over a trophy at a glitzy event in January 2019. It's a 6-month long project that is designed to inform potential car buyers about the vehicles that should appear on their shortlists. Importantly, it also gives consumers a say in the results.
"The Cars.co.za Consumer Awards is South Africa's only accolade that incorporates the views and experiences of car owners themselves. As the market leader in vehicle finance for the automotive industry, WesBank is a proud sponsor of the awards that acknowledge OEM brands for making a positive impact on the lives of motorists through the cars they bring to our market. We wish all OEM brands the best of luck for this year's awards and encourage all motorists to participate in the 2018 awards survey," says Ghana Msibi, WesBank's Executive Head of Sales and Marketing.
The semi-finalists in each of the 13 categories will be announced on Monday 10 September.
An awards programme that helps the consumer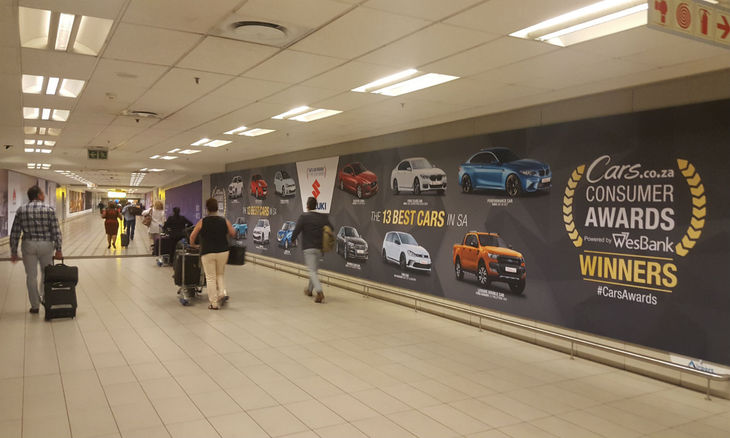 Every year Cars.co.za sponsors billboards for all the winners, helping consumers make educated new-car choices.
"It is important to note that #CarsAwards differs from other awards programmes in several key aspects," notes Cars.co.za Consumer Experience Manager, Hannes Oosthuizen.
"Firstly, the consumer can get directly involved, by telling us about their experiences with their own cars, including the after-sales service they have received," he adds.
In the final round of judging, the inputs of actual car owners account for 50% of a finalist vehicle's score. "This is a crucial aspect, because while we can rely on motoring and other specialist journalists to evaluate the products by testing them, they can't judge what it's like to live with a car, and that's at least as important," he explains.
The in-depth Cars.co.za Ownership Satisfaction Survey was co-developed with data specialists Lightstone Consumer and can be completed by clicking here. By completing this survey you will be influencing the results of the #CarsAwards.
Categories aligned with market hot-spots
Another key difference is that #CarsAwards doesn't reward just a single new car launched in the past year.
"As the name indicates, these awards are really for the consumer," Oosthuizen says. "For that reason, all cars on the market are in the running, provided they have been launched locally by 1 September 2018 and comply with the various categories' criteria. We have tweaked the 13 categories to be even better aligned with where consumers are shopping," he says.
An example is the previous Premium Hatch segment, which has changed to become the Premium Compact category. "In this category, shoppers are increasingly torn between high-spec, traditional contenders such as the VW Golf and Mercedes-Benz A-Class, and new-generation compact crossovers from the premium brands, such as the Volvo XC40 and BMW X2," Oosthuizen says. "Consequently we've decided to put these vehicles into the same category, as they compete for the same consumers."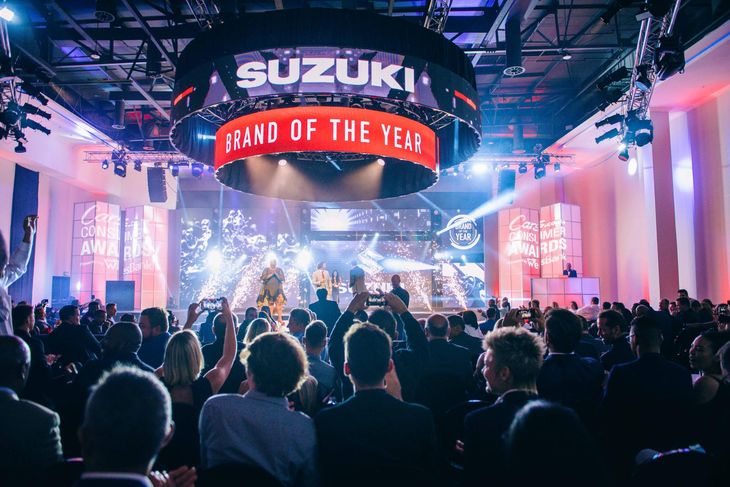 Current (two-time) Brand of the Year, Suzuki, has achieved significant sales growth following its #CarsAwards successes.
As before, the 14th and most prestigious category is Brand of the Year. "This is a really special award and 100% based on consumer feedback gained from our Ownership Satisfaction Survey, conducted in conjunction with Lightstone Consumer, and also incorporating market share growth and resale data from Lightstone Auto," says Oosthuizen. "The sales success of the current Brand of the Year, Suzuki, is gratifying as it backs our data and illustrates the importance of excellent customer service."
The 13 product categories are:
Budget Car (up to R200 000) The minimum safety requirements for eligibility are dual front airbags and ABS. If these items are not standard, it must be possible to optionally specify all these items without exceeding R200 000.
Compact Hatch (from R200k to R300k) The minimum safety requirements for eligibility are ABS and 4 airbags. Individually or collectively, the fitment of the required safety features, along with the following: air-conditioning, USB/Bluetooth support, and service plan, may not push the price over R300 000.
Premium Compact (from R450k to R600k) The fitment of ESP and dual front-, side- and curtain airbags is required (within the price limit).
Compact Family Car (from R300k to R400k) If not standard, all of the following features must be fitted without the price exceeding the limit: ABS, automatic transmission, 4 airbags, split/fold rear seat, service plan and air-conditioning.
Family Car (from R400k to R500k) If not standard, all of the following features must be fitted without the price exceeding the limit: ABS, ESP, 6 airbags, split/fold rear seat, service plan, air-conditioning and an automatic transmission (incl. CVT and dual-clutch).
Business Class (from R600k to R800k) Six Airbags and ESP have to be fitted, within the price cap.
Executive Sedan (from R800k to R1m) Vehicle must fit into D/E sedan segments, including so-called 4-door "coupe" versions.
Leisure Double-Cab Bakkie (from R500k to R800k) Vehicle must be a double-cab pick-up with a turbodiesel engine, automatic transmission and 4-wheel drive.
Adventure SUV (from R550k to R700k): Vehicle must offer 4-wheel drive, minimum ground clearance of 200 mm and low-range or a switchable drive modes programme.
Executive SUV (from R700k to R900k) Vehicle must offer a minimum of 6 airbags and ESP without exceeding the price cap.
Premium SUV (from R1m to R1.3m) Must offer all-wheel drive as standard and be an SUV of BMW X5/Mercedes GLE size, including so-called "Coupe" derivatives such as X6/GLE Coupe.
Hot Hatch (below R700 000)
Performance Car (below R1 million)

Timelines
As before, there are 3 phases to the #CarsAwards process.
3 September 2018. The Cars.co.za extended editorial team meets in Cape Town and debates all vehicles in the South African new vehicle market, within the defined categories and against the category criteria. All vehicles launched by 1 September 2018 will be considered. The top 5 in each category is determined by consensus and not a secret vote to ensure rigorous analysis and debate. The 5 finalists will be announced on Monday, 10 September 2018.

1 October 2018. The same Cars.co.za extended editorial team meets in Cape Town and votes on the vehicles in the individual categories to determine the finalists (3 per category).

1-2 November 2018. The 39 finalist vehicles (3 per category, 13 categories) are tested back-to-back at Gerotek in Gauteng. See our behind-the-scenes test day video above.

January 2019. Gala event in Johannesburg and announcement of all winners.
Respected, influential judges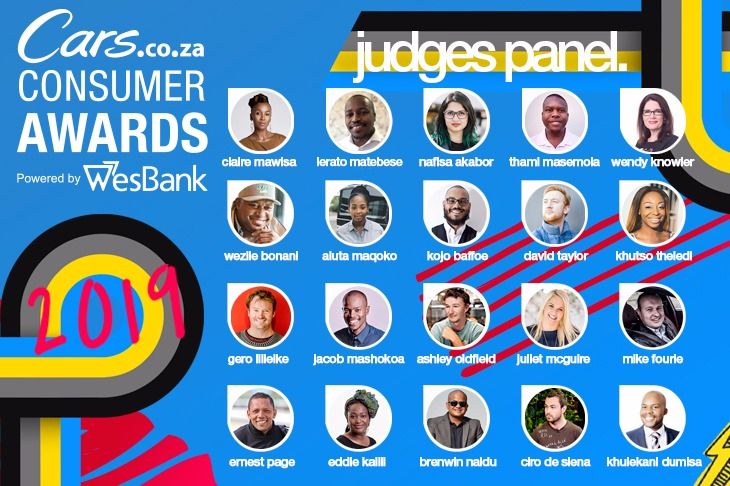 In building the expanding judging panel, the goal was to achieve a balance of motoring expertise (particularly in the first two phases of the programme, which determine the finalists) and respected non-motoring, highly analytical media professionals. "It is absolutely crucial that motoring journalists' opinions are supplemented by those of non-motoring media professionals, who, in many ways, represent the consumer at the test days," explains Oosthuizen. This year Brenwin Naidu (Editor, Sowetan Motoring), Thami Masemola (In4Ride, eNCA), Aluta Maqoko (Kolloquium) and Khulekani Dumisa (Khulekani on Wheels) join the panel.
What's next?
Be sure to follow #CarsAwards on Twitter. And remember... complete a survey on your own car to make your voice heard. The link to the survey is here.
You may also be interested in:
2017/18 Cars.co.za Consumer Awards – powered by WesBank; Winners