BMW hasn't released an M version of its X7 first-class SUV to rival the upcoming Mercedes-AMG GLS 63, but German tuning firm Alpina has come up with a solution of its own: the 457 kW/800 Nm XB7, which is said to accelerate from 0 to 100 kph in 4.2 seconds.
We recently reported that Mercedes-AMG had announced the GLS 63. Powered by a 4.0-litre V8 turbopetrol motor producing peak outputs of 450 kW and 850 Nm, Affalterbach's new all-wheel-driven 7-seater is, like the XB7, claimed to bolt from 0-100 kph in a blistering 4.2 seconds.
BMW has always been reluctant to produce a fully-fledged M model based on the 7 Series and, by implication, its SUV sibling, the X7. Alpina, however, has a close, longstanding relationship with the Munich-based manufacturer (its expertise helped to produce several of the unique-to-South Africa models that have become highly collectable in our market); its answer to the GLE 63 is... the XB7!

The XB7 weighs in at 2 655 kg, but it can accelerate from 0 to 100 kph in 4.2 sec and hit a top speed of 290 kph.
To be produced at BMW North America's Spartanburg plant in parallel with its standard X7 brethren, the XB7 delivers 3 kW less, but 50 Nm more than the twin-turbo 4.4-litre V8 in the X5 M- and X6 M Competition, but a notable 67 kW and 50 Nm more than the current flagship of the brand's first-class SUV range, the X50i.
To enable the XB7 to complete the quarter-mile sprint in a claimed 12.6 seconds and go on to a top speed of 290 kph (when equipped with the standard 21-inch wheels and performance tyres, the tuner notes), Alpina has fitted its newcomer's powerplant with larger turbochargers, bespoke intercoolers, a pair of supplemental water coolers, a larger transmission-fluid cooler plus a sonorous quad-tipped exhaust system replete with active flaps. The tuner also beefed up the 8-speed automatic transmission and fitted shift buttons on the branded multifunction steering wheel.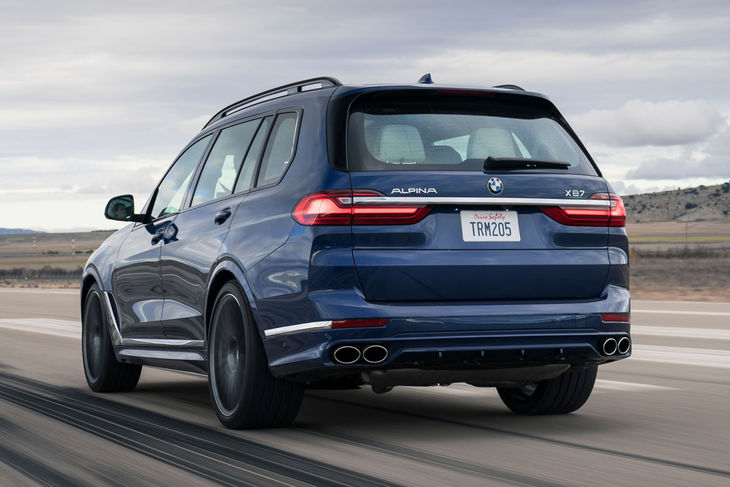 The XB7's exhaust volume is suitably restrained in Comfort mode, but "clearly pronounced" (Alpina claims) in Sport mode.
While the X7's integral active steering, active anti-roll bars and air springs are carried over from the standard X50i, Alpina has bolstered the XB7's suspension, firmed up the damping and fitted stiffer bushes; the newcomer's air springs lower the ride height by 20 mm in Sport mode – or at speeds above 160 kph, and by 40 mm when in Sport+ mode – or at speeds above 250 kph. To scrub off the heady velocities that the 2 655-kg first-class SUV can achieve, the XB7 is fitted 394-mm front brake discs and tell-tale blue 4-piston Brembo calipers, while the rear discs measure 399 mm.
By Alpina standards, the XB7's exterior treatment is quite subtle. The front bumper features large air intakes and the brand's free-floating lettering, while at the rear, the pair of twin tailpipes are elegantly integrated into the bumper, which is rounded off with a 4-fin diffusor. While the 21-inch rims and tyres are standard, 23-inch 20-spoke Anthracite-coloured wheels (shod with bespoke Pirelli summer tyres) is optional.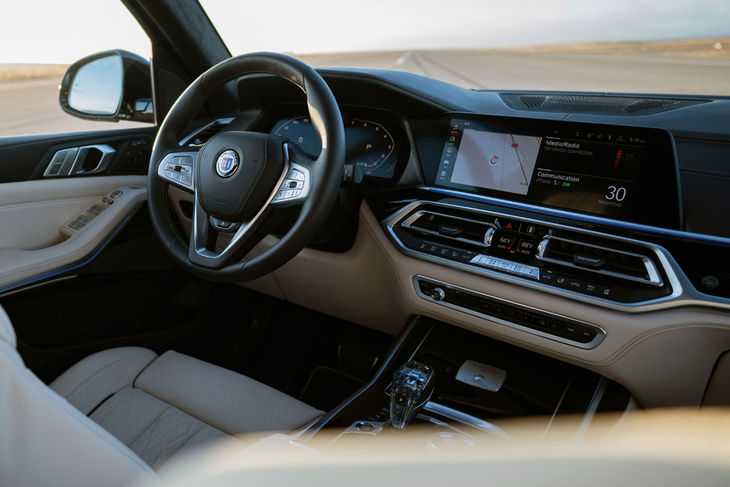 The XB7 retains its standard siblings' opulent interior, but features, inter alia, a bespoke Alpina instrument cluster and menu system.
The XB7's opulent interior features, inter alia, Merino leather and stitched-leather dashboard, multi-contour seats with heating elements, soft-close doors, an Alcantara headliner, the 3-part panoramic glass sunroof. It comes equipped with the Driving Assistance Professional as well as the Parking Assistant Professional packages.
To give the newcomer's interior – which can be specified in either 6- or 7-seat configuration ­– that bespoke Alpina look, the tuner has specified a crystal glass branded iDrive controller, a blue-illuminated transmission lever, a production plaque, illuminated door sills and the sports steering wheel hand-finished in Lavalina leather and adorned with the company's blue/green stitching.
Related content:
BMW X5 M and X6 M Price Revealed
BMW X6 (2020) International Launch Review