The expansion of the BMW X-range portfolio continues with the introduction of a new flagship. The X7 is the biggest production BMW ever made, has a massive grille and, in M50d form, so much grunt that it borders on the ridiculous. And then there's the tech... Has the German brand gone completely over-the-top, or hit the nail on the head?
We like: Stonking performance, build quality, ride comfort, semi-autonomous features
We don't like: A bit too derivative of the X5 inside
Fast Facts
Price: R1 862 308 (August 2019, without options)
Engine: 3.0-litre 6-cylinder quad-turbodiesel
Gearbox: 8-speed auto
Fuel economy: 7.3 L/100 km (claimed)
Power/Torque: 294 kW/760 Nm
Performance: 0-100 kph in 5.4 seconds (claimed)
Own a BMW? Tell us about your experience here.
SERIOUS ABOUT BUYING?
Where does it fit in?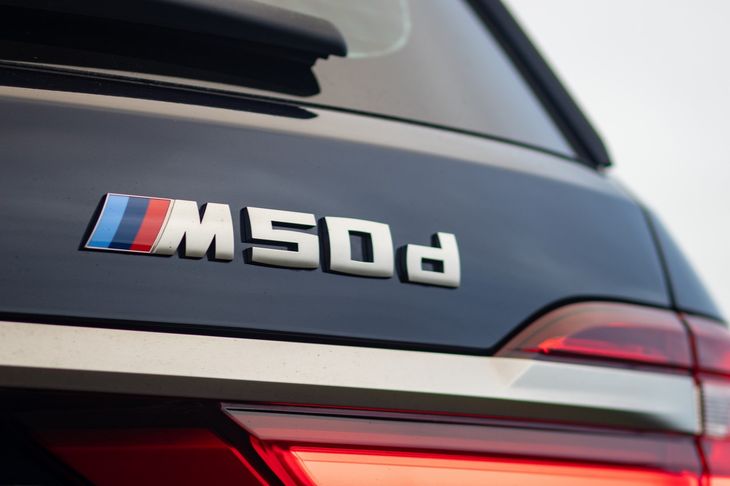 ​
In M50d guise, the X7 offers unmatched performance in the large luxury SUV segment.
In a world where bigger seems to equal better, and luxury SUVs are among the ultimate statements of success, the BMW X7 seems to fit like a beautifully tailored glove, irrespective of what you think of its controversial styling. Aimed at markets such as America and China, the X7 is the biggest vehicle ever produced by the Munich-based firm. South Africa loves big, luxurious SUVs too. Lexus and Toyota do well with their big LX and Land Cruiser 200 derivatives, and then there's Range Rover, of course, as well as Mercedes-Benz's upcoming replacement for the popular GLS.
But this particular X7 is a completely different animal. The M50d (the current flagship of the range) is powered by an engine simply unmatched by any of its competitors, especially when you consider that its price starts at under R2 million. So, if you're looking for a first-class SUV with 3rd-row seating, mind-boggling performance and tech, and something that says, heck, proclaims that you've arrived, the X7 M50d is definitely aimed at you.
How it fares in terms of...
Performance & Efficiency
The cut-glass transmission lever is a little OTT, but it will appeal to some buyers. The centre console includes buttons to toggle between the various drive modes, as well as a switch to raise and lower the vehicle.
For all its design controversy, sumptuous comfort, opulent luxury and advanced tech, this particular X7 is defined by what's under its bonnet. The M50d is powered by a quad turbodiesel (yes, it has no fewer than 4 turbochargers!) 3.0-litre straight-6 that delivers 294 kW of peak power at 4 400 rpm and 760 Nm of torque from 2 000 to 3 000 rpm. Propulsion is directed to all 4 wheels via BMW's refined, slick- and swift-shifting 8-speed automatic transmission. It's a powertrain that delivers that typical "iron fist in velvet glove" type of performance, with the big-daddy X7 capable of sprinting from standstill to 100 kph in only 5.4 seconds, which is quite a feat for a vehicle that weighs around 2.5 tonnes!
In the X7's default driving mode, which is geared towards comfort, the accelerator needs quite a deliberate stab from the driver's right foot to initiate rapid acceleration, but once that message is delivered the Bimmer's occupants are squished back into their cosy seats, the nose lifts in the manner of a speedboat and the M50d rockets forth. Switch to Sport mode and, as to be expected, the throttle becomes more sensitive. On the opposite side of the spectrum, Eco Pro makes the throttle lazy as the SUV tries to save fuel by staying in the tallest gear for as long as possible.
Given the incredible performance that the X7 M50d can deliver, we don't think the Bimmer's fuel consumption is too terrible. BMW claims an average fuel efficiency of 7.3 L/100km, and we achieved an average of around 9.0 L/100 km, which was admirable.
Ride & Handling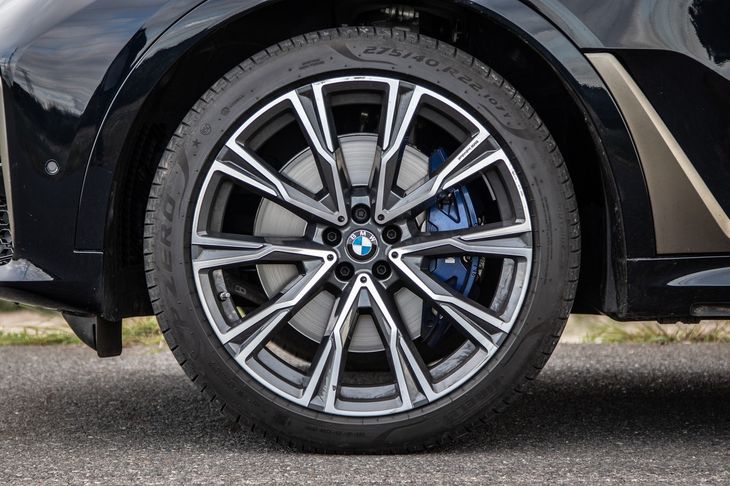 Our test unit came specified with optional 22-inch dual-tone wheels. M Sport brakes with blue callipers are standard.
The X7 M50d features adaptive self-levelling suspension, M Sport Differential and M Sport brakes as standard. Twenty-one-inch alloys are fitted as stock, but our test unit was specced with darker-hued 22-inch alloys (R29 700). Executive Drive Pro delivers electromechanical roll stabilisation at both ends and crunches driving-style data and navigation info to fine-tune the ride characteristics (you have to pay R37 700 extra if you want that).
Our vehicle was not fitted with that system, but we doubt it's a box worth ticking, because the X7's combination of ride quality and handling ability is pretty impressive as it is. The X7 does not feel particularly nimble, but it seems less clumsy to pilot than, say, a current-generation Mercedes-Benz GLS or Range Rover. There's still a measure of BMW-ness to the way it reacts to driver inputs (particularly through the deft steering), which is admirable, seeing as most buyers are unlikely to ever take their X7s for a blast over a mountain pass. More importantly, the X7 cushions its occupants from the outside world in a way that puts it right up there with the very best – NVH (noise, vibration, harshness) control is excellent.
And what about off-roading, you may ask? Well, we hardly think it's applicable in this instance. While other X7 derivatives are offered with an off-road package as an option, the M50d is not. That says it all, really. At its core, remember, the X7 is really just a larger X5, and that vehicle's off-road game has been considerably improved compared with previous-generation vehicles...
Design & Packaging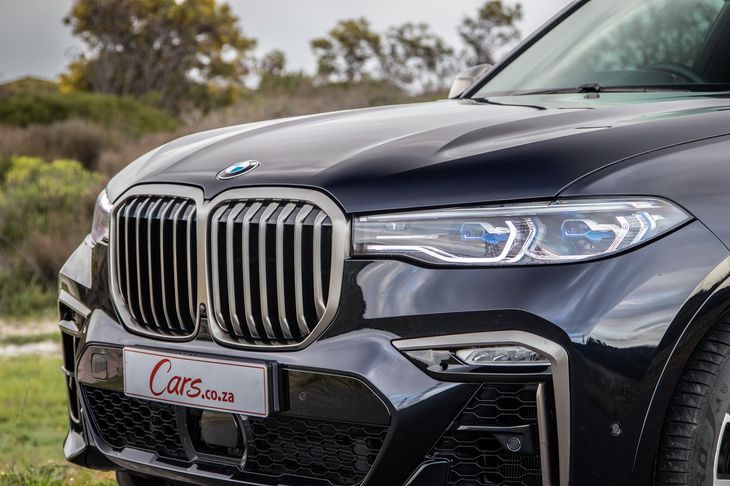 ​
In the metal and in this colour combination, the X7's most controversial feature, its grille, was hardly ever mentioned by onlookers.
And what would the launch of a new BMW model be without a bit of controversy... In terms of design, the X7's reception by the media has been lukewarm at best – it's been savagely criticised (even ridiculed) by some publications. But here's the thing... the newcomer is a big machine, and as the brand's new flagship in a new segment, it needs to make a big statement. The consensus of this team is that the grille helps BMW to achieve those goals, but not in an overwhelming or clumsy way. In fact, most onlookers didn't even mention it when we asked their opinion of the X7's look.
As the flagship X7 derivative, the M50d features M Performance trim, so you get more aggressively sculpted bumpers, air intakes and side sills. There's also less chrome on this derivative, with most of the shiny bits darkened to a tone called "Galvanic Cerium Grey". As a result, this particular X7 looks quite "stealthy", but with that blunt front end and piercing, blue-tinted Laser Light headlamps (a R21 900 option), it certainly gets noticed and, in our test team's experience, desired. So, mission accomplished, then? Well, partly.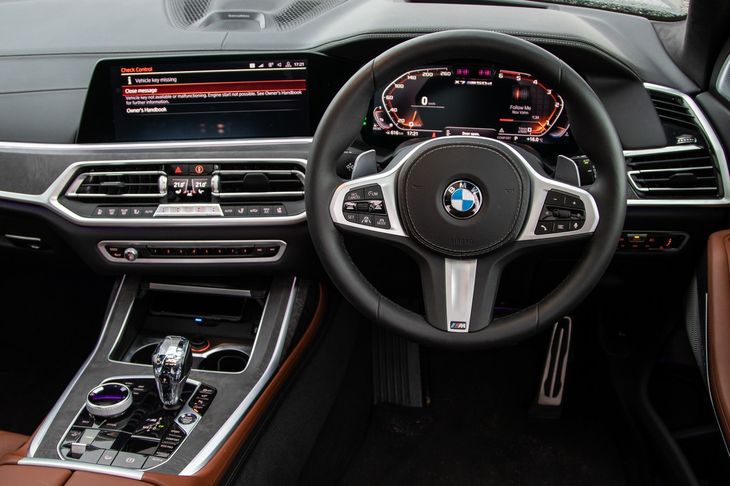 Well made and loaded with features, but the X7's cabin is too similar those of its smaller siblings.
When you climb inside the X7, you might think you've stepped into an X5 cabin by mistake. That's not a criticism of the X5 – we rate it highly and that includes its cabin – but seeing as the X7 is a flagship model, we were hoping for a little bit more of a sense of occasion. That aside, you'll find very few things to criticise. We're not massive fans of the cut-glass transmission lever (part of the CraftedClarity package for R9 400), and even less of the plasticky feel of the back of shifter (a leather application would fit a car of this stature better). But that's it as far as the negatives go.
The seats are superb – heating/cooling is available for R9 700, while you can also have a massaging function for the driver and front passenger (R15 800). The handsome and grippy M leather steering wheel is standard and overall fit and finish of an excellent nature. There are some really cool touches: the front cupholders feature heating and cooling functions, for example, and there is a switch on the driver's door with which the 2nd-row seats can be moved forward electrically to allow easier ingress for passengers into the 3rd row, for example.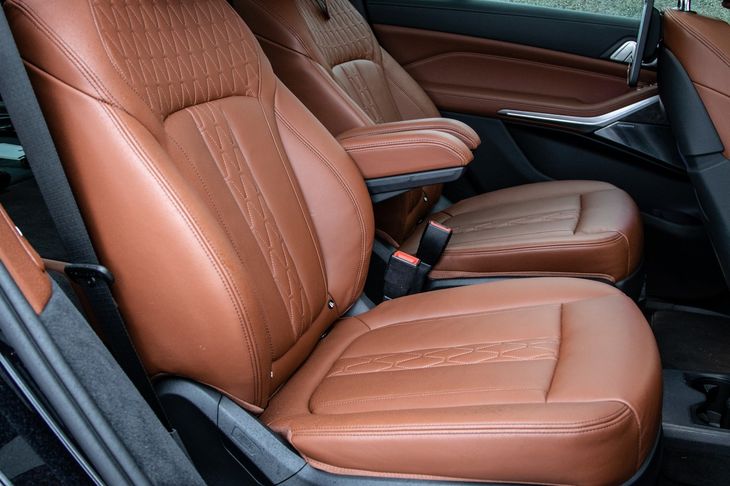 Our test unit featured a 6-seater configuration, which means the middle row has 2 plush "armchairs".
Speaking of which... The X7 comes in a 7-seat configuration as standard, but can optionally be specified as a 6-seater instead, which was the case with our test unit. With the 6-seater configuration (it's a R9 600 option), you get 2 individual chairs in the 2nd row instead of the traditional bench. The middle row seats are noticeably higher than those in front, creating a "stadium seating" effect. Even so, headroom remains good even though there is a vast panoramic glass sunroof with integrated LED light graphics, which is also an extra-cost feature (R17 800). Those seated in the 2nd row also get their own dual-zone climate controls and even 10.2-inch rear entertainment screens with Bluray drive (but that's standard!).
The 3rd row is easily accessible because the 2 centre seats move forward and tilt slightly upwards at the back to create more of a "passageway" to the rear. If the front-row seat is moved too far back, that too will automatically move a little forward. Standing outside the car and with the rear door open, one can easily access switches mounted in the doorframe to electrically lower or raise the 3rd-row seats. Once seated, legroom is very acceptable and headroom still sufficient for a 1.8m-tall occupant, even with another little sunroof fitted at the rear. Rearmost passengers also get their own ventilation and temperature control system, as well as a pair of USB-C ports.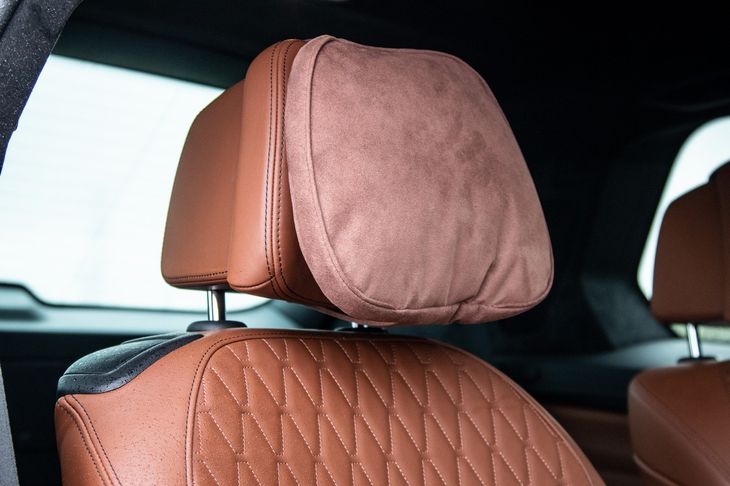 Yes, those are pillows on the headrests...
With the 3rd row folded down, the load bay is vast (but remember if you tick the 6-seater option you can now only accommodate 4 people) – it measures 750 litres. But even with the 3rd row in situ, there is useful packing space. The floor is high, though, partly because it also houses a space-saver spare wheel under its floor. The tailgate is split and both sections work electronically. The load bay is equipped with switches to fold down or raise the 3rd row, or even move the 2nd-row seats forwards or backwards. BMW has paid careful attention to the details, that's for sure.
Price and warranty (August 2019)
The BMW X7 M50d is priced at R1 862 308, but because there are myriad (and very tempting) options, most buyers will fork out more than that. Still, we don't think the standard spec is unreasonable, given it includes such niceties as a Harman Kardon surround-sound system, a rear-seat entertainment system, active cruise control with a stop&go function, 5-zone climate control, electric roller blinds (in the rear doors) and high-beam assist. The Exclusive package (R108 900) bundles together BMW Laserlight headlamps, 6-seater configuration, Ambient Air package, a 20-speaker Bowers & Wilkins Diamond surround-sound system, CraftedClarity cut-glass interior elements and the panoramic glass sunroof with Sky Lounge.
Of the standalone optional extras, we liked the leather fascia finish (R23 200), and front plus rear seat heating (R9 700) in particular. Needless to say, all X7 derivatives come with BMW's 2-year/unlimited km warranty and 5-year/100 000 km maintenance plan.
Verdict
This particular derivative of the X7 occupies a rarefied spot in the market – one that leaves it without an obvious direct competitor. The new Mercedes-Benz GLS is not yet available and won't offer a similarly powerful engine (at least initially). Audi's SQ7/SQ8 derivatives are not yet available in South Africa and a Range Rover Vogue TD6 is probably the closest offering from the Solihull-based brand, but it offers less power and is more expensive. But even when viewed without the context that a direct rival would provide, the X7 M50d is an exceedingly impressive machine.
The derivative comes with just enough standard features to make the base price seem reasonable (for its market segment), especially when you factor in its considerable power advantage over other first-class SUV contenders. The interior is truly practical, spacious and superbly luxurious, if a little lacking in "status" because it's simply too similar to the X5 in terms of fascia design. But that engine... it gives the X7 M50d a virtually unrivalled combination of performance and efficiency. You'll have to decide about the looks for yourself, but as a ginormous and super-luxurious performance SUV, the X7 M50d ticks the boxes so thoroughly that, in retrospect, the brouhaha about the grille seems nothing more than a storm in a teacup.
Looking to buy a new/used BMW X7?
Find one on Cars.co.za by clicking here