The latest entrant to the performance-SUV war is this: the brutal, 460-kW BMW X5 M Competition. Matt Robinson travelled to Phoenix to drive the newcomer…
It's another day and yet another powerhouse/juggernaut/bruiser cruiser has joined the fray; BMW's 3rd attempt at the rapid X5 M squares up to the likes of the Porsche Cayenne Turbo, the Audi RS Q8, the Range Rover Sport SVR and the incoming Mercedes-AMG GLE 63 S. It's propelled by the same 460 kW biturbo 4.4-litre V8 that powers the M5 Competition super sedan and M8 Competition sports grand tourer, which is why it too gains the exalted "Competition" honorific. Can a 2 385-kg family chariot ever really be a proper BMW M Competition machine, however? It's time to find out...
Straight to the point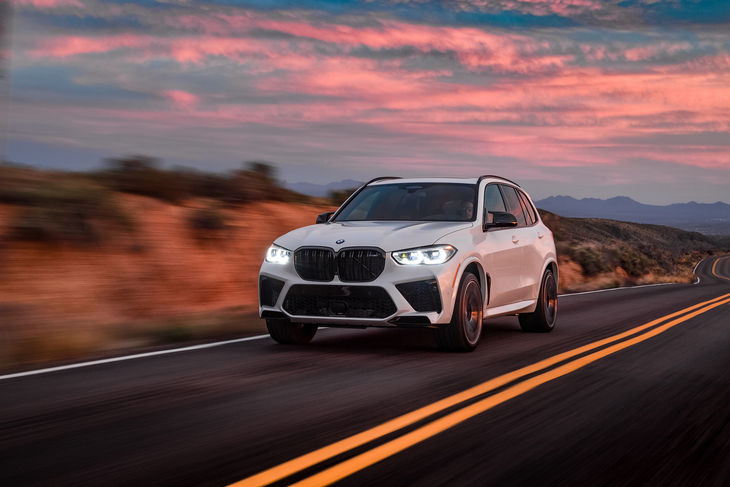 Despite lugging 2.3 tonnes off the mark, this is still BMW's fastest-accelerating SUV.
Claimed to catapult from 0-100 kph in 3.8 seconds, 0-200 kph in a ridiculous 13.4 seconds and go on to a limited (yes, limited) top speed of 290 kph – if you tick the M Driver's Package option – the X5 M Competition is a beast, a brute, a behemoth capable of bending space and time (sort of). BMW has a lengthy history of producing such machines, as does Mercedes-AMG. For the original E53 X5, the most potent derivative was the glorious, naturally aspirated, Alpina-gifted 4.8is of 2004, with its 265 kW 4.8-litre V8, but by the time the 2nd-gen X5 (E70) came into view in 2006, BMW M had abandoned its principles of ve vill not touch ze SUVs mit eine bargepole and was feverishly working on a hot X5.
So the original X5 M duly arrived late in 2009; it packed an almighty 4.4-litre V8 twin-turbo unit making 408 kW. Sound familiar? That's because the engine in the 2020 X5 M Competition is the same unit, pretty much. It has found its way into all manner of cars in the intervening 11 years, such as the F10 M5, the F06/F12/F13 M6 and the F90 M5, but it was also utilised for a more powerful 423 kW derivative of the F85 X5 M of 2014, which was, of course, this Bimmer's predecessor. And if you think the X5 M is a slow-selling vanity project on the part of BMW, think again: the Munich outfit shifted 8 830 examples of the E70 X5 M worldwide, and a further 12 842 units of the F85 between 2014 and 2019.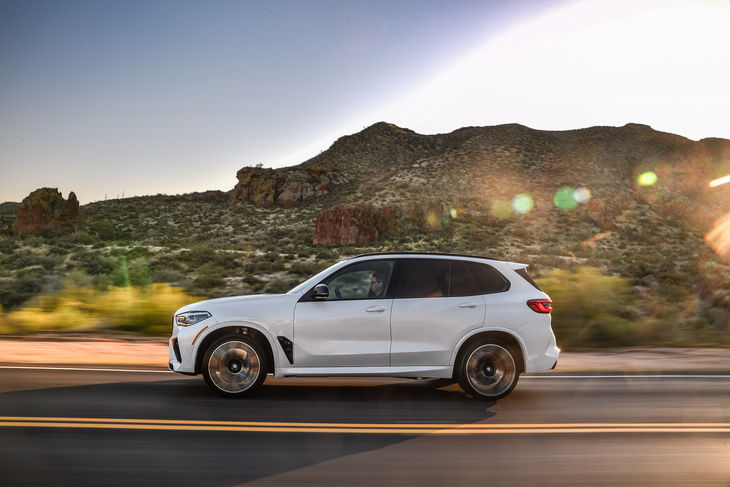 Brutish SUVs with wild performance stats have proved extremely popular, and profitable.
Clearly, then, there's a market for these wildly powerful SUVs... even if BMW seems to have taken the risky decision not to hybridise its entrant in any way, shape or form. When Porsche offers a full-blown plug-in hybrid variant of its Cayenne Turbo and when the incoming Merc-AMG GLEs are all EQ-Boost-ed with electrification and when the RS Q8 proudly wears the words 'MHEV' on its sleeve, BMW's X5 M is steadfastly petrol-only. It's a mightily impressive petrol engine, that's for certain, but being a petrol-only might count against it in the increasingly eco-conscious years to come.
In other markets in the world, there will be the chance to buy softer-riding, less-aggressive-looking 441 kW "regular" versions of this X5 M and its sister X6 M (yep, there's one of those too), but South Africa will exclusively get the 460 kW Competition versions of the muscular M cars. They feature lots of black detailing on the outside, such as for the double-vaned kidney grilles, all the visible model badging, the aerodynamic door mirrors, the roof rails, the window surrounds and, if you like, the massive 21-inch front, 22-inch rear alloy wheels. The X5 M also has a "3-dimensional" front air dam (it means in terms of its sculpting, somehow), quad exhausts, a rear diffuser and a roof-mounted tailgate spoiler.
Inside are some tasty-looking and comfy-to-use M sport seats with integrated head restraints and a honeycomb-pattern for the stitching, an M steering wheel with a pair of red M1/M2 buttons and paddle shifts on it, the side-to-side M gear lever, bespoke displays for the Live Cockpit Professional digital cluster, an M Head-Up Display as standard and also lots of carbon-fibre trim, plus an "X5 M Competition" black badge on the lid for the cupholder area of the console.
Out on the road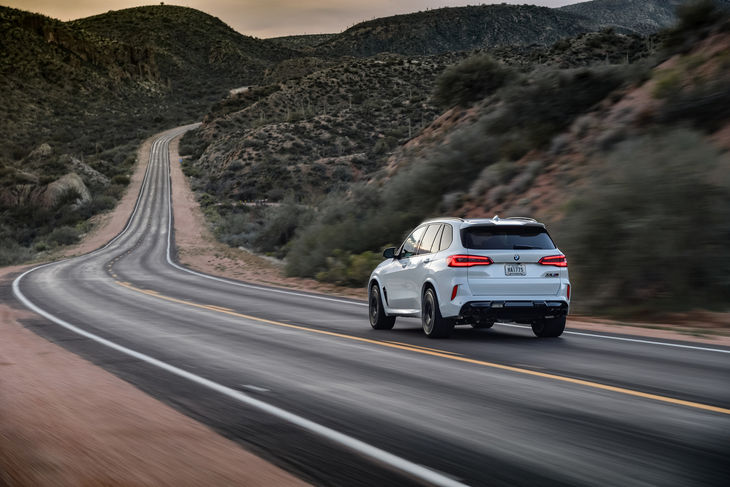 The X5 M is not BMW M's most involving M car to drive.
Let's cut to the chase, shall we – the X5 M is largely brilliant to drive, except in 3 key regards... One of these is a slightly lacklustre M Servotronic steering: it's not that the X5 M Competition has a bad set-up, but it's not exactly communicative nor particularly pleasantly weighted. It's okay, it is what it is. The 2nd issue is that the newcomer is not the most involving M car you'll ever drive, although that's not a surprise given its SUV leanings; and, as we shall come to see, it's about as entertaining as anything else in this rarefied class, so it's not a major flaw.
However, by far the biggest bugbear is the criminally-firm ride quality. You don't need to travel very far in the X5 M Competition to know it will be a punishing daily driver. There's an underlying shimmy of sport-focused suspension at all times, making for a notably poor low-speed ride, and while the damping starts to come into its own at higher speeds (as seems to be the way with all modern fast metal), it never approaches a level we'd call "tolerable".
And before you think we've gone soft in old age, know that all of the Porsche Cayenne Turbo/S E-Hybrid, the Audi RS Q8 and the Range Rover Sport SVR ride better than this, and there's every likelihood the forthcoming Mercedes-AMG GLE 63s will as well, given the old model, with its adaptive air (Airmatic) suspension, was notably nicer to travel in than the previous X5 M.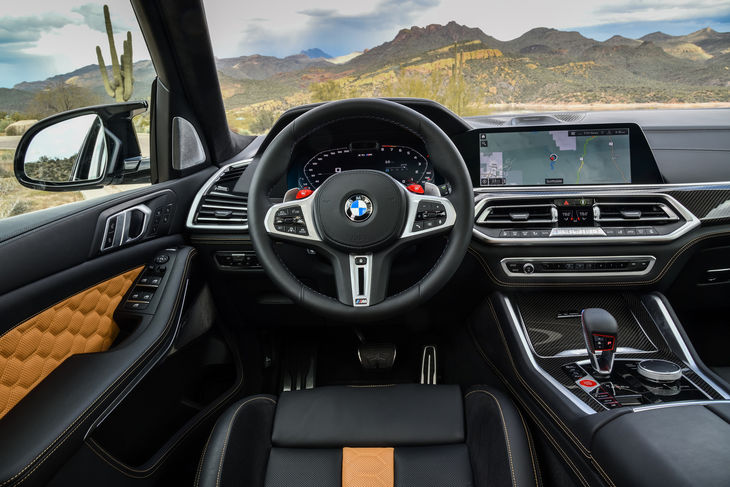 The red buttons are programable so you can store your favourite drive modes for instant access.
The X5 M's brittle ride quality can be attributed to the fact that the newcomer sits on M adaptive suspension with electronically controlled dampers; there are no air springs here. The pay-off for this is something you used to always expect with a BMW, albeit it's not a factor that always holds true in recent years, and it's this: aside from the aforementioned Cayenne, when the roads get challenging, this is the best, big, fast SUV you can buy.
While it corners a little more steadfastly than we'd like, thanks to its permanent 4WD, it is nevertheless genuinely entertaining to get the X5 M stoked up on the right roads, because it can change direction quickly and tackle cresting turns with just as much decorum as it can thunder through well-sighted, open bends at frankly insane speeds. The body control is absolute, the grip levels on the 295/35 front, 315/30 rear Michelin Pilot Sport 5 tyres are immense, the traction advantages of the M xDrive and the Active M Differential cannot be ignored.
Suffice to say the X5 M Competition is devastatingly quick in the curves and even its brakes, 6-piston front callipers gripping 395 mm discs up front and 380 mm discs in single-piston floating callipers rear, do an admirable job of reliably and powerfully reining in 2.4 tonnes of hard-charging Bavarian beef time and time and time again.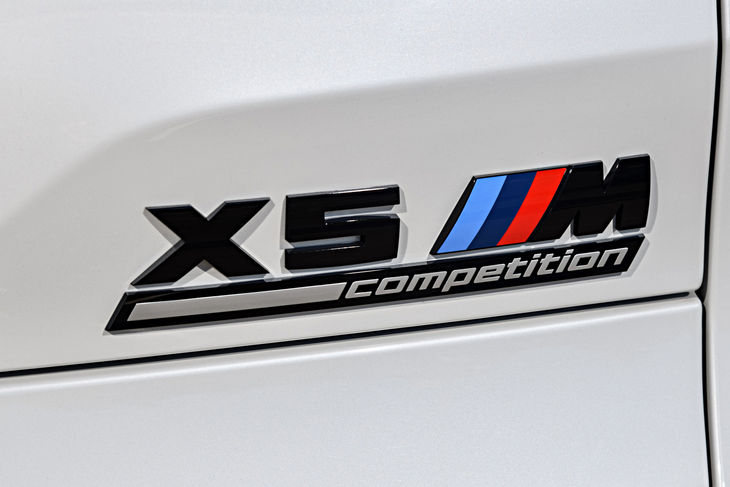 Competition models are easily spotted by their black badging.
Also, the performance of this magnificent, magnificent drivetrain is unimpeachable. It is a belting engine, hooked up to a majestic transmission, driving through a 4-wheel-drive system that never gets flustered in the slightest as it attempts to corral 750 Nm coursing through its mechanicals. The performance results are as startling as you'd expect: any gear, all revs, tap on the throttle and the X5 M surges for the horizon with an eagerness that's most delightful.
What's more, it sounds better than a regular M5 with the same engine, thanks to the sports exhaust playing some great notes, but for all its monumental pace and terrific road-holding, the X5's kerb weight and its jarring ride quality always make you idly wonder. . . what if BMW just did the decent thing and made an M5 Touring instead? Hmm.
Verdict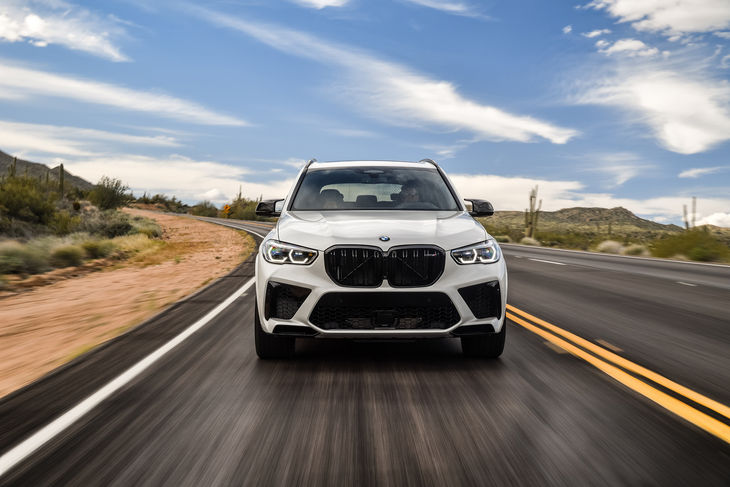 For big, outlandish SUV fans, the X5 M will deliver all the thrills expected.
In terms of its dynamic talents on a challenging road, the outrageous BMW X5 M Competition is easily the finest rapid SUV the German company has produced – and it's one of the most engaging machines of its type from any carmaker that is currently on sale. However, it's incredibly expensive, it doesn't ride with good grace and as good as it is for an SUV, it's by no means the best M car you'll ever experience. If you've been waiting patiently for the 3rd iteration of the X5 M and you've got a hardy constitution, then this Competition is undoubtedly going to wow you with its qualities. For everyone else, it will seem like a lot of very good hardware that might have been better off employed elsewhere.
Related content:
BMW X5 xDrive30d xLine (2019) Review
New BMW X5 M50d Review - Quad Turbo Monster?
BMW X5 xDrive30d vs Mercedes-Benz GLE 400d (2019) Comparative Review [w/Video]