The Alfa Romeo Giulia business class sedan is scheduled to arrive in South Africa in January 2017. It will be headed up by two versions of the BMW M3-rivalling Quadrifoglio derivative: the Launch Edition (R1.4 million) and Race Edition (R1.6 million). Right-hand-drive markets (such as ours) will only get the Quadrifoglio in automatic guise. However, our UK correspondent says that's not a bad thing... the self-shifting twin-turbo 2.9-litre V6 asphalt shredder is well worth the wait...
By Matt Robinson
Perched atop of the Alfa Romeo Giulia tree is a model that has more than twice the power of the model below it and it's called the Quadrifoglio. With a twin-turbocharged V6 engine of epic output, a 307 kph top speed and a sub-4-second 0-100 kph sprint time, this Italian sedan wades straight into battle with the BMW M3 and the Mercedes-AMG C63 S and it's not all about headline statistics, as the Alfa has a sparkling chassis to go with its firepower.
Alfa Romeo is no longer in the doldrums. Fiat Chrysler Automotive (FCA) chief Sergio Marchionne gave the Milanese marque R71 billion to jump-start the Cuore Sportivo, ordering it to look back to its heritage of building sports sedans and hugely desirable cars. Therefore, 8 models will be built on an all-new platform and all of them will be rear- or four-wheel drive. First up, though, is a BMW 3 Series-rivalling saloon called the Giulia - a nameplate from Alfa's 1960s and '70s glory years. The thing is, if you're going to rival the 3 Series, then you've got to match the BMW's range from top to bottom.

Alfa Romeo's long-awaited return to a rear-wheel-drive platform will undoubtedly be welcomed by track enthusiasts.
Awash with carbon fibre
To that end, the Giulia is Alfa Romeo's take on how you do a compact super-sedan, otherwise known as an "M3/C63/RS4 rival". The 1 650 kg Quadrifoglio features more carbon fibre in its construction than the regular Giulia, with the bonnet, roof, active aero front splitter, boot spoiler, rear diffuser and side skirt extensions forged in the lightweight material.

In addition to this, a whole host of technological chassis aids including torque vectoring for the rear differential, DNA Pro offers selectiable drive modes (with an extra "Race" setting for maximum noise and electronics-off track driving) and active dampers with different rates of response.

The brakes can bring the Quadrifoglio from 100 kph to a dead stop in 32 meters and Alfa's Chassis Domain Control (CDC), which basically controls all the electronics mentioned above to automatically keep the Giulia Quadrifoglio in the best fighting condition possible (given the driving environment).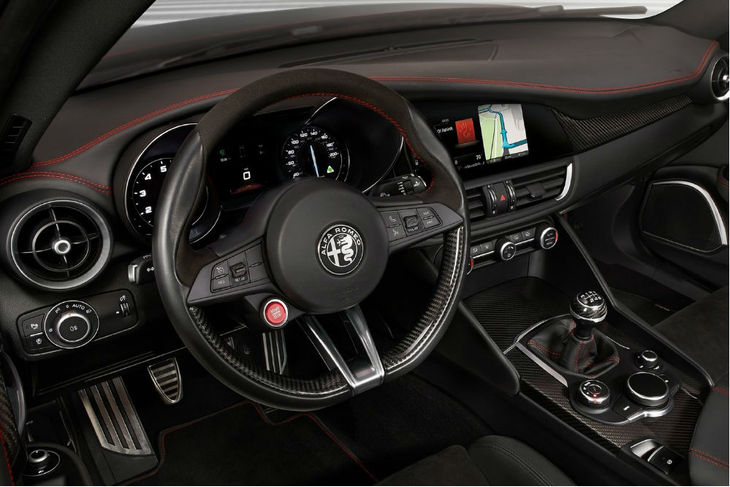 The Quadrifoglio's interior is overtly sporty, replete with a motorsport-inspired steering wheel and swathes of carbon fibre.
Inside you will find leather and Alcantara sports seats, large metal shift paddles on the steering column to actuate manual shift on the 8-speed ZF transmission, lots of carbon fibre trim and a speedometer that reads to at least 320 kph.
The Quadrifoglio doesn't have to adhere to a speed limiter and is said to be capable of 307 kph flat out. That makes it the fastest and most powerful Alfa Romeo ever built. Which is good timing for a brand that's trying to upset the German apple cart, isn't it?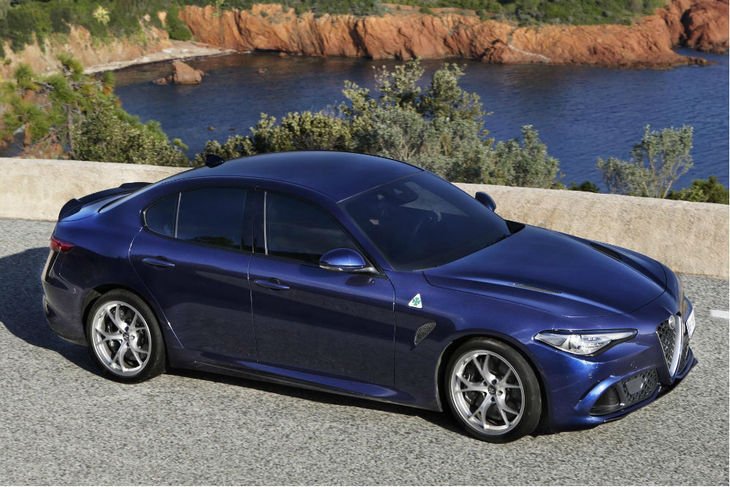 There is a plethora of aerodynamic addenda, but it does not detract from the elegance of the Giulia's contours
Beautiful, despite all the purposeful adornments
Before getting behind the wheel of the Giulia Quadrifoglio (no longer called a Quadrifoglio Verde, so no QV abbreviation, although the same green cloverleaf can be seen on the Alfa's front wings found on the MiTo and Giulietta QVs of the 'old' era), it's fair to say that turning it into a multiple-exhaust-toting super-sedan has not harmed the looks of this elegant Italian four-door. Alfa is to be commended for striking just the right subtly aggressive aesthetic tone on the outside and while the interior is not quite up to class-leading standards, it remains highly appealing in Quadrifoglio specification.

However, we've had plenty of handsome-but-dynamically-duff Alfa Romeos in recent decades, so it's not what the hottest Giulia looks like, but how it goes that matters. And things don't start well. We're only given access to this 380 kW/600 Nm beast on FCA's Balocco test track. With a 2.9-litre biturbo V6, which is said to be an abbreviated version of the Ferrari 488 GTB's motor) up front and drive going to the rear, what you don't want is duck-drowning levels of rain.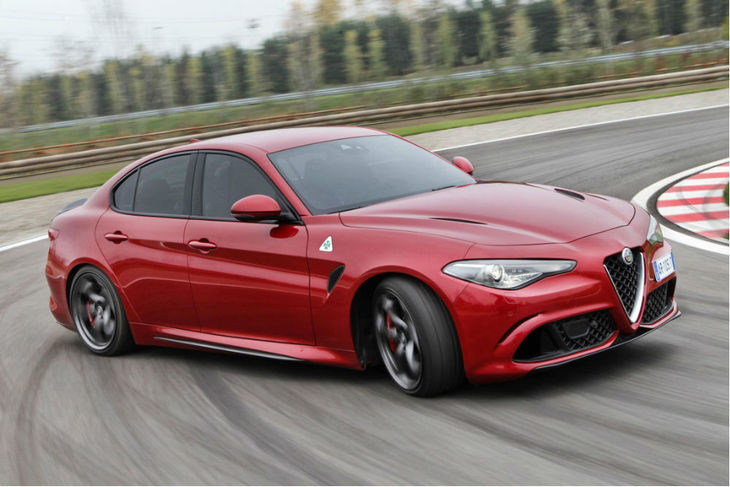 The flagship Giulia's not averse to getting its slide on, but the manual version's not as satisfying to pilot, sadly
An inauspicious start...
And so, as we edge out onto a semi-flooded track, sitting in the passenger seat with an Alfa test driver behind the wheel, we're silently praying that Alfa's engineers have got the chassis right. Sadly, in Dynamic mode (with traction control engaged), what ensues is a nervy, fidgety, downright twitchy lap of the sodden track in which the Italian behind the wheel is grappling with understeer, then snap oversteer, then loss of traction, then squirming under braking...
Oh lord, could we be witnessing the death throes of Alfa Romeo here?

Back in the garage, after a wholly unimpressive display, we're told that unless the weather plays ball, then we won't get behind the wheel at all. With some relief, the clouds part and we're bundled into a manual Quadrifoglio. This seems a little pointless, as all right-hand drive Giulias will be automatics, and while the car is now finding some mechanical grip and proving to be more stable than we first anticipated, we're still not blown away.

The cumbersome six-speed manual gearbox, controlled by a lever topped with a ridiculously large knob (sorry for the innuendo, but there it is), doesn't seem well-suited to the 3.0-litre engine in the slightest – despite a fairly nifty "flat-upshifting" feature in Race mode and some tidy rev-matching on downshifts – and we find ourselves apathetic about the lack of a clutch pedal on right-hand drive cars. It also doesn't feel as quick as 380 kW should, nor does it sound great, although to be fair we're probably focusing more on getting to grips with the transmission during this drive.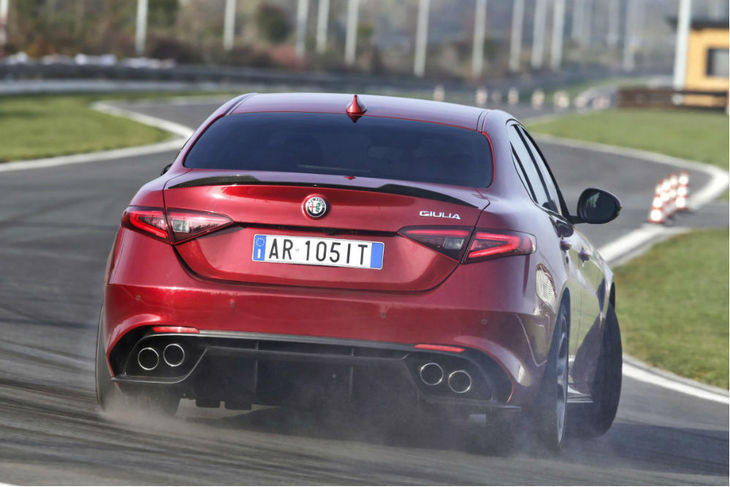 When the Balocco circuit dried out, the Quadrifoglio's true talents came to the fore...
Suddenly, the Quadrifoglio shines
By mid-afternoon, we're not mentally signing up to buy the Giulia Quadrifoglio. In truth, we're gritting our teeth and preparing to write another 'false dawn for Alfa' piece. And then we finally clamber into an automatic "Cloverleaf", with no Alfa Romeo representative in the car with us. With the sun out and Balocco's circuit bone dry, save for one rivulet running transversely across the track at the braking/turn-in point for a 2nd-gear left-hander. It's perhaps unwise to unequivocally make judgement on a car based on one lap; it's also odd that 2 bad laps can be so easily wiped out by one stunning circuit.
Suddenly, the Quadrifoglio shines! Save for slightly-too-numb, but extremely accurate steering, there's very little to fault about the Giulia. Its body control is second to none and it allows the car to make flawless, high-speed direction changes at will in the dry. Any understeer evident in the wet was entirely absent in the warmer afternoon. While there's obviously enough thump in the drivetrain to steer the back of the car with the throttle in tighter corners; slides, when they come, are progressive and easily controlled.

The 8-speed transmission absolutely transforms the drivetrain, because it's lightning quick in its responses and its closely spaced ratios are perfectly matched to the engine's characteristics. Now the Alfa feels really quick, hauling up to 200 kph with furious disdain and playing an interesting tune. It's not a great tune, not up there with some of the finest Alfa V6 voices of days gone by and not close to that ludicrous 4.0-litre V8 in the Mercedes-AMG C63, but certainly more interesting to listen to than the BMW M3.
Our minor gripe here is that it sounds better outside the car than it does within. Other than that, though, the Alfa proved to be sensationally good.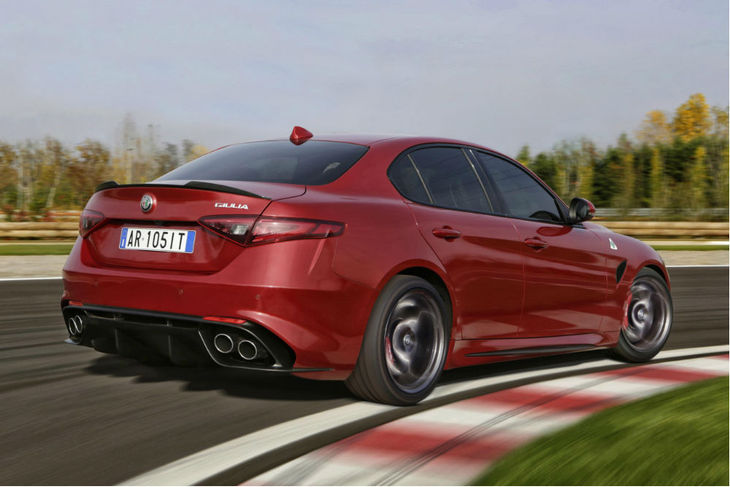 Given what the Quadrifoglio is up against, it makes a remarkable first impression.
Summary
I can't wait for the opportunity to pilot the Quadrifoglio out on the roads, because I think I'd come to utterly adore this rapid sedan. The Alfa Romeo Giulia Quadrifoglio might have way too many syllables in its name for its own good and it's too early to say what it's going to be like on poorer road surfaces, but we're confident it's not going to turn into a total lemon when it arrives in right-hand-drive markets, including South Africa.

As a result, what we have here is a supremely confident super-sedan that, without any predecessor to fall back on (there was no GTA version of the 159), has leapt straight into the thick of the action with the German marques that have been doing this sort of thing for years. With a little more noise, more feel in the steering and more interior pizzazz, we might have considered the Quadrifoglio as class-leading – and when you realise it's up against that aforementioned C63 from Mercedes-AMG, you understand just what a spectacular and unexpected rabbit Alfa has pulled from its hat.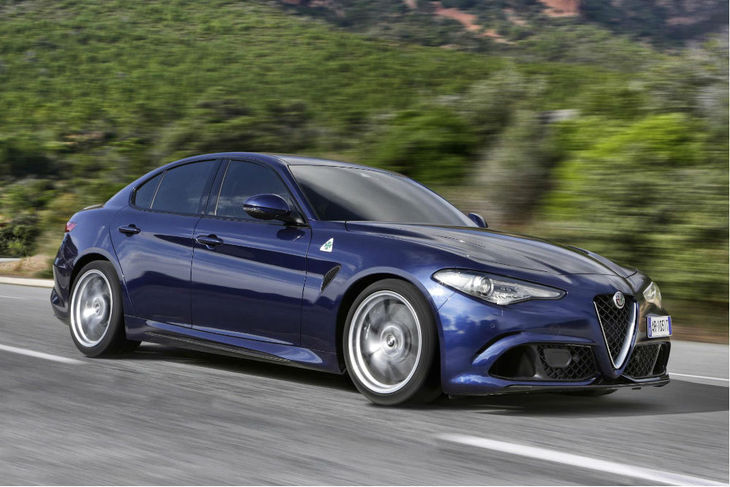 Such is the significance of the Giulia Quadrifoglio: it is "a must" for the South African market, says FCA.
Alfa Romeo Giulia Quadrifoglio specifications in South Africa
Fiat Group Automobiles SA recently confirmed that the first Alfa Romeo Giulia QV customer cars will land in South Africa during January 2017.
The Quadrifoglio Launch Edition (automatic) will cost R1.4 million (which should include a maintenance plan) and will be specified with, inter alia, red (or yellow) brake calipers, QV Tecnico 19-inch alloy wheels, a carbonfibre-trimmed QV steering wheel, Sparco seats, a Harman Kardon audio system, a Uconnect Touch navigation system with DAB, adaptive cruise control, Convenience Pack (including puddle lamps and keyless entry), Ambient Light Pack, tinted rear windows, smoking kit and a choice of pastel or metallic exterior finishes.
The top-of-the-range Quadrifoglio Race Edition (automatic) will cost R1.6 million. Over and above the specification of the Launch edition, the Race version has ventilated ceramic brake discs with red calipers, QV Stile Dark 19-inch alloy wheels, a tri-coat paint finish plus a unique-to-South Africa cabin plate
As for the other derivatives in the range, the final line-up has yet to be finalised, said Shane Howarth, the head of marketing communications at Fiat Group Automobiles South Africa.
"The new Giulia features outstanding weight distribution, a suspension system that features the exclusive AlfaLink technology and the most direct steering in its segment. In addition to all-aluminium 4-cylinder drive trains that embody the very best in the Group's motoring technology, Giulia derivatives incorporate various ultralight materials, like carbon fibre, aluminium, aluminium composite and plastic, to obtain excellent weight-to-power ratios," Howarth said.
"Pricing has not been confirmed yet. The range includes 3 trim levels (Giulia, Super and Quadrifoglio) and we are still confirming which trim levels (and specifications) we will bring in, however," he added.
The Alfa Romeo Giulia Quadrifoglio recently broke the new Porsche Panamera's Nurburgring lap record for a production sedan. Watch the video:
See also:
Alfa Romeo Giulia (2016) Officially Revealed
Interested in buying a second-hand Alfa Romeo?