While we eagerly await the international reveal of an all-new Opel Corsa, the Rüsselsheim-based manufacturer has introduced the Corsa 120Y Special Edition to South Africa in celebration of 120 years in the car business. With the current Corsa now in the twilight of its model life, is the "120Y" still worthy of your consideration? Let's find out…
We like: Good engine, punchy performance, ride and handling
We don't like: Ageing cabin design, limited load space, not much "special" about this "special edition"
Fast Facts
Price: R259 900
Engine: 1.0-litre, 3-cylinder turbopetrol
Power/Torque: 66 kW/170 Nm
Gearbox: 6-speed manual
Fuel Economy: 4.6 L/100 km
Own an Opel? Tell us about your experience here.
SERIOUS ABOUT BUYING?
Check out full specification details and finance estimates here.
Some Opel dealers regularly offer specials: Have a look here.
What is it?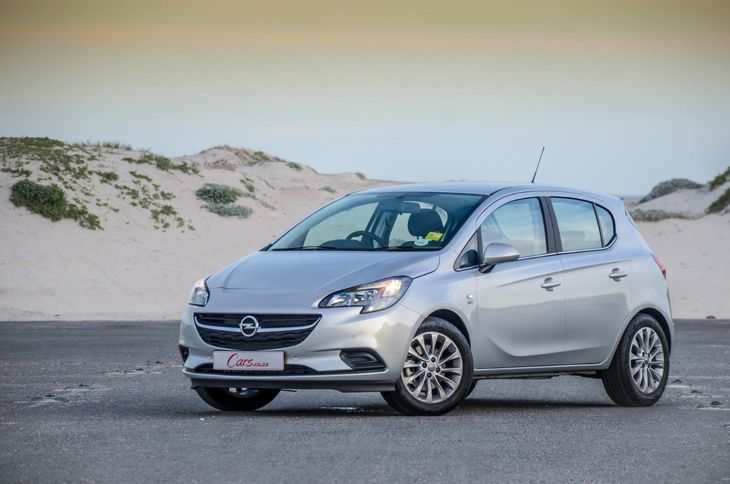 From a visual point of view, the Corsa 120Y special edition is hardly different from the standard Corsa 1.0T Enjoy.
The current generation Corsa has been around since 2014 and this special-edition Corsa derivative is based on the 2016/17 #CarsAwards Compact Hatchback category winner: the Opel Corsa 1.0T Enjoy, which, by all accounts, is still a competent contender in the compact hatchback segment.
However, Opel's compact hatchback is ageing. Now that rival brands Ford and Volkswagen have welcomed the all-new Fiesta and Polo to market with success, much will be expected of the all-new Corsa (essentially a cousin to the new Peugeot 208) upon its European reveal later this year.
Nonetheless, a model range often represents the best value for money (as a new vehicle purchase) when its manufacturer beefs up the package as part of a sales stimulus during the runout-phase of the product's lifecycle. Is the 1.0T Enjoy 120Y Special Edition a good example of this? Read on.
What makes it special?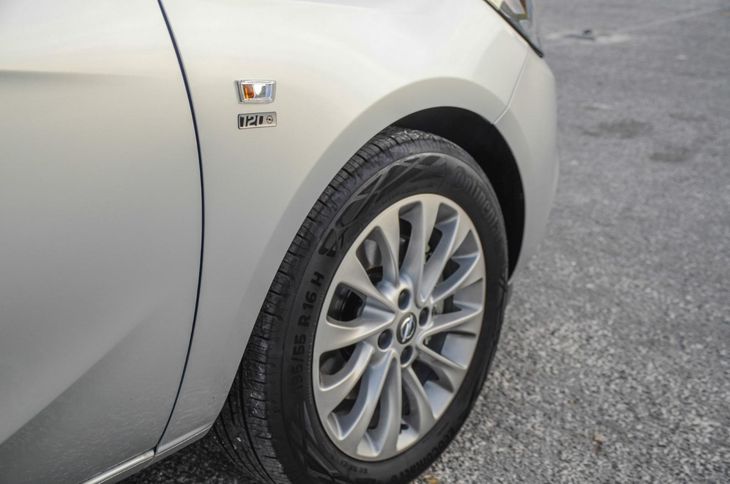 A 120 badge is one of few signifiers seen on this Corsa special edition...
Truth be told, not much. For the most part, this Corsa looks near-identical to the 1.0T Enjoy. Its exterior is adorned with 16-inch gunmetal alloy wheels and "120Y" badges are located below the indicators on the front fenders. If you're not paying close attention, you may miss those details.
The interior benefits from "Allure" cloth trim, 120Y-embroidered floor mats and Opel sill plates, while the most useful additions, specification-wise, are front and rear park distance control sensors coupled with a reverse-view camera, which make it easier to park the Corsa in confined spaces.
How does it fair in terms of...
Performance, handling and efficiency?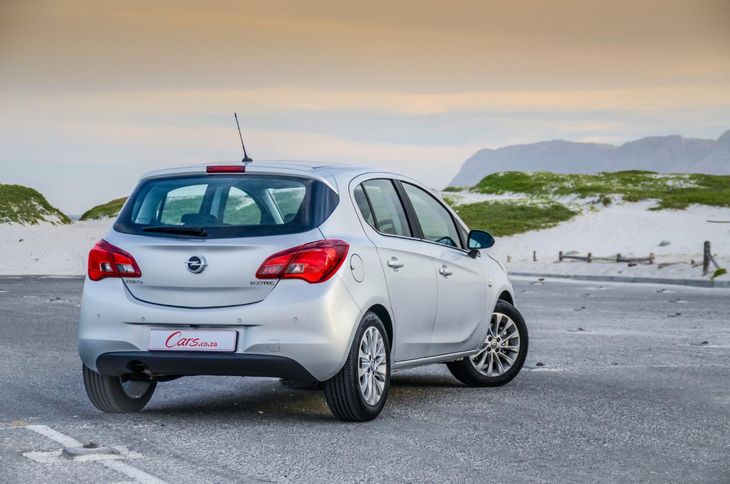 Despite its age, the Corsa still delivers punchy performance and agile handling.
Sadly there are no power upgrades for this 120Y Special Edition and so the newcomer makes do with a familiar 3-cylinder, 1.0-litre turbopetrol engine that develops 66 kW and 170 Nm of torque and is mated with a 6-speed manual transmission that drives the front wheels.
While those numbers are unremarkable, this Corsa delivers perky performance and thanks to its relatively low kerb weight of 1 220 kg, it feels sprightly on its rubber and gets along at an acceptable pace. Thanks to a well calibrated 6-speed box, mid-range acceleration is strong. Provided you keep the engine on the boil and in the right gear, the Corsa can easily overtake traffic and sits comfortably at the national highway limit.
What's more, it's nimble and well-planted when you hustle it through corners. The steering is direct and reasonably communicative and you get the sense that the Corsa wants to be driven with a bit more zeal – with familiarisation, it can be quite punchy and fun to drive, which we like.
Opel claims an attractive average fuel consumption figure of 4.6 L/100 km, but we were a bit disappointed to see returns of between 7.7 and 8.1 L/100 km during our test period. It's not the first small-capacity turbo engine to sip more fuel than we expected it would, we hasten to add...
Interior execution and practicality?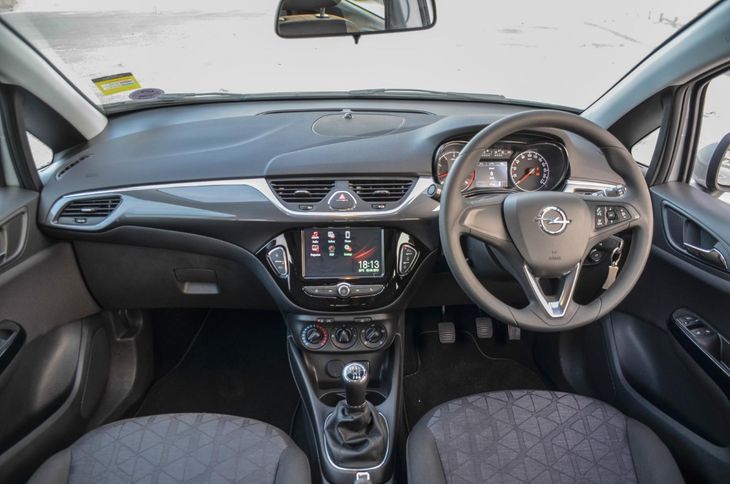 The Corsa 120Y's cabin is basic, but it does offer Apple CarPlay and Android Auto compatibility.
The Corsa's cabin design is starting to show its age. Perceived build quality is average to good (of course, depending on your expectations) and while the piano gloss surfaces arguably give the cabin a more upmarket look, they do attract grubby marks and will require regular wipe-downs.
By contemporary standards, the ventilation and temperature console looks very humdrum. Also, the 7-inch infotainment system is placed a bit too low for our liking and can be distracting to use because you constantly have to take your eyes off the road to glance down, which is not ideal. Plus points are the multifunction steering wheel, Bluetooth connectivity, Apple Carplay and Android Auto compatibility and a single USB socket.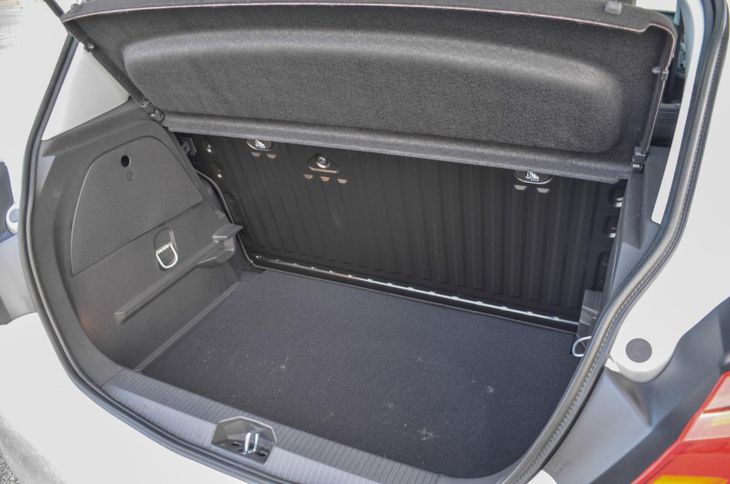 The Corsa performs poorly in terms of overall practicality with a smallish load bay and a single-piece rear bench.
Average-sized rear passengers will find marginal comfort on the rear bench, while taller passengers are likely to run out of leg and headroom. The Corsa's load bay is on the smallish side (265 litres), which doesn't compare favourably with the Polo (350 litres) or Fiesta (303 litres). The back of the rear bench has an exposed steel finish that may attract unsightly scuffs and/or scratches over time and the seatback doesn't split either (it used to), which means it folds down in a single piece to free up 1 120 litres of utility space. A pronounced seat lip will also hamper loading certain items.
Pricing and warranty
The Opel Corsa 120Y Special Edition is priced at R259 900 and is sold with a 3-year/120 000 km warranty and 3-year/60 000km service plan.
Verdict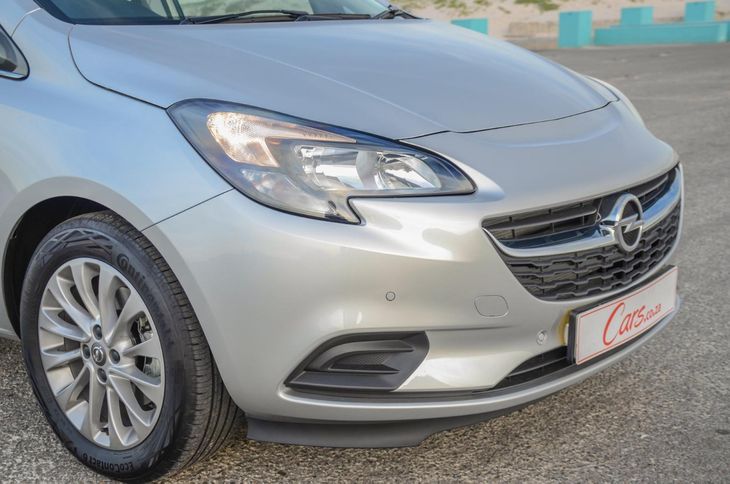 With newer and better-equipped rivals on offer, the Corsa 120Y is currently outgunned in the compact hatchback segment.
This special edition Corsa wasn't as special as we'd hoped it would be and we think Opel could have done a bit more in the way of features and styling to make it a more compelling proposition for buyers.
Nonetheless, the Opel still offers good performance and handling ability despite its advancing years. Its leading rivals may be a few steps ahead in terms of styling, interior execution (design and, in some aspects, equipment), spaciousness and practicality, but the Corsa is comparatively well-priced and -specced compared with newer rivals, which makes it worthy of consideration if you're not shopping for a mid-spec compact hatch.
However, we do feel that the case for the Corsa 120Y Special Edition just isn't quite strong enough, especially when other older offerings such as the Renault Clio and even the Mazda2 offer more value in terms of features for about the same money. The game appears to have moved too far and perhaps the new Corsa will turn the tables in Opel's favour when it arrives in South Africa in the not-too-distant future. Let's wait and see.
Don't agree with our verdict? Share your thoughts with us in the comments below…
Looking to buy a new/used Opel Corsa?
Find one on Cars.co.za by clicking here.
Alternatives (Click on the names for specification details)
Volkswagen Polo 1.0TSI Comfortline
For roughly R21 000 more, you can step into the new Polo Comfortline which is more spacious and offers better performance from its 70 kW/175 Nm 1.0-litre turbopetrol engine. It is similarly specced but front and rear PDC and rear camera are optional (as are many other features). Cabin execution is bang up-to-date too. The Polo Comfortline is priced from R281 100.
The Ford Fiesta is a solid alternative and offers noteworthy performance 74 kW and 170 Nm of torque from its 1.0-litre turbopetrol engine. In Trend specification, it offers similar features to the Corsa 120Y (minus front PDC and rear camera) but the interior build quality is superior and Ford's SYNC3 infotainment system is very good. The Fiesta 1.0T Trend is priced from R273 700.
Renault Clio 66 kW Turbo Dynamique
For exactly the same money (R259 900), you can step into the Renault Clio Dynamique which offers 66 kW and 140 Nm from its 0.9-litre turbopetrol engine. It might not match the Corsa's performance, but the Clio makes up for the shortfall by offering a whack more value with features such as a longer warranty (5-years/150 000km), navigation, electric mirrors, automatic LED headlights with LED daytime running lights, cruise control, keyless entry and partial cloth/leather upholstery.
Related Content
Opel Introduces Limited-Edition Corsa 120 Years
Opel Corsa GSi (2019) Specs & Price
Opel Corsa 1.4 Turbo Sport (2018) Quick Review
Opel Corsa 1.0T Enjoy (2015) Review