The 208 isn't a strong seller in the compact hatchback segment, but Peugeot recently introduced a stylishly revised, range-topping GT-Line derivative to bolster the range. We tested the newcomer to see if it is worthy of your attention.
We Like: Comfort, perky performance, sporty styling, practicality
We Don't Like: Pricey, dated infotainment system
Alternatives
The current star: Consider the new Volkswagen Polo 1.0 TSI Highline manual priced at R286 000. Yes, it is R16 300 more expensive than the Peugeot 208 GT-Line, but the Polo is more refined and its build quality is excellent. The Polo offers competitive outputs of 85 kW and 200 Nm from its turbocharged 1.0-litre engine. The Polo is also likely to hold its value for longer than the 208, which means you should take less of a financial knock when the time comes to trade it in or sell it on.
For high value: Consider the Renault Clio 88 kW Turbo GT-Line priced at R269 900. It makes a sporty style statement and offers similar outputs of 88 kW and 205 Nm from its 1.2-litre turbopetrol engine. The Clio is also well-specced with features, making it a high-value offering in this segment.
Compare the Peugeot 208 GT-Line with the Volkswagen Polo 1.0 TSI Highline and Renault Clio 88 kW Turbo GT-Line
Also consider: Toyota Yaris 1.5 S, Mazda2 1.5 Individual, Hyundai i20 1.4 Fluid and Kia Rio 1.4 Tec.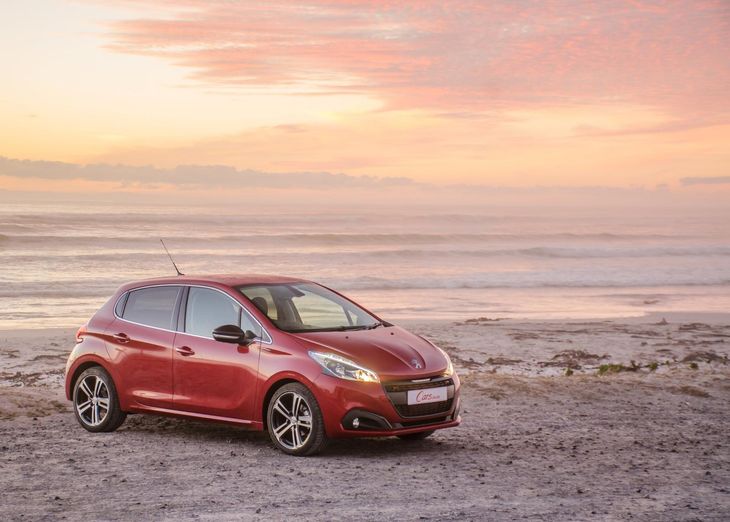 The 208 GT-Line still has much to offer despite its age and will suit style-conscious buyers to the tee.
Facts & Figures
Price: R269 900 (April 2018)
Engine: 1.2-litre, 3-cylinder petrol
Transmission: 5-speed manual
Power: 81 kW
Torque: 205 Nm
Fuel consumption: 5.7 L/100 km (claimed)
0-100 kph: 9.6 seconds
Top speed: 190 kph (claimed)
What is it?
The Peugeot 208, which received a facelift back in 2015, has struggled to gain traction in the compact hatchback segment of the South African new vehicle market and with products such as the new Volkswagen Polo hogging the limelight and the new Ford Fiesta due for release soon, the 208 has some convincing to do to find favour with buyers. This 208 rides on the ageing PF1 platform, but when the all-new 208 rolls around in 2019, it will be based on the new Common Modular Platform (CMP) and it's expected to be larger, lighter and more capable than this model.
The Good
Stylish looks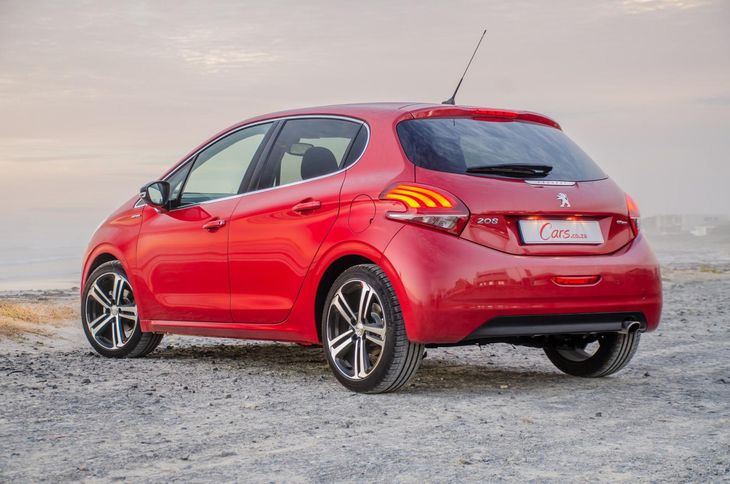 LED Claw taillights give the 208 GT-Line a distinct look from the rear. 17-inch alloy wheels are standard.
It's surprising how a smattering of chrome and a new front bumper can revitalise the look of a car. The GT-Line derivative has a bit more visual flair than other 208 derivatives thanks to its wider grille, flanked with new headlights. The grille itself is unique to the GT-Line and features eye-catching touches such as red details and a gloss black finish. The side mirrors are also painted black for added contrast and the rear is unmistakable with those eye-catching LED "claw" tail lights. The look of this 208 GT-Line is topped off with 17-inch Caesium alloy wheels.
Admittedly, the 208 GT-Line's styling won't appeal to everyone, but we think that its distinctive looks will appeal to young urbanites who are looking to buy daily runabouts with surfeit visual appeal. In the looks department then, the 208 GT-Line is a suitably stylish offering...
Performance and ride quality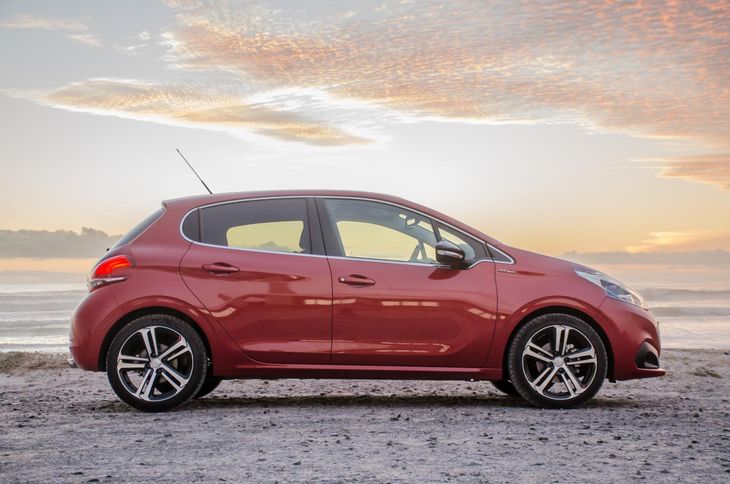 Perky performance and sure-footed handling make the 208 GT-Line fun to drive on the daily commute.
The 208 GT-Line offers above-average performance: its 81 kW 1.2-litre turbopetrol engine is reasonably refined and its relatively generous torque figure of 205 Nm not only provides ample shove in cut-and-thrust driving conditions, it makes the 208 feel more lively than we expected.
The Peugeot is equally eager on freeways, where quick, punchy overtakes are easily achievable. You can, however, expect a fair degree of initial turbo lag when you mash the pedal to the floor. We found the 5-speed manual transmission to have a positive action through the gears.
In terms of fuel consumption, Peugeot claims 5.7 L/100km; we averaged an indicated 7.3 L/100 km during our test, which is quite fair.
Meanwhile, the 208's ride quality is quite forgiving, yet it's still firm enough to make the hatchback feel engaging. It corners confidently and the small steering wheel oddly instils the impression of greater control, which boosts a driver's confidence. The 208 GT-Line has a fun side – we like that.
Interior comfort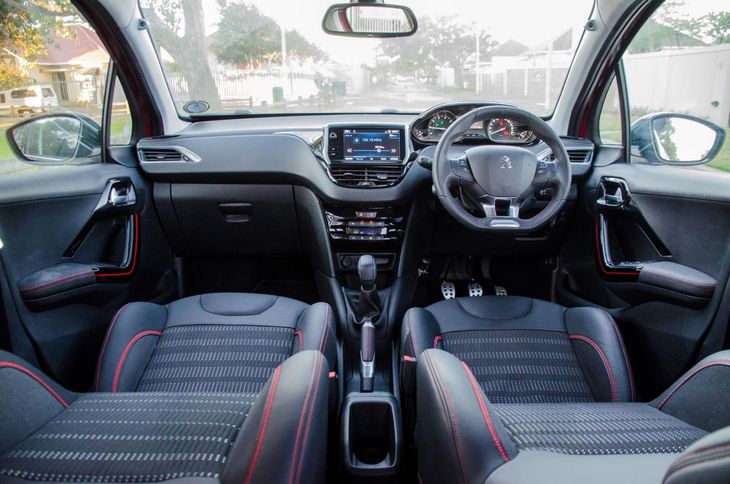 The cabin design is sporty and modern and the sports seats provide high levels of comfort.
The sporty theme continues on the inside, where we found the partial leather and cloth GT Line sports seats comfortable with generous bolstering for added lateral support. Both the driver and passenger seats are height-adjustable. The 'wheel has mounted audio and Bluetooth controls and can be adjusted for rake and reach. However, depending on your height and seating position, the rim can block your view of the instrument cluster.

Some useful standard features include automatic dual-zone aircon, cruise control, electric windows and mirrors and rain-sensing wipers. The perceived build quality of the interior is average to good, but some less-premium plastic trim elements (gloss black door handles for example) detract from the overall premium look and feel of the cabin.
Practicality and safety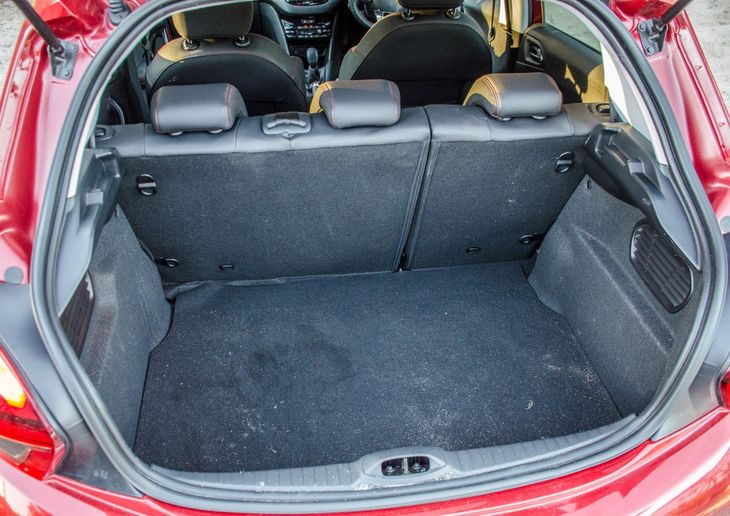 The luggage bay is sizable, but not class leading (parcel shelf removed). It offers 311 litres and the rear seatback splits 60/40.
The 208 GT-Line fares reasonably well in terms of practicality and offers a sizable luggage bay (311 litres), but it can't quite match the new VW Polo's 350 litres. The rear seatback splits 60/40 and, when its folded down, a claimed 1 152 litres of utility space becomes available. Note, however, that the rear seats don't fold completely flat. We also found that the carpeting in the load bay was poorly finished, which was a disappointment...
Space for rear passengers is adequate and 2 average-sized adults should be reasonably comfortable in the back, provided that front occupants are willing to sacrifice a little legroom. There are bottle holders in all the door mouldings and the driver and front passenger have access to cupholders.

The safety specification offered on the 208 GT-Line is reasonable and includes 6 airbags, ABS with EBD, brake assist and stability control with traction control. Isofix child seat anchors are also standard.
The Bad
Slow, clunky infotainment system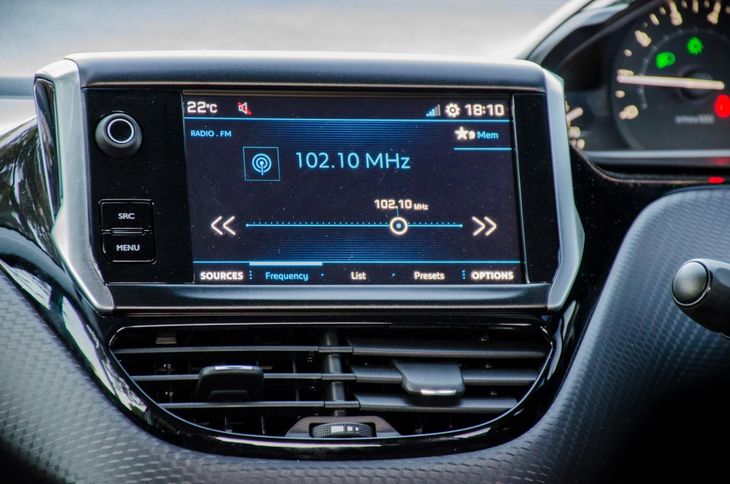 The 7-inch infotainment touchscreen feels in need of an upgrade, even though it offers basic features and MirrorLink/CarPlay.

The 7-inch touchscreen infotainment system appears a bit dated now (compared with rival cars' slicker-looking and faster-responding units) and, in general, we found it clunky to operate – it could be more user-friendly. It was, however, easy to sync a smartphone via Bluetooth and the system offers MirrorLink for Android and Apple CarPlay. Devices can also be connected via USB. It works, as a basic system, but is showing its age.
Price and warranty
The Peugeot 208 GT-Line carries a price tag of R269 900. If you want the convenience of an automatic, the self-shifting derivative costs R279 900. A 3-year/100 000 km warranty and 3-year/45 000 km service plan are included in the purchase price.
Buy a new or used Peugeot 208 GT-Line on Cars.co.za
Verdict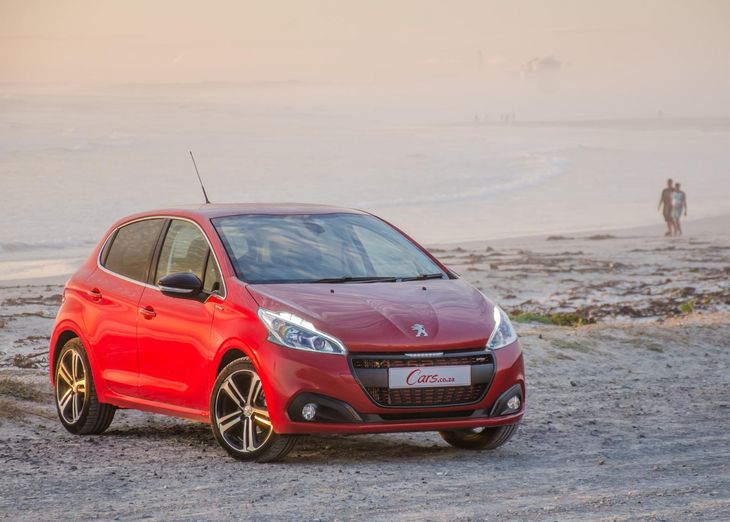 The ageing 208 is being overshadowed by newer products, with more contemporary technology. A new model is due in 2019.
Despite its age, the 208 GT-Line is still a stylish and fun-to-drive vehicle that offers good levels of practicality. It is more of an alternative-choice "boutique" compact hatchback – if that's what you are looking for, but although it's a competent performer, it can't match the ultimate refinement and perceived quality of the new Volkswagen Polo, which, at this price point, is also well worth considering. Buyers can also get more value-for-money by considering the Renault Clio GT-Line, which not only offers a dash more power, but is also comprehensively specified.
Ultimately, the 208 is reaching the end of its shelf life and no amount of chrome and beautification can hide that. As newer models come to market, it will be increasingly difficult for buyers to lay down the cash for an ageing product. The game is moving on and we can only hope that the arrival of the new 208 in 2019 will revive and improve upon a package that has yielded success for Peugeot in other markets. Style only takes you so far...
Related Content
Peugeot & Opel to assemble cars in Namibia
Most Fuel Efficient Budget Cars in SA
Peugeot 208 GT-Line (2018) Specs and Pricing
Peugeot 3008 (2017) Video Review