This is the all-new Audi A1, well, most of it. The images and details give us a good idea of what to expect from the new Audi A1, both inside and out.
The Audi A1 is the cheapest way to get into the Audi brand. Riding on the same platform which underpins the new Volkswagen Polo, the new Audi A1 is radically different in the visual stakes when compared to the outgoing model.
Physically, it's almost as high as the outgoing car but is 6 cm longer and 3 cm wider. The Audi engineers have worked their magic and the wheelbase is 9 cm longer, increasing the boot space and rear legroom. Audi claims the boot can hold 335 litres and when the seats are folded down, capacity is increased to 1 090 litres. Audi says there are new alloy wheel designs and these range from 15- to 18-inches in size.
Inside, fans will find a massive upgrade to the Audi A1 interior. The base-spec A1 features a large 10.25-inch digital dashboard and multifunction steering wheel. There are said to be three different interior trim lines available. Naturally, customers will be able to option their Audi A1 to the max with niceties like LED headlamps, S Line body kits, sportier seats, more potent audio systems and more safety spec. There's also plenty of customisation options and buyers will be able to order contrasting colours for the roof and mirrors.
In terms of engines, there will be many engines on offer, ranging from a 1.0-litre three-cylinder motor, a 1.5-litre four-cylinder engine, and a 2.0-litre four-cylinder powerplant. Outputs range from 70 kW to 147 kW, with the option of either a manual gearbox or seven-speed dual-clutch gearbox. There are also three different suspensions on offer, including a sports suspension and a sports suspension with adjustable damping.
We'll have more information and details on the 2019 Audi A1 soon. Audi South Africa confirmed that the new A1 is under consideration for the first quarter of 2019.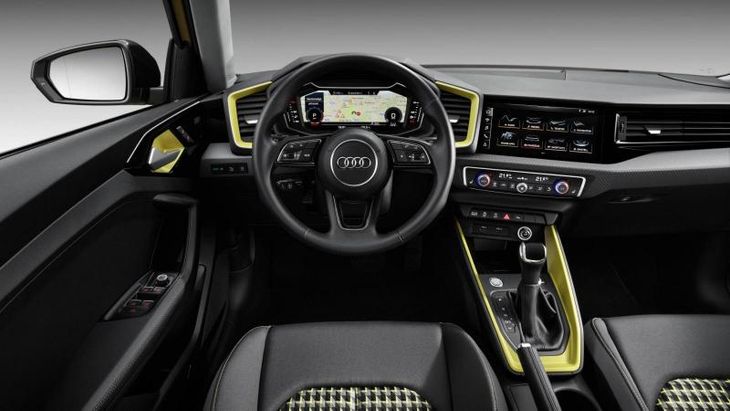 The cabin of the 2019 Audi A1 has matured nicely and looks very modern
Related Content
Most Fuel Efficient Budget Cars in SA
Fastest Accelerating Cars under R500k in SA (2018)
Audi A1 1.8T FSI (2015) Review
Want to buy an Audi A1?