Volkswagen's Golf 8 R has been revealed and while we are fairly confident the Wolfsburg-based firm will deliver in the performance department, we can't help but wonder what the R model will cost when it arrives in Mzansi...
Money is always a sensitive topic, but especially so these days – while the Covid-19 pandemic continues to wreak havoc on the economy, prices are being pushed up due to inflation and, by virtue of a weakening currency, new-car buyers have to fork out extra to secure the vehicles they want.
Perhaps one of the most highly-anticipated arrivals for 2021 will be the launch of the VW Golf 8 GTI early in 2021, which will serve to whet Volkswagen enthusiasts' appetites for the brand's range-topping Golf R, which will follow later. Local prices for both the Golf GTI and, of course, the yet-to-be-revealed Golf R remain a mystery at this point, but that doesn't mean we can't posture an opinion on the matter...
We have seen numerous spy images of a partially disguised Golf 8 R undergoing testing and now, finally, the Golf 8 R has been officially revealed.
The new Golf 8 R is the most powerful series-production Golf ever made, boasting an "Evo 4" 2.0-litre 4-cylinder turbopetrol that delivers no less than 235 kW and 420 Nm with a claimed zero to 100 kph sprint time of 4.7 seconds paired with a 7-speed dual-clutch transmission or 6-speed manual transmission (depending on the market) and making use of a revised Haldex-type all-wheel-drive system. And for the enthusiasts, the new Golf R also has an optional Drift Mode, if you must...
Now that we know what the Golf 8 R is packing under its bonnet, we are eager to see how Volkswagen will price its new range-topper on local soil.
Volkswagen's Golf 8 GTI will arrive in South Africa first in Q1 of 2021 and the brand will undoubtedly look to maximise GTI sales for a few months before introducing the potent Golf R. That said, the Golf R can be expected in the latter half of 2021 or in early 2022.
It's worth keeping in mind that the current, outgoing Golf R develops 228 kW/400 Nm and will dash from 0 to 100 kph in 4.6 seconds, which is disappointingly faster than the new Golf 8 R...
A quick look at the VW Golf R's price trajectory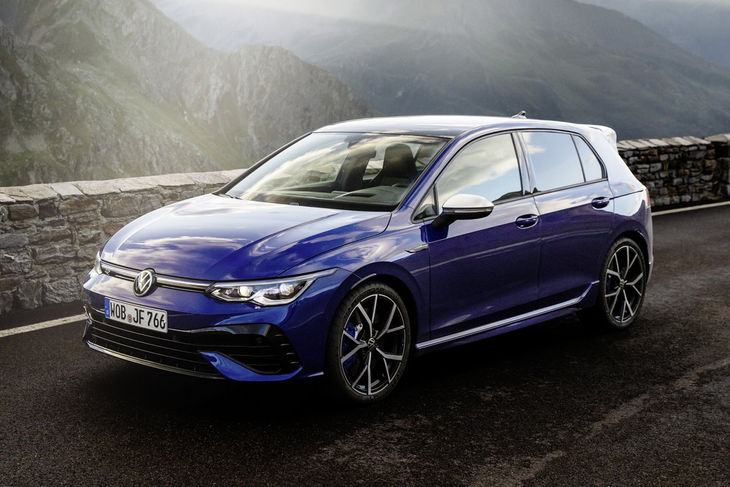 Pricing of the Golf R has increased significantly in the past 6 years. Could the new Golf 8 R breach the R1-million mark?

Before we look forward to what might be, let's quickly take a few steps back to trace the pricing trajectory of the Golf R. When the Golf 7 R was launched in Mzansi back in February 2014, it came to market with a (now humble) price tag of R486 200 and packing 206 kW and 380 Nm.
Then, 3 years later, VW introduced a facelifted Golf 7.5 R (with power bumped up to 213 kW). That iteration of the Golf R was priced at R647 300.
In 2019, Volkswagen boosted the Golf R's peak power output by 15 kW up to 228 kW and torque increased to 400 Nm, making it the most powerful Golf R to ever go on sale on the local market. This updated Golf R was priced at R676 000.
Then in late 2019, the Covid-19 pandemic gathered momentum; South Africa went into full-lockdown by the end of March 2020. In that month, the Volkswagen Golf R was priced at R684 400.
Right now, in November 2020, the Golf R costs R727 400! That's almost a 50% increase over a period of 6 years!
A million Rand for a Golf?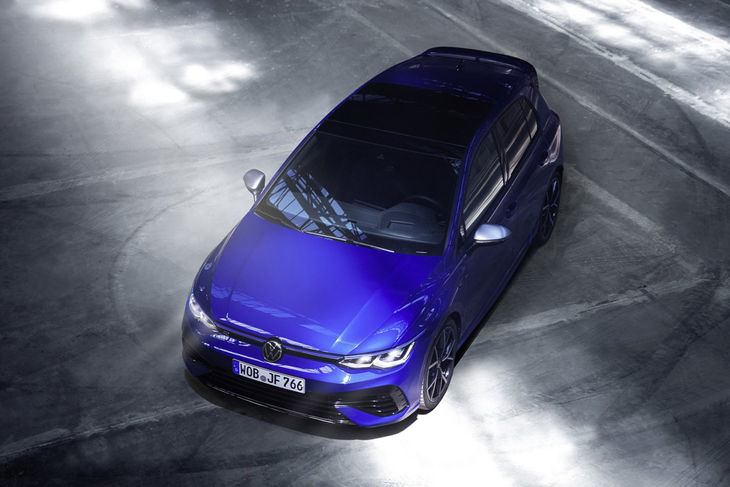 In your opinion, what would be a fair price for the new Golf 8 R?
Now, let's speculate on the asking price of the forthcoming Golf 8 R. The Golf 8 R is now available for pre-order in Germany with pricing starting at €48 339 which is roughly R901 000 at current exchange rates, which is merely an indication of what's to come considering that the SA-arrival of the Golf 8 R is still a year or more out and if 2020 is anything to go by, lots can happen in a year!
Volkswagen has invested heavily in the development of the 8th-generation Golf and the Wolfsburg-based brand will look to make a significant return on its investment and generate considerable profits from what's likely to be its last ICE-based premium compact model range. With that said, Volkswagen has never been shy to charge a premium for its products and the new Golf 8 R (and indeed the Golf 8 GTI) won't be any different.
However, there is a myriad of factors that will feed into the eventual pricing of the new Golf 8 R in South Africa. The key determining factors include the Rand-Dollar exchange rate (to reiterate, this has been a major driver in recent/ongoing new-car price hikes) and the ongoing impact of the Covid-19 pandemic on the economy, inflationary pressures and importantly, import taxes. However, because Volkswagen South Africa produces the Polo hatchback at its Uitenhage plant for local and overseas markets, the export credits it earns will likely help to soften the pricing blow somewhat.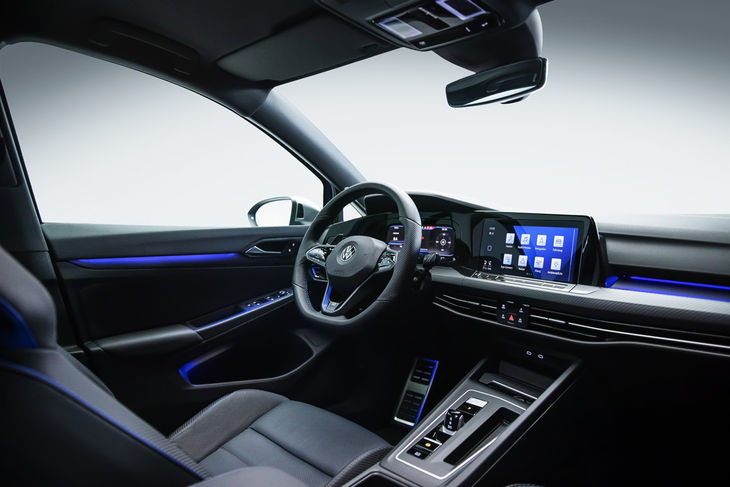 The interior of the Golf 8 R comes well-equipped with Volkswagen's latest tech.
It would also be naive to underestimate the impact that the lingering Covid-19 pandemic could have on the production of the new Golf 8 R. As the Golf R features a host of model-specific components such as wheels, bumpers and trim, any disruptions in the supply chain could have a significant negative impact on the cost of production, which will ultimately increase the price of the car on the dealer floor.
With all these factors in mind, it's not difficult to imagine that the new Volkswagen Golf 8 R's price tag could very well approach the R1-million mark when it eventually arrives in South Africa, especially when you consider that the outgoing Golf R is already three-quarters of the way to the mark.
Perhaps a more conservative estimate is that pricing for the Golf 8 R will come in between R850k-R900k, before options. Even so, we know that Volkswagen will offer a long list of optional equipment on the range-topping Golf 8. Suffice to say that when the Golf R is fully-equipped with all the nice-to-haves, there's a good chance that you will be looking at an R1-million-or-more Golf R. What a time to be alive!
Will you buy it?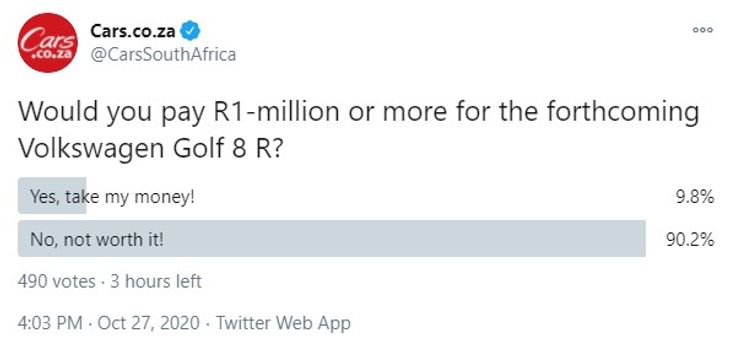 The answer is no, but the new Golf R will probably still sell very well when it eventually arrives in SA.
We put out a poll on the Cars.co.za Twitter page asking our audience the question 'Would you pay R1-million or more for the forthcoming Volkswagen Golf 8 R?'
The response was an unsurprising and resounding, No!
Volkswagen South Africa, are you listening?
Buy a Volkswagen Golf R on Cars.co.za
Related Content
VW Golf 8 Gets Oettinger Treatment
Drag race! Volkswagen Golf GTI TCR vs Honda Civic Type R