The Volvo XC90 was one of the most widely anticipated new product introductions by the Volvo brand; critics received it well and accolades followed. However, what's the Swedish premium SUV like on closer inspection – is it really as good as Volvo say it is?
The XC90 is the Swedish brand's phoenix. Rising from (what was rumoured to be) financial Armageddon, and emboldened with Chinese investment, the Scandinavian manufacturer created a thoroughly modern vehicle that is said to embody everything the brand stands for.
And it seems to have worked. The XC90 has won numerous awards around the world, including the Premium SUV category of the inaugural Cars.co.za Consumer Awards.
With this in mind, I was afforded the opportunity to live with the XC90 for a three-week period during the December 2015 holidays. A standard Cars.co.za car test lasts only five to seven days and while this may seem a long enough period to thoroughly engage with a car, the reality is that the demands of a work week and sharing the car with your colleagues means that there's often a shortage of time to drill down into a vehicle's pros and cons.
The holidays represented a perfect window in which to bond (or not bond) with the Volvo, and with my extended family due in Cape Town, the seven-seater SUV seemed a godsend.

At the outset
The Volvo arrives and it's so dazzlingly white in the harsh Cape Town sun that I have to don my sunglasses. It's ridiculously good looking. Riding on 21-inch wheels, the new XC90 is a masterpiece of bold elegance, if such a thing is possible. Maybe it wasn't until now.
The large, solid key fob is wrapped in black leather to match the interior of the car. It is a nice touch and after I'm given a quick tour of the highly specced T6 Inscription I'll be living with for a few weeks, I immediately return to my desk to do some work.
My first trip in the Volvo is sometime later: to a supermarket that's quite literally 800m from the office. Before you accuse me of being a lazy shmuck, yes, it's a walkable distance, but with the mercury touching 35 degrees, I prefer the Swedish aircon, thank you very much.
Puncture! On my return to the Volvo, I spot a massive nail sticking out of the left rear tyre. Many, many terrible words fill the air – it's late December and the chance of sourcing a tyre like that at short notice is remote. I shoot over to the nearest Supaquik and after the very polite assistant recovers from the shock (of finding 21-inch wheels on a Volvo), she informs me that I am, most likely, screwed.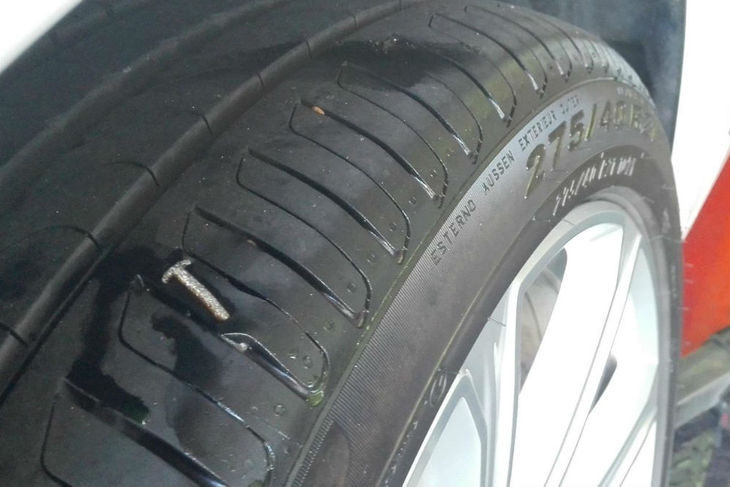 But Supaquick tried to repair it anyway. The XC90 barely managed to fit on the hydraulic lift – it's a big car. Thankfully, the most relaxed tyre technician I've ever met manages to repair the huge Pirelli Scorpion Verde, sparing me from the misery of driving the XC90 back to the media fleet manager on its biscuit spare wheel and parking it there until January.
This was an eye-opening little lesson. While huge 21-inch wheels and tyres might be aesthetically pleasing, they're really not worth the cost and hassle of trying to source them. Supaquick couldn't even find a price for the tyres, but estimated them at about R9 000 apiece. There are other reasons why smaller rims/tyres make more sense, which I'll get to shortly.
Discoveries
This car has seat coolers. I love seat coolers. And it has seat heaters, but in the current climate using them would be tantamount to taking a nap in your microwave. I also discover that the steering system is very… suggestive. The car detects lane markings and gently nudges you back into the lane. After a few kilometres I decide that this is a very good thing.
You see, I'm a daydreamer. I find commuting dull at the best of times and so I spend most of my daily drives dreaming up what my dream home would look like or what it would be like to fly a helicopter over Table Bay so that I could avoid all this godforsaken traffic. This means that I don't have the best lane-discipline in the world. Which means that this XC90 was made for me; it has been sent from Sweden to make me a better driver. I like that.
However, the system does not detect pavements or kerbs. I'm no physicist, but straying into a kerb with an XC90 is probably a bit more damaging to the vehicle than wafting over a white line every now and again. I'm sure building these systems isn't easy, but I do hope version 2.0 has kerb detection. I'd really appreciate that.
A masterstroke is the one-touch adaptive cruise control system. Reach your desired speed, hit one button on the steering wheel and you're cruising. Another button increases your speed in 5 km/h increments and another sets the following distance to the car ahead of you. I used this every time we traversed a freeway, especially in zones monitored by average speed cameras. By monitoring the traffic in your path, the Volvo facilitates a stressless motorway experience for its driver.
The car is specced with another system that excels in stop-start traffic. Flick into the "queue mode" and the XC90 will use Swedish mind tricks (and some technology) to lock on the car ahead, steering between the lanes and maintaining a safe following distance up to 50km/h.

Fuel consumption
The XC90, even on big 21-inch wheels, is a comfortable daily driver. The ride quality is firm, but as smooth as a butterscotch latte. I'd spent time in an XC90 with 19-inch wheels and I'd recommend the smaller rims if you like your ride quality a bit spongier. My test unit handled like a large, sporty sedan. There's very little body roll and the Volvo hides its considerable bulk well, a fact that's very impressive if you consider that all XC90s have 2.0-litre engines.
The 2.0-litre turbodiesel motor is a thing of wonder. We've seen it average 6.9 litres/100km during its tenure in our test fleet and you'd have to drive like a real knob to achieve over 10 litres/100km. This is a very good thing. If you are thinking of buying an XC90, you'd be quite silly not to purchase a turbodiesel version.
That being said, the turbopetrol is a star performer in its class. Given the size of the Volvo, it's not the sort of vehicle that encourages you to dart around town, tearing through corners and taking on 18-year-olds in their modified Polos at the lights. No, the XC90 encourages a driving style which I call "Swedish Zen". Either that or every car journalist should be made to pay for their own fuel, because I drove everywhere like an octogenarian Buddhist.
Flicking the car into Eco mode seems to help a great deal with your fuel economy. I achieved close to 12 litres/100km and drove approximately 550 km on a full tank. The T6 is a powerful, smooth motor, but diesel makes more sense in this application.

Ciro and the whale
The XC90 swallows any luggage you can possibly throw at it during the course of your day-to-day life. My sister is a die-hard two-wheeled spandex warrior who insists on travelling across the country with a box that's not just taller than her but filled with bicycle bits.
I don't know if you've ever encountered the cardboard behemoth that bicycles are shipped in but they are comically long. My sister hadn't warned me that she'd be arriving with what is essentially a legless patio table in a box. However, with one seat flicked down, the box slid into the Volvo with palpable ease. I had visions of strapping the damn thing to roof only to have it fly off on the N2 and my sister hating me forever, because, for some reason, a bicycle costs more than a tertiary education these days.

Big SUVs are generally quite useful things, especially if you have procreated and you need to ferry not just people, but prams/bikes/other people's kids/dogs/tents/giant bicycle boxes. But of all the SUVs I've been fortunate enough to drive, the Volvo seems to be the most practical of the lot. I think it's down to the chassis, the whole rear suspension has been engineered to allow for the optimal amount of cabin space possible. The only other vehicle that I can think of that offers this level of practicality is the Land Rover Discovery.
Over the course of the holidays, my family and I went mountain biking, trampolining, wakeboarding, shopping and sightseeing all over the province. There were times when we were 7-up in the car and everyone was comfortable, had their own aircon outlets, or marvelled at the XC90's massive centre iPad-like touchscreen.
The XC90 still has a sizeable boot with all 7 seats in upright positions, which is super useful. However you'll most likely have 5 seats up, in which case you will benefit from having a vast boot space, complete with what I like to call a "shopping flap".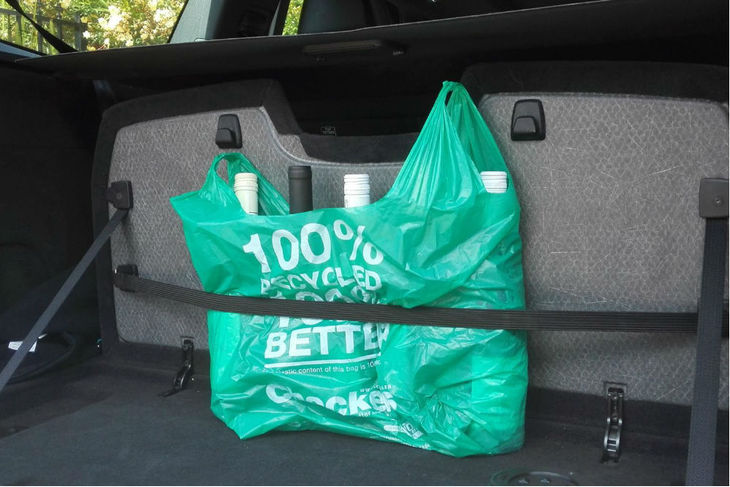 This is a stroke of genius from the Swedes and helps keep shopping upright and from rolling around. I found it very adept at looking after my wine...
I haven't started a family yet, but based on my experience over the last three weeks, it would be a pleasure to tackle life with one of these cars.
The iPad thing
While many cars offer similar levels of comfort and practicality to the Volvo, I haven't come across a single car that features a human-machine-interface like this. I'd imagine the 17-inch touchscreen in the Tesla Model S must feel like it's from another planet, but until Elon Musk's electric wonder arrives in Mzansi, the XC90's infotainment system will reign supreme.
The design of the software is just... inspired. The attention to detail and fingernomics (I literally just made that up, but I'm totally chuffed with myself and will be copyrighting it. It's a combination of "finger" and "ergonomics") is utterly remarkable.
From the way you can set the aircon temperature, to the media controls, telephony, navigation and trip information functions, everything is fluid, intuitive and straightforward.
If there is a heaven, and if Steve Jobs is up there hosting elaborate product launches for Bluetooth leather sandals and smart-robes that measure your blood sugar levels, I'm almost certain he's driving an XC90, swiping away at the touchscreen and smiling like the obsessive technologist we all knew him to be.
It's difficult to capture in words how well the system works, so I'd encourage you to skip to 1:39 in our video below to see the touchscreen in action.
To summarise, then...
And then came the time that the XC90 and I had to take leave of each other, as I knew it always would.
I will miss the glances from jealous-types in underground parking lots. I'll miss the driver's seat – so comfy and supportive. I'll miss the space and I'll miss that touchscreen.
I won't miss the seat coolers, which are unacceptably loud. Honestly, I've been in quieter hair salons. And the stop-start system needs some tweaking – it's too eager, cutting the engine before the car has come to a complete stop, creating quite a jerky experience at the traffic lights. I won't miss trying to do my utmost to go easy with my right foot, although this is a more a reflection of my spoilt position as a motoring journalist than that of the car.
The XC90 is a remarkable product made by a company that we always knew could build remarkable products. Having spent time with this Volvo, it's clear to me that no thought was spared and no idea wasted in the pursuit to build a car that is exceptional. It's obvious the Swedish manufacturer is exceptionally proud of this vehicle – you can almost feel it.
It absolutely nails the basic characteristics of what makes a great premium SUV, but it goes further than that: the engineers want this to be a car that not only fits into your life with ease, but improves it. To me, the XC90 is important, and deserving of its many awards, as it represents a new chapter in how we interact with our cars. And that makes the big Volvo worthy of very special praise. The XC90 is not perfect – it's better than that. It's human.
Any views or opinions expressed in this article are solely those of the author and do not represent those of Cars.co.za or its editorial content team.