Volvo SA has confirmed the arrival of its first all-electric car to our shores. Here's what you can expect from the Volvo XC40 Recharge Pure Electric.
The global market has reacted strongly to the all-electric SUV segment. The Audi e-tron, Volvo XC40 Recharge Pure Electric, Mercedes-Benz EQC, Jaguar I-Pace and BMW iX3 are all on offer globally, but of those, it's only the Jaguar that's available in South Africa. Until now. Volvo SA has confirmed it will be bringing in XC40 Recharge in the next few months, with dealers taking orders in April and the first customer cars set to be delivered in August.
The XC40 Recharge Pure Electric has impressive numbers on paper. With its two electric motors producing 304 kW and 600 Nm, it's going to be the fastest Volvo in SA with a claimed 0-100 kph in 4.9 seconds. In terms of range, just over 400 km on a single charge is the claim and you can get 80% battery capacity in about 40 minutes if you're connected to a fast charger.
Volvo's XC40 Recharge Pure Electric has proven popular for the Swedes, with thousands of pre-orders. By the time production had started at Volvo's Belgium facility at the beginning of October 2020, every car scheduled to be assembled that year had already been accounted for. With the mechanical hardware cleverly positioned under the car, this makes it surprisingly practical. Where the internal combustion engine used to be in the front, there's now a 30-litre storage compartment.
The big concern about electric car ownership in SA usually centres around charging station infrastructure and Volvo SA will be addressing this its own charging network at its dealerships. By the end of 2021, every Volvo dealership will have a charging station. Even if you're not near a Volvo dealership, you can tap into the BMW, Jaguar and Grid Cars networks too, as the OEMs have standardised the charging plugs.
In case you're worried there are insufficient chargers, you have no reason to fear as SA has over 257 chargers (March 2021) and more are being installed all the time. As we've said before, when we rank South Africa in terms of charging stations per EV, we rank better than the Netherlands. South Africa has 2.5 EVs per charging station, which means we're pretty well catered for EV charging points... at our current EV capacity. If all else fails, charge overnight at home and while loadshedding cuts the power for 2 hours, you still have adequate overnight charging time.
Volvo intends to bring the XC40 recharge to SA in small numbers, but enough to meet suspected demand. The brand is also currently updating its dealer network with charging stations so that by the end of 2021, all 20 dealers will have a charging station available. Initially, these dealership charging stations will be 11 kW chargers, which are some way off the 60 kW 'fast chargers' which we see on the Jaguar Powerway, but as studies have shown, most charging is done at home overnight, so these chargers tend to be used in emergency situations anyway.
The price for the Volvo XC40 Recharge Pure Electric will be announced soon.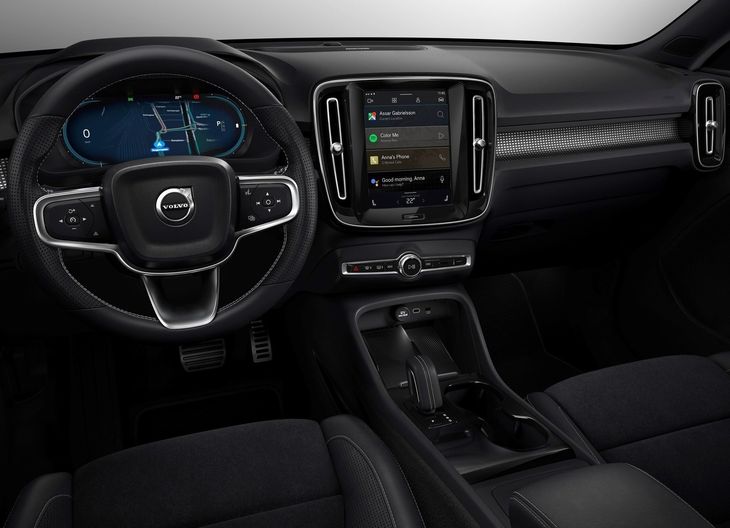 The Volvo XC40 Recharge features an Android-based infotainment system
Further Reading
Understanding the electric car terms
Which countries are winning the electric car race?
Volvo Announces All-Electric Strategy & New Model