Swedish luxury marque Volvo is knocking hard at the door of the Audi Q3 and BMW X1 with its new XC40 SUV. It's set to land in SA in April 2018 and, if initial impressions are anything to go by, it should set the cat amongst the pigeons when it arrives. Cars.co.za Road Test Editor, Ashley Oldfield headed to Barcelona to sample Volvo's newcomer.
What is it?
The XC40 is a compact SUV/family car, but more in the vein of an Audi Q3 or BMW X1 than a Mazda CX-5 or Volkswagen Tiguan. Why? Well, because it's more stylish and premium-positioned than the aforementioned family cars; it tugs at your heartstrings rather than your measuring tape. That's not to say it's an ornament, however... Volvo has made sure it has covered as many bases as possible with its new XC40.
It rides on an all-new platform, one smaller than those of the XC60 and 90-Series cars, but carries engines over from those model ranges as Volvo currently only produces 2.0-litre, 4-cylinder engines. Couple this with a super stylish body that grabs your attention as it drives by with an interior nicked from the new XC60 and you have the makings of an intriguing product, especially when you consider it's entering a fast-growing segment.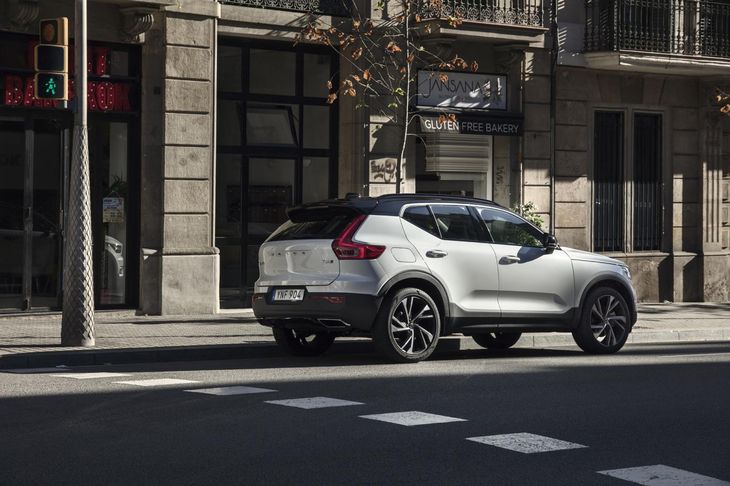 Stylish and premium. The XC40 is well proportioned and looks especially good on 21-inch wheels.
Powering up
The engines are familiar, and at launch, there will be a T5 2.0-litre turbopetrol with 185 kW and 350 Nm of torque and a D4 2.0-litre turbodiesel with 140 kW and 400 Nm of torque. To begin with, both are equipped with all-wheel-drive and an 8-speed automatic transmission. Front-wheel-drive models will join the lineup in time as will hybrids and electric only models.
The turbopetrol, as you can see by the figures has plenty of power and imbues the XC40 with a racy feel as you zip around town. It's prone to a bit of wheelspin after excitable throttle inputs and the fuel economy that takes a bit of a hit if you plan on driving quickly. Claimed fuel consumption on the petrol is just over 7.0 L/100 km and in the real world, you're likely to remain just under 10 L/100 km.
The better engine, as we've seen in the XC90, V90 CC and XC60 is the turbodiesel. The power delivery suits the SUV driving style and fuel consumption remains excellent (5.2L/100 km), no matter how heavy your right foot is. It also picks up from pull away and rolling stops quicker than the petrol, making it a more user-friendly engine.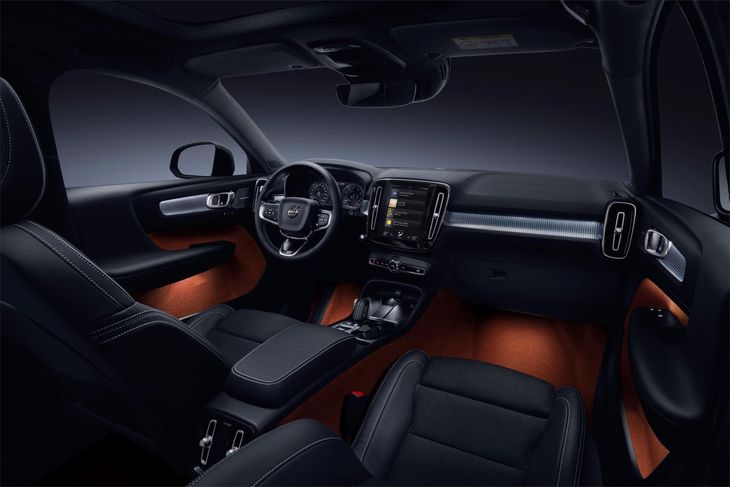 Lava red interior trim colour is new. Overall the cabin is stylish and well thought-out ergonomically.
Neat tricks
We've credited Volvo with designing some of the most beautiful and intuitive interiors since the introduction of the XC90. The XC40 follows suit. The test units we drove came with suede and leather combination seats and suave black carpeting and trim. The metallic-looking (they are actually plastic) trim inserts in the fascia add a posh feel to the cabin and the Sensus Connect touchscreen and functionality is pulled straight from the XC90.
A few introductions to the spec includes the wireless charging cradle in front of the gear selector and a removable bin that pulls out of the centre armrest. The speakers have been pulled out of the door panels, which makes space in the door pocket for larger items like a laptop and drinks bottle.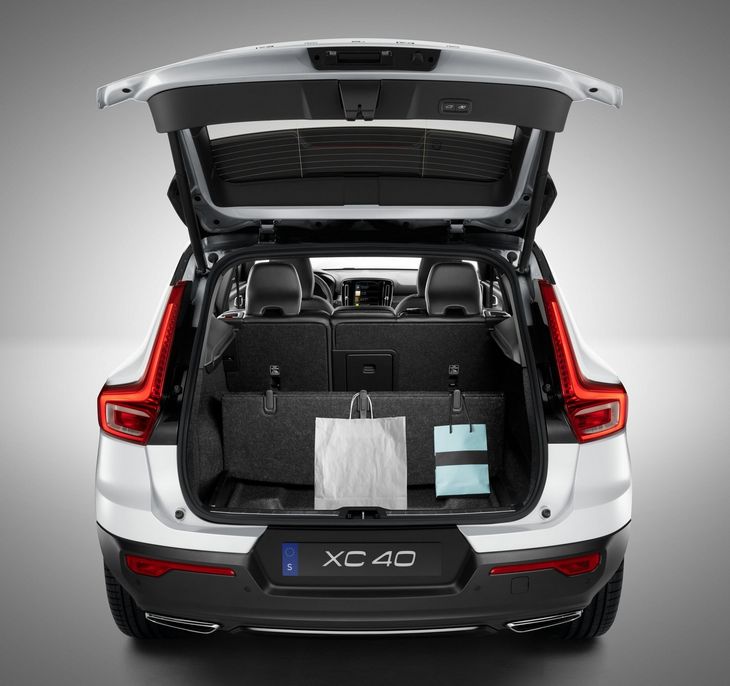 The floorboard in the load bay doubles as a shelf to hang shopping from. A parcel shelf can be stored underneath too.
There are a few more tricks in the XC40's arsenal as you open up the electric tailgate. The floorboard lifts up and hooks into place to create a tight storage space so shopping doesn't roll around but also acts as a shopping bag holder. The parcel shelf can also be removed and stored away underneath the boot, rather than in your garage like it often does.
In terms of outright size, the XC40 has a 460-litre luggage bay that expands to 1 336 litres with the rear seats folded flat. Rear passenger space appears to be in line with other cars in the segment and the Volvo passed the "sit behind yourself" industry standard test with enough knee and headroom to spare for a 1.81-metre passenger.
Ride and drive
With the XC40 riding on an all-new platform, the Volvo engineers eagerly awaited feedback on "how the car feels" after we'd put the newcomer through a few bends and "wrung its neck" down a freeway. The XC40 feels great and the engineers didn't seem relieved or even pleased to hear it – it was almost expected. I would go as far to say that it rides even better than the XC90. The big SUV is known for its long-haul comfort, but can be a tad thumpy and clunky over smaller, more jarring bumps. The XC40's shorter wheelbase and more standardised suspension setup (Macpherson front, multi-link rear) soaks up everything, from potholes to speed bumps and even a bit of gravel. It's supremely comfortable and this while riding on the optional 21-inch wheels. The 19-inch wheels with a 50-profile were even better.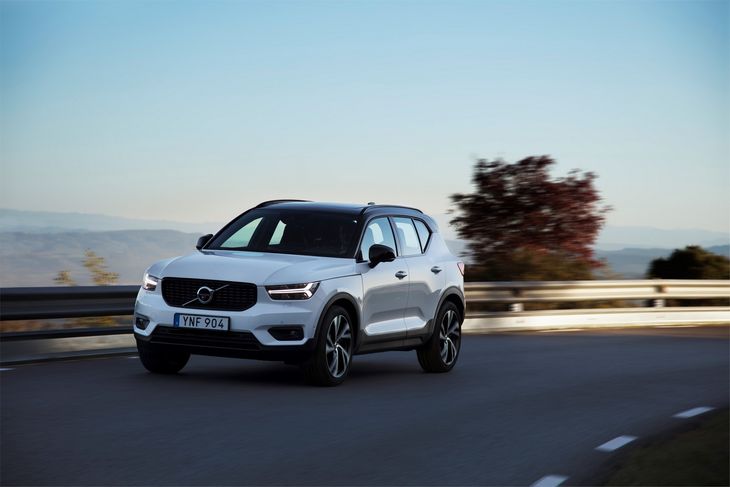 The new CMA platform has improved the ride and comfort levels from the bigger 90 series cars we've driven.
The XC40 isn't a sports SUV like a few of its competitors are purported to be. It handles its heft well/doesn't fall over in the corners, but it doesn't reward you over a mountain pass or get you excited to whip the Volvo through a sinewy section of asphalt. The focus, and rightly so for an SUV is about comfort and poise, and that's exactly what the XC40 does well. If I had to nit-pick (we have to – ed), the steering is a little light and vague due to the electric steering setup, but it can be better weighted with individualised drive modes that alter the steering, engine and gearbox's response.
Safe, as you'd expect
Volvo is renowned for building safe cars, not just in terms of being in a crash but also in preventing a crash. New additions to the XC40 include an automatic braking function for cross-traffic alerts. If you reverse out and don't see a vehicle approaching from the side, the vehicle will now brake itself if it believes a collision is likely. City Safety is also available as is the likes of adaptive cruise control, semi-autonomous driving and blind spot alert.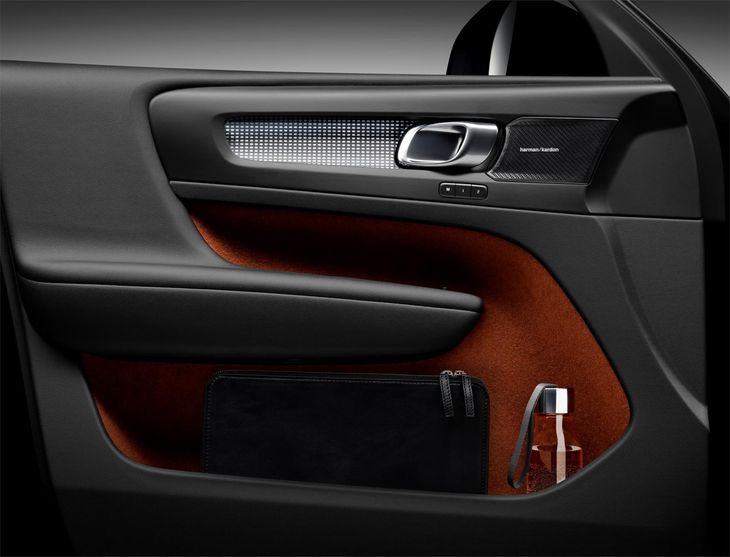 By removing the speakers in the doors, there's more storage space in the side door pockets.
Summary
Volvo's products continue to improve and global sales certainly show that the Swedish firm is making waves on the sales charts. It hasn't, however, managed to gain the same sort of traction in South Africa, yet. The reason for this is two-fold. Firstly, the XC90, while being award-winningly good, competes in a very small segment where local buyers are particularly brand-snobbish, where nothing other than a Range Rover, Mercedes-Benz or BMW badge will do. The other reason is that the latest cars introduced by Volvo have been station wagons and sedans (V90 CC and S90), a dying breed at the moment.
This new XC40 has the credentials to disrupt its segment. It outdoes the competition in the looks department, competes strongly on the engine front and has enough practicality and ride comfort to tempt even the most hardened German-brand driver to nod in appreciation. The proof, it appears, is in the pre-orders. Volvo SA says more than 100 pre-orders have been received thus far and the arrival of the XC40 is still months away. That's more than any product it has ever launched. It arrives in April 2018 and the good news for Volvo is that its best-seller, the XC60, will follow a few months after.
Indicative pricing
No official pricing has been announced yet. Volvo SA has estimated the XC40 will land in SA from just under R500k with higher-spec models climbing towards R650k.
Related content
Volvo XC40 Headed for SA (2017) Specs & Price
Volvo XC60 (2017) Launch Review Video
2015 Audi Q3 Facelift Revealed